Women Strike Against Capital—and To Take Back Feminism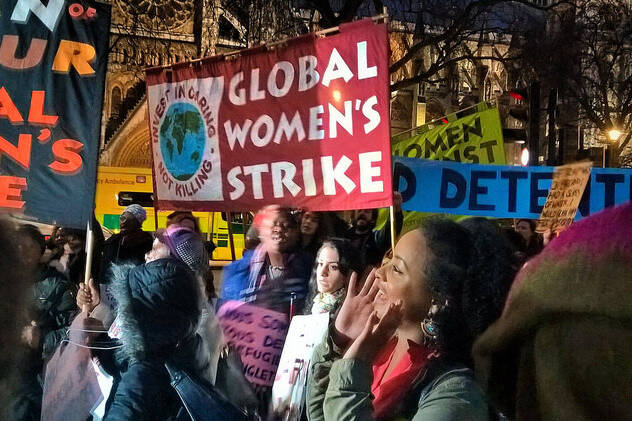 Babe­land, a female-owned sex toy empo­ri­um found­ed in 1990s Seat­tle, would appear to be the ide­al fem­i­nist enter­prise. Charis­mat­ic female employ­ees exude a blunt sex-pos­i­tiv­i­ty that has been respon­si­ble for the busi­ness' suc­cess, mak­ing the store a go-to place for dil­dos of all col­ors, angles and sizes. Now boast­ing three New York City loca­tions, Babe­land is all about female empow­er­ment. Yet many employ­ees' expe­ri­ence with this mod­el of fem­i­nist cap­i­tal­ism under­scores pre­cise­ly why a women's strike on March 8, Inter­na­tion­al Women's Day, is needed.
After man­age­ment dragged out union con­tract nego­ti­a­tions for months, work­ers vot­ed to autho­rize a strike the week­end before Valentine's Day, Babeland's busiest sea­son. The threat worked. Work­ers won their demands, which includ­ed more full-time staff, pay increas­es, a more relaxed dress code, more hol­i­days (includ­ing May Day) and eas­i­er com­mu­ni­ca­tion between work­ers and the union, accord­ing to Octavia Leona Kohn­er, a Babe­land work­er active in the union.
Because of that expe­ri­ence at Babe­land, Kohn­er explains, she and many of her col­leagues want­ed to par­tic­i­pate in Wednesday's action ​"to raise aware­ness of the pow­er of work­ers com­ing togeth­er. And the his­to­ry of unions is women com­ing togeth­er." Kohn­er points to the impor­tance of seam­stress­es and oth­er women's strug­gles in shap­ing U.S. labor his­to­ry. Like the Babe­land work­ers' strike threat, she says, this women's strike will send the mes­sage that ​"with­out us you have no business."
Fem­i­nist strikes and protests are cer­tain­ly enjoy­ing a resur­gence, thanks to the sex­ist real­i­ty show star who is also our new­ly-elect­ed pres­i­dent. But this strike call actu­al­ly dates back to an ancient epoch now dif­fi­cult to recall: before Don­ald Trump's election.
In Octo­ber 2016, women's groups from dif­fer­ent coun­tries agreed to strike March 8, tak­ing as their inspi­ra­tion recent actions in Argenti­na and Poland. In Argenti­na, in Octo­ber, women demon­strat­ed in the streets and many stopped work for an hour to protest the rape and mur­der of a teenage girl. In Poland last year, a women's strike forced law­mak­ers to reject a dra­con­ian change to the country's already strict abor­tion laws.
Amer­i­can fem­i­nist orga­niz­ers of the strike want­ed to join this move­ment of glob­al sol­i­dar­i­ty. But there are also rea­sons spe­cif­ic to the Unit­ed States that such a strike makes sense now. There's Trump, of course, and the very real war against work­ers' and repro­duc­tive rights that his admin­is­tra­tion is wag­ing. But activists on the left have also been inspired since before his elec­tion to build what they are call­ing a ​"fem­i­nism of the 99 percent."
Tithi Bhat­tacharya, a mem­ber of the Women's Strike orga­niz­ing com­mit­tee and a pro­fes­sor at Pur­due Uni­ver­si­ty, says ​"the lan­guage of fem­i­nism has been com­plete­ly co-opt­ed by Lean In fem­i­nism." (She is refer­ring to the title of Face­book chief oper­at­ing offi­cer Sheryl Sandberg's book, which has become short­hand for an elite, busi­ness-friend­ly fem­i­nism.) The fem­i­nism of Sand­berg or Hillary Clin­ton is one in which the female own­er­ship of Babe­land is the endgame, not jus­tice for its women work­ers. Such a fem­i­nism seeks to shore up ​"the sta­bil­i­ty of cap­i­tal­ism rather than to threat­en cap­i­tal­ism. And we absolute­ly want to threat­en cap­i­tal­ism," Bhat­tacharya says.
Rid­ing the ​"joy­ous" momen­tum of the world­wide women's march­es on Inau­gu­ra­tion Day, Bhat­tacharya believes now is time to reclaim fem­i­nism for ordi­nary work­ing women. These are, in fact, the women who need fem­i­nism the most.
Meg Doher­ty, who (along with at least 30 oth­er employ­ees since last sum­mer) was fired at her job as a singing wait­ress at Ellen's Star­dust Din­er, a pop­u­lar Times Square tourist des­ti­na­tion, sees the strike as a chance for women to unite against the kind of per­sis­tent work­place sex­ism she says she expe­ri­enced there. Men and women were not giv­en equal access to the best shifts, she says. Yet the Broad­way hits the din­ers most want to hear, from ​"Mama Mia" or ​"Wicked," for exam­ple, are num­bers intend­ed for female singers. ​"So there was always an unfair bur­den, a vocal bur­den" on a small group of women, Doher­ty says.
Some of the sex­ism Doher­ty expe­ri­enced is wide­ly shared by oth­er ser­vice work­ers. ​"You have to have a full face of make­up on," she explains. ​"I won't make as much mon­ey if I don't have a full face of make­up on. A male co-work­er, of course, ​"just show­ers and combs his hair" and is ready for his shift. Worse, sex­u­al harass­ment by cus­tomers is rou­tine, and management's response is often indifferent.
Ellen's Star­dust Din­er did not imme­di­ate­ly respond to a request to com­ment on Doherty's alle­ga­tions. Pre­vi­ous­ly, its own­er told Play​bill​.com that work­ers were let go for ​"good busi­ness rea­sons." ​"Ellen's deeply respects its employ­ees and pro­vides fair treat­ment," Ken Sturm said.
On Wednes­day, March 8, Inter­na­tion­al Women's Day, Doher­ty is not putting on her face. She won't be per­form­ing any­where, nor wait­ress­ing at any of her cur­rent jobs. And she says, ​"I will not be singing any of those female songs."
Doher­ty is now an activist with the Indus­tri­al Work­ers of the World. Like Kohn­er, she hopes that the women's strike will help oth­er women under­stand what she's learned from her expe­ri­ences of col­lec­tive action. ​"Some­times you feel a lit­tle help­less," she says. ​"But togeth­er, women do have power."