Women Strike Against Capital—and To Take Back Feminism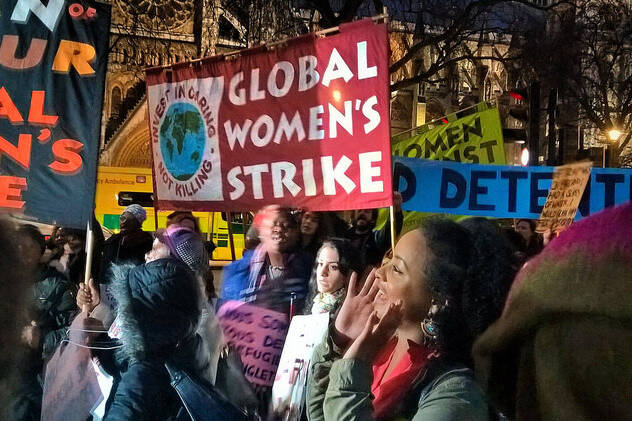 Babeland, a female-owned sex toy emporium founded in 1990s Seattle, would appear to be the ideal feminist enterprise. Charismatic female employees exude a blunt sex-positivity that has been responsible for the business' success, making the store a go-to place for dildos of all colors, angles and sizes. Now boasting three New York City locations, Babeland is all about female empowerment. Yet many employees' experience with this model of feminist capitalism underscores precisely why a women's strike on March 8, International Women's Day, is needed.
After management dragged out union contract negotiations for months, workers voted to authorize a strike the weekend before Valentine's Day, Babeland's busiest season. The threat worked. Workers won their demands, which included more full-time staff, pay increases, a more relaxed dress code, more holidays (including May Day) and easier communication between workers and the union, according to Octavia Leona Kohner, a Babeland worker active in the union.
Because of that experience at Babeland, Kohner explains, she and many of her colleagues wanted to participate in Wednesday's action ​"to raise awareness of the power of workers coming together. And the history of unions is women coming together." Kohner points to the importance of seamstresses and other women's struggles in shaping U.S. labor history. Like the Babeland workers' strike threat, she says, this women's strike will send the message that ​"without us you have no business."
Feminist strikes and protests are certainly enjoying a resurgence, thanks to the sexist reality show star who is also our newly-elected president. But this strike call actually dates back to an ancient epoch now difficult to recall: before Donald Trump's election.
In October 2016, women's groups from different countries agreed to strike March 8, taking as their inspiration recent actions in Argentina and Poland. In Argentina, in October, women demonstrated in the streets and many stopped work for an hour to protest the rape and murder of a teenage girl. In Poland last year, a women's strike forced lawmakers to reject a draconian change to the country's already strict abortion laws.
American feminist organizers of the strike wanted to join this movement of global solidarity. But there are also reasons specific to the United States that such a strike makes sense now. There's Trump, of course, and the very real war against workers' and reproductive rights that his administration is waging. But activists on the left have also been inspired since before his election to build what they are calling a ​"feminism of the 99 percent."
Tithi Bhattacharya, a member of the Women's Strike organizing committee and a professor at Purdue University, says ​"the language of feminism has been completely co-opted by Lean In feminism." (She is referring to the title of Facebook chief operating officer Sheryl Sandberg's book, which has become shorthand for an elite, business-friendly feminism.) The feminism of Sandberg or Hillary Clinton is one in which the female ownership of Babeland is the endgame, not justice for its women workers. Such a feminism seeks to shore up ​"the stability of capitalism rather than to threaten capitalism. And we absolutely want to threaten capitalism," Bhattacharya says.
Riding the ​"joyous" momentum of the worldwide women's marches on Inauguration Day, Bhattacharya believes now is time to reclaim feminism for ordinary working women. These are, in fact, the women who need feminism the most.
Meg Doherty, who (along with at least 30 other employees since last summer) was fired at her job as a singing waitress at Ellen's Stardust Diner, a popular Times Square tourist destination, sees the strike as a chance for women to unite against the kind of persistent workplace sexism she says she experienced there. Men and women were not given equal access to the best shifts, she says. Yet the Broadway hits the diners most want to hear, from ​"Mama Mia" or ​"Wicked," for example, are numbers intended for female singers. ​"So there was always an unfair burden, a vocal burden" on a small group of women, Doherty says.
Some of the sexism Doherty experienced is widely shared by other service workers. ​"You have to have a full face of makeup on," she explains. ​"I won't make as much money if I don't have a full face of makeup on. A male co-worker, of course, ​"just showers and combs his hair" and is ready for his shift. Worse, sexual harassment by customers is routine, and management's response is often indifferent.
Ellen's Stardust Diner did not immediately respond to a request to comment on Doherty's allegations. Previously, its owner told Play​bill​.com that workers were let go for ​"good business reasons." ​"Ellen's deeply respects its employees and provides fair treatment," Ken Sturm said.
On Wednesday, March 8, International Women's Day, Doherty is not putting on her face. She won't be performing anywhere, nor waitressing at any of her current jobs. And she says, ​"I will not be singing any of those female songs."
Doherty is now an activist with the Industrial Workers of the World. Like Kohner, she hopes that the women's strike will help other women understand what she's learned from her experiences of collective action. ​"Sometimes you feel a little helpless," she says. ​"But together, women do have power."