Robbing Peter to Pay DePaul
As Rahm Emanuel decimates public schools, he's gifting a private college $55 million in public funds.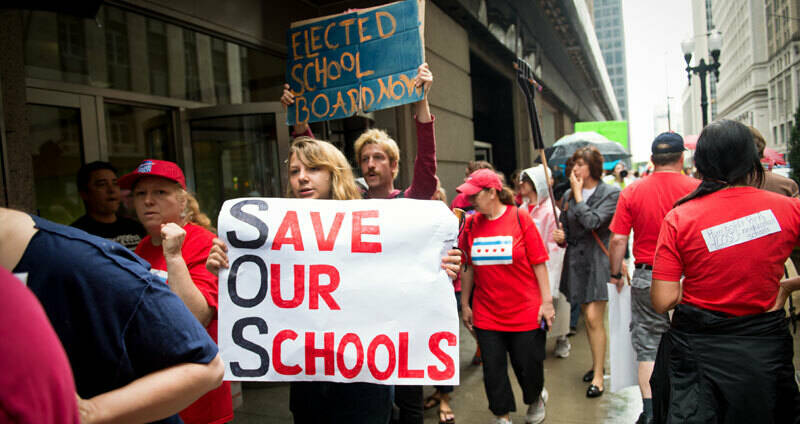 Chica­go May­or Rahm Emanuel made nation­al news recent­ly by clos­ing 50 pub­lic schools in one fell swoop. What didn't get as much nation­al atten­tion was the piv­ot: Days before the actu­al school clo­sure vote, Emanuel announced plans to build a 10,000−12,000 seat sta­di­um for DePaul University's Blue Demons on the lake­front, with about $55 mil­lion in tax-incre­ment financ­ing (TIF) funds — in oth­er words, tax­pay­er money.
The Democrat-controlled Illinois state legislature, which couldn't come up with pension reform or legalize same-sex marriage, approved the DePaul giveaway in one session.
The clo­sure of these schools is the tip of the ice­berg. In the sur­viv­ing schools, lan­guage, art, gym and sci­ence class­es are being slashed, cur­ricu­lums are being trun­cat­ed, entire class peri­ods are dis­ap­pear­ing — and the accom­pa­ny­ing teach­ers and staff are being laid off.
This, says Emanuel, is all nec­es­sary to do two things: bet­ter uti­lize resources to give Chica­go kids the best edu­ca­tion e‑vah, and to deal with the ever expand­ing deficit at the Chica­go Pub­lic Schools, now pro­ject­ed to hit $1 bil­lion in 2014.
But what does this have to do with DePaul, a pri­vate Catholic uni­ver­si­ty, which has been expe­ri­enc­ing unprece­dent­ed growth? A school which has added a new library, a new ath­let­ic cen­ter, a new lib­er­al arts build­ing, a new stu­dent cen­ter, a new art muse­um, a new the­ater cen­ter and count­less oth­er struc­tures thanks to its fundrais­ing prowess, while expand­ing its stu­dent body from less than 17,000 to 24,666 over the last two decades?
Well, a good chunk of mon­ey being promised to build the new DePaul Sta­di­um at McCormick Place, the city's biggest con­ven­tion cen­ter, is com­ing out of tax­pay­er funds intend­ed to sup­port the belea­guered Chica­go Pub­lic Schools. The tax funds, known as TIFs, are derived from spe­cif­ic dis­tricts; the idea is to help ​"blight­ed" com­mu­ni­ties cre­ate new devel­op­ment, grow the tax base and finance schools.
Chica­go has 165 of these tax-fund zones. Rev­enues from Chica­go TIFs reached $454 mil­lion in 2012, a drop from pri­or years, but, still, that's just one year's take for a slush fund that the may­or can do with as he pleas­es. Both Emanuel and his pre­de­ces­sor, Richard M. Daley, have shown a propen­si­ty for using TIF funds to help devel­op­ers, rather than schools, get projects off the ground in neigh­bor­hoods that are already on their way to eco­nom­ic turn­around, or which didn't need one at all.
Ben Joravsky of the alt-week­ly Chica­go Read­er—just about the only jour­nal­ist in town writ­ing about TIFs reg­u­lar­ly—explains the DePaul sit­u­a­tion this way: ​"May­or Emanuel has decid­ed to take the $55 mil­lion [in TIF monies] and buy some prop­er­ty on which he'll build the [DePaul sta­di­um]. But once the city owns it, this land will move off the prop­er­ty tax rolls because pub­licly held prop­er­ty is exempt. So instead of invest­ing your prop­er­ty tax dol­lars in devel­op­ments that cre­ate more prop­er­ty tax dol­lars, May­or Emanuel has decid­ed to invest them in a scheme that will yield no prop­er­ty tax dol­lars what­so­ev­er. Think of it as spend­ing $55 mil­lion to lose money."
Emanuel says the project will help devel­op the neigh­bor­hood around McCormick Place, where the sta­di­um is to be built. But that area — just east of pros­per­ous Chi­na­town, on the south­ern­most edge of the shiny new South Loop and on the north­ern bor­der of Bronzeville (one of Emanuel's des­ig­nat­ed ​"oppor­tu­ni­ty areas") — is already expe­ri­enc­ing tremen­dous growth and development.
Emanuel's project will add the sta­di­um, a hotel and var­i­ous oth­er ameni­ties geared toward tourists. About the only thing that locals are like­ly to use is a pro­posed new train stop. There have been protests about the school clos­ings and even a hand­ful about the new stadium's pub­lic financ­ing. But the lat­ter issue — so sym­bol­ic of the school financ­ing prob­lems and of the pri­or­i­ties of Chicago's pow­ers-that-be — has drawn much less outcry.
Sure, the whole TIF mess requires some seri­ous study to be under­stood, and a cer­tain amount of deter­mi­na­tion. The city's web­site on the pro­gram, as Joravsky has point­ed out, is fair­ly mis­lead­ing. But per­haps the real prob­lem is the citizenry's sense of impo­tence: The Demo­c­rat-con­trolled Illi­nois state leg­is­la­ture, which couldn't come up with pen­sion reform or legal­ize same-sex mar­riage, approved the DePaul give­away in one ses­sion, less than a month after Emanuel's announcement.
That's what's called a done deal.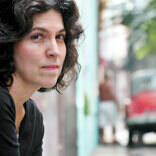 Achy Obe­jas

, a Havana-born mem­ber of the

In These Times

Board of Edi­tors, is the author of

Ruins

(Akashic

2009

,

akashic​books​.com

) and

Aguas

&

Otros Cuen­tos

(Edi­to­r­i­al Letras Cubanas,

2009

). A for­mer staff writer for the

Chica­go Tri­bune

, she is also the trans­la­tor, into Span­ish, of Junot Diaz's Pulitzer Prize-win­ning

The Brief Won­drous Life of Oscar Wao

(River­head

2008

). She is cur­rent­ly the Dis­tin­guished Vis­it­ing Writer at Mills Col­lege, Oak­land, Calif.