Roger Ailes Is Dead, But the Damage He Did Lives On
The founder and longtime CEO of Fox News helped make U.S. politics more dishonest and cowardly.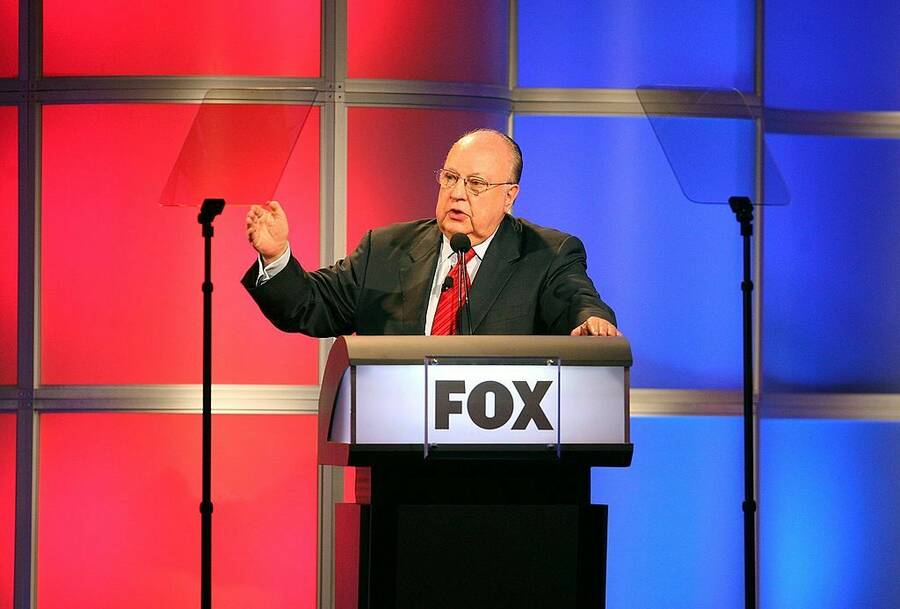 Roger Ailes is dead. In his per­son­al life, he was vul­gar, thug­gish and friv­o­lous. In his pro­fes­sion­al life, he is accused of sex­u­al harass­ment, using his pow­er and wealth to con­trol female employ­ees. He was all smiles and back-slaps for those loy­al to him and his media empire, but emp­ty of any true love or com­pas­sion for even them. He was suc­cess­ful, polit­i­cal­ly and eco­nom­i­cal­ly, so thought of him­self as bright. In truth, Ailes con­tained the worst ele­ments of both the pro­pa­gan­dist and the con artist and was often stu­pid­er than most of his audience.
"Once he started Fox, there was no right-wing nonsense—no matter how peculiar or tedious—that would be denied a national hearing."
Some have tak­en his death as an occa­sion to cel­e­brate, but this is point­less gloat­ing. The evil he did will live on.
Ailes, 77, was best known as the founder and long­time CEO of Fox News. (He stepped down last year amid a grow­ing sex scan­dal.) Before that, he was a Repub­li­can con­sul­tant who was par­tic­u­lar­ly inter­est­ed in the polit­i­cal effects of emo­tions like fear, hatred and shame. He thought that if these neg­a­tive emo­tions could be con­veyed by politi­cians who were a bit more lov­able than the gra­tu­itous racists and inse­cure, mid-Atlantic patri­cians that the par­ty typ­i­cal­ly ran, then the poli­cies of the par­ty wouldn't have to change. Blun­der­ing Ronald Rea­gan and George H.W. Bush were both the brain chil­dren of Ailes.
Once he start­ed Fox, there was no right-wing non­sense — no mat­ter how pecu­liar or tedious — that would be denied a nation­al hear­ing. Birtherism, vot­er fraud, urban chaos and Islam­ic sleep­er cells have all been casu­al­ly dropped into the night­ly dis­course as if they were mat­ters of gen­uine con­cern. Depen­dence on per­pet­u­al out­rage-ped­dling was always an explic­it part of Ailes' plans for the net­work. The net­work has also fre­quent­ly employed deceit and manip­u­la­tion: dis­fig­ur­ing the images of polit­i­cal oppo­nents to make them look ugli­er than they are, cut­ting out the applause dur­ing speech­es to make them come off as less pop­u­lar and edit­ing videos in order to change the mean­ing or con­text of their content.
With or with­out Ailes, polit­i­cal tele­vi­sion was prob­a­bly always head­ed to where it is now, but it's hard to dis­agree with the propo­si­tion that he's had a grip­ping and sin­is­ter influ­ence on con­ser­vatism for the last 40 years. I saw that influ­ence first­hand with my own fam­i­ly — a typ­i­cal sub­ur­ban con­ser­v­a­tive one in Indi­anapo­lis. My mom would always say that grand­ma would vote straight Repub­li­can for the rest of her life, even if the par­ty were to run Adolf Hitler. And I didn't meet an adult who liked Bill Clin­ton until 3rd grade when I went over to a friend's house and met his mom. In fact, odd­ly enough, the two pub­lic fig­ures I knew to hate grow­ing up were Clin­ton and Don­ald Trump — Clin­ton because he was a Demo­c­rat (per­verse, cor­rupt, moral­ly unfit) and Trump because he was the media icon of East Coast real estate (untrust­wor­thy, rude, self-pitying).
There's a lot of mis­placed malig­ni­ty for Ailes out there. To many, he's seen as some­one who made pol­i­tics more con­fronta­tion­al. What he real­ly did was help to make it more dis­hon­est and cow­ard­ly. He told Richard Nixon's White House he want­ed to get the GOP on tele­vi­sion and end­ed up graft­ing all of television's absur­di­ties onto the GOP. He hid behind polit­i­cal clichés and a pho­ny moral indig­na­tion for the country's future, then pre­tend­ed to be brave by rail­ing against the inse­cure and dis­pos­sessed. He suc­cess­ful­ly fused the reli­gious, nation­al­is­tic and oli­garchic com­po­nents of reac­tionary pol­i­tics — hold­ing onto the pre­tens­es about free­dom and lib­er­ty until it was too late for any­one seri­ous about either to defy him — and, in doing so, offered the Amer­i­can pub­lic a dan­ger­ous fau­na of ridicu­lous myths about its his­to­ry and culture.
Like any good con man, he preyed on the elder­ly and the senile. (I once heard it said of Fox that it was a net­work for old peo­ple, not con­ser­v­a­tives.) And like any pro­pa­gan­dist worth his weight, he kept a straight face and crooked smile every time he changed the nar­ra­tive for par­ti­san or sec­tar­i­an pur­pos­es. He was a trai­tor to every­thing good and noble in the world. What­ev­er is true, what­ev­er is hon­est, what­ev­er is admirable — those things had noth­ing to do with Roger Ailes.
Mark Dun­bar
is a free­lance writer based in Indi­anapo­lis. He can be reached by email at mark.​dunbar
1988
@​gmail.​com or on Twit­ter at @Mark
1
Dunbar.