Trump's FCC Bids Farewell to the Internet as We Know It
The internet is about to become more expensive and far less free.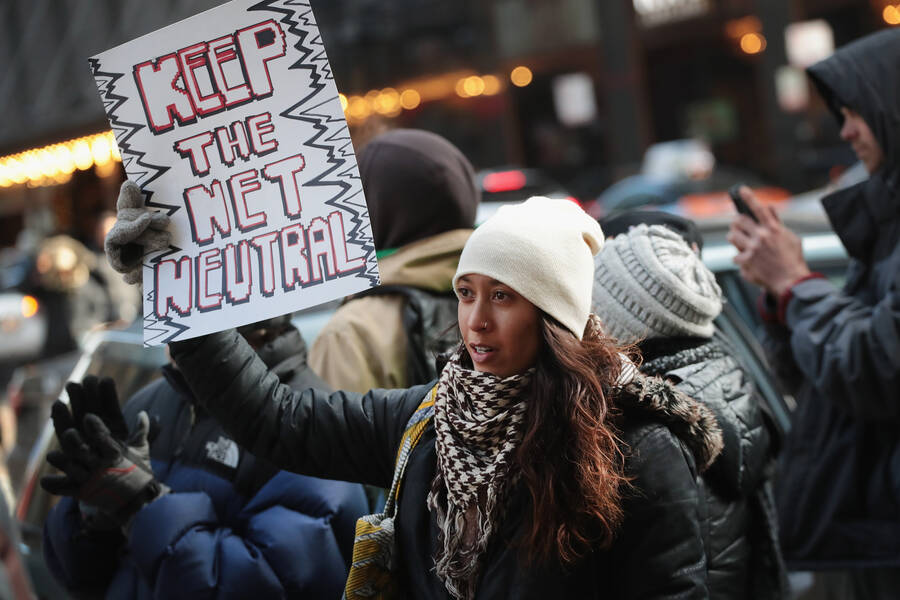 Update: On Decem­ber 14, the FCC vot­ed 3 – 2 to over­turn the 2015 net neu­tral­i­ty rules.
Why are ISPs really pushing the FCC to end net neutrality? The answer is simple: there's a lot of money to be made if you're in control of what people see online.
On Novem­ber 21, Fed­er­al Com­mu­ni­ca­tions Com­mis­sion (FCC) Chair­man Ajit Pai announced that the agency will vote Decem­ber 14 on whether to strike down 2015's land­mark net neu­tral­i­ty rules. If the FCC lead­er­ship committee's Repub­li­cans votes to over­turn the rules, as expect­ed, telecom­mu­ni­ca­tion com­pa­nies will be allowed to decide what users can access on the inter­net — and how much they will have to pay.
The rules adopt­ed in 2015 re-cat­e­go­rized inter­net ser­vice providers (ISPs) such as Com­cast, AT&T and Ver­i­zon from ​"infor­ma­tion ser­vices" — a clas­si­fi­ca­tion applied to social net­work sites, search engines and blogs — to ​"telecom­mu­ni­ca­tion ser­vices." This re-cat­e­go­riza­tion, allowed the FCC to reg­u­late ISPs as ​"com­mon car­ri­ers," tra­di­tion­al­ly util­i­ty or infra­struc­ture com­pa­nies that pro­vide a gen­er­al ser­vice rather than spe­cial­ized pack­ages. As a result of this clas­si­fi­ca­tion, under Title II of the 1934 Com­mu­ni­ca­tions Act, the net neu­tral­i­ty rules made it ille­gal for ISPs to offer inter­net pack­ages that either exclude or pri­or­i­tize par­tic­u­lar con­tent providers — keep­ing the inter­net free and open.
Now, the FCC is poised to roll back these mea­sures and meet the demands of telecom­mu­ni­ca­tion lob­by­ists work­ing for com­pa­nies like AT&T and Com­cast who claim that the 2015 rules have sup­pressed broad­band net­work invest­ment. How­ev­er, when these com­pa­nies have been legal­ly oblig­at­ed to report to their investors, their num­bers and state­ments tell a very dif­fer­ent sto­ry.
Despite the claims that invest­ment has been harmed by the reclas­si­fi­ca­tion of ISPs as com­mon car­ri­ers — which the FCC has cit­ed as a pri­ma­ry rea­son for elim­i­nat­ing the net neu­tral­i­ty rules — a recent report from the inter­net free­dom advo­ca­cy group Free Press found that, ​"not a sin­gle pub­licly trad­ed U.S. ISP ever told its investors (or the SEC) that Title II neg­a­tive­ly impact­ed its own invest­ments specifically."
Chair­man Pai, for his part, has framed his pro­posed roll­back as sim­ply a ​"return to the bipar­ti­san light touch frame­work that gov­erned the inter­net, start­ing in the Clin­ton admin­is­tra­tion," as opposed to ​"the Oba­ma administration's heavy-hand­ed regulations."
But while Chair­man Pai may con­sid­er these reg­u­la­tions ​"heavy-hand­ed," in fact they were put in place to stamp out abuses.
Before broad­band, inter­net users obtained access through dial-up, which was clas­si­fied as a telecom­mu­ni­ca­tion ser­vice. As broad­band became more com­mon through­out the 2000s, the FCC was reg­u­lar­ly bat­tling in court with ISPs. These com­pa­nies were tak­ing advan­tage of their erro­neous cat­e­go­riza­tion as an infor­ma­tion ser­vice, engag­ing in manip­u­la­tive prac­tices such as extort­ing con­tent providers, slow­ing down activ­i­ty they deemed inap­pro­pri­ate and block­ing user access to com­peti­tors' web­sites. Such prac­tices were large­ly end­ed with the FCC's 2015 rules.
So, why are ISPs real­ly push­ing the FCC to end net neu­tral­i­ty? The answer is sim­ple: there's a lot of mon­ey to be made if you're in con­trol of what peo­ple see online — just ask Google and Facebook.
While it's impos­si­ble to tell just how much ISPs stand to gain finan­cial­ly from the change, the mil­lions of dol­lars they've spent cam­paign­ing against net neu­tral­i­ty indi­cate that they expect to make a wind­fall. What is cer­tain is that much of the costs will be borne by inter­net users.
The ques­tion of whether inter­net access should be free or restrict­ed has impli­ca­tions beyond users' bank accounts, how­ev­er. Repeal­ing net neu­tral­i­ty would essen­tial­ly con­vert the expe­ri­ence of using the inter­net — now open and inter­ac­tive — into that of tele­vi­sion: closed, pas­sive and bureau­crat­ic. Big web­sites would become the dig­i­tal equiv­a­lent of the big cable networks.
Right now, ISPs are only able to offer inter­net access. If Chair­man Pai's pro­pos­al is imple­ment­ed, how­ev­er, they'll be able to offer spe­cial­ized pack­ages in con­tent, speed and data management.
That might sound rel­a­tive­ly innocu­ous, but it isn't. It means ISPs would be able to offer a news pack­age that excludes par­tic­u­lar news web­sites (such as InThe​se​Times​.com). Or, even with­out fol­low­ing the pack­ag­ing mod­el, it means they can slow down, or block, web­sites they pre­fer their cus­tomers don't visit.
Pri­or to the 2015 rules, ISPs were already doing the lat­ter. For instance, Com­cast slowed down peer-to-peer file shar­ing of what it believed was copy­right­ed mate­r­i­al, and Ver­i­zon blocked its cus­tomers from using the ​"wal­let" apps of its competitors.
The net neu­tral­i­ty bat­tle has also pit­ted ISPs against big data-users such as Google, Net­flix and Spo­ti­fy — com­pa­nies that see an over­turn of the 2015 rules as a threat to their bot­tom lines.
While Google has boast­ed about the impor­tance of an ​"open inter­net," what the company's exec­u­tives are real­ly con­cerned about is the extor­tionary fees ISPs could charge them if the FCC's pro­pos­al goes through. That's why Google lob­bied for the Title II reg­u­la­tions on ISPs, and why the com­pa­ny has been rush­ing expan­sion of its own inter­net ser­vice — Google Fiber — which ISPs have tried using local gov­ern­ments to block.
These com­pa­nies are of course look­ing out for their investors and stock­hold­ers, not aver­age inter­net users. But this doesn't change the fact that if net neu­tral­i­ty is over­turned, the inter­net will become more expen­sive and less free for everyone.
The inter­net already has enough gate­keep­ers — ISPs don't need to be added to the list. Web hosts can already sus­pend web­site domains. Face­book and Google already decide not only what peo­ple see online, but in what con­text they see it. The dig­i­tal econ­o­my doesn't need more cen­sor­ship, inequal­i­ty and sur­veil­lance. There's plen­ty of that already.
Mark Dun­bar
is a free­lance writer based in Indi­anapo­lis. He can be reached by email at mark.​dunbar
1988
@​gmail.​com or on Twit­ter at @Mark
1
Dunbar.