How Private Equity Killed Toys "R" Us
Private equity firms bled the company dry to turn a profit, and now mass layoffs are imminent.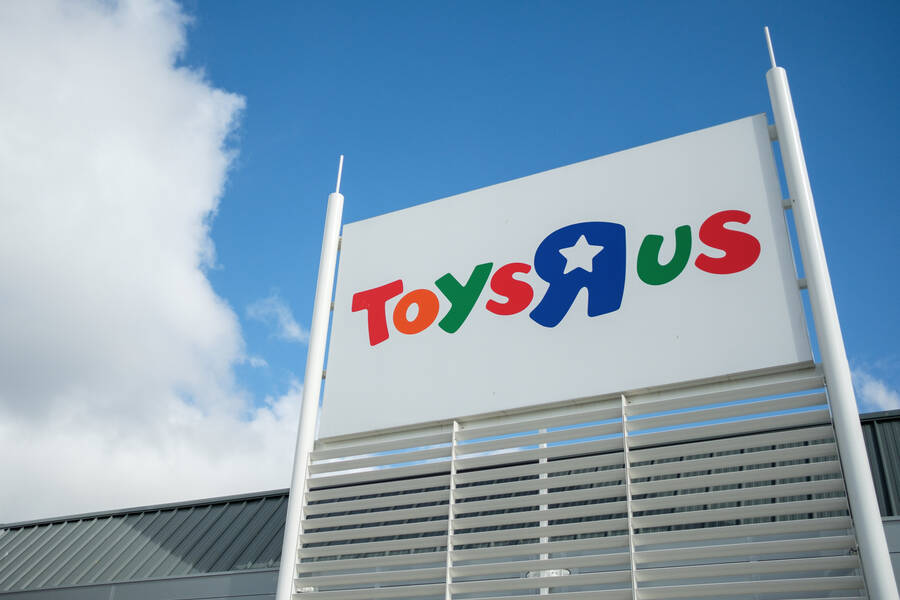 Since Toys ​"R" Us filed for Chap­ter 11 bank­rupt­cy in late Sep­tem­ber there has been much spec­u­la­tion as to what, or who, is to blame for the icon­ic toy company's col­lapse. Some com­men­ta­tors have point­ed to a gen­er­al decline in the toy indus­try, with kids increas­ing­ly pre­fer­ring app-based dig­i­tal games to phys­i­cal ones. Oth­ers have cit­ed the company's poor­ly con­struct­ed web­site and over­priced prod­ucts, as com­pared to com­peti­tors like Wal­mart and Amazon.
Private equity might be a more vulgar form of managerial exploitation, but its pathologies are the same. Cut-rate wages, insecure jobs and rigid hierarchical decision-making.
As the sto­ry goes, Toys ​"R" Us was sell­ing increas­ing­ly unpop­u­lar prod­ucts inef­fi­cient­ly and at prices that didn't reflect the cur­rent eco­nom­ic land­scape. So is it real­ly a sur­prise that the com­pa­ny was final­ly forced to file for bank­rupt­cy, poten­tial­ly clos­ing its 1,600 stores in 38 coun­tries for good?
Yes, gen­uine mar­ket forces such as bad pric­ing mod­els or chang­ing con­sumer pref­er­ences could be to blame. Goods cost more to pro­duce. Tastes change. Mis­takes are made.
Upon clos­er exam­i­na­tion, how­ev­er, this analy­sis doesn't hold up. First, the glob­al toy indus­try isn't in decline. In fact, it's been grow­ing con­sis­tent­ly over the past five years. Phys­i­cal toys may be less pop­u­lar in the Unit­ed States than they once were, but inter­na­tion­al­ly—par­tic­u­lar­ly in Asian and Latin Amer­i­can coun­tries—the play busi­ness is boom­ing. And most of Toys ​"R" Us's prof­its actu­al­ly come from its Babies ​"R" Us affil­i­ate which sells not just toys but also health, safe­ty and edu­ca­tion­al tools for infant care.
Yet most impor­tant­ly, this analy­sis fails to account for how Toys ​"R" Us wound up so deeply in debt in the first place. In 2005, as the company's stock was reg­u­lar­ly los­ing val­ue due to mediocre sales, man­age­ment decid­ed to sell the com­pa­ny in a lever­aged buy­out to a trio of buy­ers, real-estate-invest­ment trust Vor­na­do Real­ty Trust and pri­vate equi­ty firms KKR and Bain Capital.
This trio played a crit­i­cal role in the down­fall of Toys ​"R" Us, through impos­ing mas­sive debt oblig­a­tions on the com­pa­ny and requir­ing it to pay back its debts so that its buy­ers could turn a prof­it. Mean­while, the finances of the com­pa­ny were thrown into dis­ar­ray and employ­ees were hit with wave after wave of layoffs.
How it got this bad
Vor­na­do Real­ty Trust, KKR and Bain Cap­i­tal financed 80 per­cent of the pur­chase of Toys ​"R" Us, so while the com­pa­ny sold for $6.6 bil­lion, the trio only con­tributed $1.3 bil­lion. As part of the pur­chase agree­ment, the com­pa­nies also agreed to take respon­si­bil­i­ty for all of Toys ​"R" Us's long-term debt oblig­a­tions, which at the time totaled $2.3 bil­lion. Once Toys R Us was tak­en over, how­ev­er, the debt Vor­na­do Real­ty, KKR and Bain used to acquire it was pushed back onto the com­pa­ny, sky­rock­et­ing its debt oblig­a­tions to $7.6 billion.
Toys ​"R" Us has been pay­ing $400 mil­lion a year to ser­vice these debts. This mon­ey could have been used to low­er prices or improve the company's web­site — not to men­tion rais­ing pay to its employ­ees — but instead went to pay­ing off cred­i­tors. Last year, the com­pa­ny report­ed a loss of $29 mil­lion. If it weren't for these debt pay­ments, Toys ​"R" Us would have run a sub­stan­tial profit.
Vor­na­do Real­ty, KKR and Bain tried to cash in by tak­ing Toys ​"R" Us pub­lic from 2010 to 2013 but ulti­mate­ly failed. Since then, Vor­na­do has incre­men­tal­ly ​"writ­ten down" their invest­ment in the toy com­pa­ny to zero, mean­ing they see their shares as essen­tial­ly valueless.
The pat­tern fol­lowed by Toys ​"R" Us is typ­i­cal in pri­vate equi­ty takeovers. Man­age­ment is bought off: John Eyler, CEO of Toys ​"R" Us, was com­pen­sat­ed $65.3 mil­lion upon the buyout's com­ple­tion. Employ­ees have no say in the mat­ter. Then come the lay­offs, debt trans­fers and short­sight­ed asset sales. Funds are ear­marked to pay down debts — Toys ​"R" Us was spend­ing more annu­al­ly on debt pay­ments than it was on its web­site and stores — even as cash reserves are deplet­ed. Before the buy­out, Toys R Us had $2.2 bil­lion in reserves. As of 2017, that num­ber is down to $301 mil­lion.
Just two months ago, Toys ​"R" Us was still try­ing to rene­go­ti­ate its debt agree­ments with its cred­i­tors. But on Sep­tem­ber 6, CNBC report­ed that Toys ​"R" Us was flirt­ing with bank­rupt­cy — pos­si­bly just as a nego­ti­a­tion tac­tic — and investors pan­icked. Ven­dors start­ed ask­ing for cash pay­ments for their ser­vices and, in some cas­es, that all accounts be paid off. Bond prices plum­met­ed to 18 per­cent of their face val­ue and upfront costs for debt insur­ance went up 2,500 percent.
Pri­vate equity's toys
Out­side of small shops, Amer­i­can retail is hav­ing a tough time. There have been 35 retail bank­rupt­cies this year alone, with many of these retail­ers being pur­chased in lever­aged buy­outs includ­ing Pay­less Shoes, The Lim­it­ed and Wet Seal.
Pri­vate equi­ty groups have played a sig­nif­i­cant role in this down­ward turn for retail. But they are not the only cul­prits: cor­po­rate exec­u­tives are often let off the hook despite their cor­rup­tion and com­pla­cen­cy in such takeovers. Pri­vate equi­ty might be a more vul­gar form of man­age­r­i­al exploita­tion, but its patholo­gies are the same. Cut-rate wages, inse­cure jobs and rigid hier­ar­chi­cal decision-making.
Toys ​"R" Us's com­pa­ny state­ment for the bank­rupt­cy court start­ed with a lyric from its theme song, ​"I don't want to grow up, I'm a Toys ​"R" Us Kid/​ There's a mil­lion toys at Toys R Us that I can play with." No doubt pri­vate equi­ty man­agers can relate to the song's care­free impulse. With hordes of cash, low cap­i­tal gains tax­es and employ­er-employ­ee pow­er rela­tions as they are, pri­vate equi­ty firms see a mil­lion play­things like Toys ​"R" Us around the world that they can play with.
Mark Dun­bar
is a free­lance writer based in Indi­anapo­lis. He can be reached by email at mark.​dunbar
1988
@​gmail.​com or on Twit­ter at @Mark
1
Dunbar.