Round Up
INS "special registration" ends in mass arrests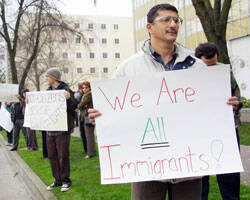 Los Angeles
—For immigrants and visitors alike, the American dream is fading fast. In mid-December 2002, at least 400 non-citizens, many Iranian, became the latest group to be caught in the undertow of a powerful tide of anti-immigrant sentiment.
After being instructed by the Immigration and Naturalization Service (INS) to participate in a "special registration" of non-U.S. citizens by December 16, hundreds of men ranging in age from 16 to 85 found themselves handcuffed, arrested and thrown into a basement holding cell designed for 20 people.
According to Soheila Jonoubi, a Los Angeles-based attorney representing several of the men, the detainees spent the next several days (and in some cases weeks) in custody. They were yelled at and deprived of food and water, bedding and adequate clothing, Jonoubi says, and were not informed of the charges against them. Some say they were subject to strip searches many days into their incarceration.
Jorge Martinez, a spokesman for the Department of Justice, says the men were detained because their non-immigrant visas had expired. After running background checks on the men, the INS had released all but 20 as of mid-January, according to Martinez.
Many of those arrested held legal immigration status and were simply waiting for INS hearings. "These men went in under the impression that they were simply complying with the new regulation," Jonoubi says. "All of their cases were pending, and they had all received work permits. It was actually a shortcoming of the INS in processing these people's applications for green cards."
"In the Iranian and Arab communities, people are in shock at the unexpected arrests," says Jordan Elgrably, the director of L.A.'s Levantine Cultural Center.
A congressional mandate enacted after the terrorist attacks of September 11, 2001, requires the INS to implement a comprehensive "entry-exit" program by 2005. As a result, the agency has begun requiring registrations for "temporary foreign visitors," primarily from Middle Eastern and other predominantly Muslim countries. The first phase of registration involved males 16 and older from Iran, Iraq, Libya, Sudan and Syria. In addition to the L.A. arrests, men from these countries were detained in San Diego, San Francisco and a handful of other U.S. cities.
The second phase of registration in early January applied to nationals of 13 countries, including Afghanistan, Algeria, Bahrain, Lebanon, Morocco, Somalia, the United Arab Emirates and Yemen (that deadline saw another seven arrested and 150 detained). A third February 21 deadline applies to an estimated 14,000 men and boys from Pakistan and Saudi Arabia; and a newly announced March 28 deadline applies to nationals from five more countries, including Egypt and Indonesia.
About 1,200 immigrants have been detained since the September 11 attacks, including several who were detained for weeks or months before being charged or released. That number is in addition to the 600 or so "enemy combatants" being held without right to due process in Guantanamo Bay, Cuba. In December 2002, Amnesty International renewed its call for repatriation of the uncharged detainees, as required by the Geneva Convention.
The USA PATRIOT Act, passed in October 2001, granted the INS the right to detain non-citizen immigrants for as long as seven days without charge. It also permits the government to withhold evidence from detainees supporting their "terrorist" classification and denies those held the right to contest such evidence in court.
Under Attorney General John Ashcroft, a series of DOJ and INS directives have only further eroded the civil liberties of immigrants. Shortly after the attacks, DOJ set up investigative teams to track down, interrogate (and, in some cases, detain and deport) a targeted list of 6,000 non-citizens from countries with "active al-Qaeda" networks.
In December 2002, a lawsuit filed by the American-Arab Anti-Discrimination Committee and other groups attempted to prevent the government from making arrests during the registration process without appropriate warrants. The case was later dismissed.
The American Immigration Lawyers Association (AILA) has called for the immediate elimination of the registration program. Failing that, insists Judy Golub, senior director of advocacy for AILA in Washington, the INS must make an effort to clearly explain registration requirements to affected immigrant communities and cease detaining and deporting people with pending applications for legal residency. "We remain very concerned with the next batch of special registrations given what we saw in the first round," Golub says.
The arrests have caused widespread fear in immigrant communities, and critics say they represent an ineffective and dangerous approach that should be stopped. "It makes no sense from security or resource perspectives to target people who will eventually be granted lawful status because they have applications pending," Golub says.
"The racist component to these directives is hard to overlook," notes Michael Welch of Rutgers University, author of
Detained: Immigration Laws and the Expanding INS Jail Complex.
The escalation of selective registration, detention and deportation of immigrants, Welch says, has taken the form of a "large, very poorly guided fishing expedition."
"One of the great ironies of this kind of social control is that it erodes the cooperation of these immigrant communities," he says. "When a government embarks on a fishing expedition like this one, they're admitting that they don't have a lot of clues to begin with."
Silja J.A. Talvi
, a senior editor at In These Times, is an investigative journalist and essayist with credits in many dozens of newspapers and magazines nationwide, including The Nation, Salon, Santa Fe Reporter, Utne, and the Christian Science Monitor.