Rove Sweet Rove
Ignored by "Bush's Brain," activists take the fight to his home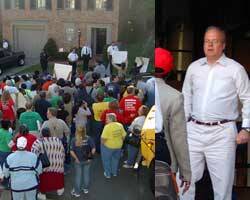 On a quiet Sunday afternoon in late March, more than a dozen yellow school buses crept up the street of a high-end Washington, D.C. neighborhood and parked in front of the home of Karl ​"Bush's Brain" Rove, senior policy advisor to President Bush.
Members of National People's Action (NPA), a national coalition of community organizations, poured onto Rove's lawn demanding that the White House support the Development, Relief and Education for Alien Minors (DREAM) Act. The activists surrounded Rove's home chanting, blowing whistles and carrying posters with the message, ​"Rove: Don't steal the dream!"
If passed, the DREAM Act would grant in-state college tuition for children of immigrants who have graduated from high school and who have lived in the country for at least five years. Students also would begin the process toward legal citizenship. An estimated 50,000−65,000 undocumented students graduate from high school in the United States each year but can't work legally or qualify for in-state tuition to attend college. The DREAM Act already has 42 Senate cosponsors but is stalled for a vote on the Senate floor.
NPA invited Rove to meet that weekend for the group's annual conference to discuss the legislation. Rove declined to come or send representatives. In response, NPA took the meeting to his front door.
For 10 minutes, Rove moved from window to window, yelling to the crowd, ​"get off my property." From the street, observers could see him through the windows pacing furiously and shouting into a phone.
"We are here today to send a strong message to the Bush administration," NPA Co-Chairwoman Emira Palacios told the crowd. ​"We are telling them that if they want the Hispanic vote, they must give us the DREAM Act!"
Throughout chants of ​"Karl, Karl, come on out! See what the Dream Act is all about," police and secret service officers negotiated with Rove to meet with NPA members. As Rove continued to stall, the crowd broke into a rousing rendition of ​"America the Beautiful."
Upon agreeing to meet with two NPA leaders, he promptly ushered them into his garage and shut the door. NPA Co-Chairwoman Inez Killingsworth said Rove moved in ​"nose-to-nose," with them, shouting how they had scared his children. The meeting lasted two minutes.
Speaking with the media outside, Palacios said: ​"He is very offended because we dared to come here. We dared to come here because he dared to ignore us. I'm sorry we disturbed his children, but our children are disturbed everyday."
Tracy Van Slyke
, a former publisher of In These Times, is the project director for The Media Consortium.