Run, Bernie, Run—But As What?
Dems, Greens, independents and socialists are courting Vermont's junior senator.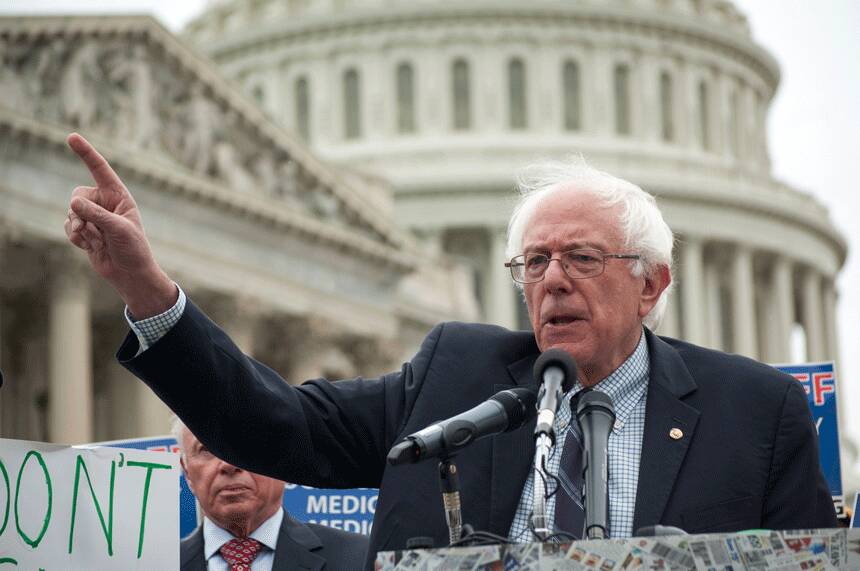 Ver­mon­t's inde­pen­dent sen­a­tor Bernie Sanders recent­ly head­ed to Goose Lake, Iowa — the lat­est chap­ter in his ongo­ing flir­ta­tion with the 2016 pres­i­den­tial race. On Sat­ur­day, May 17, he deliv­ered the keynote speech at the Clin­ton Coun­ty Democ­rats ​"Hall of Fame" Din­ner.
The true legacy of Sanders' campaign—that is, if it is to serve as more than a mere stumbling block to Hillary Clinton's coronation—depends on how much traction it generates among grassroots activists, according to Lighty.
​"The agen­da I believe in is a very pro­gres­sive agen­da," he told the crowd of 200. ​"And I want to get a sense from Iowa and the rest of the coun­try if there is sup­port for that agenda."
Oth­er than his age — by Elec­tion Day 2016, Sanders will be 75 years old — the great­est ques­tion fac­ing any such pres­i­den­tial bid is what par­ty label, if any, the sen­a­tor adopts. The dilem­ma: The self-described social­ist prides him­self on his inde­pen­dence, but wor­ries he may not be able to attract enough atten­tion unless he runs as a Democrat.
As Sanders pon­ders his next steps, his sup­port­ers are start­ing to make noise.
Lead­ing the pack is Pro­gres­sive Democ­rats of Amer­i­ca (PDA), which is push­ing Sanders to make the leap into the Demo­c­ra­t­ic pri­ma­ry. On May 9, as part of its 10th anniver­sary cel­e­bra­tion in Northamp­ton, Mass­a­chu­setts, PDA pre­sent­ed the sen­a­tor with more than 11,000 sig­na­tures ask­ing that he run as a Demo­c­rat. The fol­low­ing morn­ing, Sanders deliv­ered a speech to about 250 pro­gres­sive activists at a Northamp­ton church. (Full dis­clo­sure: I spoke on a pan­el about pro­gres­sive media at PDA's event.)
​"We believe in pro­mot­ing pro­gres­sives first. And the fact is that Bernie Sanders is far and away num­ber one out there when it comes to pro­gres­sive issues," says Conor Boy­lan, PDA's nation­al deputy direc­tor. ​"Just giv­en how the pri­maries are set up, he would have more of a voice and be able to get his mes­sage out a lot bet­ter if he were to run as a Demo­c­rat — giv­en the fact that inde­pen­dent can­di­dates are not sought after by the media dur­ing the pres­i­den­tial race."
​"And … if Hillary Clin­ton does run in the pri­maries, I think that's def­i­nite­ly where you're going to see the two visions for Amer­i­ca — the more cor­po­rate, neolib­er­al Hillary Clin­ton and the more pop­ulist, fight­ing-for-the-mid­dle-class Bernie Sanders," Boy­lan con­tin­ues. ​"That's why hav­ing the two of them debate each oth­er would be worth its weight in gold for pro­gres­sive Democ­rats who real­ly want to say, ​'Hey, not all Democ­rats are the same here.' That would be a real example."
Oth­ers say that for Sanders to run in the Demo­c­ra­t­ic pri­maries would be an exer­cise in futil­i­ty — a per­spec­tive that flows from a much grim­mer out­look on the Demo­c­ra­t­ic Par­ty as a whole. Since last Decem­ber, Michael Trudeau, an edi­tor and Green Par­ty activist based in Cary, North Car­oli­na, has led a peti­tion dri­ve call­ing on Sanders to run as a Green. The peti­tion has amassed just under 1,000 sig­na­tures so far.
​"Over 80 per­cent of Democ­rats want Hillary Clin­ton to be pres­i­dent," says Trudeau, ref­er­enc­ing recent polling data. ​"I think that says vol­umes about the char­ac­ter of the Demo­c­ra­t­ic Par­ty. I don't think some­one like Bernie Sanders will have rank-and-file Demo­c­ra­t­ic sup­port, let alone super-del­e­gate sup­port in the Demo­c­ra­t­ic primary."
More­over, Trudeau says, the track record of insur­gent Demo­c­ra­t­ic pres­i­den­tial cam­paigns is unim­pres­sive. Bids like Jesse Jackson's in 1988 or Den­nis Kucinich's in 2004 and 2008 have failed to halt the party's right­ward shift, he says.
​"The exer­cise of him run­ning as a Demo­c­rat, in my mind, would real­ly just be an exer­cise in bring­ing in pro­gres­sives, lib­er­als, peo­ple left of the Demo­c­ra­t­ic Par­ty into the Demo­c­ra­t­ic Par­ty, because he's there," Trudeau con­tin­ues. ​"And then all these peo­ple end up vot­ing for Clin­ton, neolib­er­al­ism, Wall Street, cor­po­ratism, every­thing that she stands for. … He talks about this polit­i­cal rev­o­lu­tion — it's not going to hap­pen with the Demo­c­ra­t­ic Par­ty. It's going to be shut down."
Michael Lighty, PDA board mem­ber and direc­tor of pub­lic pol­i­cy of Nation­al Nurs­es Unit­ed, who says he'd like to see a pres­i­den­tial can­di­date from the Left in 2016, says it's wrong to equate a pri­ma­ry run with any com­pro­mise in beliefs.
"[Sanders] cau­cus­es with the Democ­rats in the Sen­ate," Lighty says. ​"That means he votes for Har­ry Reid as Major­i­ty Leader. Has he sac­ri­ficed his pol­i­tics in doing so? No. There's no dif­fer­ence tac­ti­cal­ly from run­ning as a Demo­c­rat in the pri­ma­ry than from cau­cus­ing with the Democ­rats and sup­port­ing the Demo­c­ra­t­ic Major­i­ty Leader. It doesn't have strate­gic or ide­o­log­i­cal impli­ca­tions per se."
The true lega­cy of Sanders' cam­paign — that is, if it is to serve as more than a mere stum­bling block to Hillary Clinton's coro­na­tion — depends on how much trac­tion it gen­er­ates among grass­roots activists, accord­ing to Lighty. ​"Can­di­date cam­paigns have to be about the can­di­date," he says. ​"It's the job of activists to make it about a broad­er move­ment toward par­tic­i­pa­to­ry democ­ra­cy and pro­gres­sive politics."
Many pro­gres­sives say Jackson's 1988 cam­paign, where the ​"Rain­bow Coali­tion" arguably reached its peak, missed an excel­lent oppor­tu­ni­ty to do just that.
​"We want [the Democ­rats] to become a par­ty for the inter­ests of work­ing peo­ple and not be a cor­po­rate par­ty," Lighty con­tin­ues. ​"A Bernie Sanders cam­paign is part of that strug­gle with­in the Demo­c­ra­t­ic Par­ty. But it only moves the par­ty as a whole to the left if there is an orga­nized group that makes that a pri­ma­ry mis­sion in addi­tion to sup­port­ing Bernie [in the primary]."
Build a third party?
Social­ist Alter­na­tive, the par­ty of Seat­tle City Coun­cilmem­ber Kshama Sawant, says Sanders should use his clout to build momen­tum out­side of the Demo­c­ra­t­ic Party.
​"There has not been a more pro­pi­tious time in mod­ern Amer­i­can his­to­ry to begin to build a pro-work­ing class polit­i­cal force," Social­ist Alternative's Tom Cre­an declared in a recent edi­to­r­i­al. ​"We are not, of course, pre­tend­ing that a mass par­ty of the 99% could be built overnight, but if Sanders decid­ed to run as an inde­pen­dent left can­di­date for pres­i­dent to help gal­va­nize the launch of such a par­ty, it would be an enor­mous step forward."
Cre­an sug­gests that Sanders' run ​"could be linked to a nation­al effort to stand a slate of cred­i­ble left can­di­dates in local and nation­al races in 2016 on an inde­pen­dent basis."
On the oth­er hand, Ralph Nad­er, the four-time pres­i­den­tial can­di­date who has run twice with the Greens and twice as an inde­pen­dent, says Sanders should run as a Democrat.
​"I think he's his­to­ry if he goes inde­pen­dent. He'll go nowhere," Nad­er says. ​"So he's got to go Democrat."
I asked Nad­er if that means Sanders' bit­ing cri­tique of pol­i­tics-as-usu­al would lose any of its edge.
​"That depends if he runs as a Demo­c­rat against the Demo­c­ra­t­ic cor­po­rate estab­lish­ment," Nad­er says. ​"If he runs against [that], then no, he can con­tin­ue to be free to say what he wants. But if he tries to play pol­i­tics inside the par­ty and not men­tion the raw edges of the par­ty, and the mil­i­tarism and suck­ing up to Wall Street, then he won't be the same Bernie Sanders, obviously."
Judg­ing by the sup­port he's received and the events he's spo­ken at so far, Sanders would appear to be lean­ing toward a pri­ma­ry run with the Dems.
Then again, it's unclear if he'll even run at all. Sanders' ongo­ing stump-speech tour across the coun­try need not cul­mi­nate in a pres­i­den­tial bid. On one such trip to the South last fall, Sanders told In These Times he wants to iden­ti­fy pro­gres­sive can­di­dates on the nation­al, state and local lev­el who could use sup­port from his inde­pen­dent polit­i­cal action com­mit­tee. That could very well be his end game.
I asked PDA's Conor Boy­lan if he's received any indi­ca­tion yet which way Sanders is leaning.
​"They're def­i­nite­ly keep­ing their cards close to the chest," Boy­lan says. ​"No real indi­ca­tion either way, if he'll run or what he'll run as. But that's our job to make that hap­pen for him."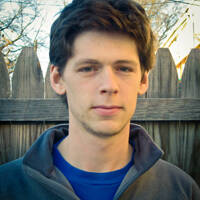 Cole Stan­gler
writes about labor and the envi­ron­ment. His report­ing has also appeared in The Nation, VICE, The New Repub­lic and Inter­na­tion­al Busi­ness Times. He lives in Paris, France. He can be reached at cole[at]inthesetimes.com. Fol­low him
@colestangler
.