Ask­ing a ranch­er how many acres she has is like sidling up to a stranger and ask­ing her how much she gets paid — it's inti­mate and rude. Acreage is mon­ey — the more land you have the more cat­tle you can run — a fact I'm only told after we, a group of rough­ly 20 jour­nal­ists, have made a group of ranch­ers con­fess their acreage.
Over a lunch of brisket, cour­tesy of local grass-fed cows, each rancher's sto­ry unfurls in much the same way: with total acreage usu­al­ly in the thou­sands, and then, when prod­ded, a break­down based on leased Bureau of Land Man­age­ment (BLM) land ver­sus their pri­vate­ly owned acreages. It becomes sub­tly evi­dent that they view the BLM land as their own although legal­ly it's pub­lic land leased for the pub­lic wel­fare. The checker­board pat­tern which inter­cuts pri­vate land with pub­lic land, how­ev­er, makes that dis­tinc­tion fuzzy, except in one crit­i­cal way. Here in the arid inter­moun­tain west the pri­vate land has most of the water, as much as 70 per­cent by some estimates.
The ranch­ers sub­ject­ing them­selves to this odd inter­ro­ga­tion are mem­bers of Stew­ard­ship Alliance of North­east­ern Elko (SANE) which mem­ber Robin Boies says, ​"Uses con­flict man­age­ment, a facil­i­tat­ed col­lab­o­ra­tive process, and sus­tain­able agri­cul­ture tech­niques to improve habi­tat health while cre­at­ing a new mythol­o­gy for the west based on civ­il dia­logue and long term solu­tions." It's a refresh­ing per­spec­tive com­ing just six hours north of Cliv­en Bundy coun­try. SANE isn't here to talk land, how­ev­er, they're here to talk sage grouse. But you can't extir­pate the sage grouse from the land and expect either to do well.
The SANE alliance con­sists of 8 ranch­es in north­east­ern Elko Coun­try, Neva­da. (Image: elko​dai​ly​.com)
To list or not to list
The greater sage grouse, the largest grouse in North Amer­i­ca, is a close rel­a­tive of turkeys, quails and chick­ens. The thick-bod­ied, clunky fliers once num­bered in the mil­lions, blot­ting out the sun as they flew. Today, between 200,000 and 500,000 birds remain—an esti­mat­ed decline of 97 per­cent from a cen­tu­ry ago and 30 per­cent since 1985.
In a 2011 set­tle­ment with envi­ron­men­tal groups, the Fish & Wildlife Ser­vice (FWS) agreed to deter­mine with­in four years whether the sage grouse war­rants list­ing under the Endan­gered Species Act. If the sage grouse did not get list­ed, some feared the bird would go extinct. Yet list­ing itself offers no panacea: The north­ern spot­ted owl has been on the list since 1990 and its pop­u­la­tion con­tin­ues to decline. The deci­sion impacts at least 165 mil­lion acres across 11 states — Cal­i­for­nia, Col­orado, Ida­ho, Mon­tana, Neva­da, North Dako­ta, Ore­gon, South Dako­ta, Utah, Wash­ing­ton and Wyoming — that make up the sage grouse's domes­tic range. As a result, the bird's fate became a polit­i­cal foot­ball, with leg­is­la­tors as well as the agri­cul­ture and oil-and-gas indus­tries, attempt­ing to block the bird's list­ing. In Decem­ber 2014, Con­gress vot­ed to with­hold fund­ing to imple­ment any list­ing, which West­ern law­mak­ers say could lim­it the region's avenues for eco­nom­ic development.
At the same time, states have poured mil­lions of dol­lars into habi­tat pro­tec­tion, ranch­ers have altered ranch­ing prac­tices, frack­ing sites refrain from drilling near breed­ing grounds and wind sites have been redesigned — all to avoid impact­ing the sage grouse and avoid the need for listing.
These efforts have seem­ing­ly worked. On Sep­tem­ber 22, the FWS announced that it had deter­mined the sage grouse did not require greater pro­tec­tion as a threat­ened or endan­gered species.
Before the deci­sion came down, oppo­si­tion to fed­er­al inter­ven­tion on the sage grouse ran high out West. Near­ly every­one I met want­ed the sage grouse saved, but not placed on the endan­gered species list. State and fed­er­al agen­cies poured mil­lions into vol­un­tary con­ser­va­tion efforts. This coor­di­na­tion isn't per­fect. While the BLM, in col­lab­o­ra­tion with oth­er agen­cies, is imple­ment­ing a sweep­ing sage grouse con­ser­va­tion strat­e­gy on fed­er­al lands, it appears set to approve an ener­gy project that could under­mine these efforts. The pro­posed route for a 730-mile trans­mis­sion line—which would run from Wyoming through Utah to Neva­da car­ry­ing wind ener­gy to the three states along with Ari­zona and Cal­i­for­nia — cuts through the heart of key, rel­a­tive­ly undis­turbed sage grouse territory.
Still, ​"peo­ple who have fun­da­men­tal­ly dis­agreed for 20 years are com­ing togeth­er in part­ner­ship to pro­tect this habi­tat," says Bri­an Rut­ledge, Vice Pres­i­dent for Strat­e­gy and Pol­i­cy of the Nation­al Audubon Soci­ety and Cen­tral Fly­way Con­ser­va­tion. Whether that col­lab­o­ra­tion will con­tin­ue with­out the threat of a list­ing, or whether a list­ing would frac­ture that col­lab­o­ra­tion, is dif­fi­cult to know.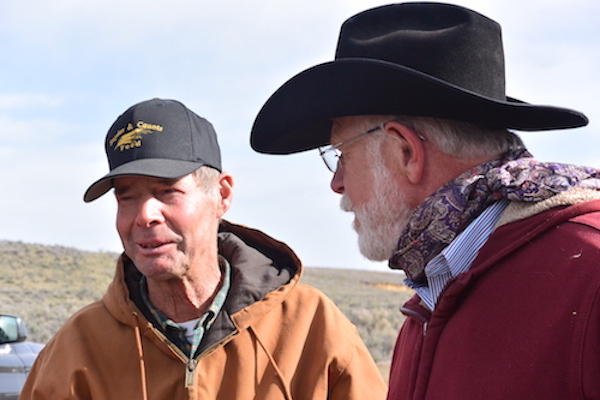 On his land in Mof­fat Coun­try, Col­orado, ranch­er Wes McStay (left) speaks with Bri­an Rut­ledge from the Nation­al Audubon Soci­ety. (Pho­to: Kendra Pierre-Louis)
In a press brief­ing, Depart­ment of the Inte­ri­or Sec­re­tary Sal­ly Jew­ell stat­ed that the deci­sion not to list the bird was a result of, ​"the largest, most com­plex land con­ser­va­tion effort in U.S. his­to­ry, per­haps the world," before not­ing that, the deci­sion not to list would anger both sides of the aisle, ​"Some peo­ple are going to say that the bird should have been list­ed, these plans don't go far enough for the sage grouse, and oth­ers will say the plans are worse than a list­ing you're going to lock up devel­op­ment forever."
Minamiz­ing the destruc­tion of habitat
Sage grouse thrive on some of the dri­est and cold­est, yet most stark­ly beau­ti­ful land in the coun­try: the sage­brush ecosys­tem. It's the icon­ic West: big sky coun­try with loom­ing moun­tains, as syn­ony­mous with cow­boys, ranch­ing and min­ing as it is with bison, mule deer and sage grouse.
Ranch­ing is fre­quent­ly crit­i­cized for hurt­ing the land. Cat­tle are picky eaters who, if left to their own devices, will strip a pas­ture of every­thing tasty, leav­ing behind a less diverse ecosys­tem with less food for oth­er ani­mals. If too many cat­tle are put on a pas­ture and left for too long, they'll leave it com­plete­ly denud­ed and open to oppor­tunis­tic species like cheat­grass, an inva­sive grass that push­es out the native sage­brush the grouse need to survive.
Cheat­grass starts grow­ing ear­li­er in the sea­son than most oth­er plants and its fibrous root sys­tem sucks up water faster than native, peren­ni­al grass­es. It's also incred­i­bly flam­ma­ble. Cheat­grass is at least par­tial­ly to blame for the increas­ing fre­quen­cy and inten­si­ty of fires in the West.
[If you like what you are read­ing, help us spread the word. ​

"

Like" Rur­al Amer­i­ca In These Times on Face­book. Click on the ​

"

Like Page" but­ton below the wolf on the upper right of your screen.]
Once you can iden­ti­fy the seem­ing­ly innocu­ous wheat like stalks of cheat­grass you begin to see it every­where in the inter­moun­tain west: in fields, peer­ing out between stands of sage­brush, along the high­way, but not on Boies Ranch, a cat­tle ranch two hours south­east of the casi­no town of Jack­pot, Nevada.
It's just after sun­rise one Sun­day morn­ing in April, the air still has the bite of an ear­ly morn­ing chill and a ranch­er dri­ves me past wire fence lines marked every three to four feet with 4‑inch pieces of white plas­tic. Sage grouse fre­quent­ly fly to their death by col­lid­ing with the barbed wire fences that cor­ral live­stock. These mark­ers make the fences vis­i­ble to the sage grouse and a 2010 study fund­ed by the Ida­ho Depart­ment of Fish and Game found that they reduce sage grouse mor­tal­i­ty by 83 percent.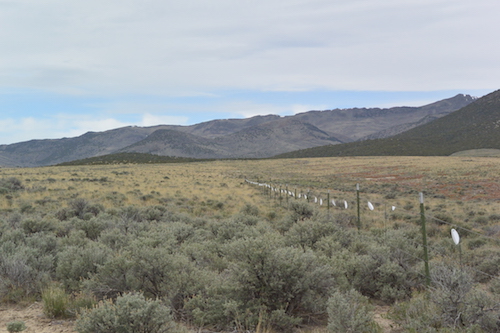 A marked fence delin­eates land in sage grouse ter­ri­to­ry. (Pho­to: Kendra Pierre-Louis)
Robin and Steve Boies work hard to ensure their ranch­ing prac­tices are with­in the eco­log­i­cal lim­its of their land. They keep the size of their herds at a lev­el that the land can sup­port, graz­ing half the ranch at a time and rest­ing the oth­er half. They even employ cow­boys to ensure the cat­tle stay where they're sup­posed to, with the added ben­e­fit of keep­ing preda­tors like coy­otes away. The goal is to keep ranch­ing while also pro­tect­ing the land.
"In the 1980's when we start­ed this," says Robin Boies, ​"we were in an absolute war with the BLM over graz­ing. But it doesn't do my soul to be in conflict."
Despite the oppo­si­tion to cat­tle ranch­ing by some envi­ron­men­tal orga­ni­za­tions, like the West­ern Water­sheds Project, many ecol­o­gists no longer have a prob­lem with ranch­ing when prop­er­ly prac­ticed. Her­bi­vores have always exist­ed on grass­lands, and a grow­ing body of data has shown that appro­pri­ate graz­ing can improve wildlife habi­tat and plant species diver­si­ty. On the ridge­line, dots reveal them­selves to be a herd of prong­horn, the fastest land ani­mal in North Amer­i­ca and the sec­ond fastest ani­mal in the world. They're the sole sur­viv­ing descen­dants of an ancient fam­i­ly dat­ing back 20 mil­lion years. Much of their range over­laps with that of the sage grouse, and like the sage grouse its num­bers too have dwin­dled. Two sub­species, the penin­su­lar prong­horn which resides in Baja Cal­i­for­nia, and the Sono­ran prong­horn which sticks to the Arizona's Sono­ran desert, are on the endan­gered species list. But here, cheat­grass seems far away and the sprawl of crag­gy hills is stip­pled with sagebrush.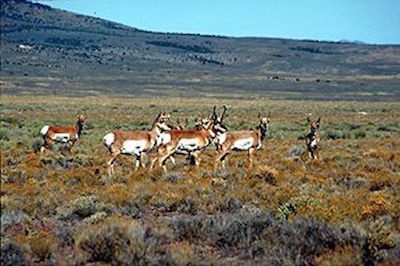 A herd of Neva­da prong­horn. (Pho­to: blm​.gov)
The sage grouse's last dance?
Sage­brush is a low, unas­sum­ing scrub bush. But its tiny stature con­ceals a long life span. Sage­brush that stands at tod­dler height can be a cen­tu­ry old. Pat Deibart, Nation­al Sage Grouse Coor­di­na­tor for the FWS, puts it this way, ​"The sage­brush is an old-growth for­est that's 24 inch­es high." The plant's tap­roots pull up water from deep in the soil while its brush traps and holds wind­blown snow on the land in the win­ter, pro­vid­ing cru­cial water for plants come spring.
The sage grouse is named for the sage­brush because it needs sage­brush to sur­vive. In spring, the grouse hide their eggs in the brush. In sum­mer and fall, the brush pro­vides cam­ou­flage from preda­to­ry birds, and the mois­ture held by the plants attracts the fat insects that are cru­cial to sage grouse hatchling's diet. When win­ter comes, the sage­brush not only offers pro­tec­tion from harsh winds and tem­per­a­tures that can dip to below 40 degrees Fahren­heit, but also pro­vides sus­te­nance. Sage grouse thrive on a win­ter diet com­prised exclu­sive­ly of sagebrush.
As the sage­brush ecosys­tem is destroyed, so too are the grouse. A cen­tu­ry of harm­ful human impact, from ranch­ing to min­ing to oil and gas drilling, has put that ecosys­tem at risk.
In ancient times, the morn­ing hours between three and four were called the witch­ing hour because it was then that witch­es, demons and all mat­ter of super­nat­ur­al beings awoke to spread their malev­o­lence. But for a few months each spring out­side of Craig, a town of rough­ly 9,000 peo­ple in north­west­ern Col­orado, that del­i­cate hour become the lekking hour. Leks are sage grouse court­ing grounds where males — eas­i­ly iden­ti­fi­able by their pea­cock-like plumage and thick, chichi col­lars of white feath­ers — stamp their feet, gyrate their heads and puff up their yel­low chest blad­ders to make a dis­tinc­tive pop­ping noise. This ulti­mate in avian mat­ing dances is called the sage grouse strut.
The best view­ing hours are just after sun­rise, but the dis­tinc­tive pop­ping noise can be heard even in the pre-dawn dark­ness as we walk the mile or so between where the trucks deposit us and the bird blind which pro­vides an inti­mate view­ing expe­ri­ence with­out dis­turb­ing the grouse. We'll sit in total silence until the grouse take off for the day to rest, and feed before giv­ing it anoth­er try the next day. Most of the males will nev­er cop­u­late, lead­ing researchers to dub the lothario who gets most of the ladies ​'the mas­ter cock.' When the blind lifts, the scene that unfurls before us is sur­pris­ing — the land in front of us isn't pris­tine sage­brush but a groomed field.
Every spring for five years, Wes McStay has allowed the non­prof­it orga­ni­za­tion Con­ser­va­tion Col­orado to run lek tours, like this one, on his ranch in Mof­fat Coun­ty. This kind of access is impor­tant because much is still unknown about the sage grouse and leks allow researchers to cal­cu­late their pop­u­la­tions. By some esti­mates more than 80 per­cent of leks are on pri­vate lands.
"Sage grouse have extreme site fideli­ty," says Deib­ert. Across the west, sage grouse will try to ren­est regard­less if a habitat's suit­abil­i­ty has changed. Famous­ly, there's a lek at the end of the Jack­son Hole Air­port run­way in Wyoming. This site fideli­ty is risky, since it not only impacts the how often birds mate on a lek, but also how long those eggs and chicks sur­vive since sage grouse hens nest near leks.
When a frack­ing field is built near a lek — as in the case of the Jon­ah Field, a nat­ur­al gas field in Sub­lette Coun­ty, Wyo. — it direct­ly impacts the health of the sage grouse. On the Jon­ah Field, a sprawl­ing 300,000 acres — 80 per­cent of which is pub­lic Bureau of Land Man­age­ment (BLM) land leased for the pub­lic wel­fare — the noise and light inter­fere with the birds' abil­i­ty to mate and com­mu­ni­cate. Both the hold­ing tanks that dot the prop­er­ty and the trans­mis­sion lines that bring pow­er pro­vide perch­es for ravens and crows, from which they can find and raid sage grouse nests. There were once four leks on the Jon­ah Field, but only one is still active.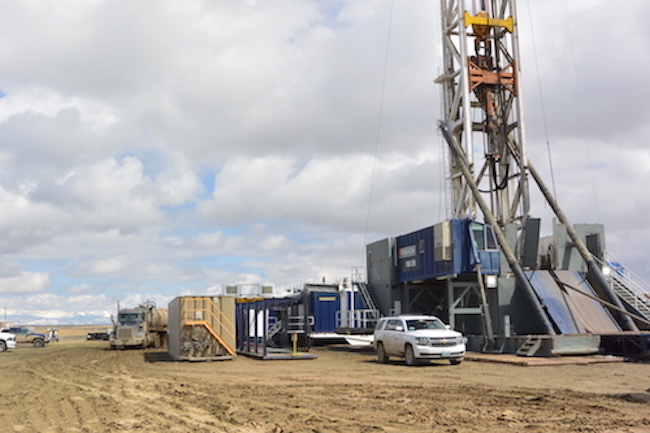 The Jon­ah nat­ur­al gas field in Sub­lette Coun­ty, Wyoming. (Pho­to: Kendra Pierre-Louis)
Thir­ty-sev­en per­cent of all sage grouse live in Wyoming. That is not coin­ci­dence. Wyoming has the fewest peo­ple per square mile out­side of Alas­ka and there's a strong cor­re­la­tion between the num­ber of peo­ple in a state and how healthy the sage­brush, and by exten­sion the sage grouse, is. Humans have a knack for destroy­ing the sage­brush ecosystem.
Paul Ulrich, Jon­ah Energy's reg­u­la­to­ry direc­tor tells us, ​"Wyoming is a great place to hunt, and fish and poke around on my moun­tain bike. I plan on rais­ing my kids here and I hope they can raise theirs here and have what I have."
But it's doubt­ful that his grand­kids will have what he has.
Over the past 25 years, the West has had the great­est pop­u­la­tion growth in the coun­try. From 1990 – 2000, Neva­da, Utah, and Col­orado pop­u­la­tion increased more than 25 per­cent in com­par­i­son to the nation­al aver­age of 13 per­cent. From 2000 – 2010 these states con­tin­ued to grow rapid­ly — more than 10 per­cent a year, with Wyoming one of the least pop­u­lous states, which spent most of the late 20th cen­tu­ry los­ing pop­u­la­tion, also grew.
When a species is at risk of extinc­tion we tend to look for easy caus­es. But in the case of the sage grouse a sin­gle cause remains elu­sive. It's the sum total of human beings' imprint on the land­scape: a cen­tu­ry of bad ranch­ing prac­tices, the impact of oil and gas extrac­tion, min­ing, human devel­op­ments and the bird killing cats we bring with us that are harm­ing the sage grouse. And it's not just the sage­brush ecosys­tem that's imper­iled. Many sci­en­tists believe that, thanks to human activ­i­ty, the Earth is in the midst of its sixth mass extinc­tion. (The fifth occurred 65 mil­lion years ago, when the dinosaurs and 75 per­cent of life on earth were exter­mi­nat­ed by an errant six-mile wide aster­oid.) Nor­mal­ly, the process of extinc­tion is qui­et. Who mourns the last known Christ­mas Island For­est Skink, a smooth-bod­ied, speck­led lizard named Gump who died late last year? What's sur­pris­ing about the sage grouse is not its decline, but that we're notic­ing it.
It's why Sec­re­tary Jew­ell, though sat­is­fied in her pro­nounce­ment that the deci­sion not to list the bird meant, ​"a brighter future for one amaz­ing scrap­py bird that calls the West home," also not­ed that the announce­ment was also mere­ly the end of a begin­ning. ​"We need to imple­ment these state plans and these fed­er­al plans," cau­tioned Jew­ell, ​"and keep learn­ing about what's work­ing on these land­scapes, and we need to incor­po­rate sci­ence in our deci­sions into the future."
"Peo­ple say, ​'The grouse are so stu­pid,'" says Rut­ledge, in ref­er­ence to the fact that we are talk­ing about a bird that will return to a mat­ing site regard­less of its cur­rent suit­abil­i­ty and has a ten­den­cy to fly into fences. ​"But they've been doing pret­ty well for 40 mil­lion years in a habi­tat we've all but dec­i­mat­ed in 100 years."
A sage grouse takes flight in Mof­fat Coun­try, Col­orado. (Pho­to: Kendra Pierre-Louis)
This report­ing was made pos­si­ble by a grant from the Insti­tute for Jour­nal­ism & Nat­ur­al Resources.