The Women Behind Black Lives Matter
The 'leaderless' movement is being propelled by the efforts of women of color.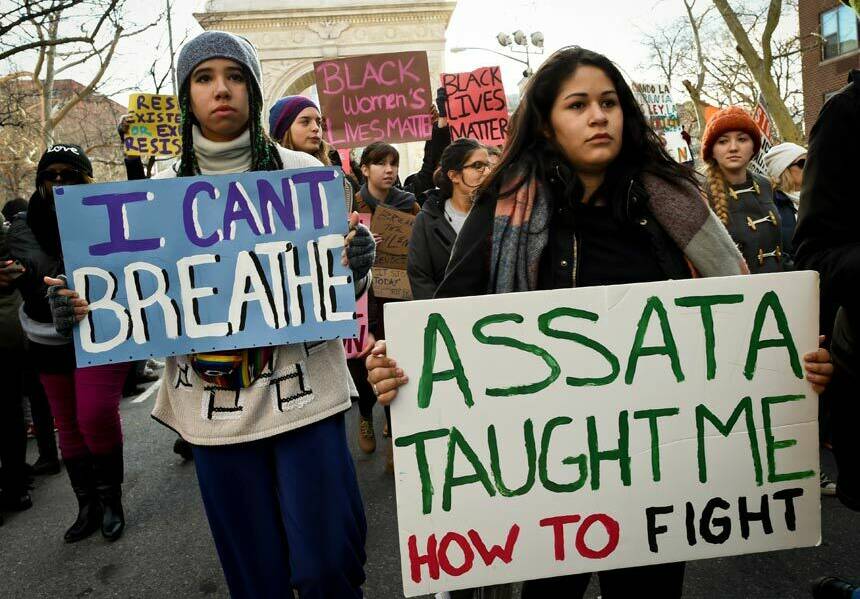 Last summer's killing of Michael Brown by Fer­gu­son, Mo. Police Offi­cer Dar­ren Wil­son, fol­lowed by the Fer­gu­son Police Department's deci­sion to allow Brown's body to lie prone on a hot sum­mer street for four-and-a-half sul­try hours, com­bined with an expand­ing list of unarmed black peo­ple slain by police—Eric Gar­ner, Tamir Rice, Akai Gur­ley—has trans­formed Amer­i­ca into a coun­try where night­ly protests against police vio­lence are all but oblig­a­tory. While white Amer­i­cans on con­ser­v­a­tive news pro­grams may rage about the crim­i­nal ten­den­cies of those slaugh­tered, protests have emerged not just in Fer­gu­son but in Wash­ing­ton, D.C., Oak­land, Chica­go, Bloom­ing­ton, Min­neso­ta, Los Ange­les, New York, and inter­na­tion­al­ly in Lon­don, Paris and even Tokyo. Activists in Pales­tine have expressed sol­i­dar­i­ty with the Fer­gu­son pro­test­ers. Qui tacet con­sen­tire vide­tur, ​"silence implies con­sent," and many peo­ple want it made clear that they do not consent.
What few realize, however, is that a movement often described as "'leaderless," and largely framed by the bodies of slain black men and boys, is being propelled by the efforts of women of color.
What few real­ize, how­ev­er, is that a move­ment often described as "'lead­er­less," and large­ly framed by the bod­ies of slain black men and boys, is being pro­pelled by the efforts of women of color.
The Nov. 24, 2014 deci­sion that Dar­ren Wil­son would not be indict­ed in the shoot­ing death of Michael Brown prompt­ed Synead Nichols, 23, and her friend Umaara Elliott, 19, to orga­nize what would become Mil­lions March NYC. It began as a Face­book event. ​"We maxed out every­one on our friends list," says Umaara, ​"and they start­ed RSVPing and reshar­ing." The web­site www. mil​lion​s​march​nyc​.org debuted about a week lat­er, and a Twit­ter han­dle, Insta­gram account and even a Tum­blr page soon followed.
The two are quick to point out that they had sup­port from many orga­ni­za­tions, includ­ing Mil­lion Hood­ies, Fer­gu­son Action, Jus­tice League NYC and Black Lives Mat­ter. In the end, the Dec. 13, 2014 protest last­ed more than five hours and, at its peak, stretched across 19 city blocks. Esti­mates of the turnout range as high as 50,000 — more than Al Sharpton's DC-based Jus­tice for All March that took place on the same day — but unlike Jus­tice for All, you could come away from the action with­out learn­ing the names of the orga­niz­ers. They're not hid­ing, says Elliot, but ​"no one is intent on being a leader."
Sim­i­lar­ly, Car­men Perez, cofounder of Jus­tice League NYC (and exec­u­tive direc­tor of its par­ent orga­ni­za­tion, The Gath­er­ing for Jus­tice, found­ed by Har­ry Bela­fonte), orga­nized one of the high­est-pro­file #Black­Lives­Mat­ter actions: a ​"die-in," in which pro­test­ers lie down as if dead, in front of Brooklyn's Bar­clays Cen­ter, where Prince William and Kate were attend­ing a Brook­lyn Nets game. ​"They came to see the pageantry and look at the beau­ti­ful things in New York City", says Perez. ​"We want­ed them to see that black peo­ple were dying and to feel and see our pain." Jus­tice League NYC had ensured that play­ers, through Jay Z, had access to t‑shirts bear­ing the phrase ​"I can't breathe," Eric Garner's words as he was killed by NYPD offi­cers. Cleve­land Cav­a­liers play­ers LeBron James and Kyrie Irv­ing wore the shirts dur­ing their warm-up.
Look into the roots of oth­er #Black­Lives­Mat­ter protests, and you'll often find women like Nichols, Elliott and Perez. Ferguson's Mil­len­ni­al Activists Unit­ed, found­ed in the wake of Brown's death, was cre­at­ed by three young women of col­or, Ash­ley Yates, Alex­is Tem­ple­ton and Brit­tany Fer­rell (after meet­ing in Fer­gu­son, Tem­ple­ton and Fer­rell mar­ried in January).
The hash­tag that has become the movement's sig­na­ture, #Black­Lives­Mat­ter, was itself coined by three black queer women, in response to George Zimmerman's acquit­tal in the killing of Trayvon Mar­tin. To be sure, some of these groups are dri­ven by black men— the Dream Defend­ers is led by Phillip Agnew, and Mil­lion Hood­ies was launched by Daniel Maree. But why, in a move­ment trig­gered by vio­lence against black men, are women play­ing such a cen­tral role?
The sim­ple answer is that women also suf­fer at the hands of police. They suf­fer indi­rect­ly — in the loss of sons, fathers, hus­bands, and boyfriends— but also direct­ly. While scant data exists on how many women are killed by law enforce­ment, we know that cops kill unarmed black women, too. Their names are less well known: Rekia Boyd, Aiyana Stan­ley-Jones, Yvette Smith. Jones was only 7.
That ​"black lives mat­ter" so quick­ly gets men­tal­ly trans­lat­ed into ​"black men mat­ter" is less a prod­uct of racism than one of sex­ism. We live in a soci­ety that fre­quent­ly deval­ues the rights and exis­tence of women. Issues that affect men are social issues; issues that affect women are ​"women's" issues. That black men are incar­cer­at­ed at six times the lev­el of white men is a trav­es­ty. That black women are incar­cer­at­ed at three times the rate of white women is all but ignored as is the fact that in school black girls, like black boys, are more like­ly to be the recip­i­ents of far more puni­tive dis­ci­pli­nary actions than their white peers for the same offense. Nichols points out, ​"We con­nect to images of men because of how women are por­trayed in soci­ety and in the media: We are not seen. We are silent. The woman is meant to be on the side­line and hushed."
We see this in the way that the deaths of black women often go unre­port­ed, but also in the invis­i­bil­i­ty of the women doing the behind-the-scenes orga­niz­ing in a move­ment that the media so often describes as leaderless.
"When peo­ple say ​'lead­er­less,' " says Ash­ley Farmer, a post­doc­tor­al fel­low in Duke University's his­to­ry depart­ment, ​"they are often just not see­ing the women who are spear­head­ing it." Women played a key role in orga­niz­ing the 1963 March on Wash­ing­ton, for exam­ple, but none were includ­ed among the day's keynote speakers.
It could be that what's tak­en as lead­er­less is actu­al­ly col­lab­o­ra­tive. When we're used to a top-down orga­ni­za­tion­al struc­ture head­ed by a charis­mat­ic, tra­di­tion­al­ly male leader, protests that break that mold eschew easy fram­ing. Mech­a­nisms like Face­book, Twit­ter and even email allow indi­vid­u­als to say, ​"I'm going to do this, come join me." Those who don't define them­selves as lead­ers can gal­va­nize tens of thousands.
Nichols, how­ev­er, bris­tles at the way this can erase women's con­tri­bu­tions. ​"It's almost as if woman and leader can't be syn­ony­mous, and that's not true," she says. ​"It's impor­tant for women to stand up and make it known that these move­ments are not lead­er­less— although they are col­lab­o­ra­tions among many peo­ple, there are women step­ping up and mak­ing advances."