Drowning Cajun Country
Will the eaters of étouffée disappear along with the Louisiana bayou?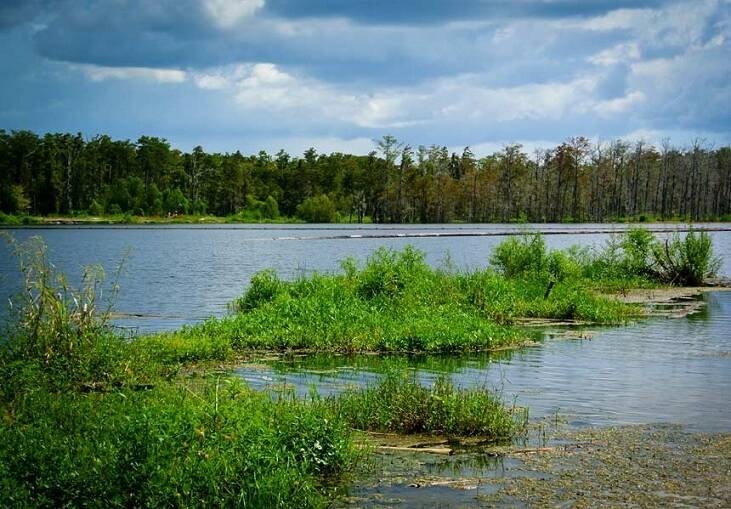 On first glance, the Bay­ou Corne sink­hole doesn't look like much. The 32-acre rent in the earth in the thick of Louisiana's Cajun Coun­try can eas­i­ly be mis­tak­en for a lake. The only hint of some­thing amiss is a 40-inch-thick emp­ty pipe float­ing on the water's sur­face — and the fact that I must wear a life vest on dry land (although I'm not sure what pro­tec­tion the vest will afford if the ground collapses).
While broader American culture seems hellbent on cleaving itself from any identity dependent on a physical landscape, Cajun identity is completely intertwined with a sense of place.
To see the true impact of the sink­hole, one must trav­el half a mile west to the town of Belle Rose. The streets, like Sauce Picante Lane and Jam­bal­aya Street, stand eeri­ly emp­ty. Most of the town's 350 inhab­i­tants have fled.
The sink­hole formed after the col­lapse, two years ago, of a vast under­ground salt dome mine oper­at­ed by Texas Brine. Salt domes are inject­ed with fresh water through sur­face wells — a lit­tle-known cousin of frack­ing — and the resul­tant brine is pumped to the sur­face to help trans­form oil into plas­tic, leav­ing a cav­ern behind. One such cav­ern, Oxy Geis­mar No. 3, gave way after it was mined too close to its edge.
When Oxy Geis­mar No. 3 caved in, it didn't just cre­ate the Bay­ou Corne sink­hole — it also released fumes from 8,000 bar­rels of trapped crude oil that were nox­ious at best, tox­ic at worst. Texas Brine and the Louisiana Office of Home­land Secu­ri­ty found the air qual­i­ty to be safe, but res­i­dents believe it wasn't mon­i­tored quick­ly enough to know.
Because of the threat of the sinkhole's expan­sion, the town is under a manda­to­ry evac­u­a­tion. But res­i­dent Den­nis Landry, Cajun by birth, is stay­ing put. His voice thick­ens as he explains, ​"If you're from South Louisiana, you want to live on the riv­er or lake or bay­ou [the marshy out­let of a lake or riv­er]. … It would be vir­tu­al­ly impos­si­ble to replace a par­adise like this."
Belle Rose sits direct­ly on Bay­ou Corne, where the town's res­i­dents once rou­tine­ly boat­ed and fished. Most Cajuns still get much of their diet from what main­stream Amer­i­ca would call sub­sis­tence: a deep tra­di­tion of liv­ing off the land, includ­ing hunt­ing and fishing.
But the town's con­nec­tion with the marsh went beyond the prag­mat­ic. Landry says, ​"You can walk direct­ly out to the bay­ou [and] enjoy the beau­ty of nature 365 days a year. It would not be uncom­mon to see an alli­ga­tor. You would not be shocked or sur­prised to see a beau­ti­ful Amer­i­can bald eagle, a bass, an egret or a heron."
Sink­holes aren't the only thing eat­ing away at South­ern Louisiana — since 1932, the region has lost a Delaware-sized amount of land to var­i­ous forces. The lev­ees that hold back floods keep Mis­sis­sip­pi Riv­er sed­i­ments from replen­ish­ing the delta. The ero­sion is has­tened by oil and gas devel­op­ment, which the Inte­ri­or Depart­ment esti­mates is respon­si­ble for up to 59 per­cent of the wet­lands loss. The state is pocked with 50,000 oil and gas wells and criss­crossed by 10,000 miles of canals. The state has not held the oil and gas indus­try to its oblig­a­tions to restore the land or fill in aban­doned canals, which slow­ly widen and pump salt water into fresh­wa­ter marsh­es. Accord­ing to a recent ProP­ub­li­ca study, most of Cajun coun­try will be under­wa­ter in 50 years, prompt­ing ​"the largest forced migra­tion for envi­ron­men­tal rea­sons in the his­to­ry of the country."
The loss of Cajun cul­ture is already under­way. The lev­ees are divert­ing the sed­i­ment that once sus­tained the delta into the Atchafalaya basin, America's largest riv­er swamp, where Cajun Coun­try sits. As the basin silent­ly fills, bot­tom­land hard­wood forests are replac­ing the cyprus swamp that has formed the basis of Cajun life for generations.
A swamp­land and its people
The fin­ger­prints of Cajun cul­ture — which con­tains a num­ber of region­al traits lumped under the umbrel­la term — can be seen across the Unit­ed States, most rec­og­niz­ably in our food: red beans and rice, tabas­co sauce, gumbo.
Cajun is a deriv­a­tive of the word Aca­di­an, the region of East­ern Cana­da where some 11,500 colonists, many of mixed Native Amer­i­can and French her­itage, were expelled by the British dur­ing the 18th-cen­tu­ry French and Indi­an War. After being shipped to France or scat­tered along the East Coast and the Caribbean, many migrat­ed to Louisiana, believ­ing it to be under French con­trol. By the time they arrived, Louisiana was in the hands of the Span­ish, who wel­comed them to stay — in the swamps.
The migrants adapt­ed to the region's fluc­tu­at­ing water lev­els, favor­ing house­boats and camp­sites over more per­ma­nent homes. They grew sug­ar­cane and oth­er crops on dry land, logged, trapped and hunt­ed on land that was too flood-prone to farm, and shrimped and fished in the wet­lands. That's why, while broad­er Amer­i­can cul­ture seems hell­bent on cleav­ing itself from any iden­ti­ty depen­dent on a phys­i­cal land­scape, Cajun iden­ti­ty is com­plete­ly inter­twined with a sense of place.
"Every­thing in Louisiana that is cel­e­brat­ed across the nation and across the world was born out of that true expe­ri­ence of peo­ple set­tling and liv­ing in a very wild envi­ron­ment," says Louis Michot, a fid­dler and vocal­ist for the South­ern Louisiana band the Lost Bay­ou Ram­blers. ​"It's based on suf­fer­ing. So much of the music and the food ways come from learn­ing how to survive."
When the Eng­lish exiled the Aca­di­ans, they delib­er­ate­ly split fam­i­lies. The Aca­di­ans fought to recon­nect, some mak­ing long voy­ages from France to Louisiana in an era before air­planes. Many died. Today, fam­i­lies are very close: It's com­mon for three gen­er­a­tions to gath­er togeth­er every Sun­day for fam­i­ly dinner.
Now, how­ev­er, young Cajuns are increas­ing­ly leav­ing home. With envi­ron­men­tal degra­da­tion depress­ing shrimp and oys­ter pop­u­la­tions and farmed seafood from Asia depress­ing prices, ​"many young peo­ple don't even want to go into fish­ing any­more, because it's not going to pay them," says Stacey Scarce, a nat­u­ral­ist and cura­tor in the region. ​"Some leave to go to col­lege, some go into the oil fields, which may take them away from their fam­i­ly." Den­nis Landry, for exam­ple, spent 20 years work­ing in oil and gas before he chose to semi-retire in Belle Rose.
Cajuns aren't just the vic­tims in this nar­ra­tive. While their tra­di­tion of liv­ing off the land con­tin­ues, Cajuns also buy food at the gro­cery store. That option stems from hav­ing enough good jobs — most of them direct­ly or indi­rect­ly from the very oil and gas indus­try that is destroy­ing oppor­tu­ni­ties for fish­ing and hunt­ing. ​"It's a para­dox­i­cal sit­u­a­tion," says Michot. Cajun Coun­try has become the epi­cen­ter of oil and gas devel­op­ment in Louisiana, and has among the high­est aver­age wages. In a state where hunters and trap­pers make an aver­age of $21,000 a year and fish­ers make $31,000, oil and gas der­rick oper­a­tors earn $49,000 and drill oper­a­tors, $60,000.
For its part, the oil and gas indus­try appre­ci­ates Louisiana's ​"facil­i­tat­ing" ways, which include speedy envi­ron­men­tal per­mit­ting and aggres­sive courtship by Repub­li­can Gov. Bob­by Jin­dal. The gov­er­nor recent­ly got the leg­is­la­ture to squelch a suit by a local lev­ee board that charged 97 oil, gas and pipeline com­pa­nies with ​"mer­ci­less­ly" destroy­ing the envi­ron­ment. Eight com­pa­nies announced last year that they will invest a total of $47 bil­lion to build or expand liq­ue­fied nat­ur­al gas plants — all in Cajun Coun­try. They say they will hire local­ly as much as possible.
Michot explains: ​"Louisiana is a land of extremes — one of the poor­est states with the worst edu­ca­tion, but with great music and food and the most nat­ur­al resources. It's full of a bunch of very good, real peo­ple who hap­pen to live in the mid­dle of exploita­tion and cor­rup­tion. We're wrapped up in the sys­tems that keep the rich rich and the poor poor. In the end, we're the vic­tims and the bene­fac­tors all at once."