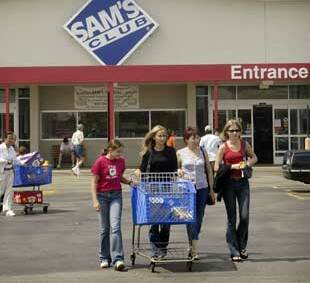 On a recent episode of the NBC com­e­dy ​"30 Rock," the cut­throat cor­po­rate exec­u­tive Jack Don­aghy, played by Alec Bald­win, need­ed some ​"cool Repub­li­can celebri­ties" to head­line his John McCain fundrais­ing din­ner. To his dis­may, Democ­rats had cor­nered the hip, star mar­ket, so Don­aghy was forced to turn to the fic­tion­al Den­nis Duffy, an obnox­ious beep­er sales­man who had recent­ly stepped in front of a sub­way train to save a fall­en stranger. To be cer­tain he had the right man, Don­aghy asked Duffy to describe his pol­i­tics. ​"Social con­ser­v­a­tive, fis­cal lib­er­al," the sub­way hero deadpanned.
The Atlantic Month­ly​'s Ross Douthat, a senior edi­tor, and Rei­han Salam, an asso­ciate edi­tor, would like­ly dis­avow that label, but the plat­form they advo­cate in their thought­ful book, Grand New Par­ty: How Repub­li­cans Can Win the Work­ing Class and Save the Amer­i­can Dream (Dou­ble­day, 2008), would like­ly earn Duffy's vote.
By urg­ing the GOP to address the eco­nom­ic needs of its work­ing-class base – whom the authors call the party's ​"Sam's Club vot­ers" – Douthat and Salam pro­pose a for­ward-think­ing domes­tic strat­e­gy that could revive a par­ty ail­ing under the lead­er­ship of sup­ply-side ide­o­logues. And while many ideas in Grand New Par­ty deserve seri­ous scruti­ny, pro­gres­sives who are inter­est­ed in build­ing and sus­tain­ing a gov­ern­ing major­i­ty should con­sid­er the authors' argument.
Part polit­i­cal his­to­ry, part domes­tic pol­i­cy paper, Grand New Par­ty cen­ters on a sim­ple premise: Work­ing-class Amer­i­cans are strug­gling and need gov­ern­ment to work for them. Like pop­ulists on the left, Douthat and Salam under­stand grow­ing inse­cu­ri­ty – inad­e­quate health­care, evap­o­rat­ing pen­sions, income volatil­i­ty – and a hard­en­ing of the country's socioe­co­nom­ic class­es to be the ​"great­est domes­tic dan­ger fac­ing Amer­i­can soci­ety." Their polit­i­cal solu­tion, how­ev­er, gives as much (if not more) con­sid­er­a­tion to cul­ture – specif­i­cal­ly, the decline of tra­di­tion­al nuclear fam­i­lies – as it does to economics.
The last endur­ing polit­i­cal major­i­ty – Pres­i­dent Roosevelt's New Deal coali­tion – is, iron­i­cal­ly, the stan­dard-bear­er for these con­ser­v­a­tives' vision of gov­ern­ment. Rather than cham­pi­on the New Deal­ers' pub­lic works pro­grams, Douthat and Salam find val­ue in the reform­ers' empha­sis on dig­ni­ty, own­er­ship and inde­pen­dence among Amer­i­can fam­i­lies, pro­mot­ed through the fam­i­ly wage and the 1935 Social Secu­ri­ty Act, among oth­er legislation.
But in the 1960s, the authors argue, ris­ing crime, fam­i­ly break­down, edu­ca­tion­al and eco­nom­ic strat­i­fi­ca­tion, and, to a less­er extent, the shift­ing racial plat­forms of the two major par­ties sub­vert­ed the ​"cul­tur­al sol­i­dar­i­ty" so cen­tral to the New Deal. With this elec­toral coali­tion weak­ened, con­ser­v­a­tives had a chance to cement their lega­cy by imple­ment­ing, in the words of then-Nixon advis­er Kevin Phillips, ​"poli­cies able to res­ur­rect the vital­i­ty and com­mit­ment of Mid­dle America."
Yet despite sig­nif­i­cant elec­toral suc­cess­es, Repub­li­cans failed to con­sol­i­date a Roo­sevelt-like major­i­ty, pre­cise­ly because they embraced a vision of small gov­ern­ment at odds with the inter­ests of work­ing-class voters.
After Gold­wa­ter Repub­li­cans derailed Pres­i­dent Nixon's plat­form of ​"ide­o­log­i­cal con­ser­vatism and oper­a­tional lib­er­al­ism," Tricky Dick forged an unsus­tain­able major­i­ty built on work­ing-class resent­ments of the ​'60s coun­ter­cul­ture, not cre­ative pub­lic pol­i­cy. Stag­nat­ing wages per­sist­ed and crime rose through­out the Rea­gan years, prov­ing tax cuts alone weren't a suf­fi­cient buffer against the desta­bi­liz­ing effects of glob­al­iza­tion. The Newt Gin­grich rev­o­lu­tion­ar­ies made prag­mat­ic gains in Pres­i­dent Clinton's first term, but the Right's irra­tional hatred of the Demo­c­rat ulti­mate­ly end­ed their uneasy part­ner­ship. And on the stump, George W. Bush artic­u­lat­ed a vision of work­ing-class con­ser­vatism but aban­doned it in favor of cor­po­rate wel­fare and war-making.
So, where are increas­ing­ly inse­cure Sam's Club vot­ers to turn?
Douthat and Salam hope they will flock to a reju­ve­nat­ed Repub­li­can Par­ty, one that seeks to alle­vi­ate the eco­nom­ic bur­dens of the work­ing class through cul­tur­al­ly con­ser­v­a­tive pol­i­cy pre­scrip­tions. From fam­i­ly-friend­ly tax reforms to gov­ern­ment-sub­si­dized child­care to com­pre­hen­sive immi­gra­tion and edu­ca­tion reform, Grand New Par­ty out­lines a pro-fam­i­ly eco­nom­ic agen­da that attempts to fos­ter upward mobil­i­ty among work­ing fam­i­lies through direct­ed gov­ern­ment expen­di­tures, a plan that admon­ish­es the Repub­li­can domes­tic-spend­ing sta­tus quo.
The authors should be applaud­ed for tack­ling the top­ic of Sam's Club inse­cu­ri­ty, some­thing leg­is­la­tors on both sides of the aisle have ignored for too long. Polit­i­cal­ly, it's a smart argu­ment for Repub­li­cans, as well. It hits the Democ­rats where they are weak­est (their per­ceived lack of ​"moral val­ues") and could redi­rect vot­ers' focus away from cul­tur­al issues – same-sex mar­riage, stem cell research, evo­lu­tion – that the con­ser­v­a­tive estab­lish­ment has pushed for decades, there­by increas­ing­ly alien­at­ing mod­er­ate voters.
A plat­form like this couldn't come soon enough for the Right, either. Repub­li­cans are rapid­ly ced­ing ground to Democ­rats among Lati­nos, inde­pen­dents and young peo­ple, sug­gest­ing they may need white, work­ing-class super­ma­jori­ties to survive.
But Grand New Par­ty is not with­out its faults. For one, the authors' pre­sump­tion that Repub­li­can poli­cies haven't sig­nif­i­cant­ly inten­si­fied inequal­i­ty is flim­sy, at best. In his new book Unequal Democ­ra­cy: The Polit­i­cal Econ­o­my of the New Gild­ed Age, Prince­ton polit­i­cal sci­en­tist Lar­ry Bar­tels writes that when a Repub­li­can pres­i­dent is in pow­er, peo­ple at the top of the income scale expe­ri­ence decid­ed­ly larg­er real income gains than those at the bot­tom. Because of dif­fer­ences in tax pol­i­cy, social spend­ing and busi­ness reg­u­la­tion, the dynam­ic is reversed when a Demo­c­rat is in pow­er. In oth­er words, eco­nom­ic polar­iza­tion isn't unavoid­able and reform­ing poli­cies that pro­mote it can help quell fam­i­ly dislocation.
Douthat and Salam's plat­form also may not be ambi­tious enough to address the eco­nom­ic inequities fac­ing the pop­u­la­tion. For exam­ple, there's lit­tle dis­cus­sion of finan­cial reg­u­la­tion, the need to rein in our bloat­ed defense bud­get or about the mas­sive debt we've accrued as a result.
And while they some­what plau­si­bly con­tend that race played only a sec­ondary role in the breakup of the New Deal coali­tion, it's clear that Repub­li­cans have since exploit­ed those under­ly­ing racial ten­sions for pol­i­cy, as well as elec­toral gain. By implic­it­ly rein­forc­ing the sen­sa­tion­al­ized image of the gov­ern­ment-depen­dent ​"Oth­er" (see Reagan's nefar­i­ous Cadil­lac-dri­ving ​"wel­fare queen"), Repub­li­cans have under­mined sup­port for pub­lic invest­ment. In a sense, our rejec­tion of a robust safe­ty net is root­ed not only in an abstract vision of Amer­i­can excep­tion­al­ism, as Grand New Par­ty con­tends, but also in ten­sions stem­ming from our diverse eth­nic makeup.
But par­a­lyz­ing racial ani­mosi­ties are not inevitable. By speak­ing frankly about racial divi­sion and how the cor­po­rate class has exploit­ed it for its own gain, pro­gres­sives can offer a bold, polit­i­cal­ly pop­u­lar plat­form focused on pro­tect­ing all work­ing fam­i­lies from the fail­ures of the free market.
Regard­less of the book's short­falls, Repub­li­cans should take to heart Grand New Par­ty​'s sharp advice. But those on the left needn't wor­ry. To judge from the med­ley of Sen. John McCain's eco­nom­ic pro­pos­als – extend­ing the Bush tax cuts, a one-year freeze in dis­cre­tionary spend­ing – work­ing-class con­ser­vatism doesn't look to be com­ing any time soon.
Adam Doster
, a con­tribut­ing edi­tor at In These Times, is a Chica­go-based free­lance writer and for­mer reporter-blog­ger for Progress Illinois.