Santa Claus-ifying Martin Luther King, Jr.
When the U.S. military tweets MLK quotes, you know things have gotten bad--for the military.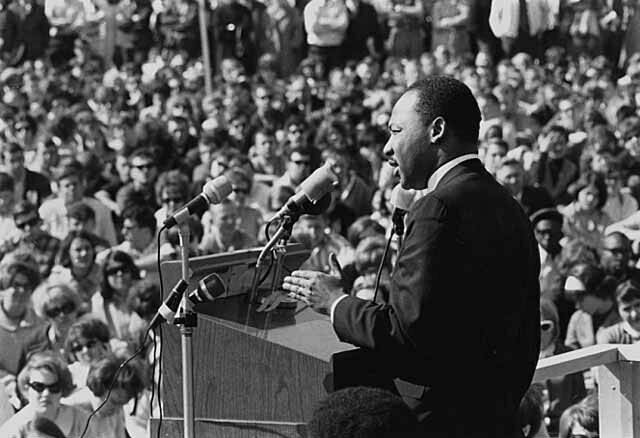 Every year, right around the time between Mar­tin Luther King Day and the begin­ning of Black His­to­ry Month, the effort to dis­tort Dr. King's life and lega­cy seems to inten­si­fy. Some years, we see con­ser­v­a­tives pre­pos­ter­ous­ly assert that if Dr. King were alive today, he would join today's neo-con­fed­er­ate Repub­li­can Par­ty. Oth­er years, it is decep­tion via omis­sion — we see replays of Dr. King's 1963 ​"I Have a Dream" speech, but do not see any of his speech­es about war and poverty.
The U.S. Marines commemorated Martin Luther King Day by tweeting out a famous King line—"A man who won't die for something is not fit to live"—in a not-so-subtle attempt to depict him as a war supporter.
Prince­ton pro­fes­sor Cor­nel West accu­rate­ly labels all this the ​"San­ta Clausi­fi­ca­tion" of Dr. King, and if you have ever heard or read a snip­pet of King's 1967 River­side Church speech, you will under­stand how apt the label is. You will also under­stand why this year's most grotesque attempt to San­ta Clausi­fy Dr. King's life is at once abhor­rent and yet some­what encouraging.
As The Guardian's Glenn Green­wald first report­ed, the Unit­ed States Air Force's Glob­al Strike Com­mand last week post­ed an online essay say­ing that Dr. King would cheer on sol­diers ​"ensur­ing the most pow­er­ful weapons in the U.S. arse­nal remain the cred­i­ble bedrock of our nation­al defense. ​"Fur­ther, claimed the Air Force, ​"main­tain­ing our com­mit­ment to our Glob­al Strike team…is a fit­ting trib­ute to Dr. King." At the same time, the U.S. Marines com­mem­o­rat­ed Mar­tin Luther King Day by tweet­ing out a famous King line — ​"A man who won't die for some­thing is not fit to live" — in a not-so-sub­tle attempt to depict him as a war supporter.
That was a fol­low-up to a 2011 arti­cle post­ed on the Defense Depart­men­t's web­site with the head­line: ​"King Might Under­stand Today's Wars, Pen­ta­gon Lawyer Says." That gets us to the spe­cial rel­e­vance of the River­side Church speech — the one that the San­ta Clausi­fy­ing Pen­ta­gon so obvi­ous­ly wants sup­pressed. In that ora­to­ry, Amer­i­ca's most famous preach­er of non­vi­o­lence deplored, ​"A nation that con­tin­ues year after year to spend more mon­ey on mil­i­tary defense than on pro­grams of social uplift is approach­ing spir­i­tu­al death."
He argued that mil­i­tarism is not the way to pro­tect Amer­i­ca and decried ​"the great­est pur­vey­or of vio­lence in the world today — my own gov­ern­ment." And he insist­ed that ​"there is noth­ing except a trag­ic death wish to pre­vent us from reorder­ing our pri­or­i­ties so that the pur­suit of peace will take prece­dence over the pur­suit of war."
Com­par­ing the Pen­tagon's his­tor­i­cal revi­sion­ism with King's words, Green­wald says: ​"The U.S. mil­i­tary is actu­al­ly pub­licly claim­ing that the 1964 Nobel Peace Prize win­ner and stead­fast crit­ic of U.S. impe­ri­al­ism would be an admir­er of its mas­sive stock­pile of nuclear weapons, its glob­al assas­si­na­tion pro­grams, and its covert use of vio­lence in mul­ti­ple coun­tries around the world, includ­ing where no wars are declared. Mere­ly to describe this agit­prop is to illus­trate its repulsiveness."
He's absolute­ly right, but in that repul­sive­ness there is a promis­ing rev­e­la­tion from a polit­i­cal sys­tem in which lies reflect des­per­a­tion. In this par­tic­u­lar case, the Pen­tagon's will­ing­ness to so bold­ly lie about Dr. King betrays its des­per­a­tion to reverse accel­er­at­ing pub­lic opin­ion trends. Specif­i­cal­ly, Pen­ta­gon spin­meis­ters seem to real­ize that, accord­ing to polls, more Amer­i­cans are rais­ing King-like ques­tions about our gov­ern­men­t's prof­li­gate defense spend­ing and its attempts to pref­er­ence mil­i­tarism over oth­er priorities.
This sug­gests that for all the pro­pa­gan­da attempt­ing to San­ta Clausi­fy Dr. King and make us for­get what he was all about, we may, in fact, be start­ing to hon­or Dr. King's lega­cy. That's no excuse for the pro­pa­gan­da, of course — but it is a promis­ing sign that we may actu­al­ly be clos­er than ever to real­iz­ing Dr. King's dream.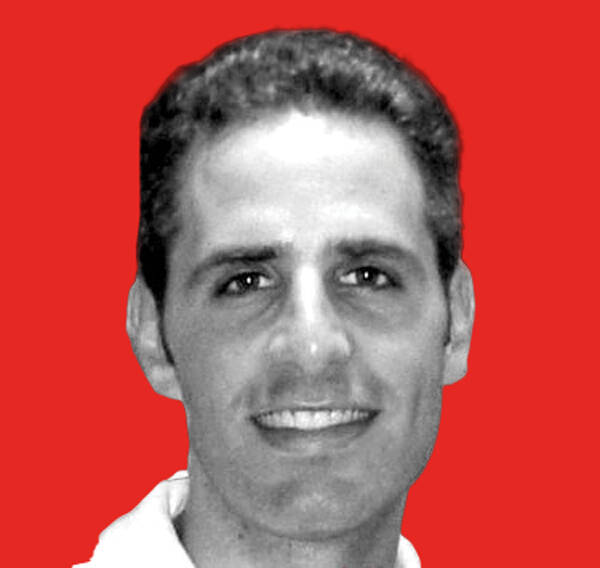 David Siro­ta
is an award­win­ning inves­tiga­tive jour­nal­ist and an
In These Times
senior edi­tor. He served as speech writer for Bernie Sanders'
2020
cam­paign. Fol­low him on Twit­ter @davidsirota.