Seattle Battles the Homeless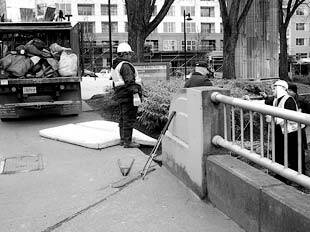 Underneath the I-5 highway in south Seattle, Isaac Palmer had found a spot to sleep. Hidden away from public view, Palmer likely thought he had found a bit of safety in a city where many homeless people die, often as a result of hypothermia, illness, drug overdose or violent attack. But while tucked in his sleeping bag on June 3, 2007, Palmer, 66, was crushed to death by a brush-clearing machine rolling through the weeds that had been his cover.
At the time, Palmer's death didn't provoke public outrage. Instead, it was chalked up to an unfortunate consequence of being at the wrong place at the wrong time.
The Washington Department of Transportation says it posted a flyer 48 hours in advance, warning homeless people in the area of a clean-up operation.
Palmer's death didn't raise concerns until Seattle's investigative weekly street newspaper, Real Change, uncovered a city government plan – in cooperation with county and state agencies – to rid the area of homeless encampments.
The eradication plan first came to light in October 2007, when Real Change Editor Adam Hyla published the results of a public disclosure request, which confirmed that a ramped-up policy of aggressive sweeps had been a city priority since spring 2007. Previously, homeless encampments were torn down only after multiple complaints, and people who lived in the camps were given enough time to pack their belongings and migrate to another area. It wasn't a perfect approach, but it was better than the recent covertly organized camp eradication.
Not only were Seattle police officers – as well as contractors hired by the Department of Transportation – forcing people off land with little or no advance notice, says Real Change Executive Director Tim Harris, homeless people in these camps were told to call a phone number for ​"assistance" – problem is, the number turned out to be disconnected.
"In the meantime," says Harris, ​"the eradication teams were destroying blankets and sleeping bags with machetes, leaving them in shreds. People were being prevented from retrieving their belongings and threatened with arrest if they tried to take back what little they had in the world."
The City of Seattle's Human Services Department reacted to the disclosure by defending its policies as a ​"proactive" way of dealing with the dangers of homeless encampments, and as an effective way of getting homeless people out of hiding to access assistance.
Soon after, the city government announced it was revising its eradication plan to give people more notice and to assist the homeless in finding shelter. When Real Change filed another public disclosure request a few months later, it found that little had changed in the city's approach.
This past Valentine's Day, a construction worker discovered the dead body of an unidentified, 61-year-old homeless man underneath the same highway in nearby Snohomish County. Like Palmer, the ​"transient" also died of serious head injuries when a construction vehicle rolled over him in his sleep.
Both deaths occurred on sites selected for construction and highway expansion by the state's Department of Transportation, areas that had long been populated by homeless people.
Boasting one of the highest national per capita rates of resident millionaires, the Puget Sound's overpriced housing has forced many low-income and middle-class residents to make sacrifices to their economic stability.
From 2004 until 2007, condominium conversions resulted in the loss of nearly 12,000 housing units, according to the Seattle Displacement Coalition, a grassroots advocacy organization. The 2007 King County Annual Growth Report noted that 27,400 middle-class residents (earning between $25,000 and $75,000 per year) had left the area since 2000, compared with the 57,000 high-income people (earning above $75,000 per year) who moved into the area during that same period.
The increasing class schism in this corner of the Pacific Northwest has had a dramatic impact on those trying to eek out a living – or simply trying to find food and shelter. In January, the Seattle/​King County Coalition for the Homeless found that there were at least 9,000 homeless individuals in the county in 2007, more than 2,600 of whom were unsheltered. By contrast, in 2000, during the height of the region's dot-com boom, the coalition counted slightly more than 1,000 unsheltered persons, out of a total of 3,000 homeless adults and minors.
"Cities like ours are reinventing themselves to feature urban living as an amenity," says Real Change​'s Harris. ​"People look out their condo windows and see the homeless, and they want something done so that they don't have to think about it anymore."
Silja J.A. Talvi
, a senior editor at In These Times, is an investigative journalist and essayist with credits in many dozens of newspapers and magazines nationwide, including The Nation, Salon, Santa Fe Reporter, Utne, and the Christian Science Monitor.