With Kshama Sawant Claiming Reelection Victory, Seattle Doubles Down on Socialism
Sawant beat the establishment at its own game. Now comes the hard part.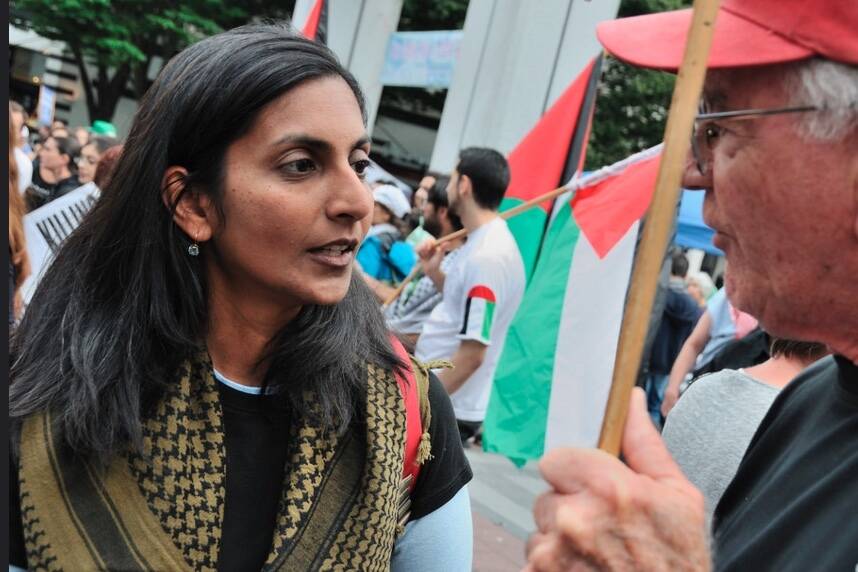 The race between Seat­tle City Coun­cil mem­ber Kshama Sawant of the Social­ist Alter­na­tive par­ty and her chal­lenger, Seat­tle Urban League Pres­i­dent and CEO Pamela Banks that attract­ed nation­al atten­tion and set records for near­ly $1 mil­lion in fund­ing was over before it began.
A united corporate front couldn't save Sawant's opponent.
In August Sawant hand­i­ly won a five-can­di­date pri­ma­ry, and Banks came in sec­ond after busi­ness inter­ests had unit­ed behind her as their best hope to unseat the social­ist who played the cen­tral role in Seattle's $15 min­i­mum-wage bill and is now tak­ing on sky­rock­et­ing hous­ing costs in the Emer­ald City.
As the first results trick­led in on elec­tion night, Novem­ber 3, show­ing Sawant lead­ing 53 per­cent to 47 per­cent, Banks deliv­ered the rote non-con­ces­sion con­ces­sion, ​"I am proud of the race that we ran," and thanked three City Coun­cil mem­bers by name who coached her through her first race. Banks' son, his eyes cast down, wrapped her in a full-body embrace as the enthu­si­asm of a few score sup­port­ers leaked out of a small cof­fee shop in the Capi­tol Hill neigh­bor­hood the two can­di­dates were vying to represent.
Bal­lots are mailed to vot­ers weeks before the elec­tion, so the final results won't be announced until Novem­ber 24. David Gold­stein, one of the best local polit­i­cal hand­i­cap­pers, told me ear­li­er he expect­ed Sawant to get 52 to 53 per­cent, which would indi­cate she had it in the bag. He explained that with the campaign's impres­sive ground game — which includ­ed more than 70 peo­ple door-knock­ing in a rain­storm days before the offi­cial vote — Sawant's share would like­ly rise to the high fifties by the time all the bal­lots were counted.
The Sawant cam­paign and Social­ist Alter­na­tive knew for two years the busi­ness and polit­i­cal class was hop­ing to oust her. In a wide-rang­ing elec­tion night inter­view with In These Times, Sawant said that when she was first elect­ed in 2013, ​"The estab­lish­ment didn't take us seri­ous­ly. They said, ​'What will a group of young rad­i­cal social­ists amount to? They won't get any­thing done.' We showed them the most trans­for­ma­tive two years in Seat­tle politics."
Sawant said accom­plish­ments includ­ed the bill phas­ing in a $15 min­i­mum wage by 2021, chang­ing Colum­bus Day to Indige­nous People's Day, push­ing the City Coun­cil to ask the state to lift its ban on local rent con­trol to address Seat­tle rents that have increased on aver­age 80 per­cent since ear­ly 2010 and endors­ing a move toward zero-per­cent incar­cer­a­tion of youth.
Sawant said when they began gear­ing up for the 2015 elec­tion, ​"I had no doubt the estab­lish­ment would run a woman of col­or. It's a tried-and-true tactic."
Enter Pamela Banks. This was her first race, her plat­form was flim­sy, but sup­port and mon­ey came pour­ing in. To find out who would sup­port Banks in one of the most left-lean­ing neigh­bor­hoods in a lib­er­al city like Seat­tle, I attend­ed her elec­tion night par­ty. The crowd was even­ly split between African Amer­i­cans and whites, though there was lit­tle min­gling among the two groups. Blaz­ers, coiffed hair, cash­mere and design­er hand­bags were all well rep­re­sent­ed. I spoke to a retired econ­o­mist, who con­fid­ed with a gri­mace, ​"All my friends are with Sawant." A retired pro­fes­sor inter­ject­ed, ​"Me too, me too." The econ­o­mist added, ​"It's scary, scary."
A staffer with a major Seat­tle-area foun­da­tion said she told Banks, ​"You're get­ting all this mon­ey because you are the anti-Sawant can­di­date." He who host­ed a fundrais­er for Banks at his house said Banks got enthu­si­as­tic back­ing from his wife because ​"she was very anti the opponent."
Being the anti-Sawant was good enough to earn Banks more than $385,000 in cam­paign funds, a colos­sal sum for a novice in a local race. It also got Banks the endorse­ment from major media like the Seat­tle Times and, in an unprece­dent­ed move, back­ing from six of nine of the oth­er City Coun­cil mem­bers. Banks was the dar­ling of devel­op­ers, restau­ra­teurs, and cor­po­rate exec­u­tives who were among the 200 donors that gave the max­i­mum of $700 to her campaign.
A unit­ed cor­po­rate front couldn't save Banks, how­ev­er. But that may not have mat­tered to her as she earned points for being the sac­ri­fi­cial lamb. He said, ​"Speak­ing hon­est­ly, if Banks los­es that was the expec­ta­tion, … It's a win-win for her. She got a lot of expo­sure, a lot of peo­ple embraced her. I think she has a real future."
Sawant's sup­port­ers said their biggest ene­my was com­pla­cen­cy. Every­one expect­ed Sawant to win in Novem­ber after she pulled 50 per­cent of the vote in the pri­ma­ry in which she and Banks advanced to the gen­er­al elec­tion. Cam­paign vol­un­teers said local unions that pulled out the stops for Sawant in the pri­ma­ry scaled back to mail­ers and phone bank­ing in the gen­er­al elec­tion, but did not deploy vol­un­teers or staff in the field.
Despite elite sup­port, Banks received only $43,000 in third-par­ty inde­pen­dent expen­di­tures, not the hun­dreds of thou­sands of dol­lars many expect­ed to flood in against Sawant. It appears to have been an astute cal­cu­la­tion as cor­po­rate mon­ey flowed to oth­er races as a rear­guard action. Busi­ness inter­ests seem to have con­ced­ed the race against Sawant, focus­ing instead on pre­vent­ing her from gain­ing more allies on the council.
Sawant's tri­umph in 2013, and her role and that of Social­ist Alter­na­tive in turn­ing $15 Now from a slo­gan into law, inspired like-mind­ed can­di­dates to run for coun­cil seats as well. With most City Coun­cil posi­tions now elect­ed by dis­trict rather than at-large, as was the case with Sawan­t's pre­vi­ous elec­tion, all nine seats were up for re-elec­tion and three lacked an incum­bent. Poten­tial Sawant allies includ­ed Jon Grant, the for­mer exec­u­tive direc­tor of the Ten­ants Union of Wash­ing­ton State, who took on City Coun­cil Pres­i­dent Tim Burgess, and Lisa Her­bold, who was look­ing to suc­ceed Sawant's most stal­wart ally on the coun­cil, Nick Lica­ta, run­ning against Shan­non Brad­dock. More than $349,000 in inde­pen­dent expen­di­tures surged behind Burgess and Brad­dock, help­ing pro­pel them to com­fort­able leads after ini­tial returns were announced elec­tion night.
Sawant said for the busi­ness com­mu­ni­ty, ​"Their task was not only to try to defeat me but all the oth­er pro­gres­sive can­di­dates as well. I think as a mat­ter of strat­e­gy they focused their mon­ey on the Burgess-Grant race, who was very impor­tant for them to defeat."
Such was the full-court press for Burgess he was also endorsed by the M.L. King Coun­ty Labor Coun­cil. Sawant lament­ed orga­nized labor's fail­ure to throw its weight behind all pro­gres­sive can­di­dates. ​"For decades the labor move­ment has been play­ing it safe, let's not rock the boat, endorse the Democ­rats," Sawant said. ​"The mis­take we can make at this point is not to under­stand that work­ing peo­ple don't want to play it safe."
That Sawant proved she was no fluke was a tes­ta­ment to her gen­uine appeal and Social­ist Alternative's orga­ni­za­tion. Behind the scenes at the vic­to­ry par­ty, even when Sawant was qui­et­ly con­fer­ring with an aide, all eyes were drawn toward her.
Banks' side rec­og­nized they were out­matched as well. A Banks sup­port­er and for­mer Wash­ing­ton State Leg­is­la­tor said of Sawant's cam­paign. ​"The oth­er side had a lot of foot sol­diers. They had a lot of peo­ple in the trench­es," he said.
Sawant's cam­paign mobi­lized over 600 vol­un­teers, knocked on more than 90,000 doors, placed more than 170,000 phone calls and raised more than $450,000, with no mon­ey from cor­po­rate back­ers. It also engaged in a sophis­ti­cat­ed vot­er ID oper­a­tion, slic­ing up the Capi­tol Hill dis­trict into scores of blocs accord­ing to turnout and what per­cent­age vot­ed for Sawant in the August pri­ma­ry. The cam­paign then iden­ti­fied like­ly vot­ers, ranked them on their degree of sup­port for Sawant, and engaged them mul­ti­ple times to turn them into votes.
It was a con­crete exam­ple of how labor, when well orga­nized, can beat cap­i­tal. Banks' cam­paign expen­di­tures were most­ly on con­sul­tants and adver­tis­ing, while Sawant's went toward labor and lit­er­a­ture.
Such inten­sive retail pol­i­tics is a rare type of orga­niz­ing expe­ri­ence for the rad­i­cal left these days. Dozens of Social­ist Alter­na­tive mem­bers from across the coun­try decamped to Seat­tle to work on the cam­paign, with some vol­un­teer­ing for months. The Sawant cam­paign did not have to re-invent the wheel either. As part of the Com­mit­tee for a Work­ers Inter­na­tion­al, Social­ist Alter­na­tive also drew on the mem­ber­ship and elec­toral expe­ri­ence of par­ties in oth­er coun­tries to assist them in orga­niz­ing and exe­cut­ing a suc­cess­ful elec­toral strategy.
That's not to say the Social­ist Alter­na­tive side doesn't know how to have fun. While the Banks par­ty was like a coun­try club and most atten­dees were absorbed with their cell­phones and lap­tops, the Sawant event was young, scruffy and bois­ter­ous. It was also ready to bust loose after months of 14-hour days. Gid­di­ness fueled an all-night after-par­ty in a cam­paign office cum flop­house with sweaty danc­ing, col­le­giate drink­ing games, and shot-gun­ning beers.
It was a brief respite before the next slog. Hav­ing lost her main ally, Sawant may be even more iso­lat­ed on the coun­cil. But she still has big plans. In addi­tion to not let­ting up on rent con­trol or enforc­ing the min­i­mum-wage bill — wage theft is still wide­spread in Seat­tle — Sawant wants to end ​"the Com­cast cable monop­oly" by push­ing for munic­i­pal broad­band, address the home­less cri­sis that has seen a 21 per­cent jump in the home­less count in only one year and enact a ​"millionaire's tax" to improve Seattle's ram­shackle mass tran­sit sys­tem. There are also plans for pub­lic ral­lies to encour­age peo­ple to join Social­ist Alter­na­tive as well as a con­fer­ence in Feb­ru­ary 2016 ​"for a strat­e­gy for fight­ing the bil­lion­aire class."
Sawant may get help in the future via an inno­v­a­tive bal­lot mea­sure for clean elec­tions that sailed to vic­to­ry. It could shift the coun­cil away from a pro-busi­ness, pro-devel­op­er ori­en­ta­tion as it lim­its cam­paign con­tri­bu­tions and lob­by­ing, and gives vot­ers $100 in ​"democ­ra­cy vouch­ers" that can be sent to can­di­dates. The hope is to reduce the influ­ence of mon­ey while increas­ing the influ­ence of voters.
But for Sawant elec­tions are just a means to the end of ​"build­ing work­er pow­er." By way of exam­ple, she points to how dif­fi­cult the fight will be to take on Com­cast. ​"Young peo­ple will see cor­po­ra­tions like Com­cast will not just back down. They will see how seri­ous of a task it will be to build a movement."
She rejects the role of sav­iour, how­ev­er. She explained that in the case of the hous­ing cri­sis, gov­ern­ment has a vital role to play in crack­ing down on slum­lords, pass­ing a strong ten­ants rights bill and rent con­trol, but the mes­sage is, ​"I'm not going to solve your prob­lem, the mes­sage is, you need to get organized."
If that hap­pens, Seat­tle may become an incu­ba­tor for 21st-cen­tu­ry socialism.