Seven Arrested in Launch of Keystone Pipeline Blockade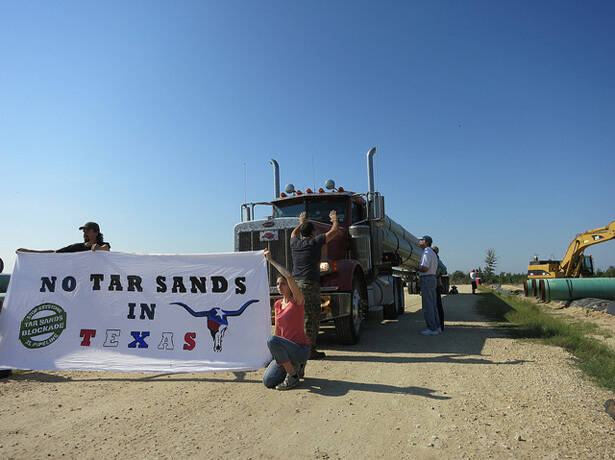 Seven activists were arrested yesterday in Livingston, Texas in protest of the Keystone XL Pipeline. The action, during which four people locked themselves to the axle of a TransCanada semi-truck carrying pipeline materials, was executed as part of a planned ​"blockade" along the construction route of the pipeline's southern leg. The lockdown effectively halted operations at the pipeyard for the day — and organizers say that the oil giant should expect more interruptions.
Here on Uprising, we've reported previously on a wave of environmental uprisings that has been gaining momentum this summer. Since June, we've seen the first-ever successful shutdown of a fracking site in Pennsylvania, a historic mobilization to interrupt operations at a strip mine in West Virginia, and a week of civil disobedience to protest coal exports in Montana.
Though these actions have been scattered across the country, they are largely unified in their targets and their tactics: They are taking aim squarely at the fossil fuel industry, and they are using direct action to stop dirty extraction processes at the points where they take place. This is an important shift — after years of asking people to ​"go green," in hopes that the aggregate of individual choices will change a bleak picture, the environmental movement is increasingly asking people to risk arrest and directly defend the health of their communities and their planet.
But in order for these localized actions to erupt into a broader movement, organizers will have to grow the willingness to participate beyond a core of committed full-time activists. And there are major obstacles to this, as demonstrated by the harassment participants in the July ​"Mountain Mobilization" in West Virginia faced at the hands of pro-coal demonstrators. Though recent actions have sought to highlight the adverse health effects and economic dependence wrought by coal mining and other forms of extraction, environmental activists are still frequently seen as outsiders ambivalent to the fate that communities will suffer if their main source of income is removed.
The Tar Sands Blockade may have the potential to build a more unified front between climate activists and the communities on the front lines of extraction. Among those arrested yesterday were a retired Methodist minister, a grandmother from Arlington, Texas, and a small business-owner concerned about TransCanada's infringement on land rights.
Organizers say that the action was motivated by a recent court decision permitting the oil company to seize a portion of local farmer Julia Trigg Crawford's land. The ruling, issued by Lamar County Judge Bill Harris, removed another hurdle to the pipeline's construction. Crawford was one of the few landowners in the area who had not signed onto a contractual agreement with TransCanada, instead challenging in court its right to use eminent domain for a private project.
Ultimately, climate activists will have to contend with the thorny question of how to mobilize for environmental justice while also demanding economic justice for communities that have been made dependent on extraction. But the fight against TransCanada is beginning to draw broader support because the battle lines could hardly be starker: homes are being seized for a project that won't provide long-term employment, or even oil for domestic consumption.
Ray Torgerson a Houston businessman who was among those arrested, said that the outcome of Trigg Crawford's case motivated him to join the blockade. ​"The fact that this corporation can check a box on a form and steal someone's land is insulting," he said. ​"We are here to defend our homes and stand with landowners like Julia."
According to reports from the Tar Sands Blockade campaign, all arrestees have now been released from jail.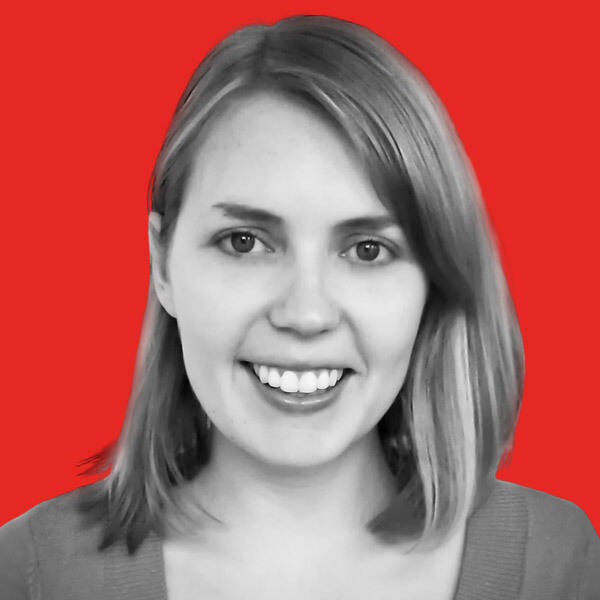 Rebecca Burns is an In These Times contributing editor and award-winning investigative reporter. Her work has appeared in Bloomberg, the Chicago Reader, ProPublica, The Intercept, and USA Today. Follow her on Twitter @rejburns.