Should HIV-Positive Workers Be Allowed in the Sex Industry? Some Advocates Say Yes.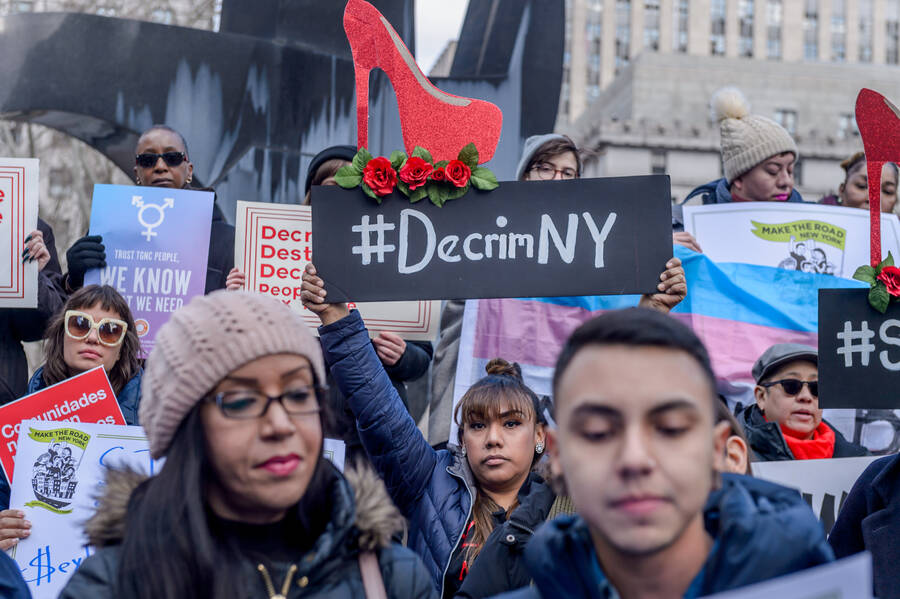 Indi­vid­u­als who are HIV-pos­i­tive are not per­mit­ted to par­tic­i­pate in the adult enter­tain­ment indus­try. That stan­dard is enforced through the Per­former Avail­abil­i­ty Screen­ing Ser­vices, oth­er­wise known as PASS. Any­one who tests pos­i­tive for HIV is per­ma­nent­ly banned from the system.
The same applies to oth­er reg­u­lat­ed sub­sets of sex work. To date, Neva­da is the only state where full-ser­vice sex work is legal. All indi­vid­u­als who apply for work must under­go med­ical test­ing for STIs, includ­ing HIV. Accord­ing to Jere­my Lemur, a P.R. rep­re­sen­ta­tive for one of Nevada's 21 legal broth­els, any­one who tests pos­i­tive for the virus is not wel­come to work at any legal estab­lish­ment with­in the state.
But not all sex work­ers think HIV-pos­i­tive peo­ple should be banned from the field. Jacen Zhu is an adult per­former and LGBTQIA activist. Accord­ing to him, there are schools of queer per­form­ers who believe in open­ing up the indus­try gates to those liv­ing with an unde­tectable HIV status.
The word ​"unde­tectable" is impor­tant to empha­size here. The advance of anti­retro­vi­ral ther­a­py has dra­mat­i­cal­ly shift­ed the prog­no­sis of those who test pos­i­tive for HIV. The med­ica­tion works by pre­vent­ing copies of the exist­ing virus from repli­cat­ing and block­ing new ones from enter­ing human cells. So long as they remain vig­i­lant with this med­ica­tion régime, HIV pos­i­tive indi­vid­u­als are able to main­tain a nor­mal lifes­pan. In fact, the med­ica­tion is able to sup­press viral loads so effec­tive­ly that stan­dard blood tests will not be able to detect any trace of the virus. This is what it means to become ​"unde­tectable." And that's an impor­tant sta­tus to car­ry, espe­cial­ly in the con­text of inti­mate rela­tion­ships. A 2017 report con­duct­ed by the Cen­ters for Dis­ease Con­trol and Pre­ven­tion found that 49% of peo­ple liv­ing with HIV in the Unit­ed States had reduced their viral loads to an unde­tectable level.
"If you have an unde­tectable viral load for an extend­ed peri­od of time, say 6 months, it is extreme­ly unlike­ly that you would trans­mit the virus to an unin­fect­ed part­ner," explains Dr. William Short, an infec­tious dis­ease spe­cial­ist based in Philadel­phia. Short is also an Asso­ciate Pro­fes­sor of Clin­i­cal Med­i­cine at the Perel­man School of Med­i­cine of the Uni­ver­si­ty of Penn­syl­va­nia and serves on the board of direc­tors for the Amer­i­can Acad­e­my of HIV Med­i­cine. ​"Thou­sands and thou­sands of acts of con­dom-less sex have been stud­ied," he adds. ​"The sci­ence is very clear."
"Many gay and queer per­form­ers are ral­ly­ing in sup­port of unde­tectable per­form­ers being able to work," says Zhu. "[We are] fight­ing stig­ma from with­in our own safe-spaces. These per­form­ers are proac­tive in their sex­u­al health. If we're in an indus­try pro­mot­ing sex, we also hold the respon­si­bil­i­ty of being sex­u­al health advocates."
While there is a noto­ri­ous lack of data about sex work, it's safe to say that some will face finan­cial hard­ship if they are no longer able to work in this field. Sure, there are the head­lines that sug­gest some indi­vid­u­als have been able to amass incred­i­ble earn­ings from their time in the field, but the more like­ly real­i­ty is that the many more turn to sex work as a means of sur­vival. This is espe­cial­ly true of mar­gin­al­ized com­mu­ni­ties who expe­ri­ence dif­fi­cul­ty secur­ing hous­ing, employ­ment and the prop­er doc­u­men­ta­tion required to enjoy a safe and sta­ble existence.
To be sure, peo­ple in the indus­try have gen­uine fears. Some of the back­lash is com­ing from oth­er per­form­ers. In Jan­u­ary of this year, thou­sands of peo­ple poured into the Hard Rock Hotel and Casi­no in Las Vegas in antic­i­pa­tion of the Adult Enter­tain­ment Expo. The annu­al event is designed to spot­light new prod­ucts and ser­vices relat­ed to the adult enter­tain­ment indus­try. This year, the orga­niz­ers agreed to throw in a dis­cus­sion sur­round­ing HIV, a sub­ject that is often shunned from con­ver­sa­tions con­cern­ing main­stream porn. The idea was to decrease the stig­ma of what has now become a con­trol­lable diag­no­sis, open up a dia­logue about safe­ty and con­sent, and explore how HIV and the adult enter­tain­ment indus­try may inter­act in the future. But hopes of what that con­ver­sa­tion may blos­som into dis­in­te­grat­ed the moment per­form­ers hit the web with con­cerns over what a more lax approach to the virus could mean for the industry.
Some grass­roots orga­niz­ers empha­size that the decrim­i­nal­iza­tion of sex work is crit­i­cal to pro­tect­ing the health of work­ers and clients.
Nina Luo is a com­mu­ni­ty orga­ni­za­tion at Vocal-NY, a grass­roots orga­ni­za­tion that pro­vides harm-reduc­tion ser­vices to low-income indi­vid­u­als affect­ed by HIV/AIDS. She's also the press coor­di­na­tor for Decrim NY, a coali­tion designed to decrim­i­nal­ize the sex trade in New York City and State. Accord­ing to her, decrim­i­nal­iza­tion gives sex work­ers a bet­ter shot at actu­al­ly track­ing their inter­ac­tion with the virus. With­out the fear of police, they are in a bet­ter posi­tion to do things like nego­ti­ate con­dom use, dis­close their sta­tus and access med­ical resources. This, in turn, gives clients the abil­i­ty to uti­lize informed con­sent when decid­ing whether or not they want to move for­ward with things. Accord­ing to a Lancet study, decrim­i­nal­iza­tion can reduce new HIV infec­tions amongst sex work­ers, part­ners and clients up to 45%.
This is impor­tant to keep in mind, even for those cur­rent­ly work­ing with­in legal envi­ron­ments. Sky (who prefers to be iden­ti­fied by her pro­fes­sion­al name) has been work­ing at Sheri's Ranch in Neva­da for a lit­tle over a year. Ear­li­er this year, a fed­er­al law­suit was intro­duced aim­ing to out­law the broth­els. ​"If the broth­els go away, none of the women I'm speak­ing with are talk­ing about how to leave the sex indus­try," she says. They're all talk­ing about how they're going to sur­vive in a sex indus­try that's no longer legal." At the broth­els, the women are required to use bar­ri­er meth­ods dur­ing any sex­u­al inter­ac­tion with a client. Escorts don't typ­i­cal­ly enjoy that same secu­ri­ty work­ing inde­pen­dent­ly, and illegally.
Accord­ing to an inves­ti­ga­tion con­duct­ed by UNAIDS in 2014, stig­ma, dis­crim­i­na­tion and ​"puni­tive legal envi­ron­ments," are key deter­mi­nants in HIV vul­ner­a­bil­i­ty. UNAIDS found that of as many as 48% of U.S. sex work­ers say they have had their con­doms con­fis­cat­ed by police.
It's a tightrope to walk between forg­ing a sys­tem designed to pro­tect the health and well­ness of those in the indus­try and pro­tect­ing the indi­vid­ual free­doms of sex work­ers. Decrim­i­nal­iz­ing the indus­try means law-enforce­ment offi­cials would be unable to inter­vene in activ­i­ties and trans­ac­tions relat­ed to sex work. This would give both clients and providers more say in whom they choose to work with and in what capac­i­ty. Legal­iz­ing it, on the oth­er hand, would require a series of reg­u­la­tions be put into place, ones that would like­ly alien­ate cer­tain indi­vid­u­als from the field, par­tic­u­lar­ly those who test pos­i­tive for HIV, even if undetectable.
Loos­en­ing up stig­mas sur­round­ing the virus, mean­while, would serve sex work­ers even — when off the clock.
"Sex work­ers are afraid of dis­clos­ing their work to health­care providers for fear of low­er qual­i­ty ser­vice, dis­crim­i­na­tion, crim­i­nal­iza­tion or harass­ment. This link­age between a patient and health­care provider is crit­i­cal to iden­ti­fy­ing vio­lence, exploita­tion, traf­fick­ing, yet it's dis­rupt­ed by crim­i­nal­iza­tion," says Luo.
"We're not try­ing to cre­ate a new indus­try," she adds. ​"But we do want to remove polic­ing and crim­i­nal­iza­tion from sex work­ers' lives."
Car­rie Weis­man
is a jour­nal­ist based in New York City. She reports on sex, rela­tion­ships and culture.