The Right To Mother and Do Sex Work
In custody battles, sex workers face trial by slut-shaming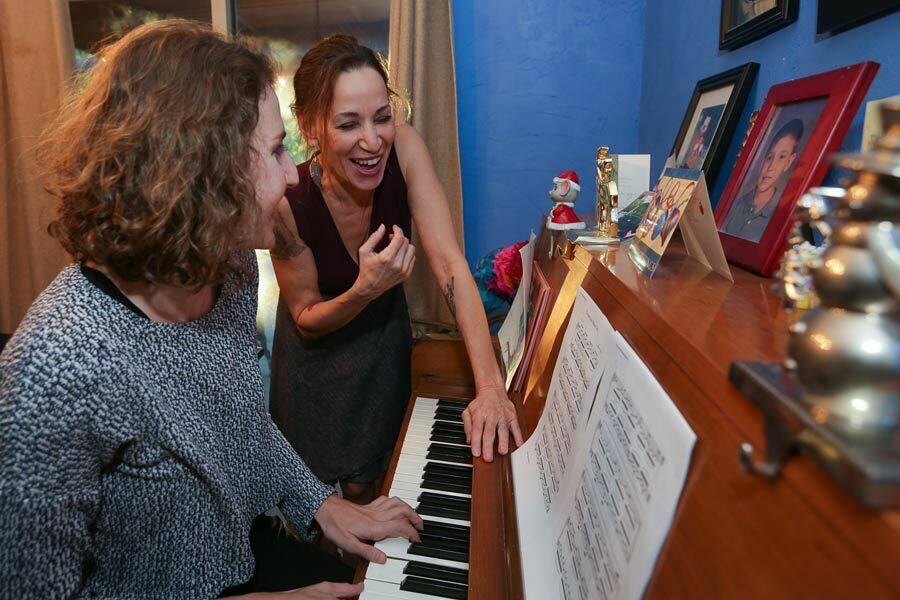 NORTH­ERN CAL­I­FOR­NIA — Kym­ber­ly Cut­ter expect­ed an uphill bat­tle for cus­tody of her 8‑yearold daugh­ter. She is a sex work­er and her case was being tried in a rur­al, con­ser­v­a­tive part of the state. Her ex-boyfriend, the child's father, brought to court a file of pho­tographs and adver­tise­ments for her body­work and prostate mas­sage business.
"Parents, particularly mothers, who are involved in sex work often have it used against them to separate them from their child."
"He was try­ing to make it seem like I was rais­ing [our daugh­ter] in a broth­el," she says. ​"I wasn't."
Cutter's mas­sage stu­dio was in an apart­ment sep­a­rat­ed from her main house, and her ex-boyfriend ​"was part of that world," she tells In These Times. ​"He was very much open to my sex work when we were together."
Liz Afton works as a coun­selor at the Sex Work­ers Project, an ini­tia­tive of New York City's Urban Jus­tice Cen­ter (UJC), which pro­vides legal and social ser­vices to peo­ple involved in sex work. ​"Par­ents, par­tic­u­lar­ly moth­ers, who are involved in sex work often have it used against them to sep­a­rate them from their child," Afton says.
Atossa Mova­he­di, direc­tor of legal ser­vices and devel­op­ment at the UJC's domes­tic vio­lence project, says Cutter's sit­u­a­tion is com­mon. ​"More often than not," she says, ​"the oppos­ing par­ty had knowl­edge of, or even was involved direct­ly, in the client's par­tic­i­pa­tion in the sex work, and is now using it as a tool to exploit them in the court system."
When deal­ing with cus­tody dis­putes, courts first look at a parent's abil­i­ty to pro­vide a lov­ing and sta­ble home. Finan­cial sta­tus, men­tal health, drug use and domes­tic vio­lence all fall under con­sid­er­a­tion. Though many moth­ers involved in sex work pass inspec­tion in these areas, they're left with the fact that the job is usu­al­ly ille­gal — and in the eyes of some on the bench, immoral.
"In many cas­es, we see the inher­ent bias­es of the judge at play, per­haps not explic­it­ly, but in their demeanor and rul­ings," Mova­he­di says.
"I had a good judge," Cut­ter says. ​"He felt what I did for a liv­ing had no bear­ing on my abil­i­ty to par­ent." Cut­ter also came armed with 60 let­ters of sup­port from friends, fam­i­ly and com­mu­ni­ty mem­bers, and her par­ents gave her $10,000 to cov­er her legal costs. Even then, she says, ​"I was real­ly, real­ly lucky. If you get a con­ser­v­a­tive judge who wants to pun­ish women, well, you're in big trouble."
Take the case of Fin­ley Fawn, who lost cus­tody of her 6‑yearold son in 2016. Fawn per­forms legal sex shows on the inter­net, but the courts decid­ed that film­ing from home allowed her child too much aware­ness of the job.
Juliana Pic­cil­lo, a for­mer sex work­er in Tuc­son, Ariz., says that when she and her sec­ond hus­band divorced in 2003 she waived her right to child sup­port because he threat­ened to sue for cus­tody if she did not. When, in 2009, she decid­ed to pur­sue child sup­port for their dis­abled son, he tried to use her sex work against her. Though she won, she recalls the expe­ri­ence as drenched in bias and belit­tle­ment. Her ex-hus­band served as his own coun­sel, Pic­cil­lo says, and tried to embar­rass her with images from her web­site. A friend of hers went through some­thing sim­i­lar; oppos­ing coun­sel repeat­ed­ly referred to her as ​"Hook­er Mom."
In 2014, Pic­cil­lo helped start Red Umbrel­la Babies, an anthol­o­gy about sex work and par­ent­ing. ​"Every [sep­a­rat­ed] sex work­er I know … has had their cus­tody threat­ened," she explains. ​"If we start talk­ing about it, we can show that sex work­ers can be very good par­ents and raise very healthy chil­dren in very whole­some environments."
Liz Afton argues that many sex work­ers make great moth­ers not in spite of the job, but because of it. ​"It pro­vides sched­ule flex­i­bil­i­ty and much bet­ter wages than many jobs, and the lux­u­ry of more qual­i­ty time with their chil­dren," she says. ​"It can also allow peo­ple to escape abu­sive rela­tion­ships by tak­ing con­trol of their own finan­cial security."
As for Cut­ter, she's now liv­ing and co-par­ent­ing with anoth­er sex work­er who also has a child. Cut­ter says rais­ing her child with anoth­er woman in the field feels like a safer bet when it comes to retain­ing cus­tody. With­in the world of sex work­ers, it's not entire­ly uncommon.
Pic­cil­lo, for exam­ple, is involved with the Sex Work­ers Out­reach Pro­gram, a net­work of 28 chap­ters ded­i­cat­ed to advanc­ing sex work­er rights. ​"We spend hol­i­days togeth­er, we bar­be­cue togeth­er, we raise our chil­dren togeth­er," she says. ​"We cre­ate our own com­mu­ni­ties to nur­ture our kids."
Pic­cil­lo adds, ​"A lot of myths and stereo­types" about sex work have been debunked. ​"But par­ent­hood is the last frontier."
Car­rie Weis­man
is a jour­nal­ist based in New York City. She reports on sex, rela­tion­ships and culture.