Michele Bachmann in 'Sharknado 3': Brought to You By 'Strikenado' Scabs
This week, the cottage industry of sites formerly dedicated to covering ex-Congresswoman Michele Bachmann's every move had reason to celebrate, as she resurfaced in Washington, filming a scene for Sharknado 3, the latest installment in the so-bad-it's-actually-really-bad science fiction franchise. This wasn't the first bit of conservative stunt-casting for the SyFy sequel: Ann Coulter will reportedly play the Vice President, right-wing celeb Bo Derek has a role and the producers sought out Oliver North and Colin Powell.
The Bachmann shoot got plenty of coverage everywhere you'd expect: the Huffington Post, the Guardian, Mediaite, Vox. What none of these news articles pointed out was the actual news: that the Sharknado movie in question is working with a scab crew after firing the entire production team when they sought union representation.
Because you go to war with the media you have, the International Alliance of Theatrical Stage Employees (IATSE) has used the hashtag #Strikenado to publicize their action. And they've gotten a lot of mileage on social media, where Sharknado hate-watching has been refined to an art form. But beyond the delight in all things schlock, this is another effort to break the solidarity on Hollywood work crews and depress one of the last skilled manual labor jobs in America that pays above-average wages.
Sharknado 2 was actually a union production. The Asylum, the company that produces the movies, does not have a term agreement with IATSE, but they signed a standalone agreement on Sharknado 2. ​"There are financial benefits for the company for a term agreement, but we allow companies to sign singular productions," says Vanessa Holtgrewe with IATSE West Coast.
But when time came around to put the sharks in the tornado a third time, The Asylum never got around to informing the union. Filming started in Florida and came to Los Angeles on March 3. The crew met and voted quickly for IATSE representation. When they informed The Asylum, the production company said they would all be fired. This is precisely the maneuver that Bravo and Ryan Seacrest Productions attempted with the post-production crew on the reality show Shahs of Sunset last year. That standoff ended with the post-production personnel ratifying a union contract.
Forty crew members walked out on Sharknado 3 the day they were threatened, and picketed The Asylum offices and various Los Angeles set locations, including a trailer park north of the city and a hardscrabble warehouse district populated mostly with auto mechanics. The Asylum converted the warehouse into a soundstage, so if you constantly hear lug nuts being removed in all the Sharknado 3 interior scenes, that's why.
The crew wants union standard pay and benefits, something sorely lacking on the current production, which is reportedly closer to The Asylum's standard practice. Workers have come forward on social media to describe long workdays at flat rates.
"Worked on Asylum set for $100 a day, 14 hour days & a cast of 10 year olds," wrote costume designer Catherine Elhoffer, alluding to violations of child labor laws. Noelani Mei Lee, a script supervisor who walked out on the Sharknado 3 set, made a host of claims: ​"checks withheld, safety hazards, intentional gas leaks, lies to convince crew members to move out of state for minimum wage and less, I could go on." Anonymous crew members told The Glide about unpaid overtime, pay below the minimum wage, setting explosions without the presence of a fire marshal and one instance where ​"the Art Department stayed up for 48 hours to complete a set."
When asked about work conditions at the shoot, Vanessa Holtgrewe of IATSE said that she would ​"let the crew testimony speak for itself."
What we do know is that Sharknado 3 tried to complete their Los Angeles shoot days with bare-bones scab crews, a rarity in a fairly tight-knit Hollywood production community. IATSE put out an alert warning members to call the union if they were contacted to replace workers on Sharknado.
"They kept losing people, because they would realize they were crossing a picket line," Holtgrewe says. ​"Two guys drove all night from Nebraska to be their sound team, realized what was going on after an hour and walked out." A production assistant recorded sound, rumor has it.
On Monday, the production wrapped out of Los Angeles, and strikers expected to find them in D.C. shooting under a fake name, apparently a common practice. When they showed up in front of the White House on Wednesday filming Michele Bachmann, a picture taken by the Huffington Post's Igor Bobic shows a crew of only a cameraman and a producer.
Fired Sharknado 3 workers outside the White House, shortly after Michelle Bachmann and the scab crew left. (Strikenado / Facebook)
IATSE members in Washington, D.C., interrupted the shoot and vowed to picket wherever The Asylum attempts to film next. AFL-CIO President Richard Trumka met with crew members in Washington yesterday and tweeted out a show of support.
If nothing else, Sharknado 3 has been scaled back and shifted around significantly, and the #Strikenado threatened deadlines for the July broadcast premiere of the Ian Ziering/​Tara Reid not-such-a-thriller.
The Asylum, which has reportedly withheld checks from the striking workers, has only made one comment on the dispute so far — a mocking statement through their lawyer: ​"We are happy to report that we have reached an agreement with the International Brotherhood of Selachimorpha, which represents the sharks in our film. We will be increasing the amount of chum at the craft services table and will no longer require our employees to sleep without moving." Similarly witty shark-related statements were not provided to this reporter upon request.
The Asylum is definitely trying to work a model that might look very attractive to management: deliberately low-budget kitsch, terrible production values and a savvy ​"we meant to do that" new media strategy. Combine it all and you have another non-union foothold in cable television, this one for scripted productions. This translates into far higher profits for the production company, given that the franchise has reeled in some of the highest ratings in SyFy history. And the company seems to have made a bet on union busting, with the right-wing stunt-casting and general trollishness.
But the striking crew, many of whom have moved on to other projects, turned the Sharknado media buzz model on its head, creating the #Strikenado Facebook page, which has generated over 2,500 likes. And given the talk among the community of cameramen, sound crews and gaffers that work behind the scenes, The Asylum will have a difficult time finding any half-decent workers from here on out.
It's not particularly easy to get TV watchers to focus on the work conditions of those who make their favorite programs. But they may notice the severe drop in quality, even for something like Sharknado. At some level, even garbage television requires skill. As IATSE's Vanessa Holtgrewe points out, ​"There are a lot of green screens because it involves flying sharks."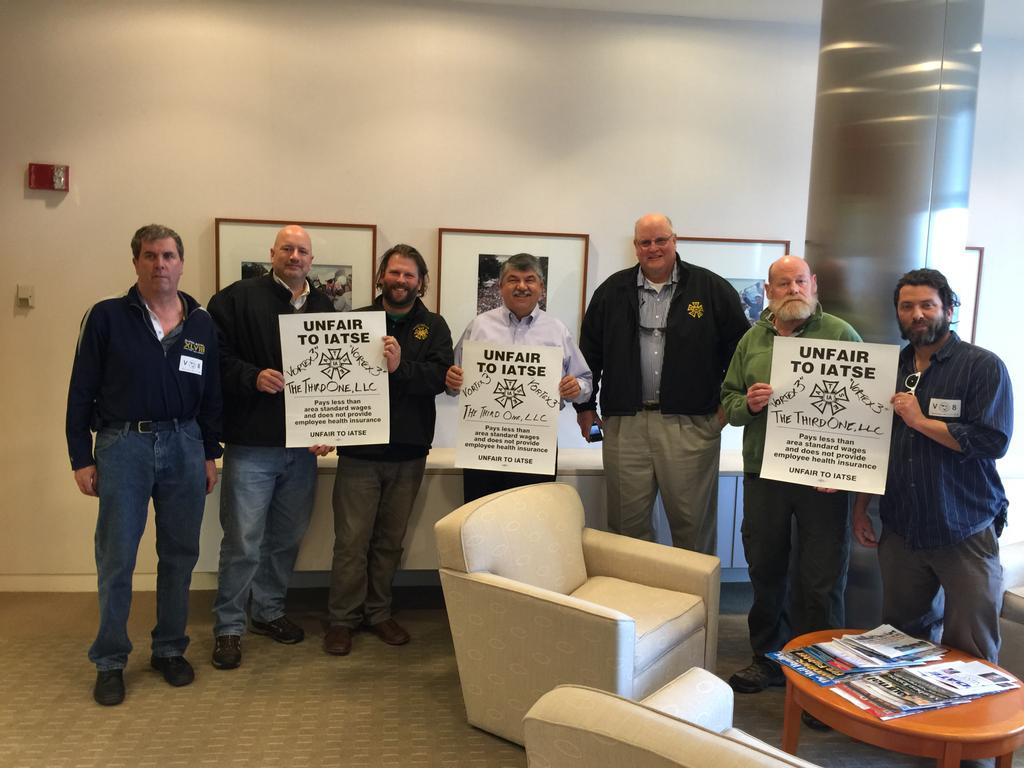 AFL-CIO President Richard Trumka with Sharknado 3​'s fired workers. (Strikenado / Twitter)
Win a trip for two to Cascais, Portugal!
Don't miss your chance to win! Get your raffle tickets today for Saturday's raffle, with a chance to win a vacation for two to Cascais, Portugal!
One lucky raffle winner will receive a $3,000 gift card to cover the costs of two flights, as well as a stay in a 5-star boutique hotel, housed in a 17th century fortress with medieval architecture and décor. You can schedule the trip on your timeline!
All raffle ticket sales support ongoing In These Times reporting, just like the article you just finished reading. Get your raffle tickets now.
The winner will be selected on the night of September 30, at the In These Times 47th Anniversary Celebration. You do not need to be present at the drawing to win.