Shawn of the Left
Wallace Shawn speaks for himself. Usually.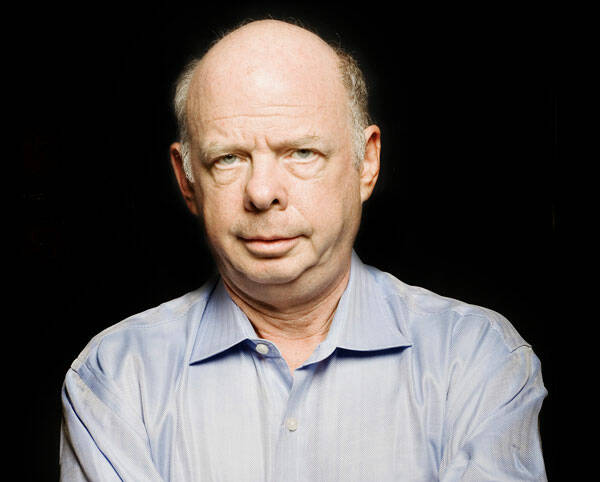 Chances are if you are from New York and hap­pen to be a ser­i­al pro­tes­tor of America's for­eign wars, you will find your­self at some point in the pres­ence of Wal­lace Shawn, the actor, play­wright and essay­ist. In his new­ly pub­lished Essays (Hay­mar­ket Books), he writes: ​"Not unlike those unfortunate
indi­vid­u­als who have some­how become addict­ed to pornog­ra­phy on the Inter­net, a fright­en­ing num­ber of Amer­i­cans seek tem­po­rary relief in nation­al­is­tic fan­tasies from the unsat­is­fy­ing incom­plete­ness of their dai­ly lives – and then become hooked. It's been going on for years."
Shawn is the son of The New York­er​'s leg­endary for­mer edi­tor, William Shawn. He him­self co-authored and act­ed in the leg­endary film, My Din­ner With Andre (1981), a dia­logue over din­ner between two friends dis­cussing their respec­tive mys­ti­cal and ratio­nal views of the world. The author of plays that have been per­formed in Lon­don and Man­hat­tan, he has appeared as a char­ac­ter actor in numer­ous TV shows. But he is most well known for his com­ic roles – the voice of Rex in Toy Sto­ry and the evil Vizzi­ni in The Princess Bride.
At 66, Shawn is a con­tem­pla­tive­ly cheru­bic man who most recent­ly appeared in Michael Moore's Cap­i­tal­ism: A Love Sto­ry. Famous in an under­ground sort of way, he tells of being stopped in the streets of his city by fans and crit­ics. The crit­ics lam­baste him for his attacks on Israel's Pales­tin­ian policies.
"That's all I ever get crit­i­cized for. Not for all the things I said about Bush. Not for any­thing else. Just Israel." In his essay, Israel Attacks Gaza, Shawn writes: ​"As the years go by, and the Holo­caust fades fur­ther into the past, in every coun­try more and more peo­ple are born to whom the out­ra­geous behav­ior of the Israelis seems sim­ply hate­ful, and to whom jus­ti­fi­ca­tions based in the past seem sim­ply sophistical."
In the essay in your book titled Moral­i­ty, you claim to be an unapolo­getic advo­cate of com­fort, while acknowl­edg­ing that the exploita­tion and oppres­sion of oth­ers makes your com­fort pos­si­ble. As a rad­i­cal, how do you rec­on­cile that contradiction?
I sup­pose I believe that the solu­tion to the prob­lem of glob­al injus­tice doesn't come from a sin­gle individual's behav­ior. I advo­cate for change in the world, which if it came quick­ly enough, might dimin­ish my degree of com­fort, and I could accept that.
Did your child­hood in a promi­nent lib­er­al house­hold, where you were exposed to thinkers of every kind from every­where, shape your polit­i­cal thinking?
Well, I sup­pose I had an advan­tage over most Amer­i­cans in that many peo­ple who vis­it­ed our apart­ment weren't Amer­i­cans. So, I was nev­er like­ly to grow up as a nar­row­ly nation­al­is­tic per­son, or as some­one who believed that only Amer­i­cans were wor­thy of respect.
When you began writ­ing plays in the ​'60s, did you imme­di­ate­ly explore polit­i­cal themes in your work?
No. But in a fun­ny way I always asso­ci­at­ed plays with pol­i­tics. For instance, my first play was very qui­et and gen­tle. It had maybe twen­ty-five Catholic monks as char­ac­ters. I believed its very gen­tle­ness was a rebuke to the Viet­nam War, and might have an effect on end­ing it. The first play of mine in which I men­tion a spe­cif­ic place, per­son and time in a polit­i­cal con­text was Aunt Dan And Lemon. [Aunt Dan, an Oxford don, is a defend­er of Kissinger's Viet­nam policies.]
How do you see the tra­di­tion of polit­i­cal­ly engaged play­writ­ing in this country?
Well, there was the Group The­atre, a com­mu­ni­ty left-wing the­atre in the ​'30s. Strange­ly, the polit­i­cal plays of Clif­ford Odets and oth­ers did not real­ly have any suc­ces­sors. They did not start a tra­di­tion of play­writ­ing, but the type of act­ing that was devel­oped there still pre­dom­i­nates to this day. Lee Stras­berg and Elia Kazan were mem­bers. They lat­er formed the Actor's Studio.
Had you been born in a pre­vi­ous gen­er­a­tion you prob­a­bly would have been an excel­lent can­di­date for a blacklist.
[Laughs.] Yeah. The peo­ple on the black­list were for the most part quite coura­geous. You could get off the black­list just by nam­ing names. I have nev­er been tested.
Have you ever imag­ined how you would have react­ed to being called before a committee?
Have I imag­ined it? I imag­ine it almost every day.
What do you imagine?
Like many dreams, they don't real­ly go to the end of the sto­ry. I mean, I imag­ine being called before the com­mit­tee, but I don't see what I would do.
Know­ing your­self, don't you know what you would do?
I don't know myself very well. We know our­selves when a sit­u­a­tion comes up. It's quite hard to pre­dict how peo­ple will behave when the fin­ger of his­to­ry points at you. Every­thing is dif­fer­ent from what we might imag­ine. Every­thing. I have been to this restau­rant very recent­ly. [We are sit­ting at a restau­rant in Chelsea, in Man­hat­tan.] In fact, I have already been to this restau­rant today. But I couldn't pre­dict how I would feel com­ing into it.
Can you imag­ine a polit­i­cal ver­sion of My Din­ner With Andre being made, where instead of two old friends meet­ing over din­ner to dis­cuss the mean­ing of life, you engage in an edi­fy­ing con­ver­sa­tion about world affairs?
I think that a well-writ­ten ver­sion of My Din­ner With Andre that was com­plete­ly polit­i­cal could be fan­tas­tic. Well, if you imag­ine a lib­er­al, and let's say a com­mu­nist, meet­ing after a cer­tain peri­od of time. As a mat­ter of fact, if we did My Din­ner With Andre 10 years lat­er, it would have been much more polit­i­cal. I imag­ine it could be a won­der­ful sto­ry. In my own case, I was an ordi­nary cen­trist at one time. I only became more left-wing when I was 40. I had con­ver­sa­tions on the dra­mat­ic side when I was going through that change. If some­one wants to write the script, that would be great.
You intro­duce us in the essay, After The Destruc­tion of The World Trade Cen­ter, to the much-need­ed For­eign Pol­i­cy Ther­a­pist. Do you think pro­gres­sives should strug­gle to make this a cab­i­net post? And would you be will­ing to take it on?
[Laughs, then abrupt­ly seri­ous.] I do think that polit­i­cal peo­ple are often dis­turbing­ly unin­ter­est­ed in psy­chol­o­gy. And I think that was one of the dis­as­trous facts about many left-wing rev­o­lu­tion­ar­ies. They were not suf­fi­cient­ly psy­cho­log­i­cal. They lacked self-aware­ness, and they didn't take notice of the dan­ger­ous areas with­in themselves.
When you were at McNal­ly Jack­son, a book­store in Man­hat­tan, read­ing from Essays, a ques­tion­er sug­gest­ed that you come across as the ​"fool" in your pub­lic per­sona. Might he have been allud­ing, do you think, to your un-self-con­scious­ly out-of-step approach to pol­i­tics and most oth­er things, as if almost invit­ing obscurity?
Well, I can't explain it. I shouldn't even begin talk­ing about it because I can't explain it. I seem to have a point of view, or a way of think­ing about things, that is fun­ny. I don't even know what that means real­ly. Let's start from the premise that the world is so aston­ish­ing­ly far from the way it ought to be that one is dri­ven to ask what thoughts can be large enough to fig­ure out a way for­ward. There isn't any­body who has mapped it all out per­fect­ly. We have to look in every pos­si­ble direction.
Give me an example.
I am going to tell you a sto­ry a friend relat­ed to me. Indi­ra Gand­hi came to this coun­try, and want­ed to meet with a bunch of writ­ers and intel­lec­tu­als. So, they all gath­ered in this room some­where, and the sur­re­al­is­tic writer Don­ald Barthelme was asked what he thought the world need­ed. He quite sin­cere­ly, when answer­ing this impor­tant head of state, expressed the belief that maybe the way for­ward could be found some­how through poet­ic intu­ition, through the irra­tional, through the illog­i­cal. Maybe pol­i­tics is too vast to be left mere­ly to polit­i­cal philoso­phers. Maybe we need the insights of poets as well. Karl Marx was a stag­ger­ing­ly, unimag­in­ably bril­liant man with incred­i­ble insights. But he lived and died and the prob­lem remains.
Last year, with the pres­i­den­tial elec­tion, Amer­i­cans went through a peri­od of tremen­dous opti­mism that was focused on Oba­ma. What were your feel­ings about Oba­ma? Did you share people's optimism?
Obvi­ous­ly I was thrilled that the Amer­i­can pub­lic declared their feel­ings of being fed up with Bush and what he sym­bol­ized. I was also thrilled that the Amer­i­can pub­lic vot­ed for a pres­i­dent who wasn't white. But I made no pre­dic­tions about what Oba­ma would or would not accom­plish. I almost always have had a vis­cer­al dis­like of Amer­i­can pres­i­dents. In the case of Oba­ma, I actu­al­ly feel an affec­tion toward him. I feel that I know him. But I don't know him. Of course he has the char­ac­ter­is­tic that makes peo­ple think, ​"Oh, Barack shares my atti­tudes exact­ly. And if he doesn't act the way I want him to act, he is sim­ply not able to, he is polit­i­cal­ly con­strained." I know that I feel that. And if it's true in my case, and he is real­ly a left­ist in his heart of hearts, it rais­es the ques­tion: to what extent can an indi­vid­ual change his society?
Robert Hirschfield
is a New York-based writer who cov­ers Israeli and Pales­tin­ian peace activists. He has writ­ten for
The Pro­gres­sive, The Nation­al Catholic Reporter
and
Sojourn­ers
.