U.S. To Increase Worker Protection From Deadly Silica Dust for First Time in More Than 40 Years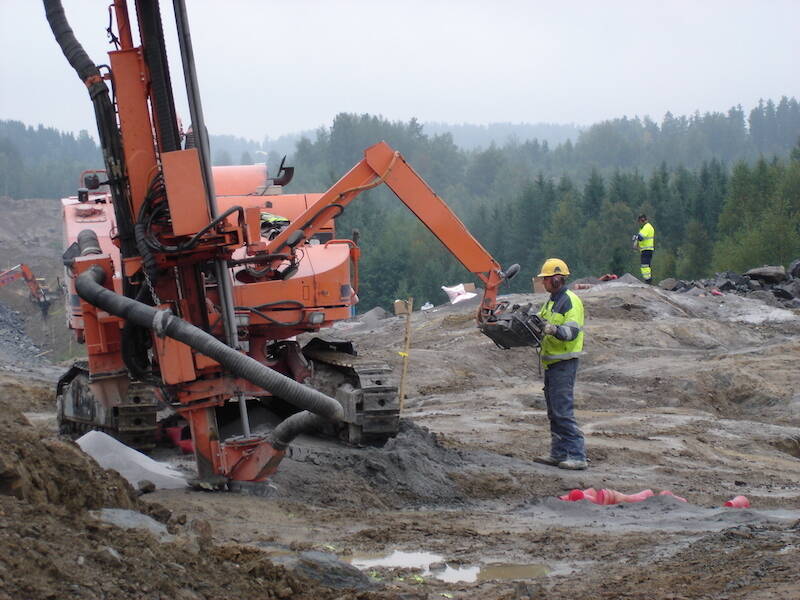 For the first time in 45 years, the U.S. Occu­pa­tion­al Health and Safe­ty Admin­is­tra­tion (OSHA) is poised to increase safe­ty stan­dards for work­er expo­sure to the sil­i­ca dust that can cause dead­ly and incur­able lung dis­ease. A rule that would cut in half the amount of sil­i­ca dust to which most work­ers could be exposed — and lim­it lev­els fur­ther for con­struc­tion and mar­itime work­ers — is expect­ed to be final­ized in February.
The indus­tries that must com­ply with the new rule hoped to derail the new stan­dard, includ­ing with an amend­ment to the 2016 fed­er­al spend­ing bill that would have pre­vent­ed any spend­ing to imple­ment the new rules and required more study of silica's health effects. While in the bill up to the eleventh hour, this rid­er has been dropped from the bud­get released late Tues­day that is expect­ed to be vot­ed on lat­er this week.
Accord­ing to OSHA, sil­i­ca expo­sure is a seri­ous threat to near­ly 2 mil­lion U.S. work­ers, includ­ing more than 100,000 whose jobs involve stone cut­ting, rock drilling and blast­ing and foundry work. Work­ers installing and man­u­fac­tur­ing coun­ter­tops are also at risk, along with those at hydraulic frac­tur­ing — or frack­ing—sites where indus­tri­al sand is used in oil and gas extrac­tion and has been found to expose work­ers exces­sive­ly. OSHA esti­mates that the new safe­ty lim­its will save near­ly 700 lives and pre­vent 1,600 new cas­es of sil­i­co­sis each year. OSHA also esti­mates that when ful­ly imple­ment­ed, the rule would result in annu­al finan­cial ben­e­fits of $2.8 to $4.7 bil­lion, ben­e­fits that far exceed the rule's annu­al costs.
"It's often been said it's a dis­ease that's been known since antiq­ui­ty. The fact that sil­i­ca caus­es can­cer is more recent infor­ma­tion," Mike Wright, Unit­ed Steel­work­ers direc­tor of health and safe­ty, tells In These Times. ​"There's no ques­tion the new stan­dard would save lives. The longer it takes to get into place, the more peo­ple are exposed," says Wright.
The World Health Organization's Inter­na­tion­al Agency for Research on Can­cer has con­sid­ered crys­talline sil­i­ca — par­ti­cles small enough to inhale — a human lung car­cino­gen since 1997. The U.S. Nation­al Tox­i­col­o­gy Pro­gram​'s Report on Car­cino­gens clas­si­fied res­pirable sil­i­ca as a known human car­cino­gen in 2000. In addi­tion to lung can­cer, inhaled sil­i­ca dust can cause sil­i­co­sis, a seri­ous, incur­able and poten­tial­ly fatal lung dis­ease. In the lungs, sil­i­ca dust can scar lung tis­sue and reduce lungs' abil­i­ty to process oxy­gen and increase sus­cep­ti­bil­i­ty to oth­er lung dis­eases, includ­ing tuberculosis.
OSHA's exist­ing sil­i­ca stan­dard, what's known as a per­mis­si­ble expo­sure lev­el, has not been updat­ed since the agency was estab­lished. The Depart­ment of Labor's con­cern about these expo­sures goes back to the 1930s when Sec­re­tary of Labor, Frances Perkins sound­ed the alarm about sil­i­co­sis' toll on Amer­i­can work­ers. The new rule, which would cut most work­ers' per­mis­si­ble expo­sure lev­els to 50 micro­grams per cubic meter over the course of an 8‑hour work­day from the cur­rent­ly allowed 100, was pro­posed in 2013. It fol­lowed reviews begun in 2003 by both the Depart­ment of Labor and Small Busi­ness Admin­is­tra­tion. Now, after pub­lic com­ment peri­ods and meet­ings with indus­try and labor groups, the White House Office of Man­age­ment and Bud­get (OMB) is ready to final­ize the rule.
Block­ing the new standard?
Despite this long his­to­ry, sup­port from the Depart­ment of Labor and research by the Cen­ters for Dis­ease Con­trol and Prevention's Nation­al Insti­tute of Occu­pa­tion­al Safe­ty and Health (NIOSH) show­ing ongo­ing adverse affects of sil­i­ca, indus­try groups mount­ed vig­or­ous oppo­si­tion to the new safe­ty stan­dard. An amend­ment or rid­er to what's known as the omnibus spend­ing bill — the leg­is­la­tion that will fund the fed­er­al government's 2016 bud­get — was intro­duced by Sen­a­tor John Hoeven (R‑North Dako­ta). (North Dako­ta is among the states with the most frack­ing sites.) It would have stopped the Depart­ment of Labor from spend­ing any mon­ey to imple­ment the new sil­i­ca rule and, among oth­er mea­sures, called for a new study by the Nation­al Acad­e­my of Sci­ences to jus­ti­fy the reduced expo­sure level.
"The Occu­pa­tion­al Health and Safe­ty Administration's (OSHA's) pro­pos­al to reduce the cur­rent expo­sure lim­it is not sup­port­ed by sound sci­ence and will cre­ate a tremen­dous finan­cial bur­den for many indus­tri­al sec­tors," said the Nation­al Stone, Sand and Grav­el Asso­ci­a­tion in a state­ment post­ed to its website.
The asso­ci­a­tion is among the indus­try groups and com­pa­nies that have lob­bied the White House on this issue, try­ing to per­suade the admin­is­tra­tion that exist­ing reg­u­la­tions are suf­fi­cient and that more strin­gent stan­dards would be bur­den­some to busi­ness. Between March 2011 and 2014, OMB meet­ing records show 11 meet­ings about occu­pa­tion­al expo­sure to crys­talline sil­i­ca. All but one were with indus­try groups.
In an emailed state­ment, Sen. Hoeven's office explained that the amend­ment ​"would not only ensure that the lat­est sci­ence is used by OSHA, but also that the agency con­ducts a long-over­due study of the impact of cur­rent sil­i­ca reg­u­la­tions on small busi­ness­es," not­ing that the most recent Small Busi­ness Admin­is­tra­tion report on sil­i­ca was com­plet­ed in 2003 and that sil­i­ca-relat­ed deaths dropped 93 per­cent between 1968 and 2007.
But as NIOSH itself has written:
There are no sur­veil­lance data in the U.S. that per­mit us to esti­mate accu­rate­ly the num­ber of indi­vid­u­als with sil­i­co­sis. The true extent of the prob­lem is prob­a­bly greater than indi­cat­ed by avail­able data. Under­count­ing of sil­i­co­sis occurs because there are no nation­al med­ical mon­i­tor­ing sur­veil­lance pro­grams, and there can be a fail­ure to diag­nose sil­i­co­sis or record it as a cause of death on a death cer­tifi­cate. Sil­i­co­sis often presents long after work­ers have left causative jobs. Such cas­es may not be detect­ed in Bureau of Labor sta­tis­tics as occu­pa­tion­al dis­ease and will not be detect­ed if dis­ease presents after retirement.
"We're talk­ing about people's lives," says Andrew Rosen­berg, direc­tor of the Union of Con­cerned Sci­en­tists Cen­ter for Sci­ence and Democ­ra­cy. ​"What gets lost in so many of these dis­cus­sions is that this is fun­da­men­tal­ly about pub­lic health and safe­ty pro­tec­tions that are gen­uine­ly in the pub­lic inter­est. They're not going to be done by busi­ness­es on their own," says Rosenberg.
"If you wait for this kind of evi­dence peo­ple will be dead," he not­ed of one of the rider's requirements.
But, says Nation­al Coali­tion for Occu­pa­tion­al Safe­ty and Health act­ing exec­u­tive direc­tor Jes­si­ca Mar­tinez, strik­ing a note of hope via email, ​"Giv­en the over­whelm­ing evi­dence about the haz­ards of sil­i­ca, we are hope­ful that the final bud­get agreed to by the White House and Con­gress will not inter­fere with OSHA's sci­en­tif­i­cal­ly sound, eco­nom­i­cal­ly prac­ti­cal new sil­i­ca stan­dard." Her wish was real­ized in the bud­get bill agree­ment reached last night that dropped the rider.
Addi­tion­al rid­ers' impact on pub­lic and occu­pa­tion­al health
But this is not the only amend­ment attached to the bud­get bill that would affect pub­lic and occu­pa­tion­al health. Among the rid­ers that would pre­vent envi­ron­men­tal pro­tec­tions from being advanced is one that could keep sci­en­tists who receive fed­er­al research grants from serv­ing on Envi­ron­men­tal Pro­tec­tion Agency (EPA) sci­ence advi­so­ry boards. This could, for exam­ple, exclude sci­en­tists whose research is fund­ed by the Nation­al Sci­ence Foun­da­tion and Nation­al Insti­tutes of Health. Anoth­er bud­get pro­vi­sion could add addi­tion­al delays to reg­u­la­tion of harm­ful chem­i­cals by requir­ing EPA to repli­cate sci­ence stud­ies sub­mit­ted as part of chem­i­cal assessments.
Both of these rid­ers essen­tial­ly repli­cate bills intro­duced last year by House Repub­li­cans that the OMB rec­om­mend­ed the pres­i­dent veto. While on the sur­face both sound rea­son­able, close read­ing shows they could eas­i­ly result in achiev­ing the oppo­site of what they claim to. Ver­sions of both appear to remain in the bud­get bill that will go to the full House for a vote.
"The SAB rid­er," explains UCS's Rosen­berg, ​"tips the scale even fur­ther in the direc­tion of indus­try by twist­ing the con­cept of con­flict of inter­est on its head. It says that aca­d­e­mics who get mon­ey from gov­ern­ment grants have a con­flict but indus­try-sup­port­ed sci­en­tists don't."
And as the Nat­ur­al Resources Defense Coun­cil senior attor­ney Daniel Rosen­berg explains fur­ther via email, ​"The rid­er attempts to hold EPA hostage by halt­ing all Sci­ence Advi­so­ry Board activ­i­ties until EPA changes its poli­cies" — and has these changes vet­ted by a Gov­ern­ment Account­abil­i­ty Office report. Both rid­ers could affect all future chem­i­cal reg­u­la­tion and how fed­er­al occu­pa­tion­al pro­tec­tion stan­dards are set.
So what's like­ly to happen?
"We're all hop­ing for a ​'clean' bud­get bill," said Wright ear­li­er this week. The bill that emerged Tues­day night is not exact­ly ​'clean,' and how these rid­ers play out, assum­ing the bill pass­es in the form cur­rent­ly avail­able, remains to be seen. Accord­ing to The Hill, the House is expect­ed to pass an addi­tion­al stop-gap spend­ing mea­sure today, to keep the gov­ern­ment fund­ed through Decem­ber 22nd with a vote on the $1.1 tril­lion bud­get bill antic­i­pat­ed on Fri­day of this week.
But when it comes to sil­i­ca, ​"Mil­lions of work­ers will breathe eas­i­er," says Mar­tinez, ​"if this impor­tant new rule goes into effect as planned this com­ing February."
Eliz­a­beth Gross­man
is the author of
Chas­ing Mol­e­cules: Poi­so­nous Prod­ucts, Human Health, and the Promise of Green Chem­istry
,
High Tech Trash: Dig­i­tal Devices, Hid­den Tox­i­cs, and Human Health
, and oth­er books. Her work has appeared in a vari­ety of pub­li­ca­tions includ­ing
Sci­en­tif­ic Amer­i­can
,
Yale e

360
,
Envi­ron­men­tal Health Per­spec­tives
,
Moth­er Jones
,
Ensia
,
Time
,
Civ­il Eats
,
The Guardian
,
The Wash­ing­ton Post
, Salon and
The Nation
.