Spare Us Your Technocratic Handwringing Over Single Payer: This is Life and Death
The battle for single payer in California is an opportunity to make historic investments in both healthcare and education. We can't pass it up.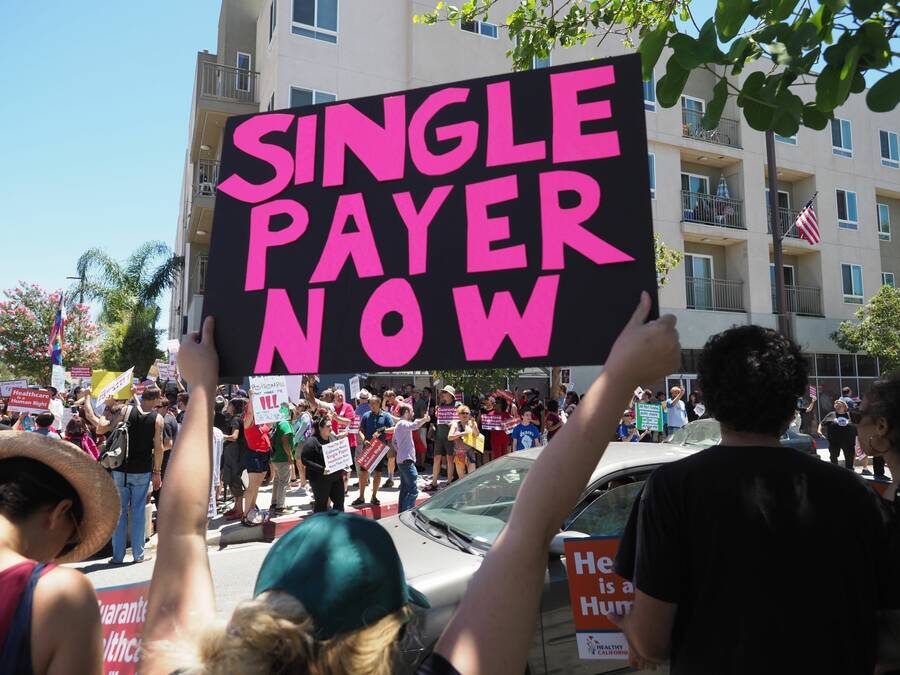 This week we wit­nessed the col­lapse of the Repub­li­can health­care bill in the Sen­ate, effec­tive­ly killing the effort to repeal and replace Oba­macare for the near term. While the GOP's like­ly defeat will save health insur­ance for tens of mil­lions of Amer­i­cans, the cur­rent sys­tem under Oba­macare still leaves mil­lions unin­sured and has led to increas­es in health­care costs for Amer­i­cans across the board. And Pres­i­dent Trump has main­tained that his goal is to let the entire sys­tem fail, as insur­ers con­tin­ue to pull out of the exchanges.
We should make the moral case for single payer, utilizing the history of our social welfare system to argue that things can be done better.
In the midst of this health­care cri­sis, a num­ber of states have been pur­su­ing their own plans to expand health­care cov­er­age through imple­ment­ing sin­gle-pay­er sys­tems. One of the most dra­mat­ic efforts took place in Cal­i­for­nia, where a sin­gle-pay­er plan passed the State Sen­ate in ear­ly June, buoyed by grass­roots orga­niz­ing and sup­port by groups like the Cal­i­for­nia Nurs­es Association.
How­ev­er, on June 23, the dream of uni­ver­sal, sin­gle-pay­er health­care in Cal­i­for­nia was put on indef­i­nite hold when Antho­ny Ren­don, the Speak­er of the Cal­i­for­nia State Assem­bly, announced that Sen­ate Bill 562 would remain stuck in the Rules Com­mit­tee ​"until fur­ther notice," essen­tial­ly killing the bill.
Sin­gle pay­er is popular
In a recent arti­cle for The Inter­cept, David Dayen lists the many obsta­cles Ren­don and Democ­rats in the Cal­i­for­nia State Leg­is­la­ture face in attempt­ing to make sin­gle-pay­er a real­i­ty, and uses these obsta­cles to jus­ti­fy law­mak­ers' fail­ure to enact uni­ver­sal health­care. But such a tech­no­crat­ic expla­na­tion obscures the enor­mous ener­gy behind the cam­paign for sin­gle-pay­er in the state — and the impor­tance of con­tin­u­ing to push for­ward with the demand.
The biggest hur­dle Dayen iden­ti­fies is Propo­si­tion 98, a mea­sure that requires at least 39 per­cent of the state's bud­get to be spent on pri­ma­ry school through com­mu­ni­ty col­lege education.
Because of the require­ments in Prop 98, any increase in spend­ing on health­care would also have to con­tain an addi­tion­al bump in fund­ing for edu­ca­tion to keep the state bud­get con­sti­tu­tion­al. Gov. Jer­ry Brown signed the 2017 to 2018 state bud­get in late June, which totaled $183 bil­lion. The most-friend­ly esti­mate of imple­ment­ing sin­gle pay­er in Cal­i­for­nia — the world's sixth-largest econ­o­my — puts the cost at $331 bil­lion. Prop 98 would require an addi­tion­al $207 bil­lion be allo­cat­ed for pub­lic edu­ca­tion, bring­ing the state's bud­get to a total of $721 bil­lion. Local, state and fed­er­al funds could be put towards that plan, but that would only cov­er $200 bil­lion. The rest would have to come from addi­tion­al sources of revenue.
Dayen paints these costs as a bar­ri­er to imple­ment­ing sin­gle-pay­er poli­cies. Rather than view­ing this need to increase rev­enue as an obsta­cle, how­ev­er, Democ­rats and pro­gres­sives of all stripes should see this as an oppor­tu­ni­ty for a his­toric invest­ment in the well-being of com­mu­ni­ties across California.
A near qua­dru­pling of the state bud­get would cer­tain­ly have its oppo­nents. After all, the rea­son that Prop 98 was approved by vot­ers in 1988 was due to the restric­tions on local prop­er­ty tax­es — a promi­nent form of school fund­ing in the Unit­ed States — caused by the pas­sage of Propo­si­tion 13 ten years ear­li­er. That propo­si­tion — which required sup­port by a two-thirds major­i­ty of vot­ers for local tax increas­es and capped the increas­es at two per­cent — dra­mat­i­cal­ly reduced local­i­ties' abil­i­ty to pay for infra­struc­ture and edu­ca­tion needs.
But none of these bud­getary restric­tions change the fact that Cal­i­for­ni­ans over­whelm­ing­ly approve of uni­ver­sal health care as a con­cept, even if that sup­port drops slight­ly when they are asked whether they would be will­ing to pay high­er tax­es to achieve it. And this plan would undoubt­ed­ly require high­er tax­es to ful­fill the rev­enue requirements.
The State Senate's Appro­pri­a­tions Com­mit­tee has already rec­om­mend­ed an increase of the pay­roll tax to 15 per­cent in order to fund the sin­gle-pay­er plan. Addi­tion­al means of tax­a­tion could include imple­ment­ing a millionaire's tax, as well as a finan­cial trans­ac­tions tax on bonds and oth­er com­modi­ties, which Cal­i­for­nia Democ­rats already passed a res­o­lu­tion sup­port­ing at their 2011 state convention.
Long-term, a cam­paign should also begin to repeal Prop 13 and end the ham­string that the law places on the abil­i­ty of local gov­ern­ment to raise mon­ey for pro­grams like pub­lic education.
Next steps
The first task is clear: Cal­i­for­nia vot­ers must be con­vinced of the neces­si­ty of pay­ing high­er tax­es in order to ensure every­one is guar­an­teed health­care. How do we do that?
Argu­ments cen­tered around ​"effi­cien­cies" and ​"sav­ings" are los­ing ones, as they accept the terms that con­ser­v­a­tives set out for the debate.
We should instead make the moral case for sin­gle pay­er, uti­liz­ing the his­to­ry of our social wel­fare sys­tem to argue that things can be done bet­ter. Such an argu­ment would see peo­ple as not just ​"tax­pay­ers," but humans deserv­ing of health­care as a right.
Social wel­fare in the Unit­ed States, while built on a sense of moral oblig­a­tion to fel­low cit­i­zens, has always been a sto­ry of gaps, holes, and half-mea­sures. Mod­ern-era pub­lic hous­ing was cre­at­ed with the Hous­ing Act of 1949, but it placed the bur­den of main­te­nance and upkeep on local hous­ing author­i­ties and the rents of low-income tenants.
Cash assis­tance pro­grams have exist­ed since the New Deal, but they are now woe­ful­ly inad­e­quate for even work­ing low-income fam­i­lies to live on, and many states only pro­vide fam­i­lies with two years of assis­tance before end­ing their assis­tance for life.
The sto­ry is sim­i­lar when it comes to health­care pol­i­cy. The Afford­able Care Act (ACA) was ini­tial­ly intend­ed to end the cri­sis of unin­sured Amer­i­cans. But after the pub­lic option was stripped from the bill, achiev­ing such goals became a pipe dream, as the prof­it-dri­ven, pri­vate insur­ance mar­ket remained the dom­i­nant force in U.S. healthcare.
A recent Kaiser Health study found that Amer­i­cans who buy their health insur­ance on the exchanges set up by the ACA spend up to 25 per­cent of their income on health­care costs. Pur­chas­es on the exchanges are sub­si­dized to a degree by the fed­er­al gov­ern­ment, yet get­ting sick can still mean finan­cial dis­tress for fam­i­lies. And if you are one of the 11.3 per­cent of Amer­i­cans with­out health insur­ance—which is up since the end of last year—finan­cial pre­car­i­ty is a cer­tain­ty should you fall ill.
Peo­ple are dying and going broke because of a health­care sys­tem that is based on prof­it rather than pro­mot­ing the health and well-being of soci­ety. The fact that work­ing class Amer­i­cans are being reduced to crowd­fund­ing their health expens­es cuts against any sense of equal­i­ty and justice.
For the children
Our coun­try also faces an inequal­i­ty cri­sis when it comes to edu­ca­tion. Most states have cut edu­ca­tion fund­ing in the wake of the Great Reces­sion and fund­ing from local sources has not been enough to make up the dif­fer­ence. Add to this the cuts states have been made to munic­i­pal­i­ties in the form of local gov­ern­ment aid, and we face a dire predica­ment for our nation's school districts.
This brings us to the sec­ond argu­ment in favor of what would like­ly be the largest surge in state gov­ern­ment spend­ing in the his­to­ry of the Unit­ed States: Do it for the children.
We should view this as a life-cycle argu­ment. Preg­nant women would be able to get the full range of pre­na­tal care and par­ent­ing sup­port that they need in order to have healthy chil­dren. The chil­dren would be born in a state with well-fund­ed health and edu­ca­tion sys­tems, with free pre-kinder­garten pro­grams, school meals, and access to child devel­op­ment programs.
Once a child in Cal­i­for­nia grad­u­ates high school, they would be able to attend a com­mu­ni­ty col­lege at a much-reduced cost, or even for free. And as they move through life, they would be able to get access to free health care, which pro­duces bet­ter health out­comes for far less mon­ey in the long run.
This is an argu­ment for invest­ing in the future of California's com­mu­ni­ties and break­ing the log­ic of aus­ter­i­ty that has sav­aged social spend­ing at the state and local lev­els across the coun­try. The Gold­en State has a sto­ried his­to­ry as a nation­al trend­set­ter in pol­i­tics and pol­i­cy. The push for sin­gle-pay­er is an oppor­tu­ni­ty for the state to again lead the way by prov­ing that egal­i­tar­i­an poli­cies are not just pop­u­lar — they save people's lives.
Dou­glas Williams
is a doc­tor­al stu­dent in polit­i­cal sci­ence at Wayne State Uni­ver­si­ty in Detroit, where his research cen­ters around pub­lic pol­i­cy, dis­ad­van­taged com­mu­ni­ties and the labor move­ment. He blogs at
The South Lawn
.