The Progressive Case For Hillary Clinton Isn't Much of a Case At All
A recent argument for Clinton from the left fails to convince.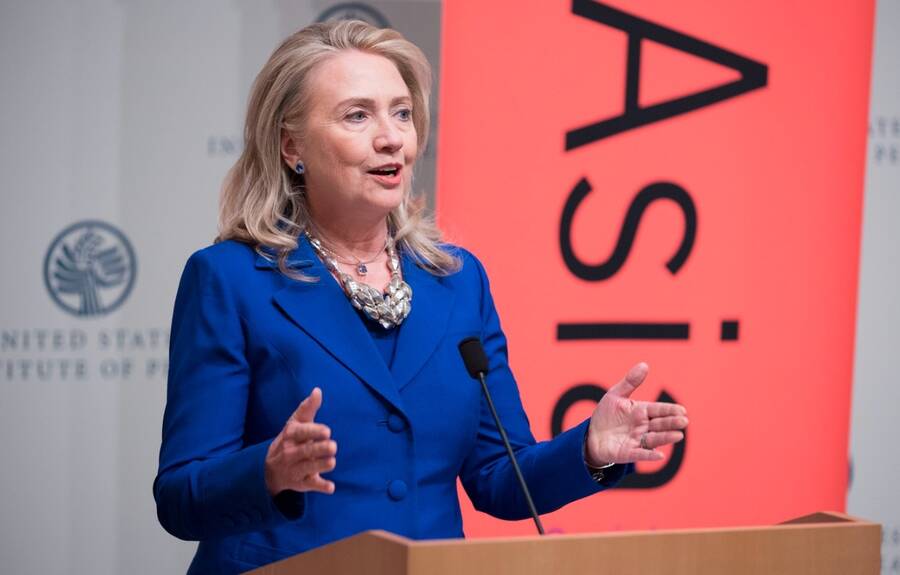 In a recent issue of In These Times, Sady Doyle made ​"A Pro­gres­sive Case for Hillary Clin­ton." That such a case could be made might come as a sur­prise to many pro­gres­sives, con­sid­er­ing that Hillary Clin­ton has, for instance, derid­ed sin­gle-pay­er health­care as some­thing that will ​"nev­er, ever come to pass," and has poohed-poohed calls for free pub­lic high­er edu­ca­tion by stat­ing that stu­dents need more ​"skin in the game."
Making a progressive case for Clinton is impossible given her history. Instead we get an argument that is full of personal professions of faith about what a Hillary Clinton presidency might look like.
Still, it's worth ask­ing: Does Doyle's case hold up under scruti­ny? Let's take a look.
Has sex­ism influ­enced assess­ments of Hillary Clinton?
Doyle spends the first third of her piece argu­ing that ​"it is impos­si­ble to ana­lyze Clin­ton — her poli­cies, her career path, her hair — with­out under­stand­ing how gen­der bias oper­ates," and that ​"as pro­gres­sives, it is our duty to resist these stereo­types, and, if we are jour­nal­ists, to help our read­ers under­stand how gen­der bias oper­ates at an uncon­scious level."
It is true that we all have bias­es, and it is undoubt­ed­ly true that there are many, many peo­ple who have made sex­ist state­ments about Hillary Clinton's can­di­da­cy — it's been a cen­tral trope of the Right's attempt to dis­cred­it her for more than two decades now.
But aside from the fact that point­ing out and con­demn­ing such sex­ism, while impor­tant, does not con­sti­tute a pro­gres­sive case for Clin­ton, there are two prob­lems with this argument.
The first issue is with the research cit­ed. Doyle ref­er­ences a 2010 study from Yale School of Man­age­ment pro­fes­sors Tyler Oki­mo­to and Vic­to­ria Brescoll which found that women who seek to gain polit­i­cal pow­er can elic­it neg­a­tive reac­tions due to their devi­a­tion from the expec­ta­tion that women exhib­it more ​"com­mu­nal" traits, such as warmth and com­fort. But a 2013 method­olog­i­cal study by Kath­leen Dolan found that sur­veys and exper­i­ments that ask peo­ple about sup­port for female politi­cians in the abstract or about hypo­thet­i­cal can­di­dates — like the study that Doyle cites, which con­struct­ed fic­tion­al state sen­a­tors — do not get at the ques­tion of the role that gen­der plays in vote choice.
When peo­ple are asked about sup­port­ing actu­al, spe­cif­ic women for pub­lic office, Dolan finds, gen­der mat­ters lit­tle. This is a find­ing echoed else­where, par­tic­u­lar­ly when par­ty iden­ti­fi­ca­tion is fac­tored in. In fact, anoth­er study by Dolan and Kira San­bon­mat­su shows that women run­ning in Demo­c­ra­t­ic pri­maries actu­al­ly ben­e­fit more from argu­ments about com­pe­tence than their Repub­li­can coun­ter­parts, as ​"Democ­rats are more like­ly to hold gen­der stereo­types that ben­e­fit women in politics."
The ques­tion is not whether sex­ism exists; no sen­tient being with actu­al­ly exist­ing pro­gres­sive pol­i­tics would ever make such a claim. Of course it does. The ques­tion is whether said sex­ism is hin­der­ing Hillary Clin­ton in her run for nom­i­na­tion to the high­est polit­i­cal office in the Unit­ed States. When look­ing at research that ful­ly accounts for fac­tors relat­ed to actu­al vote choice, it seems clear that such effects are min­i­mal at best when mea­sured against oth­er fac­tors that affect vote choice.
The sec­ond point is a sim­ple one, yet it is one that has been all but ignored in the dis­cus­sions about gen­der in this pres­i­den­tial elec­tion: Some of Hillary Clinton's biggest detrac­tors on the Left are, them­selves, fem­i­nists. Rania Khalek, Michelle Alexan­der, Roqayah Chamsed­dine. Pro­fes­sor and author Liza Feath­er­stone has edit­ed an entire vol­ume of fem­i­nist cri­tiques of Hillary Clinton.
What about the issues?
Doyle then moves to the article's prin­ci­pal pur­pose: mak­ing a pro­gres­sive case for Hillary Clin­ton. It gets off to a shaky start, how­ev­er, when she frames Hillary Clinton's arrival on the nation­al stage through the lens of Arkansas Project-style right-wingers:
She was Bill Clinton's left-wing lia­bil­i­ty, a Saul Alin­sky-hug­ging, Children's‑Defense-Fund-working, non-cook­ie-bak­ing, mouthy fem­i­nist, attacked on the stage of the Repub­li­can Nation­al Con­ven­tion for sup­port­ing ​"rad­i­cal fem­i­nism" and ​"homo­sex­u­al rights."
Doyle asks us to accept this fram­ing as an accu­rate ren­der­ing of Hillary Clinton's pol­i­tics, as it allows her to make the case that such right-wing harangu­ing forced Clin­ton to become a polit­i­cal cen­trist. But in fact, in 1996, when Clin­ton sup­pos­ed­ly held these lib­er­al beliefs, she was pro­claim­ing her pride at hav­ing once been a ​"Gold­wa­ter Girl," a young sup­port­er of reac­tionary 1964 pres­i­den­tial can­di­date Sen. Bar­ry Goldwater:
And I feel like my polit­i­cal beliefs are root­ed in the con­ser­vatism that I was raised with. I don't rec­og­nize this new brand of Repub­li­can­ism that is afoot now, which I con­sid­er to be very reac­tionary, not con­ser­v­a­tive in many respects. I am very proud that I was a Gold­wa­ter girl.
Anoth­er odd moment in a pro­gres­sive case for Clin­ton comes when Doyle states that Clinton's sup­port of the Iraq War — a mil­i­tary inter­ven­tion that was, is and will con­tin­ue to be noth­ing short of dis­as­trous for Iraq, the Unit­ed States, the Mid­dle East and much of the world — is not a deal­break­er, because Bernie Sanders is not seri­ous enough about these kinds of things:
I respect that for a seri­ous and thought­ful per­son, the Iraq vote might rule Clin­ton out; it ruled her out for me in 2008. But this is not 2008, and this year, her opponent's lack of inter­est or exper­tise in for­eign pol­i­cy wor­ries me more than her record. We got into Iraq — a quag­mire that has last­ed, lit­er­al­ly, for my entire adult life — not only because of U.S. inter­ven­tion­ism, but because the com­man­der in chief didn't under­stand the region well enough to know how pro­found­ly we would desta­bi­lize it, or how that would trap us in a con­flict that would last for gen­er­a­tions. I may not always agree with Clin­ton, but at least I believe she knows her stuff.
This quote sug­gests that we were led into the Iraq War by rubes and dunces, and that Hillary Clinton's ​"expe­ri­ence" and ​"knowl­edge" would keep us out of such sit­u­a­tions. Leav­ing aside the facts that the ​"expe­ri­enced" and ​"knowl­edge­able" Hillary Clin­ton vot­ed for the War in the first place and that the Iraq War was a delib­er­ate ide­o­log­i­cal project by neo­con­ser­v­a­tives who had long want­ed to invade the coun­try, the truth is that it was expe­ri­enced hands that led us into the war.
The deci­sion­mak­ers at the table, from Vice Pres­i­dent Dick Cheney (a for­mer Sec­re­tary of Defense under George H.W. Bush and for­mer mem­ber of Con­gress from Wyoming) to Sec­re­tary of Defense Don­ald Rums­feld (a for­mer mem­ber of Con­gress from Illi­nois, for­mer Ambas­sador to NATO and a pre­vi­ous Sec­re­tary of Defense under Ford) and so on, all had expe­ri­ence and knowl­edge in the costs of war and the con­se­quences of failure.
Knowl­edge and expe­ri­ence are not good things if they are turned towards hor­ri­fy­ing ends. Ide­ol­o­gy mat­ters. And on that front, the same war hawks that got us into the war in Iraq seem to be pret­ty sup­port­ive of Clin­ton.
The pro­gres­sive case against Hillary Clinton
Doyle men­tions a curi­ous fig­ure in her analy­sis: She states that the vot­ing records of Hillary Clin­ton and Bernie Sanders matched up 93 per­cent of the time. Such a sta­tis­tic must cer­tain­ly prove that these two can­di­dates are very sim­i­lar, right? Is Hillary Clin­ton every bit a pro­gres­sive as the career-long mem­ber of the Con­gres­sion­al Pro­gres­sive Cau­cus who is sup­port­ed by orga­ni­za­tions like the Demo­c­ra­t­ic Social­ists of Amer­i­ca and Social­ist Alternative?
Not exact­ly. The prob­lem with vot­ing record sta­tis­tics is that they also include very non-con­tro­ver­sial roll call votes on pro­ce­dur­al issues and sym­bol­ic leg­is­la­tion, such as the nam­ing of post offices and fed­er­al cour­t­hous­es. A bet­ter score would include ide­ol­o­gy as a mea­sure to tru­ly get at whether these two are sim­i­lar in their pol­i­cy preferences.
Accord­ing to the DW-NOM­I­NATE scores, tab­u­lat­ed by polit­i­cal sci­en­tists Kei­th Poole and Howard Rosen­thal, for every Con­gress since the begin­ning of the Repub­lic, the aver­age ide­o­log­i­cal medi­an of the Unit­ed States Sen­ate for the time that Hillary Clin­ton served was ‑0.362 (a ‑1 is extreme left, while a score of 1 is extreme right). Clinton's own score was ‑0.381, which puts her slight­ly to the left of the medi­an. Bernie Sanders's score was ‑0.523, which earns him the most left score in the Sen­ate for the entire time that he has served.
But Doyle's inclu­sion of the roll call analy­sis does serve a pur­pose: It seeks to remake Hillary Clinton's record into one that is as pro­gres­sive as that über-lefty Sanders. And if this is the case, it would sup­port the notion that the oppo­si­tion to Clin­ton is not based on her record, but on Clin­ton herself.
It is an argu­ment, for sure; it is just one that is not borne out by Clinton's actu­al record.
Per­haps the most glar­ing omis­sion from Doyle's piece is any sub­stan­tive analy­sis of Clinton's record on domes­tic issues. It is under­stand­able; after all, this is sup­posed to be a pro­gres­sive defense of Hillary Clin­ton, and when it comes to Clinton's pro­gres­sive domes­tic pol­i­cy record, in the words of Gertrude Stein, ​"there is no there there."
The Per­son­al Respon­si­bil­i­ty and Work Oppor­tu­ni­ty Rec­on­cil­i­a­tion Act, oth­er­wise known as wel­fare reform, was signed into law short­ly before the 1996 pres­i­den­tial elec­tion. Hillary Clin­ton tout­ed the law when her hus­band was in office, say­ing that it ​"kept faith with our goals: End wel­fare as we know it, sub­sti­tute dig­ni­ty for depen­dence, but make work pay." The real­i­ty, how­ev­er, is that what­ev­er sem­blance of a social wel­fare state that the Unit­ed States had man­aged to build in the post­war era van­ished overnight in a sea of block grants and puni­tive mea­sures for states — and peo­ple — who did not meet the goals designed to kick peo­ple off the wel­fare rolls. While busi­ness­es got tax cuts and eased reg­u­la­to­ry schemes, the work­ing class of col­or — who had become both demon and prop in the debates about wel­fare — got a kick in the ass.
But the dis­as­ter of wel­fare reform would not be the only injus­tice that work­ing-class peo­ple of col­or would suf­fer. Hillary Clin­ton was made to reck­on with her past state­ments on law and order this win­ter when a Black Lives Mat­ter pro­test­er con­front­ed her about her state­ments on so-called ​"super­preda­tors" as First Lady. The term was con­ceived of by Prince­ton pro­fes­sor John DiLulio in the con­ser­v­a­tive Week­ly Stan­dard to describe an appar­ent evo­lu­tion in the com­mon crim­i­nal, one who raped and mur­dered with­out remorse or regard for human life. While cam­paign­ing in 1996, Hillary Clin­ton told a New Hamp­shire audi­ence that such per­sons ​"need­ed to be brought to heel."
The way that this would be accom­plished was through the largest increase in prison-build­ing and incar­cer­a­tion in Amer­i­can his­to­ry. And because, as research from Tali Mendel­berg and Franklin Gilliam and Shan­to Iyen­gar have point­ed out, crim­i­nal jus­tice and race were (and still are) inter­twined with one anoth­er, the pop­u­la­tion that bore the brunt of the mass incar­cer­a­tion cri­sis were young Black men. But to hear one of Hillary Clinton's prin­ci­pal sur­ro­gates tell it, Black peo­ple should be grate­ful for such racial­ly con­scious advo­ca­cy.
The lega­cy of such poli­cies has been dis­as­trous. And when Clin­ton was not advo­cat­ing poli­cies that end­ed up toss­ing young Black men in jail, she vot­ed for poli­cies, such as No Child Left Behind, that would ensure that the qual­i­ty of edu­ca­tion that they received would con­tin­ue to lag behind their white coun­ter­parts.
Just as dis­as­trous has been Hillary Clinton's record on labor and trade issues. The for­mer Wal-Mart board mem­ber who once exclaimed that she was proud of how the world-class union buster ​"did busi­ness bet­ter than any­body else," has rarely met a trade agree­ment that she did not like. This was the case even as oth­ers — includ­ing and espe­cial­ly Bernie Sanders — warned about the issues that could come from enact­ing these agree­ments, such as the loss of Amer­i­can jobs and the lack of trans­paren­cy that accom­pa­nied both the nego­ti­a­tion and the admin­is­tra­tion of such agreements.
Despite all of that, Clinton's stances on domes­tic issues seem pos­i­tive­ly Lenin­ist when com­pared to her stances on Amer­i­can for­eign pol­i­cy. As if her sup­port for the Iraq War was not bad enough, Sec­re­tary of State Clin­ton then sought to por­tray the result­ing chaos as a pos­i­tive oppor­tu­ni­ty—for cor­po­ra­tions: ​"It's time for the Unit­ed States to start think­ing of Iraq as a busi­ness opportunity."
She sup­port­ed the 2011 bomb­ing of Libya, which may have oust­ed a dic­ta­tor but has cre­at­ed a breed­ing ground for ter­ror­ist activ­i­ty that is bor­der­ing on failed state sta­tus. In her book Hard Choic­es, Clin­ton detailed the role that her State Depart­ment played in the 2009 coup d'etat against Hon­duran Pres­i­dent Manuel Zelaya. In the wake of Zelaya's ouster, the Hon­duran gov­ern­ment has begun a crack­down against labor, left­ist and indige­nous activists.
One of those activists, Berta Cac­eres, sin­gled out Clin­ton for her advo­ca­cy of régime change:
The same Hillary Clin­ton, in her book, Hard Choic­es, prac­ti­cal­ly said what was going to hap­pen in Hon­duras. This demon­strates the med­dling of North Amer­i­cans in our coun­try. The return of the pres­i­dent, Mel Zelaya, became a sec­ondary issue. There were going to be elec­tions in Hon­duras. And here she [Clin­ton] rec­og­nized that they didn't per­mit Mel Zelaya's return to the presidency.
Cac­eres was mur­dered at her home, on March 2. To date, the Office of Glob­al Women's Issues, tout­ed in Doyle's piece as a sign of Clinton's com­mit­ment to equal­i­ty for women world­wide, has not issued a state­ment con­demn­ing Cac­eres' assas­si­na­tion. All the while, Clin­ton con­tin­ues to insist to this day that Amer­i­can inter­ven­tion in places like Hon­duras will pay dividends.
Doyle insists that Clinton's 1995 dec­la­ra­tion that ​"women's rights are human rights" is evi­dence enough of her com­mit­ment to glob­al equal­i­ty. Yet it might be dif­fi­cult for Berta Cac­eres' fam­i­ly to see any real evi­dence of that. The women who now have to raise their chil­dren in bombed-out cities in Iraq and Libya might also have trou­ble see­ing the benef­i­cence of Clin­ton for­eign policy.
It rais­es the ques­tion: Which women mat­ter to Hillary Clinton?
Anoth­er woman candidate
Doyle summed up her piece per­fect­ly with the first two sen­tences of the last para­graph: ​"I am a pro­gres­sive. I like Hillary Clin­ton and I do not feel remote­ly conflicted."
Indeed, the ​"pro­gres­sive case for Hillary Clin­ton" reads a lot like ​"one progressive's thoughts on Hillary Clin­ton." It is so, per­haps, because mak­ing a pro­gres­sive case for Clin­ton is impos­si­ble giv­en her history.
But giv­en that the Demo­c­ra­t­ic pri­maries are essen­tial­ly over at this point — with Clin­ton to be the party's nom­i­nee for pres­i­dent — what should pro­gres­sives and left­ists do? Should we not turn out in force to stop Don­ald Trump?
The answer to that ques­tion is easy. Yes: in the streets. In neigh­bor­hood orga­ni­za­tions whose work revolves around social equal­i­ty and jus­tice. In left-wing nation­al orga­ni­za­tions that are grow­ing, such as the Demo­c­ra­t­ic Social­ists of Amer­i­ca or Social­ist Alter­na­tive (dis­claimer: I am a mem­ber of both orga­ni­za­tions). Cast a bal­lot for a more pro­gres­sive female can­di­date, Dr. Jill Stein of the Green Par­ty.
If the issues that pro­gres­sives have held dear — health care, labor rights, access to edu­ca­tion, end­ing mass incar­cer­a­tion, end­ing wars — still mat­ter, then we should not pre­tend that a vic­to­ry for Hillary Clin­ton this Novem­ber is any­thing but a win for the same frus­tra­tion and dis­ap­point­ment that we have expe­ri­enced over the last eight years.
Dou­glas Williams
is a doc­tor­al stu­dent in polit­i­cal sci­ence at Wayne State Uni­ver­si­ty in Detroit, where his research cen­ters around pub­lic pol­i­cy, dis­ad­van­taged com­mu­ni­ties and the labor move­ment. He blogs at
The South Lawn
.