Slavoj Zizek on Clinton, Trump and the Left's Dilemma
To paraphrase Stalin: They are both worse.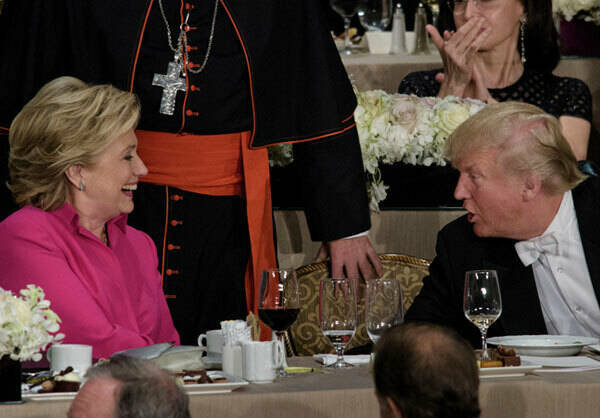 In These Times is ded­i­cat­ed to pro­vid­ing an acces­si­ble forum for strate­gic debate on the Left. In this Up for Debate series, we host a range of views on what has become a divi­sive ques­tion: how to approach vot­ing in the Novem­ber pres­i­den­tial election.
JOSÉ SARAMAGO'S SEE­ING TELLS THE STO­RY OF THE STRANGE EVENTS in the unnamed cap­i­tal city of an uniden­ti­fied demo­c­ra­t­ic coun­try. When the elec­tion day morn­ing is marred by tor­ren­tial rains, vot­er turnout is dis­turbing­ly low, but the weath­er breaks by mid-after­noon and the pop­u­la­tion heads en masse to their vot­ing sta­tions. The gov­ern­men­t's relief is short-lived, how­ev­er, when vote count­ing reveals that over 70 per­cent of the bal­lots cast in the cap­i­tal have been left blank. Baf­fled by this appar­ent civic lapse, the gov­ern­ment gives the cit­i­zen­ry a chance to make amends just one week lat­er with anoth­er elec­tion day. The results are worse: Now 83 per­cent of the bal­lots are blank.
Is this an orga­nized con­spir­a­cy to over­throw not just the rul­ing gov­ern­ment but the entire demo­c­ra­t­ic sys­tem? If so, who is behind it, and how did they man­age to orga­nize hun­dreds of thou­sands of peo­ple into such sub­ver­sion with­out being noticed? The city con­tin­ues to func­tion near-nor­mal­ly through­out, the peo­ple par­ry­ing each of the gov­ern­men­t's thrusts in inex­plic­a­ble uni­son and with a tru­ly Gand­hi­an lev­el of non­vi­o­lent resis­tance. The les­son of this thought-exper­i­ment is clear: the dan­ger today is not pas­siv­i­ty but pseu­do-activ­i­ty, the urge to ​"be active," to ​"par­tic­i­pate," in order to mask the vacu­ity of what goes on. Peo­ple inter­vene all the time. Peo­ple ​"do some­thing." Aca­d­e­mics par­tic­i­pate in mean­ing­less debates, and so on. The tru­ly dif­fi­cult thing is to step back, to with­draw. Those in pow­er often pre­fer even a ​"crit­i­cal" par­tic­i­pa­tion, a dia­logue, to silence, because just to engage us in dia­logue, is to make sure our omi­nous pas­siv­i­ty is bro­ken. The vot­ers' absten­tion is thus a true polit­i­cal act: it force­ful­ly con­fronts us with the vacu­ity of today's democracies.
This, exact­ly, is how cit­i­zens should act when faced with the choice between Hillary Clin­ton and Don­ald Trump. When Stal­in was asked in the late 1920s which devi­a­tion is worse, the Right­ist one or the Left­ist one, he snapped back: They are both worse! Is it not the same with the choice Amer­i­can vot­ers are con­fronting in the 2016 pres­i­den­tial elec­tions? Trump is obvi­ous­ly ​"worse." He enacts a decay of pub­lic moral­i­ty. He promis­es a Right­ist turn. But he at least promis­es a change. Hillary is ​"worse" since she makes chang­ing noth­ing look desirable.
With such a choice, one should not lose ones nerve and chose the ​"worst," which means change — even if is a dan­ger­ous change — because it opens up the space for a dif­fer­ent more authen­tic change.
The point is thus not to vote for Trump — not only should one not vote for such a scum, one should not even par­tic­i­pate in such elec­tions. The point is to approach cold­ly the ques­tion: Whose vic­to­ry is bet­ter for the fate of the rad­i­cal eman­ci­pa­to­ry project, Clinton's or Trump's?
Trump wants to make Amer­i­ca great again, to which Oba­ma respond­ed that Amer­i­ca already is great. But is it? Can a coun­try in which a per­son like Trump has a chance of becom­ing pres­i­dent be real­ly con­sid­ered great? The dan­gers of a Trump pres­i­den­cy are obvi­ous: he not only promis­es to nom­i­nate con­ser­v­a­tive judges to the Supreme Court; he mobi­lized the dark­est white-suprema­cist cir­cles and open­ly flirts with anti-immi­grant racism; he flouts basic rules of decen­cy and sym­bol­izes the dis­in­te­gra­tion of basic eth­i­cal stan­dards; while advo­cat­ing con­cern for the mis­ery of ordi­nary peo­ple, he effec­tive­ly pro­motes a bru­tal neolib­er­al agen­da that includes tax breaks for the rich, fur­ther dereg­u­la­tion, etc., etc.
Trump is a vul­gar oppor­tunist, yet he is still a vul­gar spec­i­men of human­i­ty (in con­trast to enti­ties like Ted Cruz or Rick San­to­rum whom I sus­pect of being aliens).
What Trump is def­i­nite­ly not is a suc­cess­ful pro­duc­tive and inno­v­a­tive cap­i­tal­ist — he excels at get­ting into bank­rupt­cy and then mak­ing the tax­pay­ers cov­er up his debts.
Lib­er­als pan­icked by Trump dis­miss the idea that Trump's even­tu­al vic­to­ry can start a process out of which an authen­tic Left would emerge. Their favorite coun­ter­ar­gu­ment is a ref­er­ence to Hitler. Many Ger­man Com­mu­nists wel­comed the Nazi takeover in 1933 as a chance for the rad­i­cal Left as the only force which can defeat them. As we know, their appre­ci­a­tion of Hitler's rise was a cat­a­stroph­ic mis­take. The ques­tion is: Are things the same with Trump? Is Trump a dan­ger that should bring togeth­er a broad front in the same way that Hitler did, a front where ​"decent" con­ser­v­a­tives and lib­er­tar­i­ans fight togeth­er with main­stream lib­er­al pro­gres­sives and (what­ev­er remains of) the rad­i­cal Left? Fredric Jame­son was right in a Novem­ber 4 inter­view to warn against the hasty des­ig­na­tion of the Trump move­ment as new fas­cism: ​"Peo­ple are now say­ing — this is a new fas­cism and my answer would be — not yet. If Trump comes to pow­er, that would be a dif­fer­ent thing."
(Inci­den­tal­ly, the term ​"fas­cism" is today often used as an emp­ty word when some­thing obvi­ous­ly dan­ger­ous appears on the polit­i­cal scene but we lack a prop­er under­stand­ing of it. No, today's rightwing pop­ulists are NOT sim­ply Fas­cists!) Why not yet?
First, the fear that a Trump vic­to­ry would turn the Unit­ed State into a fas­cist state is a ridicu­lous exag­ger­a­tion. The Unit­ed States has such a rich tex­ture of diver­gent civic and polit­i­cal insti­tu­tions that their Gle­ich­schal­tung (the stan­dard­iza­tion of polit­i­cal, eco­nom­ic, cul­tur­al and social insti­tu­tions as car­ried out in author­i­tar­i­an states) can­not be enact­ed. Where, then, does this fear come from? Its func­tion is clear­ly to uni­fy us all against Trump and thus to obfus­cate the true polit­i­cal divi­sions that run between the Left, as resus­ci­tat­ed by Bernie Sanders, and Clin­ton who is theestablishment's can­di­date sup­port­ed by a rain­bow coali­tion that includes neo­con Iraq War advo­cates like Pres­i­dent George W. Bush's Deputy Sec­re­tary of Defense Paul Wol­fowitz and inter­ven­tion­ists like Ronald Reagan's Assis­tant Sec­re­tary of Defense for Inter­na­tion­al Secu­ri­ty Pol­i­cy Richard Armitage.
Sec­ond, the fact remains that Trump draws sup­port from the same rage out of which Bernie Sanders mobi­lized his par­ti­sans. The major­i­ty of his sup­port­ers view him as the anti-estab­lish­ment can­di­date. And one should nev­er for­get that pop­u­lar rage is by def­i­n­i­tion free-float­ing and can be re-direct­ed. Lib­er­als who fear the Trump vic­to­ry are not real­ly afraid of a rad­i­cal Right­ist turn. What they are real­ly afraid of is actu­al rad­i­cal social change. To repeat Robe­spierre, they admit (and are sin­cere­ly wor­ried about) the injus­tices of our social life, but they want to cure them with a ​"rev­o­lu­tion with­out rev­o­lu­tion" (in exact par­al­lel to today's con­sumerism which offers cof­fee with­out caf­feine, choco­late with­out sug­ar, beer with­out alco­hol, mul­ti­cul­tur­al­ism with­out con­flict, etc.): a vision of social change with no actu­al change, a change where no one gets real­ly hurt, where well-mean­ing lib­er­als remain cocooned in their safe enclaves. Back in 1937, George Orwell in The Road to Wigan Pier wrote:
We all rail against class-dis­tinc­tions, but very few peo­ple seri­ous­ly want to abol­ish them. Here you come upon the impor­tant fact that every rev­o­lu­tion­ary opin­ion draws part of its strength from a secret con­vic­tion that noth­ing can be changed.
Orwell's point is that rad­i­cals invoke the need for rev­o­lu­tion­ary change as a kind of super­sti­tious token that should achieve the oppo­site, i.e., pre­vent the only change that real­ly mat­ters, the change in those who rule us, from occur­ring. Who real­ly rules in the Unit­ed States? Can we not already hear the mur­mur of secret meet­ings where mem­bers of the finan­cial and oth­er ​"elites" are nego­ti­at­ing about the dis­tri­b­u­tion of the key posts in the Clin­ton admin­is­tra­tion? To get an idea how this nego­ti­a­tions in the shad­ows work, it suf­fices to read the John Podes­ta emails or Hillary Clin­ton: The Gold­man Sachs Speech­es (to appear soon by OR Books with an intro­duc­tion by Julian Assange).
Hillary's vic­to­ry would be the vic­to­ry of a sta­tus quo over­shad­owed by the prospect of a new world war (and Hillary def­i­nite­ly is a typ­i­cal Demo­c­ra­t­ic cold war­rior), a sta­tus quo of a sit­u­a­tion in which we grad­u­al­ly but inevitably slide towards eco­log­i­cal, eco­nom­ic, human­i­tar­i­an and oth­er cat­a­stro­phes. That's why I con­sid­er Ian Steinman's ​"Left­ist" cri­tique of my posi­tion extreme­ly cyn­i­cal. He writes:
Yet while we can do lit­tle to pre­dict how the pieces will fall, we know that to inter­vene in a cri­sis the left must be orga­nized, pre­pared and with sup­port among the work­ing class and oppressed. We can not in any way endorse the vile racism and sex­ism which divides us and weak­ens our strug­gle. We must always stand on the side of the oppressed, and we must be inde­pen­dent, fight­ing for a real left exit to the cri­sis. Even if Trump caus­es a cat­a­stro­phe for the rul­ing class, it will also be a cat­a­stro­phe for us if we have not laid the foun­da­tions for our own inter­ven­tion.
True, the left ​"must be orga­nized, pre­pared and with sup­port among the work­ing class and oppressed" — but in this case, the ques­tion should be: Which can­di­date's vic­to­ry would con­tribute more to the orga­ni­za­tion of the Left and its expan­sion? Isn't it clear that Trump's vic­to­ry would have ​"laid the foun­da­tions for our own inter­ven­tion" much more than Hillary's?
Yes, there is a great dan­ger in Trump's vic­to­ry, but the Left will be mobi­lized only through such a threat of cat­a­stro­phe. If we con­tin­ue the iner­tia of the exist­ing sta­tus quo, there will for sure be no Left­ist mobi­liza­tion. To quote the poet Hoelder­lin: ​"Only where there is dan­ger the sav­ing force is also rising."
In the choice between Clin­ton and Trump, nei­ther ​"stands on the side of the oppressed," so the real choice is: abstain from vot­ing or choose the one who, worth­less as s/​he is, opens up a greater chance of unleash­ing a new polit­i­cal dynam­ics which can lead to mas­sive Left­ist rad­i­cal­iza­tion. Think about Trump's anti-estab­lish­ment sup­port­ers who would be unavoid­ably upset with Trump's pres­i­den­cy. Some of them would have to turn towards Sanders in order to find an out­let for their rage. Think about the dis­ap­point­ed main­stream Democ­rats who would have seen how Clinton's cen­trist strat­e­gy failed to win even against an extreme fig­ure like Trump. The les­son they would learn would be that some­times, to win, the strat­e­gy of ​"we are all togeth­er" doesn't work and we should instead intro­duce a rad­i­cal division.
Many poor vot­ers claim Trump speaks for them. How can they rec­og­nize them­selves in the voice of a bil­lion­aire whose spec­u­la­tions and fail­ures are one of the caus­es of their mis­ery? Like the paths of god, the paths of ide­ol­o­gy are mys­te­ri­ous. When Trump sup­port­ers are denounced as ​"white trash," it is easy to dis­cern in this des­ig­na­tion the fear of the low­er class­es so char­ac­ter­is­tic of the lib­er­al elite.
The title and sub­ti­tle of a Guardian report of a recent Trump elec­toral meet­ing puts it this way: ​"Inside a Don­ald Trump ral­ly: good peo­ple in a feed­back loop of para­noia and hate. Trump's crowd is full of hon­est and decent peo­ple — but the Republican's invec­tive has a chill­ing effect on fans of his one-man show." But how did Trump become the voice of so many ​"hon­est and decent" peo­ple? Trump sin­gle-hand­ed­ly ruined the Repub­li­can Par­ty, antag­o­niz­ing both the old par­ty estab­lish­ment and the Chris­t­ian fun­da­men­tal­ists — what remains as the core of his sup­port are the bear­ers of the pop­ulist rage ver­sus the estab­lish­ment, and this core is dis­missed by lib­er­als as the ​"white trash" — but are they not pre­cise­ly those that should be won over to the rad­i­cal Left­ist cause (this is what Bernie Sanders was able to do).
One should rid one­self of the false pan­ic, fear­ing the Trump vic­to­ry as the ulti­mate hor­ror which makes us sup­port Clin­ton in spite of all her obvi­ous short­com­ings. Although the bat­tle seems lost for Trump, his vic­to­ry would have cre­at­ed a total­ly new polit­i­cal sit­u­a­tion with chances for a more rad­i­cal Left — or, to quote Mao: ​"Every­thing under heav­en is in utter chaos; the sit­u­a­tion is excellent."

SLAVOJ ŽIŽEK, a Sloven­ian philoso­pher and psy­cho­an­a­lyst, is a senior researcher at the the Insti­tute for Human­i­ties, Birk­beck Col­lege, Uni­ver­si­ty of Lon­don. He has also been a vis­it­ing pro­fes­sor at more than 10 uni­ver­si­ties around the world. Žižek is the author of many books, includ­ing Liv­ing in the End Times, First As Tragedy, Then As Farce, The Year of Dream­ing Dan­ger­ous­ly and Trou­ble in Par­adise.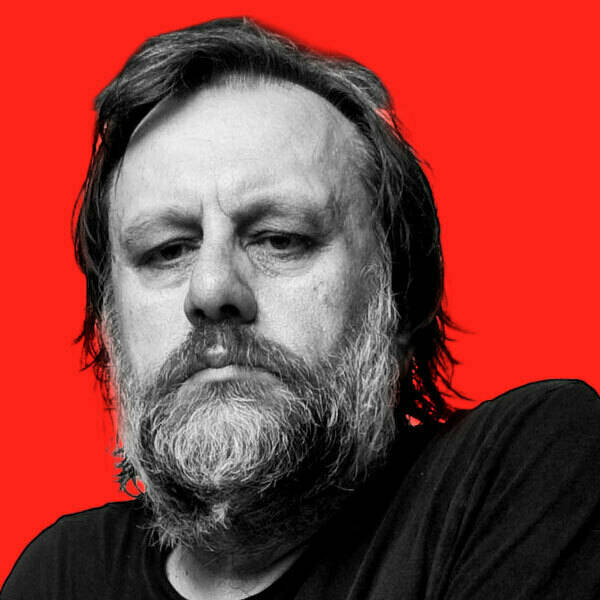 Slavoj Žižek
, a Sloven­ian philoso­pher and psy­cho­an­a­lyst, is a senior researcher at the the Insti­tute for Human­i­ties, Birk­beck Col­lege, Uni­ver­si­ty of Lon­don. He has also been a vis­it­ing pro­fes­sor at more than
10
uni­ver­si­ties around the world. Žižek is the author of many books, includ­ing Liv­ing in the End Times, First As Tragedy, Then As Farce, The Year of Dream­ing Dan­ger­ous­ly and Trou­ble in Paradise.