Slavoj Zizek: How Alexis Tsipras and Syriza Outmaneuvered Angela Merkel and the Eurocrats
The rebels in Greece are waging a patient guerrilla war against financial occupation.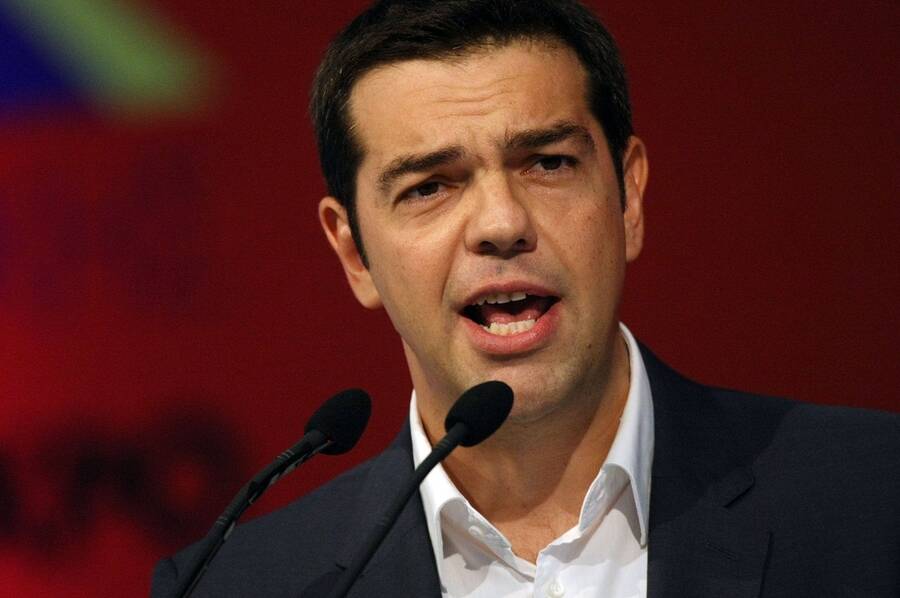 Gior­gio Agam­ben said in an inter­view that ​"thought is the courage of hope­less­ness" — an insight that is espe­cial­ly per­ti­nent for our his­tor­i­cal moment when even the most pes­simist diag­nos­tics fin­ish­es with an uplift­ing hint at the prover­bial light at the end of the tun­nel. True courage, how­ev­er, is not to imag­ine an alter­na­tive, but to accept the con­se­quences of the fact that no dis­cernible alter­na­tive exists. Indeed, the dream of an alter­na­tive is a sign of the­o­ret­i­cal cow­ardice, it func­tions as a fetish that pre­vents us from think­ing to the end the dead­lock of our predica­ment. In short, true courage is to admit that the light at the end of the tun­nel is most like­ly the head­light of anoth­er train approach­ing us from the oppo­site direc­tion. There is no bet­ter exam­ple of the need for such courage than Greece today.
The "no" of the referendum can only survive if the Greeks continue to lead a patient guerilla warfare against financial occupation.
The dou­ble U‑turn that the Greek cri­sis took in July 2015 can­not but appear as a step not just from tragedy to com­e­dy but, as Syriza's Stathis Kou­ve­lakis not­ed, from tragedy full of com­ic rever­sals direct­ly into a the­atre of the absurd. After all, how else can one char­ac­ter­ize this extra­or­di­nary rever­sal of one extreme into its oppo­site, one that would bedaz­zle even the most spec­u­la­tive Hegelian philoso­pher? Tired of the end­less nego­ti­a­tions with the EU exec­u­tives in which one humil­i­a­tion fol­lowed anoth­er, the Syriza ref­er­en­dum on Sun­day, July 5 asked the Greek peo­ple if they sup­port or reject the EU pro­pos­al of new aus­ter­i­ty mea­sures. Although the gov­ern­ment itself clear­ly stat­ed that it sup­port­ed a ​"no" vote, the result was a sur­prise for the gov­ern­ment: 61 per­cent vot­ed ​"no" to Euro­pean black­mail. Rumors began to cir­cu­late that the result— vic­to­ry for the gov­ern­ment — was a sur­prise for Prime Min­is­ter Alex­is Tsipras who it was said secret­ly hoped that the gov­ern­ment would lose, as a defeat would allow him to save face in sur­ren­der­ing to the EU demands. ("We have to respect the vot­ers' voice," he had said.) How­ev­er, the morn­ing after, Tsipras announced that Greece is ready to resume the nego­ti­a­tions, and days lat­er Greece nego­ti­at­ed a EU pro­pos­al which is basi­cal­ly the same as what the vot­ers reject­ed (in some details even harsh­er) — in short, he act­ed as if the gov­ern­ment has lost, not won, the ref­er­en­dum. Kou­ve­lakis put it this way:
How is it pos­si­ble for a dev­as­tat­ing ​"no" to mem­o­ran­dum aus­ter­i­ty poli­cies to be inter­pret­ed as a green light for a new mem­o­ran­dum? … The sense of the absurd is not just a prod­uct of this unex­pect­ed rever­sal. It stems above all from the fact that all of this is unfold­ing before our eyes as if noth­ing has hap­pened, as if the ref­er­en­dum were some­thing like a col­lec­tive hal­lu­ci­na­tion that sud­den­ly ends, leav­ing us to con­tin­ue freely what we were doing before. But because we have not all become lotus-eaters, let us at least give a brief résumé of what has tak­en place over the past few days. … From Mon­day morn­ing, before the vic­to­ry cries in the country's pub­lic squares had even ful­ly died away, the the­ater of the absurd began. … The pub­lic, still in the joy­ful haze of Sun­day, watch­es as the rep­re­sen­ta­tive of the 62 per­cent sub­or­di­nat­ed to the 38 per­cent in the imme­di­ate after­math of a resound­ing vic­to­ry for democ­ra­cy and pop­u­lar sov­er­eign­ty. … But the ref­er­en­dum hap­pened. It wasn't a hal­lu­ci­na­tion from which every­one has now recov­ered. On the con­trary, the hal­lu­ci­na­tion is the attempt to down­grade it to a tem­po­rary ​"let­ting off of steam," pri­or to resum­ing the down­hill course towards a third memorandum.
And things went on in this direc­tion. On the night of July 10, the Greek Par­lia­ment has giv­en Alex­is Tsipras the author­i­ty to nego­ti­ate a new bailout by 250 votes to 32, but 17 gov­ern­ment MPs didn't back the plan, which means he got more sup­port from the oppo­si­tion par­ties than from his own. Days lat­er, the Syriza Polit­i­cal Sec­re­tari­at dom­i­nat­ed by the Left wing of the par­ty con­clud­ed that EU's lat­est pro­pos­als are ​"absurd" and ​"exceed the lim­its of Greek soci­ety's endurance." Left­ist extrem­ism? The IMF itself (in this case a voice of min­i­mal­ly ratio­nal cap­i­tal­ism) made exact­ly the same point: an IMF study pub­lished a day ear­li­er showed that Greece needs far more debt relief than Euro­pean gov­ern­ments have been will­ing to con­tem­plate so far. Euro­pean coun­tries would have to give Greece a 30-year grace peri­od on ser­vic­ing all its Euro­pean debt, includ­ing new loans, and a dra­mat­ic matu­ri­ty exten­sion. No won­der that Tsipras him­self pub­licly stat­ed his doubt about the bailout plan: ​"We don't believe in the mea­sures that were imposed upon us," Tsipras said dur­ing a TV inter­view, mak­ing it clear that he sup­ports it out of pure despair, to avoid a total eco­nom­ic and finan­cial collapse.
The Euro­crats use such con­fes­sions with breath­tak­ing per­fid­i­ty: now that the Greek gov­ern­ment accept­ed their tough con­di­tions, they doubt the sin­cer­i­ty and seri­ous­ness of their com­mit­ment: how can Tsipras real­ly fight for a pro­gram he does­n't believe in? How can the Greek gov­ern­ment be real­ly com­mit­ted to the agree­ment when it oppos­es the ref­er­en­dum result?
How­ev­er, state­ments like those from IMF demon­strate that the true prob­lem lies else­where: does the EU real­ly believe in their own bailout plan? Does it real­ly believe that the bru­tal­ly imposed mea­sures will set in motion eco­nom­ic growth and thus enable the pay­ment of debts? Or is it that the ulti­mate moti­va­tion for the bru­tal extor­tion­ist pres­sure on Greece is not pure­ly eco­nom­ic (since it is obvi­ous­ly irra­tional in eco­nom­ic terms) but politi­co-ide­o­log­i­cal — or, as Paul Krug­man put it, ​"sub­stan­tive sur­ren­der isn't enough for Ger­many, which wants régime change and total humil­i­a­tion — and there's a sub­stan­tial fac­tion that just wants to push Greece out, and would more or less wel­come a failed state as a cau­tion for the rest." One should always bear in mind the hor­ror that Syriza rep­re­sents for the Euro­pean estab­lish­ment. A con­ser­v­a­tive Pol­ish mem­ber of the Euro­pean par­lia­ment went as far as to direct­ly appeal to the Greek army to stage a coup d'etat to save the country.
Why this hor­ror? Greeks are now asked to pay a high price, but not for a real­ist per­spec­tive of growth. The price they are asked to pay is for the con­tin­u­a­tion of the ​"extend and pre­tend" fan­ta­sy. They are asked to ascend to their actu­al suf­fer­ing in order to sus­tain another's — the Euro­crats' — dream. Gilles Deleuze said decades ago: ​"Si vous êtes pris dans le rêve de l'autre, vous êtes fou­tus" ("If you are caught into anoth­er's dream, you are fucked." This is the sit­u­a­tion in which Greece now finds itself: Greeks are not asked to swal­low many bit­ter pills for a real­ist plan of eco­nom­ic revival, they are asked to suf­fer so that oth­ers can go on dream­ing their dream undis­turbed. The one who now needs awak­en­ing is not Greece but Europe. Every­one who is not caught in this dream knows what awaits us if the bailout plan is enact­ed: anoth­er 90 or so bil­lions will be thrown into the Greek bas­ket, rais­ing the Greek debt to 400 or so bil­lions (and most of those bil­lions will quick­ly return back to West­ern Europe — the true bailout is the bailout of Ger­man and French banks, not of Greece), and we can expect the same cri­sis to explode again in a cou­ple of years.
But is such an out­come real­ly a fail­ure? At an imme­di­ate lev­el, if one com­pares the plan with its actu­al out­come, obvi­ous­ly yes. At a deep­er lev­el, how­ev­er, one can­not avoid a sus­pi­cion that the true goal is not to give Greece a chance but to change it into an eco­nom­i­cal­ly col­o­nized semi-state kept in per­ma­nent pover­ty and depen­den­cy, as a warn­ing to oth­ers. But at an even deep­er lev­el, there is again a fail­ure — not of Greece, but of Europe itself, of the eman­ci­pa­to­ry core of Euro­pean legacy.
The ​"no" of the ref­er­en­dum was undoubt­ed­ly a great ethico-polit­i­cal act: against a well-coor­di­nat­ed ene­my pro­pa­gan­da spread­ing fears and lies, with no clear prospect of what lies ahead, against all prag­mat­ic and ​"real­ist" odds, the Greek peo­ple hero­ical­ly reject­ed the bru­tal pres­sure of the EU. The Greek ​"no" was an authen­tic ges­ture of free­dom and auton­o­my. The big ques­tion is, of course, what hap­pens the day after, when we have to return from the ecsta­t­ic nega­tion to the every­day dirty busi­ness? And here, anoth­er uni­ty emerged, the uni­ty of the ​"prag­mat­ic" forces (Syriza and the big oppo­si­tion par­ties) against the Syriza Left and Gold­en Dawn. But does this mean that the long strug­gle of Syriza was in vain, that the ​"no" of the ref­er­en­dum was just a sen­ti­men­tal emp­ty ges­ture des­tined to make the capit­u­la­tion more palpable?
The Greek ​"no" and the ensu­ing com­pro­mise clear­ly demon­strat­ed that Greeks have no illu­sions of demo­c­ra­t­ic coop­er­a­tion and sol­i­dar­i­ty with the EU. Any seri­ous analy­sis of the sit­u­a­tion was pre­empt­ed. Greece was bru­tal­ly black­mailed into sub­mis­sion. So it was a hero­ic act on the part of Greeks to state so pub­licly. The cat­a­stroph­ic thing about the Greek cri­sis is that the moment the choice appeared as the choice between a grex­it and the capit­u­la­tion to Brus­sels, the bat­tle was already lost. The para­me­ters of both choic­es lie with­in the pre­dom­i­nant Euro­crat­ic vision. (Recall that the Ger­man anti-Greek hard­lin­ers, like Ger­man Finance Min­is­ter Wolf­gang Schäu­ble, also pre­ferred grex­it!). The Syriza gov­ern­ment was not just fight­ing for greater debt relief and for more new mon­ey with­in the same over­all coor­di­nates, but for the awak­en­ing of Europe from its dog­mat­ic slumber.
Lin­guis­tic the­o­ry elab­o­rat­ed the oppo­si­tion between syn­tagm (the chain of speech) and par­a­digm (the struc­ture which sus­tains this chain). Play­ing with the ambi­gu­i­ty of the word ​"syn­tagm" (which also means in Greek ​"con­sti­tu­tion"), we can describe the authen­tic great­ness of Syriza. Inso­far as the icon of the pop­u­lar unrest in Greece were the protests on the Syn­tag­ma [the Con­sti­tu­tion square], Syriza engaged in a Her­culean labor of enact­ing the shift from syn­tagm to par­a­digm, in the long and patient work of trans­lat­ing the ener­gy of rebel­lion into con­crete mea­sures that would change every­day life of the peo­ple. To be pre­cise: the ​"no" of the Greek ref­er­en­dum was not a ​"no" to aus­ter­i­ty, in the sense of nec­es­sary sac­ri­fices and hard work, but a ​"no" to the the EU dream of just going on with the busi­ness as usual.
Varo­ufakis repeat­ed­ly made this point clear: what was need­ed to give the Greek econ­o­my a chance to rebound was not more bor­row­ing but an over­all re-haul. The first step in this direc­tion would be an increase in the demo­c­ra­t­ic trans­paren­cy in regards to the exer­cise of pow­er. Our demo­c­ra­t­i­cal­ly elect­ed state appa­ra­tus­es are increas­ing­ly impaired by both a net­work of ​"agree­ments" (TISA, etc.) and by non-elect­ed ​"expert" bod­ies that wield the real eco­nom­ic (and mil­i­tary) pow­er. Here is Varoufakis's report on an extra­or­di­nary moment in his deal­ings with Jeroen Dijsselbloem:
There was a moment when the Pres­i­dent of the Eurogroup decid­ed to move against us and effec­tive­ly shut us out, and made it known that Greece was essen­tial­ly on its way out of the Euro­zone. … There is a con­ven­tion that com­mu­niqués must be unan­i­mous, and the Pres­i­dent can't just con­vene a meet­ing of the Euro­zone and exclude a mem­ber state. And he said, ​"Oh I'm sure I can do that." So I asked for a legal opin­ion. It cre­at­ed a bit of a ker­fuf­fle. For about 5 to 10 min­utes the meet­ing stopped, clerks, offi­cials were talk­ing to one anoth­er, on their phone, and even­tu­al­ly some offi­cial, some legal expert addressed me, and said the fol­low­ing words: ​"Well, the Eurogroup does not exist in law, there is no treaty which has con­vened this group." So what we have is a non-exis­tent group that has the great­est pow­er to deter­mine the lives of Euro­peans. It's not answer­able to any­one, giv­en it doesn't exist in law; no min­utes are kept; and it's con­fi­den­tial. So no cit­i­zen ever knows what is said with­in. … These are deci­sions of almost life and death, and no mem­ber has to answer to anybody.
Sounds famil­iar? Yes, to any­one who knows how Chi­nese pow­er func­tions today. After Mao's death, Deng Tsiao-Ping estab­lished a dual polit­i­cal sys­tem: the state appa­ra­tus and legal sys­tem are redou­bled by the Par­ty insti­tu­tions which are lit­er­al­ly extrale­gal — or, as He Weifang, a law pro­fes­sor from Bei­jing, put it:
As an orga­ni­za­tion, the Par­ty sits out­side, and above, the law. It should have a legal iden­ti­ty, in oth­er words, a per­son to sue, but it is not even reg­is­tered as an orga­ni­za­tion. The Par­ty exists out­side the legal sys­tem altogether.
It is as if, as Wal­ter Ben­jamin put it , vio­lence which sus­tains state pow­er remains present, embod­ied in an orga­ni­za­tion with an unclear legal sta­tus. As Richard McGre­gor writes in The Par­ty: The Secret World of China's Com­mu­nist Rulers:
It would seem dif­fi­cult to hide an orga­ni­za­tion as large as the Chi­nese Com­mu­nist Par­ty, but it cul­ti­vates its back­stage role with care. The big par­ty depart­ments con­trol­ling per­son­nel and the media keep a pur­pose­ly low pub­lic pro­file. The par­ty com­mit­tees (known as ​'lead­ing small groups') which guide and dic­tate pol­i­cy to min­istries, which in turn have the job of exe­cut­ing them, work out of sight. The make-up of all these com­mit­tees, and in many cas­es even their exis­tence, is rarely referred to in the state-con­trolled media, let alone any dis­cus­sion of how they arrive at decisions.
No won­der that exact­ly the same thing hap­pened to Varo­ufakis as hap­pened to a Chi­nese dis­si­dent who, some years ago, for­mal­ly brought to court and charged the Chi­nese Com­mu­nist Par­ty with being guilty of the Tien An Mien mas­sacre. After a cou­ple of months, he got a reply from the min­istry of jus­tice: They can­not pur­sue his charge since there is no orga­ni­za­tion called ​"Chi­nese Com­mu­nist Par­ty" offi­cial­ly reg­is­tered in China.
It is cru­cial to note how the obverse of this non-trans­paren­cy of pow­er is false human­i­tar­i­an­ism: After the Greek defeat, there is, of course, time for human­i­tar­i­an con­cerns. Pres­i­dent of the Euro­pean Com­mi­sion Jean-Claude Junck­er imme­di­ate­ly stat­ed in an inter­view that he is so glad about the bailout deal because it will imme­di­ate­ly ease the suf­fer­ing of the Greek peo­ple which wor­ried him very much. This was clas­sic: A polit­i­cal crack-down is fol­lowed by human­i­tar­i­an con­cern and help, such as the post­pon­ing debt pay­ments, etc.
What should one do in such a hope­less sit­u­a­tion? First, one should resist the temp­ta­tion of grex­it as a hero­ic act that rejects fur­ther humil­i­a­tions and steps out­side — into what? What new pos­i­tive order are we step­ping into? The grex­it option appears as the ​"real-impos­si­ble," as some­thing that would lead to an imme­di­ate social dis­in­te­gra­tion. Krug­man wrote:
Tsipras appar­ent­ly allowed him­self to be con­vinced, some time ago, that euro exit was com­plete­ly impos­si­ble. It appears that Syriza didn't even do any con­tin­gency plan­ning for a par­al­lel cur­ren­cy (I hope to find out that this is wrong). This left him in a hope­less bar­gain­ing position.
Krugman's point is that grex­it is also an impos­si­ble-real that can hap­pen with unpre­dictable con­se­quences and which, as such, can be risked:
All the wise heads say­ing that Grex­it is impos­si­ble, that it would lead to a com­plete implo­sion, don't know what they are talk­ing about. When I say that, I don't mean that they're nec­es­sar­i­ly wrong — I believe they are, but any­one who is con­fi­dent about any­thing here is delud­ing him­self. What I mean instead is that nobody has any expe­ri­ence with what we're look­ing at.
While in prin­ci­ple this is true, there are nonethe­less many indi­ca­tions that a sud­den grex­it would lead to utter eco­nom­ic and social cat­a­stro­phe. Syriza eco­nom­ic strate­gists are well aware that such a ges­ture would cause an imme­di­ate fur­ther fall of the stan­dard of liv­ing for an addi­tion­al, at min­i­mum, 30 per­cent, bring­ing mis­ery to a new unbear­able lev­el, with the threat of pop­u­lar unrest and even mil­i­tary dic­ta­tor­ship. The prospect of such hero­ic acts is thus a temp­ta­tion to be resisted.
Then there are the so-called ​"left" calls for Syriza to return to its roots: Syriza should not become just anoth­er gov­ern­ing par­lia­men­tary par­ty, the true change can only come from grass-roots, from the peo­ple them­selves, from their self-orga­ni­za­tion, not from the state appa­ra­tus­es. This is anoth­er exam­ple of emp­ty pos­tur­ing, since it avoids the cru­cial prob­lem, which is how to deal with the inter­na­tion­al pres­sure con­cern­ing debt, or, more gen­er­al­ly, how to exert pow­er and run a state. Grass-roots self-orga­ni­za­tion can­not replace the state. The ques­tion is how to reor­ga­nize the state appa­ra­tus to make it func­tion differently.
It's nonethe­less not enough to say that Syriza put up a hero­ic fight, test­ing what is pos­si­ble. The fight goes on, in fact it has just began. Instead of dwelling on the ​"con­tra­dic­tions" of Syriza pol­i­cy (after a tri­umphant ​"no," Syriza accepts the very pro­gram that was reject­ed by the peo­ple), and of get­ting caught in mutu­al recrim­i­na­tions about who is guilty (did the Syriza par­lia­men­tary major­i­ty com­mit an oppor­tunis­tic ​"trea­son," or was the Left irre­spon­si­ble in its pref­er­ence for grex­it), one should focus on what the enemy's actions. The ​"con­tra­dic­tions" of Syriza are a mir­ror image of the ​"con­tra­dic­tions" of the EU estab­lish­ment as it grad­u­al­ly under­mines the very foun­da­tions of a unit­ed Europe. In the guise of Syriza ​"con­tra­dic­tions," the EU estab­lish­ment is mere­ly get­ting back its own mes­sage in its true form. And this is what Syriza should be doing now. With a ruth­less prag­ma­tism and cold cal­cu­la­tion, it should exploit the tini­est cracks in the opponent's armor. It should use all those who resist the pre­dom­i­nant EU pol­i­tics, from British con­ser­v­a­tives to UKIP in the UK. It should shame­less­ly flirt with Rus­sia and Chi­na, play­ing with the idea of giv­ing an island to Rus­sia as its Mediter­ranean mil­i­tary base, just to scare the shit out of NATO strate­gists. To para­phrase Dos­toyevsky, now that the EU God has failed, every­thing is permitted.
When one hears the com­plaints that the EU admin­is­tra­tion bru­tal­ly ignores the plight of the Greek peo­ple in their blind obses­sion with humil­i­at­ing and dis­ci­plin­ing the Greeks, that even South­ern-Euro­pean coun­tries like Italy or Spain didn't show any sol­i­dar­i­ty with Greece, our reac­tion should be: Is this a sur­prise? What did the crit­ics expect? That the EU admin­is­tra­tion will mag­i­cal­ly under­stand Syriza's argu­ments and act in com­pli­ance with them? The EU admin­is­tra­tion is sim­ply doing what it was always doing. On top of this is the reproach that Greece is look­ing for help in Rus­sia and Chi­na — as if Europe itself is not push­ing Greece in that direc­tion with its humil­i­at­ing pressure.
Some claim that the polit­i­cal ascen­den­cy of Syriza demon­strates how the tra­di­tion­al Left/​Right dichoto­my has out­lived its use­ful­ness. The argu­ment goes like this: Syriza in Greece is called extreme Left, and Marine le Pen in France extreme Right, but these two par­ties have effec­tive­ly a lot in com­mon: they both fight for state sov­er­eign­ty, against multi­na­tion­al cor­po­ra­tions. It is there­fore quite log­i­cal that in Greece itself, Syriza is in coali­tion with a small Right­ist pro-sov­er­eign­ty par­ty. On April 22, 2015, Fran­cois Hol­lande said on TV that Marine le Pen today sounds like George Mar­chais (a French Com­mu­nist leader) in 1970s — voic­ing a patri­ot­ic advo­ca­cy of the plight of ordi­nary French peo­ple exploit­ed by inter­na­tion­al cap­i­tal. No won­der Marine le Pen sup­ports Syriza. This weird claim does­n't say a lot more than the old Lib­er­al wis­dom than Fas­cism is also a kind of Social­ism. The moment we bring into the pic­ture the top­ic of immi­grant work­ers, this argu­ment of polit­i­cal par­al­lels falls apart.
The ulti­mate prob­lem is much more basic. The recur­ring sto­ry of the con­tem­po­rary Left is that of a leader or par­ty elect­ed with uni­ver­sal enthu­si­asm, promis­ing a ​"new world" (Man­dela, Lula) — but, then, soon­er or lat­er, usu­al­ly after a cou­ple of years, they stum­ble when they con­front the key dilem­ma: does one dare to touch the mechan­ics of cor­po­rate cap­i­tal­ism, or does one decide to ​"play the game"? If one dis­turbs the mech­a­nisms of cap­i­tal, one is very swift­ly ​"pun­ished" by mar­ket per­tur­ba­tions, eco­nom­ic chaos and the rest.
The hero­ism of Syriza was that, after win­ning the demo­c­ra­t­ic polit­i­cal bat­tle, they took a risk and and issued a sec­ond threat to the smooth run of Cap­i­tal by demand­ing rad­i­cal eco­nom­ic changes in the EU. The les­son of the Greek cri­sis is that Cap­i­tal, though ulti­mate­ly a sym­bol­ic fic­tion, is our ulti­mate real­i­ty. That is to say, today's protests and revolts are sus­tained by the over­lap­ping of dif­fer­ent lev­els, and this com­bi­na­tion accounts for their strength: They fight for ("nor­mal" par­lia­men­tary) democ­ra­cy against author­i­tar­i­an regimes; against racism and sex­ism, espe­cial­ly the hatred direct­ed at immi­grants and refugees; for a wel­fare-state against neolib­er­al­ism; against cor­rup­tion in pol­i­tics and the econ­o­my (com­pa­nies pol­lut­ing envi­ron­ment, etc.); for new forms of democ­ra­cy that reach beyond mul­ti-par­ty rit­u­als (par­tic­i­pa­to­ry democ­ra­cy, etc.); and, final­ly, today's protests ques­tion the glob­al cap­i­tal­ist sys­tem as such and try to keep alive the idea of a non-cap­i­tal­ist soci­ety. Two traps are to be avoid­ed here: False rad­i­cal­ism ("what real­ly mat­ters is the abo­li­tion of lib­er­al-par­lia­men­tary cap­i­tal­ism, all oth­er fights are sec­ondary"), as well as false grad­u­al­ism ("now we fight against dic­ta­tor­ship and for sim­ple democ­ra­cy, for­get your social­ist dreams, this comes lat­er — maybe"). When we are part of a spe­cif­ic strug­gle, the key ques­tion is: How will our engage­ment in it or dis­en­gage­ment from it affect oth­er strug­gles? Our gen­er­al rule should be, when a revolt begins against an oppres­sive half-demo­c­ra­t­ic régime, as was the case across the Arab world in 2011, it is easy to mobi­lize large crowds with slo­gans that are best char­ac­ter­ized as crowd pleasers — for democ­ra­cy, against cor­rup­tion, etc. But from there we grad­u­al­ly face more dif­fi­cult choic­es: when our revolt suc­ceeds in its direct goal, we come to real­ize that what real­ly both­ered us (our un-free­dom, humil­i­a­tion, social cor­rup­tion, lack of prospect of a decent life) con­tin­ues in a new guise.
In Egypt, pro­test­ers suc­ceed­ed in get­ting rid of the oppres­sive Mubarak régime, but cor­rup­tion remained, and the prospect of a decent life moved even fur­ther away. After the over­throw of an author­i­tar­i­an régime, the last ves­tiges of patri­ar­chal care for the poor can fall away, so that the new­ly gained free­dom is de fac­to reduced to the free­dom to choose the pre­ferred form of one's mis­ery: the major­i­ty not only remains poor, but, to add insult to injury, it is being told that, since they are now free, pover­ty is their own respon­si­bil­i­ty. In such a predica­ment, we have to admit that there was flaw in our goal itself, that our goal was not spe­cif­ic enough. For exam­ple, stan­dard polit­i­cal democ­ra­cy can also serve as the very form of un-free­dom: Polit­i­cal free­dom can eas­i­ly pro­vide the legal frame for eco­nom­ic slav­ery, with the under­priv­i­leged ​"freely" sell­ing them­selves into servi­tude. In short, we have to admit that what we first took as the fail­ure to ful­ly real­ize a noble prin­ci­ple, demo­c­ra­t­ic free­dom, is a fail­ure inher­ent to this prin­ci­ple itself. We are thus brought to demand more than just polit­i­cal democ­ra­cy. We must demand democ­ra­ti­za­tion also of social and eco­nom­ic life.
Today, the the keep­ers of our rul­ing ide­ol­o­gy mobi­lize their entire arse­nal to pre­vent us from reach­ing this rad­i­cal con­clu­sion. They start to tell us that demo­c­ra­t­ic free­dom brings its own respon­si­bil­i­ty, that it comes at a price, that we are not yet mature cit­i­zens if we expect too much from democ­ra­cy. In this way, they blame us for our fail­ure: in a free soci­ety, so we are told, we are all cap­i­tal­ist invest­ing in our lives, decid­ing to put more into our edu­ca­tion than into hav­ing fun if we want to suc­ceed, etc. At a more direct­ly polit­i­cal lev­el, the Unit­ed States for­eign pol­i­cy employs a detailed strat­e­gy that exerts dam­age con­trol by way of re-chan­nel­ing a pop­u­lar upris­ing into accept­able par­lia­men­tary-cap­i­tal­ist con­straints — as was done suc­cess­ful­ly in South Africa after the fall of apartheid régime, in Philip­pines after the fall of Mar­cos, in Indone­sia after the fall of Suhar­to, etc. It is at this pre­cise con­junc­ture, rad­i­cal eman­ci­pa­to­ry pol­i­tics faces its great­est chal­lenge: How do we push things fur­ther after the first enthu­si­as­tic stage is over? How to take the next step with­out suc­cumb­ing to the cat­a­stro­phe of the ​"total­i­tar­i­an" temp­ta­tion — in short, how to move fur­ther from Nel­son Man­dela with­out becom­ing Robert Mugabe.
The courage of hope­less­ness is cru­cial at this point. The ​"no" of the Greek ref­er­en­dum can sur­vive only if the Greeks enact their enforced sur­ren­der in the right way, only if they con­tin­ue to lead a patient gueril­la war­fare against finan­cial occupation.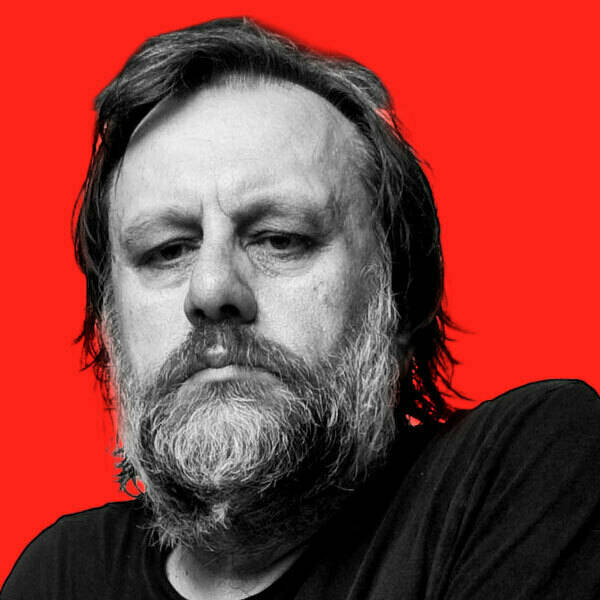 Slavoj Žižek
, a Sloven­ian philoso­pher and psy­cho­an­a­lyst, is a senior researcher at the the Insti­tute for Human­i­ties, Birk­beck Col­lege, Uni­ver­si­ty of Lon­don. He has also been a vis­it­ing pro­fes­sor at more than
10
uni­ver­si­ties around the world. Žižek is the author of many books, includ­ing Liv­ing in the End Times, First As Tragedy, Then As Farce, The Year of Dream­ing Dan­ger­ous­ly and Trou­ble in Paradise.