SLIDESHOW: Inside the World's Newest Police State
Photos of Honduras in crisis, all taken since President Mel Zelaya was ousted from power by a military coup last June.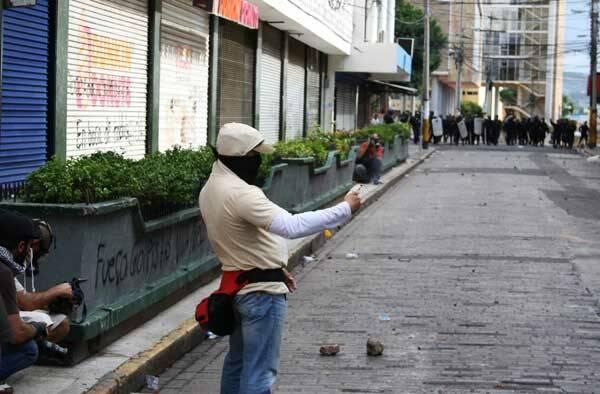 We wanted to make sure you didn't miss the announcement of our new Sustainer program. Once you've finished reading, take a moment to check out the new program, as well as all the benefits of becoming a Sustainer.

TEGUCIGALPA, HONDURAS – It's the worst political and humanitarian crisis to hit Central America since the terrible wars of the 1980s, and it doesn't seem likely to go away any time soon.
In the weeks since the election, the human rights situation has deteriorated. Shooting and killings are becoming increasingly common
The coup that deposed President Mel Zelaya last June ignited a firestorm of nonviolent but determined resistance, but the business-military junta – under the leadership of de facto president Roberto Micheletti – reacted to the peaceful marches and demonstrations by cracking down hard on protesters. More than 3,000 people have been detained, and hundreds more have been beaten, with many requiring hospitalization for their wounds. At least 28 members of the resistance have been killed by soldiers, police, or political assassins during the last five months.
[Text continues below slideshow…]
Zelaya's term will officially end on January 27. His successor, Porfirio Lobo, is widely seen as having cooperated with the coup. The turnout for an election in late November was the lowest in the Honduras' history, and the coup government was caught in the act of fixing the numbers. Meanwhile, Zelaya remains trapped in the Brazilian embassy, allowed to leave the country safely only if he first renounces the presidency.
In the weeks since the election, the human rights situation has deteriorated. Shooting and killings are becoming increasingly common in the streets, as the coup government's harsh policies have led to a troubling rise in poverty and violent crime. And last month, the regime itself was accused of torturing and murdering two resistance activists.
Several farmers unions have risen up in recent days, occupying their formerly legally-titled land because the de facto government has begun canceling agricultural micro-loans and land-ownership programs that Zelaya had enacted. The Honduran judiciary ruled against the farmers last week, and soldiers and police have been sent to disperse the farmers and their families.
Become a Sustainer
We surveyed thousands of readers and asked what they would like to see in a monthly giving program. Many of you expressed interest in magazine subscriptions, gift subscriptions, tote bags, events and books —and we've added all of those. Some of you said that cost was an issue, so we've kept our starting tier at just $5 a month—less than 17 cents a day.

Now, for the first time, we're offering three different levels of support, with unique rewards at each level, for you to choose from. Check out the new Sustainer program.