Smashing the Spinning Plates
How long can the Eurocrats in Brussels keep the dinnerware in motion?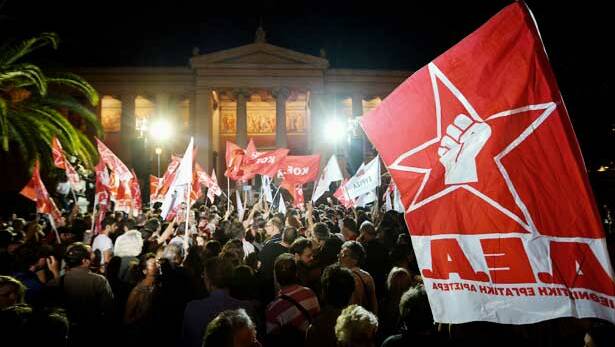 The out­come of the June 17 Greek elec­tion — a nar­row vic­to­ry for the con­ser­v­a­tive New Democ­ra­cy over the left­ist Syriza par­ty, and the prompt for­ma­tion of a ​"pro-Euro­pean" coali­tion gov­ern­ment — pre­dictably unleashed a gigan­tic sigh of relief all over Europe. The cat­a­stro­phe was avert­ed, Euro­pean uni­ty had pre­vailed, etc. But, in fact, a great oppor­tu­ni­ty was missed, a unique chance for Europe to final­ly con­front the depth of its eco­nom­ic and polit­i­cal dead­lock. The sigh of relief effec­tive­ly meant: We avoid­ed the awak­en­ing. We can con­tin­ue to dream.
CNN's Richard Quest recent­ly offered a metaphor for this dream when he com­pared the Euro­pean offi­cials to:
[T]he prover­bial ​"plate spin­ners" from the cir­cus. Those tal­ent­ed artists who bal­ance spin­ning plates on sticks, ever increas­ing the num­ber of sticks, rush­ing from one to the oth­er, giv­ing them a tug and pull to keep them mov­ing, always aware that if they are too slow or too fast, one of the plates will crash to the ground. That is exact­ly what we have in Europe today. Only the artists are Euro­pean Cen­tral Bank pres­i­dent Mario Draghi, Eurogroup head Jean-Claude Junck­er, Euro­pean Com­mis­sion pres­i­dent José Manuel Bar­roso et al, while the plates are Greece, Span­ish banks, Ital­ian deficits, eurobonds and Ger­man chan­cel­lor Angela Merkel. … Dai­ly it seems there are more plates spin­ning, and the antics of the spin­ners become more fran­tic as they rush from one to the oth­er, ever pro­claim­ing that the act is com­ing to a close. Unfor­tu­nate­ly that is not the case. The plate spin­ning is like­ly to con­tin­ue for some time to come.
Spin­ning plates is effec­tive­ly what the Brus­sels Euro­crats are doing: end­less­ly post­pon­ing the crit­i­cal reck­on­ing by way of adding new plates and thus mak­ing the bal­ance more and more frag­ile. Syriza was accused of pro­mot­ing left­ist fic­tions — but it is the aus­ter­i­ty plan imposed by Brus­sels that is a fic­tion. In a strange ges­ture of col­lec­tive make-believe, every­one knows that the Greek state can­not ever repay its debt, and every­one ignores the obvi­ous non­sense of the finan­cial pro­jec­tions on which the plans are based.
So why does Brus­sels impose these plans? What mat­ters in con­tem­po­rary cap­i­tal­ism is that agents act upon their puta­tive beliefs about future prospects, regard­less of whether they real­ly believe in those prospects. And, as we also all know, the true aim of these res­cue mea­sures is not to save Greece, but to save the Euro­pean banks.
There is a won­der­ful­ly dialec­ti­cal joke in Ernst Lubitsch's clas­sic com­e­dy Ninotch­ka: the hero vis­its a cafe­te­ria and orders cof­fee with­out cream; the wait­er replies: ​"I'm sor­ry, sir, we have no cream. Can it be with­out milk?" In both cas­es, the cus­tomer gets cof­fee alone, but this sin­gle cof­fee is each time accom­pa­nied by a dif­fer­ent nega­tion, first cof­fee-with-no-cream, then coffee-with-no-milk.
Greece is in the same predica­ment: The sit­u­a­tion is dif­fi­cult, and Greeks will get some kind of aus­ter­i­ty — but will they get that aus­ter­i­ty with­out cream or with­out milk? It is here that the Euro­pean estab­lish­ment is cheat­ing. It is act­ing as if Greeks will get the cof­fee of aus­ter­i­ty with­out cream (that the fruits of their hard­ship will not prof­it only Euro­pean banks but also them­selves), but they are effec­tive­ly offer­ing Greeks cof­fee with­out milk (only the banks, and not the Greeks, will prof­it from this hardship).
To illus­trate the mis­take of enact­ing aus­ter­i­ty mea­sures as the main strat­e­gy to com­bat the cri­sis, Paul Krug­man often com­pares them to the medieval cure of blood-let­ting. That's a nice metaphor that should be rad­i­cal­ized even fur­ther. The Euro­pean finan­cial doc­tors, who are them­selves not sure about how the med­i­cine works, are using the Greeks as test rab­bits and let­ting their blood, not the blood of their own coun­tries. There is no blood-let­ting for the great Ger­man and French banks — on the con­trary, they are get­ting con­tin­u­ous and enor­mous transfusions.

Syriza is not a group of dan­ger­ous ​"extrem­ists." Rather, it is bring­ing prag­mat­ic com­mon sense to clear the mess cre­at­ed by oth­ers. It is those who impose aus­ter­i­ty mea­sures who are dan­ger­ous dream­ers, who think that things can go on indef­i­nite­ly the way they are, just with some cos­met­ic changes. Syriza sup­port­ers are not dream­ers — they are the awak­en­ing from a dream which is turn­ing into a night­mare. They are not destroy­ing any­thing, they are react­ing to a sys­tem that is grad­u­al­ly destroy­ing itself.
Syriza is a rad­i­cal Left move­ment that stepped out of the com­fort­able posi­tion of mar­gin­al resis­tance and coura­geous­ly sig­naled their readi­ness to take pow­er. This is why, accord­ing to some, the Greeks should be penal­ized — or, as Bill Frez­za recent­ly wrote in Forbes, under the head­line, ​"Give Greece What It Deserves: Com­mu­nism": ​"What the world needs, lest we for­get, is a con­tem­po­rary exam­ple of Com­mu­nism in action. What bet­ter can­di­date than Greece? … Just toss them out of the Euro­pean Union, cut off the flow of free Euros, and hand them back the print­ing plates for their old drach­mas. Then stand back for a gen­er­a­tion and watch." The old sto­ry of Haiti after 1804 repeats itself here: Greece should be exem­plar­i­ly pun­ished to block once and for all any temp­ta­tion for a rad­i­cal Left solu­tion to the crisis.
Some have argued Syriza lacks the prop­er expe­ri­ence to gov­ern, and this should be admit­ted: Yes, they lack the expe­ri­ence in how to bank­rupt a coun­try, in how to cheat and to steal. This brings us to the absur­di­ty of the Euro­pean establishment's pol­i­tics: They preach the dog­ma of pay­ing tax­es — and against Greece's insti­tu­tion­al cor­rup­tion — and put all their hopes on the coali­tion of the two par­ties that insti­tu­tion­al­ized that cor­rup­tion in the first place. The New Democ­ra­cy vic­to­ry was the result of a bru­tal cam­paign full of lies and scare-mon­ger­ing — the pol­i­tics of fear at its purest, draw­ing a pic­ture of Greece with hunger, chaos and police state ter­ror in the case of the Syriza victory.
The EU pres­sure on Greece to imple­ment aus­ter­i­ty mea­sures fits per­fect­ly with what psy­cho­analy­sis calls super­ego. Super­ego is not an eth­i­cal agency prop­er, but a sadis­tic agent that bom­bards the sub­ject with impos­si­ble demands, obscene­ly enjoy­ing the subject's fail­ure to com­ply with them. The para­dox of the super­ego is that, as Freud saw clear­ly, the more we obey its demands, the guilti­er we feel. Imag­ine a vicious teacher who impos­es on his pupils impos­si­ble tasks, and then takes plea­sure in jeer­ing when he sees their anx­i­ety and pan­ic. This is what is so ter­ri­bly wrong with the EU demands: their aus­ter­i­ty poli­cies don't even give Greece a chance — its fail­ure is part of the game.
There is an (apoc­ryphal, for sure) anec­dote about the exchange of telegrams between Ger­man and Aus­tri­an army head­quar­ters in the mid­dle of WWI: the Ger­mans sent the mes­sage ​"Here, on our part of the front, the sit­u­a­tion is seri­ous, but not cat­a­stroph­ic," to which the Aus­tri­ans replied, ​"Here, the sit­u­a­tion is cat­a­stroph­ic, but not seri­ous." This is the true dif­fer­ence between Syriza and oth­ers. For the oth­ers, the sit­u­a­tion is cat­a­stroph­ic but not seri­ous; they want to con­tin­ue with busi­ness as usu­al. For Syriza, the sit­u­a­tion is seri­ous but not cat­a­stroph­ic, since courage and hope should replace fear.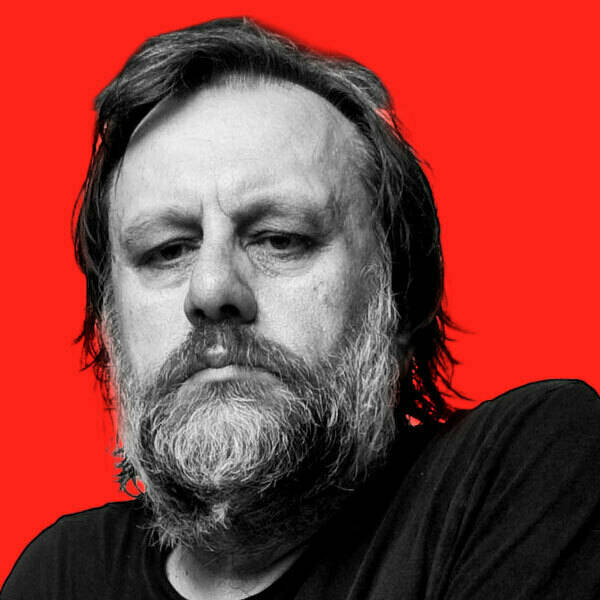 Slavoj Žižek
, a Sloven­ian philoso­pher and psy­cho­an­a­lyst, is a senior researcher at the the Insti­tute for Human­i­ties, Birk­beck Col­lege, Uni­ver­si­ty of Lon­don. He has also been a vis­it­ing pro­fes­sor at more than
10
uni­ver­si­ties around the world. Žižek is the author of many books, includ­ing Liv­ing in the End Times, First As Tragedy, Then As Farce, The Year of Dream­ing Dan­ger­ous­ly and Trou­ble in Paradise.