The Fight for Public Control of Land in the Bronx
Residents' last-ditch attempt to keep out a polluting trucking hub.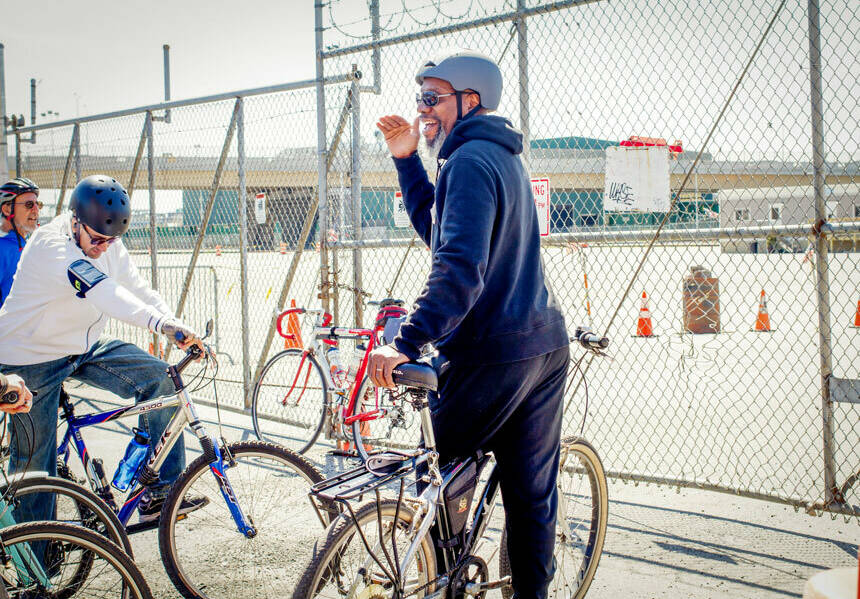 The community group South Bronx Unite (SBU) has battled for four years to stop the grocery store FreshDirect from building a trucking facility. The distribution center would be the latest highly polluting operation in a neighborhood with childhood asthma rates eight times the national average.
Who benefits from public land in a neighborhood that is at once an industrial sacrifice zone and the target of aggressive gentrification?
Time is running out: The facility is slated to open later this year. But in the process, SBU has shaken up New York politics and pioneered a model for public control of neighborhood land.
"Breathing is a real problem in our community," says Mychal Johnson, a founding member of SBU. The South Bronx's Mott Haven neighborhood, where Johnson lives, ranks first in New York City for child asthma hospitalizations. Johnson's 15-month-old already uses a nebulizer.
"You go to any large gathering and you ask people in our community, ​'Does anyone here know anyone who has asthma?' and … higher than 90 percent of the people raise their hand," says Johnson. ​"It's an epidemic."
Bordered on all sides by major highways and the site of four power plants, the South Bronx also sees heavy truck traffic. The neighborhood is home to the nation's largest food distribution center, which has been joined by two waste transfer sites, a FedEx trucking station, and two newspaper printing operations (the New York Post and the Wall Street Journal). Diesel trucks and power plants emit fine particulate matter, which can become lodged deep in the lungs and is closely associated with asthma and heart disease. For each of those diseases, the Bronx has the state's highest mortality rate.
For many residents, the last straw came when FreshDirect announced in 2012 that it was relocating its trucking facility from Queens to Mott Haven. The move would bring over 1,000 diesel trucks a day, and the facility is being erected on publicly owned waterfront intended for an intermodal rail system — something that would have alleviated New York's dependence on diesel trucks.
Especially frustrating for residents is that the state and city facilitated the move. Together, they have pledged more than $120 million in subsidies and grants to FreshDirect.
The arrangement raises the question: Who benefits from public land in a neighborhood that is at once an industrial sacrifice zone and the target of aggressive gentrification? In a borough where residents have long complained about the lack of green, public space, where private developers are buying up entire blocks of land, and where affordable housing is disappearing, the question is especially pressing.
Since SBU formed in 2012, the coalition of Bronx organizations, residents and environmentalists has fought against FreshDirect on multiple fronts: street protests, online petitions, a lawsuit and public education campaigns. On April 16, SBU conducted a ​"toxic tour" by bike of local sources of pollution.
These efforts have put the issue front and center in city politics. On the campaign trail in 2013,Mayor Bill de Blasio cited the FreshDirect subsidies as an example of the corporate welfare he would halt.
But two years into his mayoralty, de Blasio has shown no sign of ending the subsidies. In emails between Deputy Mayor Alicia Glen and FreshDirect lobbyist Harry Giannoulis released in 2015, Glen discussed the prospect of retreating on de Blasio's campaign promise as long as FreshDirect promised well-paying jobs.
While FreshDirect says it will bring 1,000 new jobs to the area, there is no provision that the company hire locally — and members of SBU say they've heard such promises before. ​"The supposed need for employment [has] been the driver for creating this large industrial zone that we have," Mychal Johnson says. ​"But it's not trickling down to jobs in our community." The Bronx's unemployment rate is the highest in the five boroughs.
SBU filed suit in June 2012 to block the relocation. The coalition argues that the deal violates the New York State constitution by using public land for solely private benefit. So far, the courts have sided with FreshDirect. On April 7, SBU lost an appeal.
With limited avenues left and the political winds proving fickle, SBU is investing in a new strategy: a community land trust (CLT), a nonprofit collective that owns and governs a piece of land.
The Mott Haven-Port Morris Community Land Trust, established in 2015, seeks to put into practice what SBU has been pushing the state and city to do since 2012: Involve the community in the development of public spaces. If the waterfront had been part of a CLT, FreshDirect would have needed its approval to build a facility there. The Bronx coalition has yet to acquire any land but is looking at two vacant cityowned sites in Mott Haven.
Meanwhile, the Mott Haven-Port Morris CLT is putting pressure on developers with a Statement of Principles for Private Development. Among other things, the statement calls on private developers to create well-paying local jobs, double the amount of affordable housing, and support a community-designed plan to provide public green space and waterfront access.
SBU is continuing its direct action efforts and hopes to prevent FreshDirect from opening this year. Whatever the outcome, however, SBU's long battle has changed the political landscape. It will be harder for a private company to use public land again without the engagement of Bronx residents.
This article was produced in collaboration with Dissent magazine. Read an extended version here.
Journalist based in New York City. She writes about environmental justice, prisons and police.