'Sowing the Seeds of Justice' Profiles Chicano Labor Trailblazer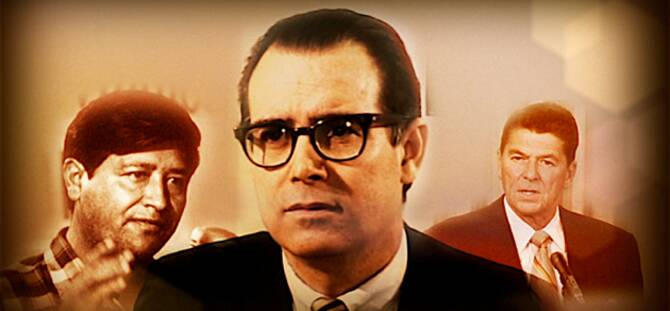 We wanted to make sure you didn't miss the announcement of our new Sustainer program. Once you've finished reading, take a moment to check out the new program, as well as all the benefits of becoming a Sustainer.

Documentary looks beyond Chavez to examine Cruz Reynoso's life
A new documentary explores the labor activism and legal career of the first Chicano to hold a seat in a U.S. high court. Cruz Reynoso: Sowing the Seeds of Justice is a short, modestly produced look at Reynoso's role in the nascent farm workers' rights movement in the ​'60s and ​'70s, as well at his controversial role as a judge in the California Supreme Court during the Reagan years.

The third of 11 children born to poor farm workers in California, Reynoso worked as a field hand in his youth. He eventually attended law school under the G.I. Bill, passing the California Bar exam in 1958.

Reynoso then moved to El Centro, Calif., and began organizing with César Chavez — a community organizer and long-time field worker. The two met and worked in the Community Service Organization (CSO), which sought to foment a collective consciousness among California's rural poor by starting social groups, agitating for workers' benefits and registering eligible voters.
Reynoso and Chavez eventually parted ways strategically: Chavez continued organizing, founding the National Farm Workers Association (NFWA) in 1962 and then merging with another prominent union to form the United Farm Workers (UFW) in 1968; Reynoso instead joined the government-funded California Rural Legal Assistance (CRLA) as a legal advisor, becoming its director in 1968. The CRLA provided free legal services to farm workers in California's hinterlands, scoring victories such as the banning of short-handled farm hoes (which required workers to bend so low that irremediable back issues were twice as likely to occur on farms that mandated their usage).

The most interesting turn of events during this era of Reynoso's life, however, is hardly addressed by the film.

Under Chavez's leadership, the UFW grew exponentially, as Latino farm workers became organized and pushed for improvements to working conditions. Chavez believed that because of Reynoso's dedication to farm workers and his role as a co-organizer of the CSO, he would naturally act as the legal representative of the burgeoning union. But Reynoso declined any involvement.

Because CRLA's legal victories applied to all agricultural workers, regardless of union affiliation, Reynoso feared the political implications of representing unionized workers while working for a state-funded agency. His decision is politically understandable. Then-Governor Ronald Reagan tried tirelessly to shut down the CRLA (much of his campaign funding came from agro-business hostile to any regulation). Supporting the UFW would only have provided ammunition to state leaders, jeopardizing CRLA's future. Regardless of Reynoso's logic for keeping distance from the union, the decision propelled his ascendancy within the state.

It was a crucial moment for Reynoso, but the film expends less than two minutes on his tactical split with Chavez.

Following an overview of Reynoso's first years as a state judge in the California Court of Appeal, Sowing the Seeds of Justice then turns to his California Supreme Court nomination by Gov. Jerry Brown in 1981. Reynoso entered what was known as the Rose Bird court, named after its chief justice. From the day Reynoso was confirmed until 1986, the court refrained from executing any violent offenders — a track record that festered into a political landmine.

​"Tough on crime" rhetoric and policies during the ​'80s, spearheaded by the Reagan administration, painted the Left and anti-death penalty advocates as soft on law enforcement. In California, conservatives and their generous corporate and political donors pushed for a recall of three of the acting justices on California's Supreme Court. Remarkably, they succeeded, costing Reynoso his job in 1986.

Reynoso was a victim of a right-wing politicization of California's courts. The film, however, refrains from thoroughly analyzing the precedent set by the judicial ouster. U.S. courts are supposed to rule according to law and without concern for political pressure. The film depicts him as ​"principled," discussing Reynoso's refusal to accept donations to combat the recall, but leaves it at that.

Following the ouster, Reynoso returned to private practice. In 1994, he was given the Presidential Medal of Freedom by Bill Clinton and simultaneously appointed to the U.S. Commission on Civil Rights. The commission, with Reynoso as a member, would famously be the only organization to file a report on the 2000 presidential recount amid credible claims of prejudice and deceit directed toward black voters.

The primary flaw of Sowing the Seeds of Justice is its sweeping, unfocused portrait of Reynoso's life: While it serves as a good biopic, it ultimately removes its subject from his full historical context. The narrative is consequently disjointed, extolling Reynoso's ideological commitment as a crusader of the downtrodden in the first half, and then casting him as a poster-child of the impartial, middle-of-the-way sensibility expected of a U.S. judge in the second half. The film leaves one with a more than adequate C.V. of Reynoso's successes under the vague umbrella of ​"social justice," but never digs deeper into exactly how he transitioned from farm worker organizer to legal scholar and judge.

Still, Sowing the Seeds of Justice proves Reynoso a compelling individual, and should pique interest in a lesser-known but important figure in California's farm worker rights campaigns.

On Wednesday, October 12, The John Marshall Law School in Chicago will be hosting a free screening of Sowing Seeds of Change at 12 p.m, followed by a Q & A session with Cruz Reynoso and filmmaker Abby Ginzberg. For more information about future screenings, go here.
Be a Sustainer
We surveyed thousands of readers and asked what they would like to see in a monthly giving program. Now, for the first time, we're offering three different levels of support, with rewards at each level, including a magazine subscription, books, tote bags, events and more—all starting at less than 17 cents a day. Check out the new Sustainer program.
Patrick Glennon
is a writer and musician living in Chicago. He received his B.A. in History from Skidmore College and currently works as Communications Manager for the Michael Forti for Cook County Court campaign and as the web intern at
In These Times
.