Spellbound
A specter is haunting the Middle East: the specter of "democratic occupation."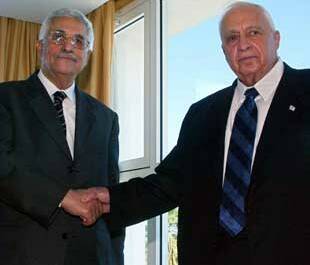 It is not sur­pris­ing that, fol­low­ing the Sharm El-Sheikh sum­mit on Feb. 8, Israeli Prime Min­is­ter Ariel Sharon and Pales­tin­ian Author­i­ty Pres­i­dent Mah­moud Abbas used almost the same lan­guage to announce a ces­sa­tion of hos­til­i­ties between the two peo­ples. Read­ing from a prewrit­ten script, they both stat­ed that the Pales­tini­ans would stop all acts of vio­lence against Israelis, while Israel would cease all mil­i­tary activ­i­ty against Pales­tini­ans. The direc­tor of the show was not Egypt­ian Pres­i­dent Hos­ni Mubarak, the host of the event, but new­ly appoint­ed U.S. Sec­re­tary of State Con­doleez­za Rice. To be sure, nei­ther Rice nor any oth­er Amer­i­can was present at the sum­mit, but the Bush administration's spir­it was ubiquitous.
Many reporters and ana­lysts applaud­ed the meet­ing, claim­ing that it will pave the way for a resump­tion of dia­logue and coop­er­a­tion. They seemed to sug­gest that Israelis and Pales­tini­ans are on the doorstep of a new era. All of this begs the ques­tion: Will the Bush admin­is­tra­tion man­age to stop the seem­ing­ly end­less cycle of vio­lence and rekin­dle the so-called Israeli-Pales­tin­ian peace process?
The answer is a resound­ing yes — on the con­di­tion, of course, that one believes in magic.
Pres­i­dent George W. Bush would have to suc­ceed in cast­ing at least one of two spells in order to cre­ate fer­tile ground for nego­ti­a­tions. He would need to charm Abbas into renounc­ing the three most essen­tial demands that have informed the Pales­tin­ian strug­gle since the late ​'80s: Israel's full with­draw­al to the 1967 bor­ders, the estab­lish­ment of a Pales­tin­ian cap­i­tal in East Jerusalem and the recog­ni­tion of the rights of Pales­tin­ian refugees. Or alter­na­tive­ly, Bush would have to enchant Sharon and get him to aban­don his plan of cre­at­ing Pales­tin­ian Ban­tus­tans in the Gaza Strip and in approx­i­mate­ly 50 per­cent of the West Bank, with no Pales­tin­ian right of return and no sov­er­eign­ty over any part of Jerusalem.
But even if Abbas were to fall prey to the spell, his renun­ci­a­tion would be worth­less, because the Israeli-Pales­tin­ian con­flict is not a clash of civ­i­liza­tions, despite the ongo­ing attempt of the main­stream media to present it as such. Instead, it's a strug­gle between two unequal rivals over land, self-deter­mi­na­tion and basic human rights. And basic human rights are not a com­mod­i­ty that a leader can eas­i­ly bar­gain with or exchange.
It is also dif­fi­cult to imag­ine Sharon being so enthralled that he would actu­al­ly change his posi­tion. After all, he was the pro­po­nent of ​"the Jor­dan is Pales­tine solu­tion" for many years and cur­rent­ly con­sid­ers a with­draw­al from Gaza and parts of the West Bank as a major concession.
But if the mag­ic won't work, then how is the Bush admin­is­tra­tion plan­ning to resolve the Israeli-Pales­tin­ian con­flict? Why is Sec­re­tary Rice so optimistic?
The answer lies in Iraq and Afghanistan, where a unique Mid­dle East­ern mod­el is being enforced. Bush and his aides have man­aged to res­ur­rect a dis­tinct polit­i­cal prac­tice rarely used in the his­to­ry of humankind, and for this at least, they deserve cred­it. For lack of a bet­ter term, one could call this prac­tice ​"demo­c­ra­t­ic occu­pa­tion," a neol­o­gism recent­ly for­mu­lat­ed by for­mer Israeli Knes­set mem­ber Tamar Gozan­sky. The strat­e­gy is straight­for­ward: gain­ing and main­tain­ing con­trol of the land, while bestow­ing a demo­c­ra­t­ic face on the occupation.
Even though West­ern com­men­ta­tors praised the elec­tions that were recent­ly car­ried out in Iraq, Afghanistan and the occu­pied Pales­tin­ian ter­ri­to­ries, the cor­re­spon­dents seemed to have over­looked the essen­tial fact that pop­u­lar pow­er and author­i­ty don't rest with the peo­ple in any of these enti­ties, even after the elec­tions. If, for exam­ple, a ref­er­en­dum were car­ried out in any of these regions ask­ing the res­i­dents whether they want­ed the for­eign troops to leave, imag­ine how many would answer pos­i­tive­ly. But would the forces actu­al­ly leave these osten­si­bly demo­c­ra­t­ic areas?
Anoth­er way of test­ing these democ­ra­cies is to ask a series of forth­right ques­tions: Will the new­ly elect­ed Iraqi par­lia­ment real­ly rule the coun­try? Does Pres­i­dent Hamid Karzai con­trol Afghanistan? And who is in com­mand of the occu­pied Pales­tin­ian ter­ri­to­ries — Mah­moud Abbas?
Con­sid­er­ing that the Bush admin­is­tra­tion is unwill­ing to pres­sure Israel to dis­man­tle all of its set­tle­ments and to respect its rec­og­nized inter­na­tion­al bor­ders — the nec­es­sary con­di­tions for true nego­ti­a­tions between the two par­ties — it seems that the Sharm El-Sheikh sum­mit was con­vened because the admin­is­tra­tion wants to repli­cate the ​"demo­c­ra­t­ic occu­pa­tion" mod­el in the Israeli-Pales­tin­ian context.
This is not to say that Bush lacks tal­ent as a magi­cian. Indeed, since the true goal of his admin­is­tra­tion is to con­trol and dom­i­nate the Mid­dle East, the fact that he has man­aged to con­vince the major­i­ty of Amer­i­cans that he is pro­mot­ing free­dom and democ­ra­cy in the region is no less than fantastic.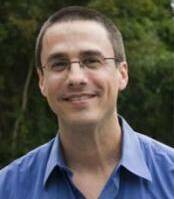 Neve Gor­don
teach­es in the Depart­ment of Pol­i­tics and Gov­ern­ment, Ben-Guri­on Uni­ver­si­ty of the Negev, in Israel. One can read about his most recent book,
Israel's Occu­pa­tion
, and more at
www​.israel​soc​cu​pa​tion​.info
.