Steve Bannon's European Dream
Europe used to serve as a utopian vision for the Left and a punching bag for the Right. Now it's reversing.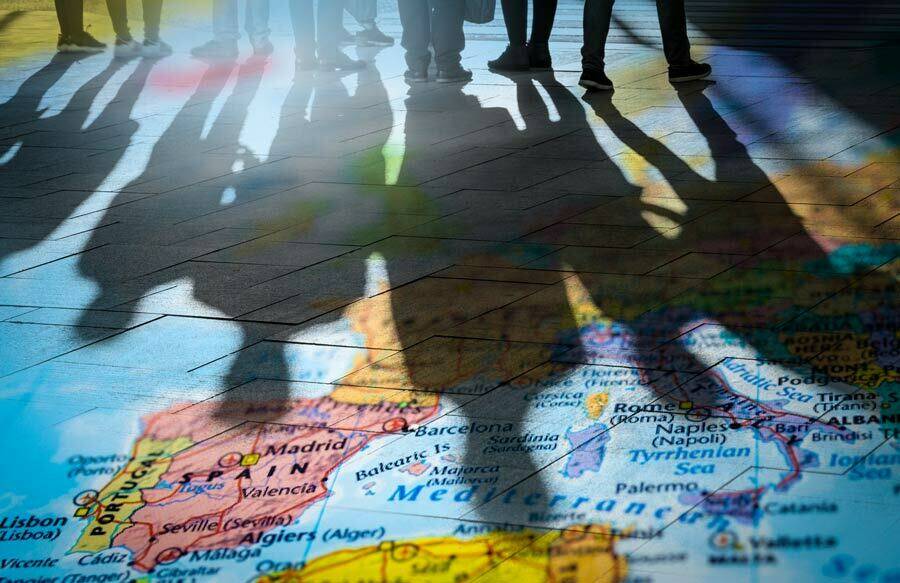 Two years and a hun­dred polit­i­cal life­times ago, a U.K. prime min­is­ter offered a spu­ri­ous ref­er­en­dum on EU mem­ber­ship to quell back­benchers and far-righters caus­ing trou­ble in the ranks. It was a dis­as­trous game of elec­toral Russ­ian roulette.
A shared far-right identity is closely bound to a shared sense of loss, and the drive to recover those losses fuels reactionary politics.
A decep­tive­ly sim­ple choice — ​"in or out" — frac­tured U.K. polit­i­cal cul­ture into unlike­ly alliances. Pro-remain left­ists (from reluc­tant to dis­tinct­ly Europhile) found them­selves ally­ing with glob­al con­glom­er­ates like Gold­man Sachs. Old­er gen­er­a­tions of social­ists and alter-glob­al­ists skep­ti­cal of EU mem­ber­ship found them­selves aligned with reac­tionary race-baiters like Nigel Farage and Boris John­son. It got nasty. A pro-remain Labour mem­ber of Par­lia­ment, Jo Cox, was slaugh­tered by a far-right ter­ror­ist, a man who went on to declare his moti­va­tions in court as ​"death to trai­tors, free­dom for Britain."
That a man hep­ped up on vio­lent extrem­ism could con­sid­er Brex­it a prospect worth killing over — a life-or-death sit­u­a­tion for post-impe­r­i­al pride — means we were not just talk­ing about the EU or the lofty tech­no­crat­ic maneu­ver­ings of its many over­lap­ping insti­tu­tions, but about fideli­ty to an idea of Europe, one that serves as a place­hold­er for com­pet­ing utopi­an ambitions.
We can fish around end­less­ly for a defin­i­tive idea of what Europe is and still come up emp­ty-hand­ed — and lit­tle won­der. It's a con­ti­nent, a col­lec­tion of uncer­tain alle­giances and shift­ing bor­ders. It's a con­glom­er­a­tion of insti­tu­tions inside and out­side the EU, a trad­ing bloc, an immov­able geo­graph­ic fact and a frag­ile ​"peace project." The idea of Europe is up for grabs.
For some on the Left, Europe rep­re­sents a pro­gres­sive vision of the future: social­ly demo­c­ra­t­ic, inter­na­tion­al­ist, pro-work­er and, in some small way, pro-migra­tion. When argu­ing for greater con­ces­sions on social wel­fare and infra­struc­ture, fig­ures like Bernie Sanders and Alexan­dria Oca­sio-Cortez urge Amer­i­cans to look to the man­i­fold pos­si­bil­i­ties of the Old World.
But even the most pas­sion­ate left Remain­ers would still agree that the utopi­an Europe does not, in fact, exist. When the U.S. social wel­fare sys­tem has been brought to its knees by years of neolib­er­al­ism, North­ern Europe's gen­er­ous health­care and ben­e­fit pro­grams are eas­i­ly roman­ti­cized. But to be blind­ed by romance is to for­get the painful real­i­ties: Aus­ter­i­ty pro­grams have gripped the con­ti­nent ever since the eco­nom­ic crash, hol­low­ing out those vaunt­ed wel­fare pro­grams. The Troi­ka of the Euro­pean Com­mis­sion, the Euro­pean Cen­tral Bank and the Inter­na­tion­al Mon­e­tary Fund has locked south­ern Euro­pean states into default debt-bondage, pour­ing cold water on hopes of left elec­toral projects like Syriza. The lib­er­al insti­tu­tions of the EU have utter­ly failed to check the ris­ing far Right — indeed, they've over­seen a régime of bru­tal anti-migrant bor­der securitization.
Cen­trists can get misty-eyed about the Europe of cof­fee-shop poets and frilly-shirt­ed rev­o­lu­tion­ar­ies, untrou­bled by the sharp­er con­tra­dic­tions in the Euro­pean project. But for the Left, say­ing yes to ​"Euro­pean­ness" can mean excus­ing or ignor­ing the cru­el­ties of right-wing Europe. One can, of course, argue the prag­mat­ic case for EU mem­ber­ship; the lofty bureau­crats of the EU are more sym­pa­thet­ic ene­mies than the home­grown reac­tionar­ies of the Tory par­ty. But this doesn't advance a pos­i­tive Europeanness.
These dif­fi­cul­ties have revived cri­tiques levied at the EU by the British Left when mem­ber­ship was first up for debate in the 1970s: First, that it was essen­tial­ly a neolib­er­al project designed to ease the flow of cap­i­tal across bor­ders. Sec­ond, per­haps more fun­da­men­tal­ly, that Euro­pean­ness itself is an iden­ti­ty that excludes Black and Brown peo­ple. That first cri­tique means that any pos­i­tive Left Euro­pean iden­ti­ty has a hard job to do, found­ing a Europe that goes beyond its neolib­er­al ori­gins. The sec­ond is some­what more trou­bling, imply­ing that a social­ist, promi­grant, anti-racist project of Euro­pean­ness is flawed from the word go.
Where the Left strug­gles to com­fort­ably occu­py a Euro­pean iden­ti­ty, the Right has moved in. Pun­dits and politi­cians on the extreme Right once vil­lainized Europe as the main­stay of the elit­ism and met­ro­pol­i­tanism they loved to loathe; now more are orga­niz­ing under the flag of Euro­pean­ness as a stand-in for glob­al white nation­al­ism. It pro­vides what Jean-Yves Camus and Nico­las Lebourg term a ​"com­mon sense of mis­sion," some­thing to gum togeth­er a for­mer­ly scat­tered and scle­rot­ic inter­na­tion­al net­work. Far-right lead­ers across Europe, North Amer­i­ca and Aus­tralia are aban­don­ing their tra­di­tion­al nation­al­ism to broad­en their pow­er; their net­works of media plat­forms, orga­niz­ing com­mu­ni­ties and polit­i­cal influ­ence stretch across the world. Steve Bannon's recent Euro­pean tour to announce a pan-con­ti­nen­tal far-right cam­paign to storm the 2019 EU elec­tions is only the lat­est — and per­haps the most monied — episode in this ongo­ing trend.
Where out-and-out talk of white suprema­cy is (for now) still frowned upon, Euro­pean­ness pro­vides a use­ful dog-whis­tle tac­tic to bind togeth­er coun­tries with few oth­er tan­gi­ble com­mon­al­i­ties. It is that thing which Poland, Greece and Cana­da sup­pos­ed­ly have in com­mon: an inef­fa­ble Euro­pean­ness made up of such incor­rupt­ibles as ​"free­dom" and ​"lib­er­al democ­ra­cy" and ​"West­ern val­ues." They're far from the inven­tors of this line of think­ing. It traces the line from the Cru­sades to the ​"civ­i­liz­ing mis­sion" of the colo­nial age to Jean-François Thiriart's post-war dreams of a pan-Euro­pean white eth­no-state to even George W. Bush's war on ter­ror. Today, this think­ing gets a veneer of respectabil­i­ty in uni­ver­si­ties across the world, from Samuel Huntington's Clash of Civ­i­liza­tions to Phillipe Nemo's Qu'est-ce que l'Ociddent?, which explains the con­tin­ued eco­nom­ic dom­i­nance of the Glob­al North by dint of its supe­ri­or cul­tur­al back­ground and inno­v­a­tive eco­nom­ics. Nemo tries des­per­ate­ly not to talk about race.
This ​"cul­tur­al back­ground" is an iden­ti­ty craft­ed to be so vague it's dif­fi­cult to refute, but spe­cif­ic enough to exclude who it needs to. Migrants, Black peo­ple, Mus­lims and Jews are all por­trayed as stal­wart vil­lains shak­ing their swords at the gates of Europe. Add Roma peo­ple if you're in East­ern Europe, South­east Asians if you're in Aus­tralia and Lati­nos if you're of a more Trumpian persuasion.
The scape­goat shapeshifts, but the point remains the same. Far-right ide­ol­o­gy depends on spin­ning the idea of a myth­ic gold­en age from which we've fall­en, sold out by deca­dent elites in cahoots with Com­mu­nists and migrants. A shared far-right iden­ti­ty is close­ly bound to a shared sense of loss, and the dri­ve to recov­er those loss­es fuels the ter­ri­fy­ing machin­ery of reac­tionary pol­i­tics. The sto­ry is intox­i­cat­ing. White suprema­cists through­out the world play­act sym­bol­ic loy­al­ty to prelap­sar­i­an Europe: The Cru­sades, the Renais­sance, the Enlight­en­ment and the Impe­r­i­al Age all blend togeth­er in one roman­tic morass. Racism that focus­es on cul­tur­al rather than phe­no­typ­i­cal sig­ni­fiers is no less vicious. This dog whis­tle is, of course, a foghorn, a clar­i­on call to white resent­ment with only a slight pati­na of plau­si­ble deniability.
This log­ic holds the con­tra­dic­tions of the far Right in check. It allows Nigel Farage to tub thump about the brave British Tom­mies of D‑Day whilst break­ing bread with the Ger­man AFD par­ty, with its links to actu­al neo-Nazis; sure, we fought in the past, but a shared Euro­pean­ness pre­dates those skir­mish­es. It is what allows far­righters across the world to con­demn the elites of the EU and push for Brex­it, whilst remain­ing loy­al to an ide­al of ​"Euro­pean civ­i­liza­tion." Merkel and Macron, in their eyes, have ​"betrayed" the idea of Europe through an appar­ent­ly insuf­fi­cient cru­el­ty to migrants and Mus­lims. (Though some of Europe's bor­der poli­cies should be enough to make Trump loy­al­ists sali­vate with envy.)
Per­haps we should not be sur­prised that ​"Europe" pro­vides such a use­ful vehi­cle for the ghast­ly utopi­an visions of the white suprema­cist far Right. White­ness as a social and polit­i­cal cat­e­go­ry deems a cer­tain sec­tion of the pop­u­la­tion inher­ent­ly more deserv­ing of mon­ey, pow­er and resources— and there­fore comes in handy to jus­ti­fy poli­cies that strip mon­ey, pow­er and resources from ​"less­er" pop­u­la­tions. This white­ness has long been inte­gral to Euro­pean-based nations jus­ti­fy­ing their extrac­tion of resources and their forc­ing peo­ple into sub­ju­ga­tion or slav­ery. In 1884, the Berlin Con­fer­ence brought Euro­pean lead­ers togeth­er to carve up Africa into ban­quet­ing halls on which var­i­ous nations could gorge. That was a project of white­ness — an unsteady inter­na­tion­al accord to secure the pow­er of a cer­tain class of peo­ple. In our post-colo­nial era, white polit­i­cal and eco­nom­ic ascen­den­cy inscribes itself on the world via pan-Euro­pean and supra-nation­al insti­tu­tions, from trade deals to mil­i­tary alliances. The far Right has a way of ghoul­ish­ly pan­tomim­ing the under­ly­ing dynam­ics of white­ness oth­er­wise con­cealed by macro polit­i­cal machi­na­tions and diplo­mat­ic respectabil­i­ty. And so, Steve Bannon's Euro­pean Dream is born.
Eco­nom­ic dis­ar­ray, the dashed hopes of Spinel­li-style Europhil­i­acs and the increas­ing ambi­tion of the far Right haven't cre­at­ed the ten­sions around Euro­pean­ness; they have thrown them into sharp relief. Those deter­mined to secure some kind of pro­gres­sive future for the con­ti­nent, to fore­stall fas­cist creep, must ask our­selves what rad­i­cal inter­na­tion­al­ism is pos­si­ble with­in the frame­work of Euro­pean­ness. Can we imag­ine a com­mu­ni­ty of Europe unan­chored from its dubi­ous ori­gins and neolib­er­al present? How can we call our­selves Euro­pean whilst grap­pling with its grim his­to­ry of racism and exclu­sion? What, if any­thing, can be sal­vaged from the wreckage?
Eleanor Pen­ny
is a writer, poet and essay­ist based in Lon­don. She is a senior edi­tor at Novara Media and the online edi­tor of Red Pep­per magazine.