Street Vendors Protest Stifling Regulations—and Start to Organize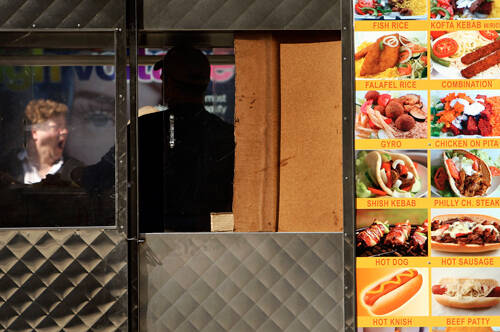 Face uphill battle against bureaucracy, ​'net of restrictions'
The success and popularity of upscale food carts have painted a rosy picture of street vending. Stories of upstart entrepreneurs serving gourmet eats to budget minded epicureans on-the-go have received lots of fanfare. But the thousands of working-class street vendors in urban cities have faced significant challenges.

Vendors in urban areas like New York have encountered police harassment and city officials enforcing stiff fines and penalties. Now, they are beginning to organize nationwide in an effort to empower a workforce comprised of mostly immigrants and disabled veterans.

Street vendors are ubiquitous throughout New York City, yet they have had a fraught relationship with the local government. The business is highly regulated by multiple city departments, creating a ​"complex net of restrictions" that make it difficult for vendors to comply with rules and regulations, according to the Urban Justice Center, an advocacy group for vendors.
The frustration brewed last week in New York City when street vendors protested at City Hall against a new ordinance that prohibits vendors to leave their carts unattended.
Among the gatherers was Shiraj Islam, a peanut vendor who had his license revoked after he left his cart to go the bathroom. The father of four usually has a friend watch the cart but he has been using the bathroom more frequently because of health issues. Now, he has lost $150 in potential daily income as he re-applies for a new permit.

The rule went into effect this year and is intended to prevent ​"immediate health hazards" to food that could become contaminated. But vendors and advocacy groups have protested the policy. A survey by the Urban Justice Center said some vendors have health problems, including sore backs from long work hours and urinary problems.

The bathroom ordinance and other bureaucratic policies have made it difficult for vendors in the Big Apple. The city has only distributed 3,100 food vending permits every year since 1979, far lower than the demand. In response, a black market has thrived where permit holders sell their licenses for expensive fees. The city also offers a bidding process for prime locations that often pits vendors against each other.

To further add to vendors' financial woes, the city has hazy rules on authorized vending areas, which cause many to receive fines. Police hand down summonses to vendors, often playing a tiresome cat-and-mouse game with authorities in order to avoid stiff penalties that are as high as $1,000. The New York Times recounted the frustrating encounters with the police and city officials:
Vendors said they were in a catch-

22

situation: If they were near the curb they would be ticketed for obstructing the bus and taxi stops, and if they were farther out on the sidewalk they would be ticketed for being too far from the curb.

With a median income of $7,500 for the average vendor, the fines are devastating to their livelihoods. In some cases, police have even slapped down criminal penalties instead of civil summons, which could potentially cause immigration problems for vendors.

As more people begin to explore self-employment through food vending, the laws have not been able to keep up. Cities that do not have a long history of street vending tend have stricter rules in place.
As In These Times reported in September, Chicago's bureaucratic regulations causes vendors to work outside of the law and risk fines up to $1,000. Merchants in San Francisco have fueled the myth that vendors practice unfair competition and hamper business. Communities in Los Angeles are raising ​"quality of life" issues over the growing number of taco trucks, a charge criticized for fueling xenophobia.

But organizations and vendors are beginning to organize; the first ever national vendor conference will be held in May at UCLA. The battle over public space is a crucial issue for these workers, whose daily earnings are continually dwindled by outdated laws and unfair policies.