The Most Important Thing Missing from Coverage of Syria: The Perspectives of Syrians Themselves
Given that Syrians are the ones most affected by the conflict, it's remarkable how little we hear from them.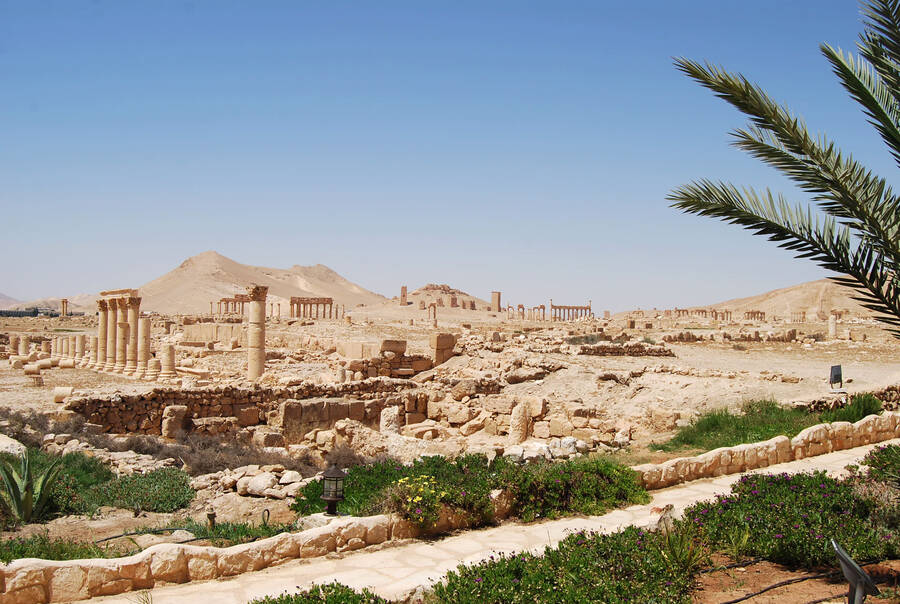 Judg­ing from the news cov­er­age, you'd think the Syr­i­an con­flict was about every­one but the Syr­i­an peo­ple. Syr­i­an per­spec­tives have been almost entire­ly absent from con­ver­sa­tions about the refugee cri­sis, ISIS and the fate of the Assad régime. Robin Yassin-Kassab and Leila Al-Shami's Burn­ing Coun­try: Syr­i­ans in Rev­o­lu­tion and War offers a com­pelling counter-nar­ra­tive, rich with the voic­es of the Syr­i­an people.
The only reason that life is functioning in the liberated areas is because of the existence of local councils and because people are self-managing their communities.
Equal parts his­to­ry and analy­sis, Al-Sha­mi and Yassin-Kassab fore­ground the grass­roots orga­ni­za­tions and cul­ture that have flow­ered in Syr­ia since the rev­o­lu­tion began, despite the Assad régime and ISIS's attacks. Most illu­mi­nat­ing is the authors' dis­cus­sion of the local coun­cils that over­see the func­tion­ing of pub­lic ser­vices pri­mar­i­ly in rebel-con­trolled ter­ri­to­ry, of which there are more than 400.
Robin Yassin-Kassab is a nov­el­ist and jour­nal­ist who is co-edi­tor at PULSE. Leila Al-Sha­mi is a human rights activist who has worked in Syr­ia and around the Mid­dle East since 2000. She was a found­ing mem­ber of Tahrir-ICN, a net­work con­nect­ing anti-author­i­tar­i­an strug­gles across the Mid­dle East, North Africa and Europe.
Before a recent book event in Chica­go, I spoke with Yassin-Kassab and Al-Sha­mi at In These Times' office about the cur­rent state of the Syr­i­an rev­o­lu­tion, the local coun­cils, media mis­in­for­ma­tion and for­eign intervention.
There are lots of books on the Syr­i­an rev­o­lu­tion. What does yours con­tribute that oth­ers don't?
L: Every­body was talk­ing about Syr­ia, but nobody was talk­ing to Syr­i­ans. So you get all these grand nar­ra­tives, you get a focus on geopol­i­tics, you get a focus on the Islamiza­tion, on the rise of extrem­ist groups, but you don't actu­al­ly get peo­ple who are talk­ing about the pop­u­lar strug­gle on the ground, what the ordi­nary Syr­i­ans are engaged in. Those are the voic­es that we want­ed to raise.
Skir­mish­es have recent­ly erupt­ed out­side of Alep­po and oth­er north­ern areas between gov­ern­ment forces and rebels, and the cease­fire between the two seems to be dis­in­te­grat­ing. What is the con­di­tion of the Syr­i­an rev­o­lu­tion today? Has the rev­o­lu­tion failed?
R: The Syr­i­an rev­o­lu­tion has suc­ceed­ed remark­ably when you con­sid­er the extent of the coun­ter­rev­o­lu­tion­ary forces and impe­ri­al­ist forces aligned against it. It's remark­able that there are still hun­dreds of main­ly demo­c­ra­t­i­cal­ly elect­ed local coun­cils, self-orga­nized com­mu­ni­ties still func­tion­ing in the lib­er­at­ed areas. There are still all these free news­pa­pers, free radio sta­tions. There's still so much debate and dis­cus­sion and argu­ment going on. That's an incred­i­ble suc­cess in the most dif­fi­cult of circumstances.
Describe the local coun­cils. What are they, how do they func­tion, who's involved with them?
L: The local coun­cils are the basic admin­is­tra­tive struc­tures set up in the lib­er­at­ed areas. As the state was forced out or with­drew, it also with­drew the pro­vi­sion of pub­lic ser­vices, and by 2013 and 2014 the state was no longer in con­trol of four-fifths of the country.
These coun­cils are made up usu­al­ly of demo­c­ra­t­i­cal­ly elect­ed rep­re­sen­ta­tives or peo­ple chose them by pop­u­lar con­sen­sus. They're made up of pro­fes­sion­als that have spe­cif­ic tech­ni­cal abil­i­ties, so peo­ple who have agri­cul­tur­al exper­tise, water and san­i­ta­tion exper­tise. They're made up of the activists often from the local coor­di­nat­ing com­mit­tees, peo­ple that were very active in the rev­o­lu­tion­ary move­ment. And they're also made up of fam­i­ly mem­bers and trib­al mem­bers from promi­nent tribes and fam­i­lies from that area.
Their job is to pro­vide ser­vices to the local pop­u­la­tion. They try to keep the water and elec­tric­i­ty sup­ply func­tion­ing. If they can't get the elec­tric­i­ty cables fixed, they set up solar pow­er pan­els. They recy­cle methane from waste to try to extract ener­gy. They also grow food for com­mu­ni­ties under siege. They are in charge of garbage dis­pos­al. Some of the larg­er coun­cils might have a depart­ment that's respon­si­ble for legal work, a depart­ment for civ­il doc­u­men­ta­tion, and or even a media depart­ment because get­ting news to the out­side world is important.
How wide­spread are they?
L: There's over 400; I've seen esti­mates of up to 700.
Do they still exist?
L: They're still there. The only rea­son that life is func­tion­ing in the lib­er­at­ed areas is because of the exis­tence of local coun­cils and because peo­ple are self-man­ag­ing their communities.
R: Of course they get stamped out when­ev­er Assad or ISIS cap­ture an area.
L: The coun­cils are based on Syr­i­an anar­chist Omar Aziz's vision. He pro­duced a paper in the eighth month of the rev­o­lu­tion in which he argued that it wasn't enough for peo­ple to just go out and protest — they also had to find ways of orga­niz­ing that were chal­leng­ing these author­i­tar­i­an struc­tures of orga­ni­za­tion that were imposed by the state. He said that local coun­cils could be a forum for peo­ple to col­lab­o­rate effec­tive­ly, man­age their lives inde­pen­dent­ly of the state and also ini­ti­ate a social rev­o­lu­tion, at the local lev­el and also at the region­al and nation­al lev­els through link­ing of the councils.
What is the sig­nif­i­cance of the Assad régime re-tak­ing Palmyra from ISIS? Has­san Has­san says this is pri­mar­i­ly a polit­i­cal move meant to con­vince the world that the Assad régime is the only force that can stand up to ISIS. But main­stream rebels will con­tin­ue to be the Assad régime's pri­ma­ry tar­get. Do you agree? [Editor's note: doc­u­ments leaked after this inter­view took place seem to indi­cate that ISIS and Assad nego­ti­at­ed a deal for the for­mer to with­draw from Palmyra.]
R: Absolute­ly, I agree. The loss and recap­ture of Palmyra has been real­ly quite the­atri­cal. It's notable that when ISIS cap­tured Palmyra, they sent a huge con­voy across the desert from Raqqa. It's very easy to see it from the air. Nei­ther the Amer­i­cans nor the Assad régime who were bomb­ing ISIS, sup­pos­ed­ly — which has bombed almost every­thing in the coun­try — suc­ceed­ed in or even tried to bomb the con­voy that came to take Palmyra. The régime want­ed them to take Palmyra. They want­ed them to blow up some of the her­itage there because they knew that the world media would focus on that more than they focus on the Syr­i­an people.
Now, sup­pos­ed­ly the Assad régime has recap­tured Palmyra but actu­al­ly the forces that did it were under Russ­ian air cov­er with Russ­ian irreg­u­lar troops on the ground, with troops from Ser­bia, with lots of Iran­ian troops, lots of transna­tion­al Shia jihadists from Lebanon, Afghanistan, Iraq and else­where and a few Syr­i­an troops, too. This is part of the the­atrics the Assad régime has helped to build up, a jihadist oppo­si­tion includ­ing ISIS. Until the sum­mer of 2014, the Assad régime had, in effect, an unde­clared non-aggres­sion pact with ISIS.
It's fought ISIS since then when it's polit­i­cal­ly expe­di­ent for the régime to be seen fight­ing. The Assad régime wants to present itself as the only alter­na­tive. It's either Assad or ISIS. Most Syr­i­an peo­ple would prob­a­bly say, ​"ISIS is bet­ter than Assad" because Assad and his allies are respon­si­ble for the vast major­i­ty of the civil­ian casu­al­ties and dis­place­ment of peo­ple. Of course, the West is going to think the guy who shaves is bet­ter than the mad­man with a beard who wants to blow us up in Lon­don and New York and every­where else.
L: It's telling that all the peo­ple that fled Palmyra haven't returned. If it had been lib­er­at­ed, peo­ple would feel safe to go back. That's not the case.
Let's talk about what the media has got­ten wrong. There's this dom­i­nant nar­ra­tive that we can't fight Assad and ISIS at same time. We have to pick one. You both dis­agree. Why?
R: The Syr­i­an peo­ple have been fight­ing both and oth­ers at the same time. That's a false choice. This bina­ry choice has been one that's been set up by the Assad régime and its inter­na­tion­al back­ers and far too many use­ful idiots in the West have fall­en into this trap.
Right, but what Robert Fisk and Patrick Cock­burn argue is that if you knock out the Assad régime, there will be a vac­u­um and the most pow­er­ful force left to fill it will be ISIS. Why is that untrue?
L: Because they're fol­low­ing the nar­ra­tive that's been giv­en to them by states. That's the nar­ra­tive of the Assad régime. That's the nar­ra­tive of Rus­sia. But pol­i­tics of lib­er­a­tion should be ground­ed in what peo­ple are doing, about people's strug­gles, pop­u­lar strug­gles. That's where we should root our analy­sis, root our sup­port. And it's very clear that on the ground, peo­ple are strug­gling against all forms of author­i­tar­i­an­ism includ­ing orga­ni­za­tions like Jab­hat al-Nusra.
R: It's shock­ing that jour­nal­ists like the two that you've just men­tioned are held up as author­i­ties by sup­posed left­ists and pro­gres­sives in the West. The report­ing that these peo­ple have done has been ori­en­tal­ist and even racist. It's been straight­for­ward fraud­u­lent in cer­tain circumstances.
Robert Fisk, for exam­ple, wrote a piece dur­ing the Iraq war, a good piece, in which he com­plained about embed­ded jour­nal­ism. He talked about jour­nal­ists going in on Amer­i­can tanks with Amer­i­can sol­diers and ask­ing Iraqis ques­tions and obvi­ous­ly not get­ting hon­est answers. [But] he did exact­ly the same thing. In the Der­aya mas­sacre when the Syr­i­an régime army had mas­sa­cred between 400 and 1000 peo­ple he went in embed­ded with the Syr­i­an army and asked peo­ple ques­tions and got a ridicu­lous set of answers which has been com­plete­ly con­fut­ed by the local coor­di­na­tion com­mit­tees, by local peo­ple in Der­aya and also by seri­ous jour­nal­ists like Janine di Gio­van­ni who went in with Syr­i­an civil­ians.
Patrick Cock­burn describes the Syr­i­an oppo­si­tion as an oppo­si­tion which ​"shoots chil­dren in the face for minor blas­phe­my." That's ISIS. That's not the Syr­i­an oppo­si­tion. The Syr­i­an oppo­si­tion has lost tens of thou­sands of men fight­ing ISIS. He says the Free Syr­i­an Army doesn't exist. Well, I've met them. We've seen in the news the results of their hero­ic bat­tles against both Assad and ISIS. They cleared ISIS out of the whole of West of Syr­ia in Jan­u­ary 2014. This guy, for his own ide­o­log­i­cal rea­sons, just ignores it.
Noam Chom­sky comes up with very strange ideas about Syr­ia. He's in effect serv­ing this fas­cist pro­pa­gan­da. He says he under­stands what's hap­pen­ing in Syr­ia because his friend Patrick tells him about it. When you've got these old white men who rely on each oth­er for their news about Syr­ia, rather than actu­al­ly talk­ing to Syr­i­ans, then we're lost. We're not being left­wing and pro­gres­sive peo­ple. They come out with sil­ly con­spir­a­cy theories.
Like Sey­mour Hersh?
R: Like Sey­mour Hersh. They see Amer­i­can régime change plots every­where, when it's obvi­ous Oba­ma has hand­ed over the Syr­ia file to oth­er sav­age impe­ri­al­ists like the Russ­ian and Iran­ian states. The most sig­nif­i­cant U.S. mil­i­tary inter­ven­tion has been to veto oth­er pow­ers that want to pro­vide anti-air­craft weapons to the resis­tance. The Amer­i­cans have vetoed that again and again. The Amer­i­cans don't want democ­ra­cy in Syr­ia. They don't want the suc­cess of a rev­o­lu­tion in the Mid­dle East. And these West­ern left­ists are so obsessed with the false notion that Amer­i­ca is in there try­ing to do a régime change that they com­plete­ly ignore work­ing-class peo­ple strug­gling against the vio­lence of a fas­cist and neolib­er­al régime.
L: It's also a form of impe­ri­al­ism, because it's such a West­ern-cen­tric dis­course. Peo­ple are basi­cal­ly say­ing that we know more about your strug­gle than you do. We don't need to lis­ten to Syr­i­an voic­es. We don't need to leave a space for Syr­i­ans to define them­selves what's hap­pen­ing in their coun­try because we think that we have all the answers.
But you acknowl­edge that the Free Syr­i­an Army is an umbrel­la orga­ni­za­tion, right? And do you dis­agree with Fisk's assess­ment that there has been mass defec­tion, many of the defec­tors join­ing Nus­ra and ISIS?
L: Who's just tak­en back 20 vil­lages in the past week in the north of Syr­ia? It's the Free Syr­i­an Army.
But it's unclear who they are.
R: The Free Syr­i­an Army is not one army. The Free Syr­i­an Army is an umbrel­la term for more than 1000 dif­fer­ent mili­tias. When we call them the Free Syr­i­an Army, what we mean is that these mili­tias are non-ide­o­log­i­cal. Their only aim is to defend their com­mu­ni­ties from pri­mar­i­ly régime attacks, some­times from ISIS, too, to get rid of the régime and then allow the Syr­i­ans them­selves to choose what comes next through some kind of process.
Then you've got the Islam­ic Front groups, which are groups with an Islam­ic agen­da. They say that they want an Islam­ic state.
Like Jaysh al-Islam.
R: Jaysh al-Islam, Ahrar al-Sham are the two biggest, Liwa al-Tawheed, etcetera. These are peo­ple with a Syr­i­an con­stituen­cy and Syr­i­an agen­da, and they should have a say in the final solu­tion because they rep­re­sent some Syr­i­ans although we don't like their pol­i­tics very much and they have com­mit­ted abuses.
Do you think they're will­ing to fol­low demo­c­ra­t­ic procedures?
R: In prac­ti­cal terms, yes, although our book is ded­i­cat­ed to Razan Zaitouneh, who was prob­a­bly abduct­ed by Jaysh al-Islam in Douma. Nev­er­the­less, in Douma, in areas where these mili­tias have a strong pres­ence, there are local coun­cils hold­ing elec­tions and func­tion­ing. They don't inter­fere with that. They gen­er­al­ly allow peo­ple to protest with­out shoot­ing at them. It's immea­sur­ably bet­ter than the sit­u­a­tion under either ISIS or Assad.
Then there are these transna­tion­al jihadist groups with a glob­al agen­da who have jumped into the chaos to take advan­tage like Nus­ra, which is the al-Qae­da fran­chise and ISIS. They are a third force, espe­cial­ly ISIS. It's a for­eign occu­pa­tion. It's not part of the rev­o­lu­tion at all.
It's true that some Free Army fight­ers have left Free Army brigades and joined more Islamist brigades and in some cas­es even ISIS or Nus­ra. Not as many as peo­ple like Fisk and Cock­burn say. They just write the whole thing off Islamophobically.
We quote some research in the book from 2012, which admit­ted­ly is four years ago. But they asked fight­ers in Ahrar al-Sham and Nus­ra what was their pre­ferred mode of gov­ern­ment for the future. Was it a civ­il state or an Islam­ic state? Remark­ably, 60 per­cent of the foot sol­diers in these two orga­ni­za­tions said they would pre­fer a civ­il state.
Why does 60 per­cent of the foot sol­diers in Nus­ra, at least four years ago, say that they don't want an Islam­ic state, they want a civ­il state? The rea­son they were mov­ing to these orga­ni­za­tions was for prag­mat­ic rea­sons. It wasn't because of Islam­ic ide­ol­o­gy. It was because the Free Army was not being supportive.
The Free Army would run out of ammu­ni­tion. They couldn't defend them­selves. If they go to an Islamist mili­tia, which had its pre-exist­ing rela­tion­ship with peo­ple in the Gulf and so on, they could then get weapons. They could get ammu­ni­tion. They could defend them­selves. They may even get a small salary, which they could send to their fam­i­ly in a refugee camp. It was the lack of sup­port for the Free Army that led to the rise of some of these Islamist groups.
For peo­ple who are skep­ti­cal of your claim that there are more than 70,000 mod­er­ate rebel forces, to whom are you referring?
R: I'm refer­ring to those Free Army mili­tias. More than a thou­sand mili­tias which are sub­sumed under the non-ide­o­log­i­cal Free Syr­i­an Army label. But I would also add to those most of the fight­ers in the Syr­i­an Islamist mili­tias. I would include peo­ple in Jaysh al-Islam, Ahrar al-Sham, Liwa al-Tal­wheed, orga­ni­za­tions like this. A lot of those foot sol­diers do have a strong Islam­ic iden­ti­ty. We don't. But that does not mean that they are Islamofascists.
They're ordi­nary reli­gious, con­ser­v­a­tive Syr­i­an men who come from reli­gious, con­ser­v­a­tive Syr­i­an com­mu­ni­ties. But they don't have an agen­da of dri­ving out the Chris­tians and the Alaw­is. They don't have an agen­da of impos­ing their idea of an Islam­ic state on the oth­er. They're just using this Islam­ic iden­ti­ty and vocab­u­lary to give them strength as they attempt to defend their com­mu­ni­ties from the régime. The major­i­ty of those peo­ple are mod­er­ates in that all they want is to defend their com­mu­ni­ties from assault and to allow the Syr­i­ans to choose what comes next.
It seems clear you both think Amer­i­can pol­i­cy was wrong on Syr­ia. You write, ​"Amer­i­ca refused to arm the demo­c­ra­t­ic oppo­si­tion prop­er­ly." What should Amer­i­can pol­i­cy have looked like instead?
L: I'm not call­ing for any­thing from Amer­i­ca. I don't think Amer­i­ca should be involved.
No inter­ven­tion at all?
L: No inter­ven­tion. I'm com­plete­ly against it.
Should we be arm­ing anyone?
L: Had the Free Syr­i­an Army been armed in 2013, we would not be in the sit­u­a­tion that we are in now with the mas­sive rise of Islamist groups. I've called for arm­ing the Free Syr­i­an Army. The peo­ple that are strug­gling against anni­hi­la­tion have the right to accept weapons from any­where they can get them.
At the time, it looked like their most real­is­tic hope of that was the West. Peo­ple in Syr­ia were look­ing toward the West to give them weapons which didn't come — cer­tain­ly not the anti-air­craft and the heavy weapons that peo­ple need­ed to defend themselves.
My view is that Amer­i­ca should stay out. It shouldn't be involved. It hasn't played a major role in Syria.
Why do you think Amer­i­ca should have armed the Free Syr­i­an Army when we look at Libya where the Unit­ed States along with NATO, in effect, backed the oust­ing of Gaddafi? Things haven't turned out well.
L: If Gaddafi had not fall­en, Libya now would look very much like Syr­ia. In real­i­ty, the sit­u­a­tion in Libya is a mil­lion times bet­ter. Syr­i­an refugees are flee­ing to Libya. Far few­er peo­ple have been killed in Libya since Gaddafi's falling than in Syria.
Gaddafi being oust­ed was a suc­cess for the Libyan peo­ple. The rea­son that there are prob­lems in Libya now is not because Gaddafi is gone. It's because Gaddafi was in pow­er for decades in which all polit­i­cal par­tic­i­pa­tion was com­plete­ly sup­pressed. All civ­il soci­ety was com­plete­ly sup­pressed. The idea that from that sit­u­a­tion peo­ple could cre­ate a per­fect democ­ra­cy is fal­la­cy. It takes peo­ple time to build that.
R: It's so West-cen­tric, this notion that British and French inter­ven­tion pri­mar­i­ly, with a bit of Amer­i­can back­ing, is why Gaddafi fell. What the Libyan peo­ple did was irrel­e­vant. There's chaos in Libya now and wouldn't it have been so much bet­ter if this fas­cist was still there able to slaugh­ter his peo­ple. What hap­pened was there was a pop­u­lar rev­o­lu­tion in Libya. This hap­pened months before Britain and France got involved. There was going to be a civ­il war in Libya whether or not Britain and France chose to get involved.
Eli Massey
is an inde­pen­dent jour­nal­ist, edi­tor, and researcher. His work has has appeared in the Chica­go Tri­bune, Cur­rent Affairs, Jacobin, Mon­doweiss, and else­where. He pre­vi­ous­ly was an intern at the Insti­tute for Pol­i­cy Stud­ies where he worked on Mid­dle East pol­i­tics and an edi­to­r­i­al intern at In These Times. Fol­low him at @EliJMassey