The GOP Tax Bill Opened a New Front in the Class War
Republicans just sold out the poor and middle class to enrich the wealthy elite. Next year is an opportunity to take back what's rightfully ours.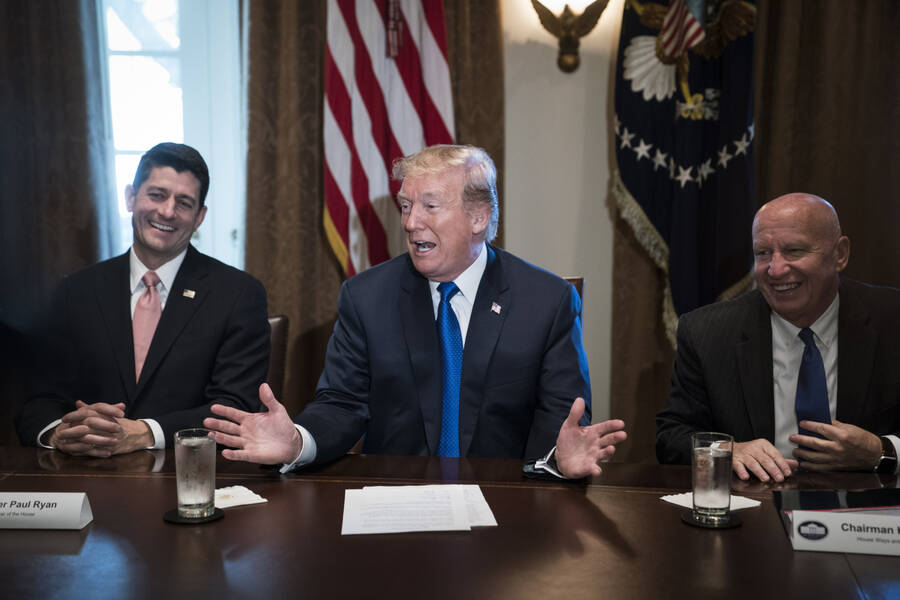 The Amer­i­can econ­o­my is about to under­go anoth­er shock. Yet this time there will be no burst­ing bub­bles, oil crises or col­laps­ing finan­cial insti­tu­tions to blame.
The super rich have shown that they want it all, and won't give an inch without a fight. Next year's elections are an opportunity to show what that fight could look like.
The cur­rent eco­nom­ic sta­tus quo — with stock mar­kets soar­ing while wages remain flat and inequal­i­ty widens — is both unsta­ble and unsus­tain­able. The com­ing shock will only accel­er­ate these trends in order to ben­e­fit the wealthy, and it's being deliv­ered in the form of tax ​"reform" by a Repub­li­can Par­ty dead set on pleas­ing its donor class while hang­ing work­ing peo­ple out to dry.
As many econ­o­mists have point­ed out, at its core, the GOP's tax bill rep­re­sents a mas­sive trans­fer of wealth from the bot­tom of soci­ety up to the top. The rich will ben­e­fit enor­mous­ly, while half of all tax­pay­ers will actu­al­ly see their tax­es increase over the next ten years. The top 1 per­cent will see a full 83 per­cent of the gains.
This bill isn't just anoth­er give­away to the wealthy elite like pre­vi­ous Repub­li­can tax plans: It's a direct assault on the peo­ple who actu­al­ly cre­ate the goods and offer the ser­vices that make our soci­ety run. In oth­er words, it's a new front in the class war.
As writer and activist Nao­mi Klein explains in her book The Shock Doc­trine, true believ­ers in the mar­ket-obsessed ide­ol­o­gy of neolib­er­al­ism have long pushed for a ​"cor­po­ratist" eco­nom­ic sys­tem. ​"It's main char­ac­ter­is­tics are huge trans­fers of pub­lic wealth to pri­vate hands," she writes, ​"often accom­pa­nied by explod­ing debt, an ever-widen­ing chasm between the daz­zling­ly rich and the dis­pos­able poor and an aggres­sive nation­al­ism that jus­ti­fies bot­tom­less spend­ing on security."
Such is the form of shock Pres­i­dent Trump and Repub­li­cans in Con­gress are attempt­ing to inflict with their new­ly signed tax bill, a dream come true for the Robert Mer­cers and Shel­don Adel­sons of the world.
Under this bill, cor­po­ra­tions will see their tax­es slashed from 35 per­cent to 21 per­cent, ful­fill­ing a long­time Repub­li­can pol­i­cy goal. Multi­na­tion­al com­pa­nies that already evade tax­a­tion by shoring their prof­its over­seas will be reward­ed with a new tax rate as low as 8 per­cent — while also avoid­ing pay­ing full tax­es on future prof­its they claim to earn abroad.
Own­ers of cer­tain so-called ​"pass-through" busi­ness­es — includ­ing pri­vate real-estate firms like the type Pres­i­dent Trump has a stake in — will be able to take a 20 per­cent deduc­tion for the income they receive from their com­pa­nies. As Inter­na­tion­al Busi­ness Times reports, this give­away could per­son­al­ly ben­e­fit both Repub­li­can lead­ers and real estate tycoons.
At a time of sky­rock­et­ing cor­po­rate prof­its and mas­sive­ly unequal growth, the same com­pa­nies that have hol­lowed out work­ing-class com­mu­ni­ties by shut­ter­ing fac­to­ries and mov­ing jobs abroad will make out like ban­dits. And the poor and mid­dle class will pay the price.
In addi­tion to the tax increase they'll face down the road, low-income fam­i­lies also stand to lose up to $19 bil­lion over the next decade due to changes in how infla­tion is cal­cu­lat­ed. The repeal of the indi­vid­ual man­date on health insur­ance will result in a 10 per­cent increase in pre­mi­ums for those who are insured. And it will mean that 13 mil­lion Amer­i­cans will most like­ly drop their health cov­er­age. As a result, many of these peo­ple will forego nec­es­sary treat­ment, almost cer­tain­ly lead­ing to seri­ous ill­ness and pre­ma­ture death for count­less Americans.
At the same time, the bill will increase the deficit by $1.4 tril­lion, prov­ing yet again that Repub­li­cans don't actu­al­ly care about bal­loon­ing gov­ern­ment costs when they serve to enrich their afflu­ent friends and cam­paign con­trib­u­tors. In prac­tice, this deficit-inflat­ing tax bill is just the first step in a much broad­er plan to hack away at social wel­fare pro­grams includ­ing Social Secu­ri­ty, Medicare and Med­ic­aid. Paul Ryan, Mar­co Rubio and oth­er lead­ing Repub­li­cans have already admit­ted as much.
Even with­out these addi­tion­al cuts, the cur­rent bill is set to lead to a 4 per­cent cut to Medicare, which would prove dev­as­tat­ing to seniors who rely on the pro­gram for their health care. The bill's elim­i­na­tion of state and local tax deduc­tions will fur­ther serve the inter­ests of the wealthy while mak­ing work­ing peo­ple pay more — and could cause cuts to vital pub­lic services.
The dis­as­trous effects of this bill on work­ing Amer­i­cans will be felt for decades to come. Cor­po­ra­tions will be able to pock­et more prof­its while the super rich are allowed to pass on even more of their grotesque lev­els of wealth to their chil­dren — all with­out hav­ing to pay into the social com­pact. These heirs to opu­lence are the true win­ners in the new tax régime.
The loss of pub­lic funds, mean­while, will be used as jus­ti­fi­ca­tion to slash the social safe­ty net. And the ratio­nale for the entire scheme will once again be proven a mirage.
The the­o­ry that wealth and jobs will trick­le down from the top once cor­po­ra­tions and the rich are freed from the con­straints of tax­a­tion has always been a lie used to val­i­date tax cuts at the top. It didn't work in the 1980s under Rea­gan, it didn't work in the 2000s under Bush, and it's not going to work today under Trump.
Cor­po­ra­tions are already sit­ting on record prof­its and still aren't invest­ing. The idea that if the gov­ern­ment just lets them keep more of their mon­ey these mas­ters of cap­i­tal will sud­den­ly change course is non­sense. Instead, the wealth gap will con­tin­ue to swell, income inequal­i­ty will wors­en, and the grip of home­grown oli­garchs over our democ­ra­cy will grow ever stronger.
The effects of this shock will be deep and far-reach­ing. But the class war has two sides. Repub­li­cans have put their stock in a bill that is both unpop­u­lar and will hurt the very vot­ers who make up the party's base. Polls show that near­ly two-thirds of Amer­i­cans believe the bill was writ­ten to ben­e­fit cor­po­ra­tions and the rich.
At a time when vot­ers are embrac­ing a pop­ulist mood, reject­ing cor­po­rate influ­ence over gov­ern­ment and elect­ing pro­gres­sive — and open­ly social­ist—can­di­dates, this bill presents an open­ing to push for a real alter­na­tive to the shock of an entrenched cor­po­ratist system.
The super rich have shown that they want it all, and won't give an inch with­out a fight. Next year's elec­tions are an oppor­tu­ni­ty to show what that fight could look like.
Six­ty-five per­cent of Amer­i­cans believe that cor­po­ra­tions already pay too lit­tle in tax­es, so why not demand they pay much more? And three quar­ters think the rich should be taxed at a high­er rate, so how about run­ning on a plat­form of tax­ing the hell out of the 1 per­cent? And that's just the start of what a pro­gres­sive tax agen­da could look like. Can­di­dates could demand that the gov­ern­ment hike the inher­i­tance tax rather than reduc­ing it, insti­tute a finan­cial trans­ac­tion tax and sharply increase tax­es on cap­i­tal gains.
What could be done with the wind­fall from such tax rev­enue? The Unit­ed States could move toward mak­ing col­lege tuition-free, ini­ti­at­ing a Medicare for All health­care sys­tem and ful­ly fund­ing broad-based social wel­fare pro­grams such as food stamps and child care. These are the kind of bold, uni­ver­sal pol­i­cy ideas that would mark a clear break with both the mar­ket fun­da­men­tal­ism that under­girds the GOP tax bill and the tepid means-test­ing approach favored by many cor­po­rate Democrats.
This kind of left eco­nom­ic agen­da won't come about on its own. Move­ments have recent­ly tak­en to the streets in towns and cities across the coun­try to voice out­rage at the Repub­li­can tax plan. And the bill is already being used by Democ­rats to paint Repub­li­cans as out of touch and too aligned with the wealthy. But to build momen­tum behind a redis­trib­u­tive tax pol­i­cy, those dis­gust­ed with the GOP's lat­est leg­isla­tive gam­bit will have to join togeth­er to demand that cor­po­ra­tions and the rich pay far, far more.
The peo­ple who hold the most wealth and eco­nom­ic pow­er in our soci­ety do so only because they are allowed to hoard their rich­es and prof­it from their invest­ments with­out mean­ing­ful checks on their glut­tony. No real democ­ra­cy can coex­ist with such a sys­tem of unchecked eco­nom­ic power.
This tax bill is proof that the only way to upend the cur­rent sys­tem is to take the fight straight to the bank accounts of the rich — and redis­trib­ute both mon­ey and power.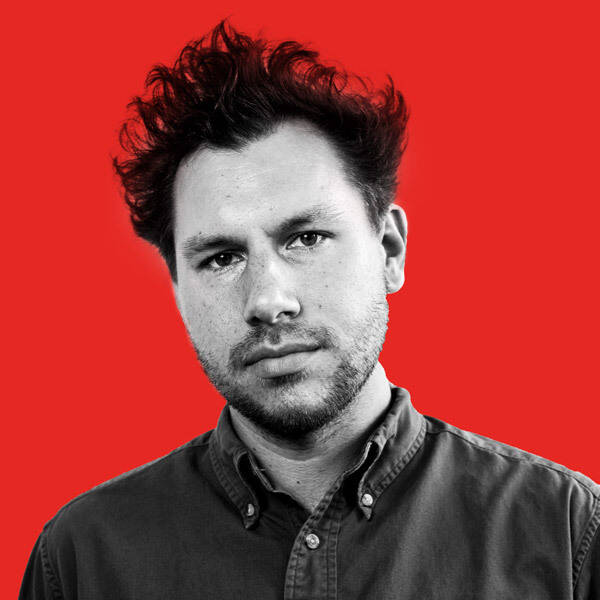 Miles Kampf-Lassin, a grad­u­ate of New York Uni­ver­si­ty's Gal­latin School in Delib­er­a­tive Democ­ra­cy and Glob­al­iza­tion, is a Web Edi­tor at In These Times. Fol­low him on Twit­ter @MilesKLassin