Illinois Teachers Join Wave of Suburban Strikes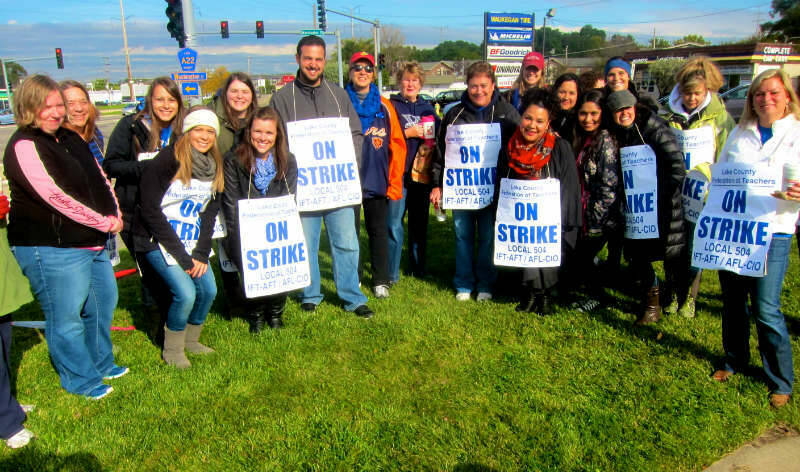 After a breakdown in negotiations with district administrators last week, District 60 teachers in Waukegan, Illinois, are on strike.
The issues under negotiation include professional development, length of school year and, perhaps principally, salary increases and healthcare benefits.
District 60 serves 17,000 students in the city near Chicago. On the district's website, the school board says teacher requests for increases in salary and healthcare benefits would threaten the solvency of the district, which has had financial troubles for much of the last decade.
The teachers and their union representatives disagree. According to the Chicago Tribune:
Mike McGue, president of Lake County Federation of Teachers Local 504, said warnings of bankruptcy are ​"just not true."

McGue said that the school district has gone from a $2.7 million deficit four years ago to a $37 million surplus today.
Despite the inconvenience, some in the community are showing support for the teachers. Teacher salaries in Waukegan are significantly lower than in some neighboring districts, especially at the high school level.
Meanwhile, farther south, Hinsdale District 86 teachers submitted their ten-day strike notification. While Waukegan is a working class area, District 86 represents the more affluent communities of Oak Brook, Darien, Burr Ridge and others. The negotiation centers on the familiar topics of healthcare costs and prep periods. District administration has begun advertising for scab teachers.
At a meeting last night, the school board replaced its top negotiators and gave the community a chance to speak, replacing president Richard Skoda and vice president Ed Corcoran with Kay Gallo and Victor Casini.

"We're actively working on a counter-proposal to be presented this week," Gallo said in a statement she read to a large group of people who waited until 1 a.m. Tuesday to learn what the board would do.

The meeting started with many more people — about 1,500 parents, students, teachers and community members — crowding into the Hinsdale Central High School cafeteria to urge the board and teachers to avoid a strike.
About 75 people signed up to address the board and were given unlimited time to speak. Many of them urged the board to accept a two-year deal that was proposed last week by the Hinsdale High School Teacher's Association that represents the district's 377 teachers, counselors, social workers and other staff.
Since the successful 2012 Chicago Teachers Union strike, there has been an increase in militancy throughout the state of Illinois. Highland, Dixon, Lake Forest, Galesburg and Grayslake have all seen strikes in the last two years — for some districts, their first walkoffs ever.
Kevin is an educator and freelance writer in Chicago. Follow him on Twitter at @kevinsolari_.