Teamsters Union Protests Coca Cola's Labor Practices, as Company Shutters Plants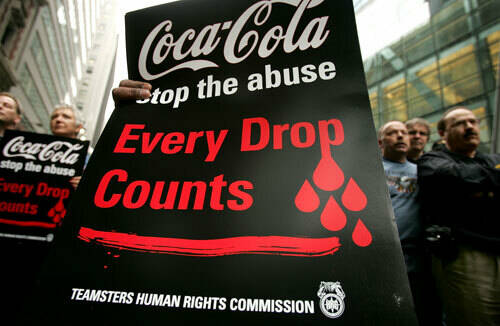 Although they work for a company that popularized the slogan ​"Have a Coke and a smile," Coca-Cola workers are doing more frowning than ever these days.
While the world's largest beverage company has come under fire for their reported anti-union activities abroad, the company is now facing growing labor conflicts here in the United States.
Coca-Cola Enterprises (CCE), the company's bottling, distribution and marketing arm, is at odds with employees over contract issues, union organizing and job cuts. The company has announced plans to shutter factories, and is requesting employee concessions for new labor contracts, leading some workers to strike this week.
The International Brotherhood of Teamsters, which represents about 15,000 CCE workers in North America, has responded by stepping up its campaigns in states with distribution facilities, such as Washington, California and Georgia.
The relationship between the union and the company has become strained, in part because of Coca-Cola Co's decision to acquire CCE this year. The integration of the beverage company and the distribution wing has created anxiety amongst workers, who say that the consolidation will threaten jobs and reduce benefits. Moreover, just as Coke is set to take over the bottling facilities, 55 of the union's labor contracts with Coca-Cola Enterprises are ending this year.
The operational changes has led to labor conflicts across the country. The Teamsters union has said Atlanta-based Coca-Cola is not participating in good faith bargaining and has stepped up anti-union activity. In a statement, they criticized Coca-Cola's proposed distribution plan for threatening jobs and exacerbating inefficiencies.
"The proposed system would introduce third- and fourth-party companies into the distribution process, complicating Coke's current direct delivery to stores. The plan will also eliminate Coke's front line workers from servicing retailers, thus requiring understaffed stores like 7-Eleven to handle all product placement, rotation and displays," the union said.
But Coca Cola is moving forward with its plans. Just months after the company's announcement, it said in July that it was shuttering three plants in Washington, some of which have been around for at least a century. For the remaining union workers in other regional facilities, they have been embroiled in a labor dispute — which evolved into a workers' strike this week.
On Monday, about 500 employees in six locations across Washington state walked out on the job to protest benefit concessions and job cuts. Teamsters Local 117 says the company wants to prohibit retirees from the health insurance program and raise premiums for current workers.
Negotiations have been ongoing since April. The union says the company wants workers to pay for 25 percent of their health benefits, which it says is an 800 percent increase. The company disputes the union's healthcare contribution amount and added they only want to eliminate retiree medical plans for new employees, according to reports.
Similar labor unrest is also happening in California and Georgia, and the Teamsters union has filed suits with the National Labor Relations Board (NLRB) against Coca-Cola for engaging in unfair labor practices.
In Sacramento, Coke had refused to recognize the Teamsters union as the worker's main bargaining agent. But last Friday, a federal judge in Sacramento ruled that Coca-Cola must recognize the union. CCE also settled matters with Teamsters in Atlanta, which filed suit to the NLRB for violating federal labor laws in June. The NLRB approved the settlement, and employees at bottling facilities in the metro area will vote to decide on whether to adopt union representation on October 7.
Coke's labor conflict is common at a time when many companies, despite doing well financially, have been citing the weak economy to justify reducing wages and benefits. Last year, CCE revenues were $21.6 billion. Coca-Cola Co. revenues totaled almost $31 billion. Coke also distributes other beverages like Dr. Pepper, whose parent company is also caught in a labor conflict with Motts in Williamson, N.Y.