Tech Bros Are Losing
The tech industry's golden children can't get away with bigotry.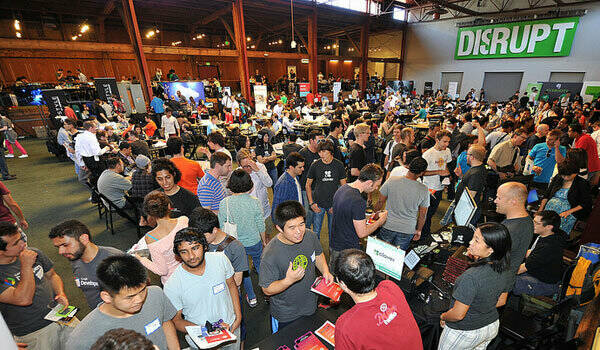 Pax Dick­in­son, for­mer­ly the Chief Tech­nol­o­gy Offi­cer of Busi­ness Insid­er, thinks that he lost his job because we don't under­stand him.
Even as we keep hearing stories about bigoted 'tech bros' ... the resistance to their behavior is growing more widespread, more robust, and much more effective.
This, any­way, is the mes­sage one gets from his recent inter­view with New York Mag­a­zine's Dai­ly Intel­li­gencer. After years of Dick­in­son amus­ing him­self by post­ing mes­sages of vary­ing offen­sive­ness to his per­son­al Twit­ter account, Nitasha Tiku at Val­ley­wag and oth­ers final­ly gave those Tweets a wider audi­ence. And boy howdy, did peo­ple ever get pissed off. Dick­in­son was fired from Busi­ness Insid­er the next day.
​"It's unfor­tu­nate that peo­ple did­n't try to get my side of the sto­ry at all, real­ly," Dick­in­son told the Dai­ly Intel­li­gencer. ​"It was just an instant thing. A post went on on Val­ley­wag at 6:30 p.m., and 9:30 the next morn­ing I lost my job."
The offend­ing Tweets are worth look­ing at, if only to under­stand why they pro­voked such a vis­cer­al reac­tion. There's the one, for exam­ple, where Dick­in­son takes on trans rights:
so he's a woman, but he still has Y chro­mo­somes? now who does­n't under­stand how biol­o­gy works?
There's the one where Dick­in­son explains feminism:
Men have made the world such a safe and com­fort­able place that women now have the time to bitch about not being con­sid­ered our equals.
There's the one where Dick­in­son airs his feel­ings about the work­ing man:
aw, you can't feed your fam­i­ly on min­i­mum wage? well who told you to start a fuck­ing fam­i­ly when your skills are only worth min­i­mum wage?
And then there's the Tweet in which he man­ages to drop the n‑bomb, imply black men are rapists, state that peo­ple who ​"dress like whores" are to blame for their own rapes and ref­er­ence Mel Gib­son — all in few­er than 140 char­ac­ters. We won't print that one here. We would just feel dirty.
But Dick­in­son, appar­ent­ly, thinks we ​"mis­in­ter­pret­ed" these state­ments. Fair enough: When peo­ple are angry and hurt, we typ­i­cal­ly don't spend a lot of time weigh­ing alter­nate per­spec­tives. But Dickinson's own inter­pre­ta­tions aren't exact­ly sooth­ing. On that Tweet about min­i­mum-wage earn­ers, for exam­ple, he told the Dai­ly Intelligencer:
When I say that [some­one's] on min­i­mum wage, you know, I'm point­ing out there's a skill prob­lem; the prob­lem isn't the amount of mon­ey they make, the prob­lem is the skills.
In oth­er words: There's the ​"per­spec­tive," shared by many of Dickinson's detrac­tors, that Pax Dick­in­son thinks peo­ple who do blue-col­lar work deserve to be poor, and to suf­fer. And then, there's the appar­ent Pax Dick­in­son Per­spec­tive: That Pax Dick­in­son thinks peo­ple who do blue-col­lar work deserve to be poor, and to suf­fer, and that it's fine for Pax Dick­in­son to think that.
It's not fine for Pax Dick­in­son to think that. And it seems clear that the peo­ple who called for his ter­mi­na­tion from Busi­ness Insid­er under­stood his so-called intend­ed points pret­ty darn well, and that some­one in a posi­tion of author­i­ty prob­a­bly should­n't be active­ly hate­ful and dis­crim­i­na­to­ry toward the peo­ple who might end up hav­ing to work for him. (Nor is a pub­li­ca­tion like­ly to get the broad­est and most use­ful pool of appli­cants when some­one at that work­place is pub­licly hos­tile toward mar­gin­al­ized folks.) But the way that push­back has played out is fas­ci­nat­ing. Even as we keep hear­ing sto­ries about big­ot­ed ​"tech bros" — Dickinson's Twit­ter cru­sades, for exam­ple, or the oh-so-mature ​"Tit­stare app" prank pulled by Jethro Batts and David Boul­ton at TechCrunch's Dis­rupt Con­fer­ence—the resis­tance to their behav­ior is grow­ing more wide­spread, more robust, and much more effec­tive. And that resis­tance is thanks, in large part, to the same cyber­space land­scape in which these bros have made — or are try­ing to make — their fortunes.
​"I see more activ­i­ty and more enlight­en­ment cer­tain­ly than there used to be, more than there was even five years ago, with­in the [tech] com­mu­ni­ty," says Dean­na Zandt, media tech­nol­o­gist and author. ​"I do think peo­ple are start­ing to rec­og­nize that tox­i­c­i­ty in a com­mu­ni­ty actu­al­ly hin­ders inno­va­tion. Peo­ple are start­ing to rec­og­nize that [big­ot­ed behav­ior] is not gen­er­al­ly a good idea; this is keep­ing peo­ple who might be good for their com­mu­ni­ty out of their community."
Aman­da Hess, who's been cov­er­ing the Dick­in­son sto­ry for Slate, has argued that Dick­in­son's down­fall was sim­ply not under­stand­ing how the Inter­net worked. She attrib­ut­es his behav­ior to ​"dig­i­tal dual­ism," a con­cept that orig­i­nates with the­o­rist Nathan Jurgenson.
​"Some peo­ple see the Inter­net as this space that's divorced from real­i­ty," Hess explains, ​"and it tends to be peo­ple who are less mar­gin­al­ized, who are able to see the Inter­net as this free-wheel­ing Lib­er­tar­i­an play­ground that they can use for what­ev­er they want … Peo­ple who are more mar­gin­al­ized don't have that lux­u­ry. And in many ways those peo­ple turn to the Inter­net to cre­ate fuller lives."
Those mar­gin­al­ized peo­ple, Hess says, turn to the Inter­net to find the sup­port, sol­i­dar­i­ty and com­mu­ni­ty they may not be able to get locally.
When you have an increas­ing­ly large num­ber of mar­gin­al­ized peo­ple who use the Inter­net to find com­mu­ni­ty and deal with the oppres­sion they face in the ​"real world," and a num­ber of priv­i­leged peo­ple who use the Inter­net as a no-rules, no-con­se­quences playpen, some explo­sive con­tact is bound to hap­pen. And, as we've seen with Dickinson's ter­mi­na­tion or the blow­back over the afore­men­tioned Tit­stare — yes, some peo­ple found the idea of an app ​"where you take pho­tos of your­self star­ing at tits" enter­tain­ing, but when you have head­lines describ­ing your work as ​"The Unfun­ni­est Joke in Tech­nol­o­gy" and your con­fer­ence actu­al­ly apol­o­gizes for let­ting you speak, you've prob­a­bly lost the advan­tage — and many oth­ers, those explo­sions seem increas­ing­ly less like­ly to work out in favor of the play-penners.
Zandt also says that it's cru­cial to form com­mu­ni­ties. She points to groups like the Tech Lady Mafia, found­ed by Ami­na­tou Sow and Erie Mey­er, which runs both a pub­lic Tum­blr and a pri­vate list­serv to pro­vide sup­port and job list­ings for women who work in tech, as evi­dence for the impor­tance of coop­er­a­tion in a poten­tial­ly oppres­sive environment.
​"Indi­vid­u­al­ly, tak­ing these things on leads to major burnout real­ly quick­ly, espe­cial­ly if you don't feel like you have influ­ence or you are con­nect­ed," Zandt says. She rec­om­mends that peo­ple who want to mean­ing­ful­ly resist sex­ism or prej­u­dice in their indus­try spend time ​"seek­ing out net­works of peo­ple who can make you feel not com­plete­ly insane, so that you have those com­mu­ni­ties when you need them."
Still, if we seek sup­port only in com­mu­ni­ties of peo­ple who share our prob­lems, it's easy to cast our con­cerns as lim­it­ed, per­son­al, and there­fore irrel­e­vant. It's true, as tech jour­nal­ists like Jen­na Wortham have argued, that the Inter­net makes the world more trans­par­ent: It's increas­ing­ly impos­si­ble to live in a men­tal gat­ed com­mu­ni­ty, hear­ing only from the peo­ple who share your loca­tion or your priv­i­leges or your tastes. Yet struc­tur­al priv­i­lege ensures that, even if every­body can be heard, only some will be lis­tened to.
Zandt argues that one of the major vic­to­ries in recent years, and one of the big rea­sons that it's eas­i­er to tack­le racism, sex­ism and oth­er forms of big­otry online, is the increas­ing num­ber of priv­i­leged allies who are will­ing to speak up. She cites John Scalzi, a white sci-fi writer who com­mit­ted him­self to explain­ing priv­i­lege in terms that were relat­able to fel­low white male nerds, or Toby Daniels, who com­mit­ted him­self to gen­der par­i­ty at Social Media Week, as exam­ples of peo­ple who were will­ing to ​"cross-pol­li­nate" social jus­tice ethics into a tech world that had pre­vi­ous­ly ignored, or even resist­ed them.
​"Encour­ag­ing allies to stand up is real­ly like a stand­ing ova­tion," Zandt says. ​"If one per­son stands up it's awk­ward. If three or four peo­ple stand up, you start to get a sense that more of us should be stand­ing up."
And when most of the room is stand­ing up, every­one will notice that Pax Dick­in­son is still sit­ting down, and won­der why he does­n't get it. If we spend more time chang­ing minds, we can spend less time crack­ing skulls.
But this isn't cause for unlim­it­ed opti­mism or for com­pla­cen­cy. As Hess points out, Dick­in­son was putting his tox­ic tweets out into the world for years (the n‑bomb dates back to 2010), and they did­n't affect his abil­i­ty to work until Val­ley­wag picked them up. Rely­ing on allies only works in a struc­ture where allies are still gate­keep­ers to main­stream atten­tion, whether that atten­tion is pos­i­tive or negative.
Still: It only took 14 hours to effect con­se­quences for years of big­otry. The sad tale of Mis­un­der­stood Pax Dick­in­son is not just a sto­ry about the fact that he was prej­u­diced, or that prej­u­diced peo­ple exist in the world of tech. The sto­ry is also about the fact that those peo­ple exist, and, thanks to the rapid­ly decreas­ing tol­er­ance for their atti­tudes, they're los­ing—both online and off of it.