Teenage Activist Malala Yousafzai Remains in Critical Condition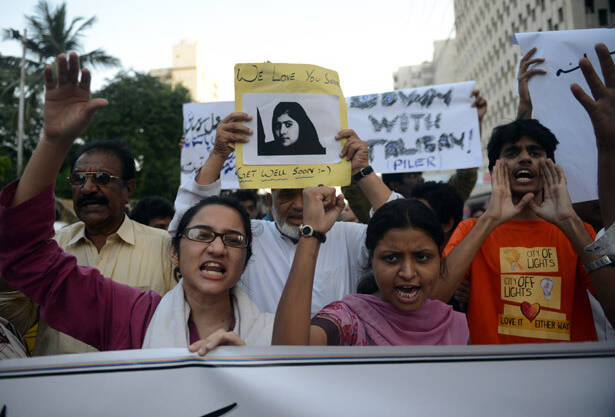 Malala Yousafzai, the 14-year-old Pakistani girl who was shot by the Taliban Tuesday on her way home from school, remains in critical condition.
Yousafzai, who was targeted for promoting girls' education rights, was helicoptered from the military hospital in Peshawar, where she was recovering from surgery, to a military hospital in Rawalpindi that has better-quality critical care facilities. Doctors in Peshawar were able to remove the high-velocity bullet from near her spine. However, one of Yousafzai's surgeons tells CBS News that the bullet ​"damaged critical areas of her brain." The next 24 hours may determine the outcome for the young girl. Mumtaz Khan, one of Yousafzai's doctors, told Al Jazeera that she has a 70 percent chance of survival.
Yousafzai entered the public eye and became a target of the Taliban by 2009 at the age 11. She started blogging for BBC under a pseudonym, writing about life in the Swat Valley, which was then under Taliban rule. Once the extremists were pushed out by the military, Yousafzai began to publicly advocate girls' education and openly criticize the Taliban for its violent deeds against girls' schools. She was subsequently awarded Pakistan's National Peace Award for Youth.
The assassination attempt has caused widespread public upset. Schools closed down Wednesday in protest and prayer, and people from across the country have reached out in support of Yousafzai. The government is also outraged, offering a $104,000 reward for information leading to the shooters.
Today also marks the first-ever United Nations International Day of the Girl Child, and the international community has rallied around Yousafzai. In the United States, Secretary of State Hillary Clinton praised the teenage activist, saying, ​"She was attacked and shot by extremists who don't want girls to have an education and don't want girls to speak for themselves, and don't want girls to become leaders."
The issues of girls' and women's rights have frequently served as a justification for military action against the Taliban, but among those condemning the attack are Pakistanis who have also denounced U.S. policy in Afghanistan and Pakistan. In Lahore, about 200 people gathered Wednesday in protest of the assassination attempt. Female members of the the Pakistan Tehreek-i-Insaf (PTI), the political party led by cricketer-turned-opposition figure Imran Khan, held signs reading, ​"We want our daughters to be like Malala."
The Taliban openly claims responsibility for the shooting. Al Jazeera reports that Taliban spokesperson Ehsan ullah Ehsan said in an official statement:
The Pakistani Taliban successfully targeted Malala Yousafzai in Mingora. Although she was young and a girl and Taliban does not believe in attacking women but whomsoever leads any campaign against Islam and Shariah is ordered to be killed by Shariah. It is not merely allowed to kill such a person but it is obligatory in Islam.
While the public hopes for her recovery, the Taliban have vowed to target Yousafzai again if she survives.