Teenage Activist Malala Yousafzai Remains in Critical Condition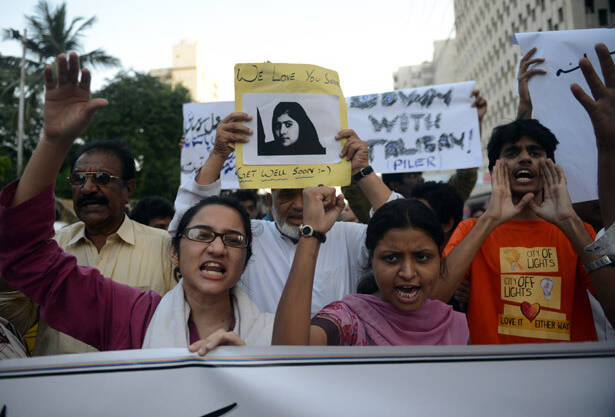 Malala Yousafzai, the 14-year-old Pak­istani girl who was shot by the Tal­iban Tues­day on her way home from school, remains in crit­i­cal condition.
Yousafzai, who was tar­get­ed for pro­mot­ing girls' edu­ca­tion rights, was heli­coptered from the mil­i­tary hos­pi­tal in Peshawar, where she was recov­er­ing from surgery, to a mil­i­tary hos­pi­tal in Rawalpin­di that has bet­ter-qual­i­ty crit­i­cal care facil­i­ties. Doc­tors in Peshawar were able to remove the high-veloc­i­ty bul­let from near her spine. How­ev­er, one of Yousafzai's sur­geons tells CBS News that the bul­let ​"dam­aged crit­i­cal areas of her brain." The next 24 hours may deter­mine the out­come for the young girl. Mum­taz Khan, one of Yousafzai's doc­tors, told Al Jazeera that she has a 70 per­cent chance of survival.
Yousafzai entered the pub­lic eye and became a tar­get of the Tal­iban by 2009 at the age 11. She start­ed blog­ging for BBC under a pseu­do­nym, writ­ing about life in the Swat Val­ley, which was then under Tal­iban rule. Once the extrem­ists were pushed out by the mil­i­tary, Yousafzai began to pub­licly advo­cate girls' edu­ca­tion and open­ly crit­i­cize the Tal­iban for its vio­lent deeds against girls' schools. She was sub­se­quent­ly award­ed Pak­istan's Nation­al Peace Award for Youth.
The assas­si­na­tion attempt has caused wide­spread pub­lic upset. Schools closed down Wednes­day in protest and prayer, and peo­ple from across the coun­try have reached out in sup­port of Yousafzai. The gov­ern­ment is also out­raged, offer­ing a $104,000 reward for infor­ma­tion lead­ing to the shooters.
Today also marks the first-ever Unit­ed Nations Inter­na­tion­al Day of the Girl Child, and the inter­na­tion­al com­mu­ni­ty has ral­lied around Yousafzai. In the Unit­ed States, Sec­re­tary of State Hillary Clin­ton praised the teenage activist, say­ing, ​"She was attacked and shot by extrem­ists who don't want girls to have an edu­ca­tion and don't want girls to speak for them­selves, and don't want girls to become leaders."
The issues of girls' and wom­en's rights have fre­quent­ly served as a jus­ti­fi­ca­tion for mil­i­tary action against the Tal­iban, but among those con­demn­ing the attack are Pak­ista­nis who have also denounced U.S. pol­i­cy in Afghanistan and Pak­istan. In Lahore, about 200 peo­ple gath­ered Wednes­day in protest of the assas­si­na­tion attempt. Female mem­bers of the the Pak­istan Tehreek-i-Insaf (PTI), the polit­i­cal par­ty led by crick­eter-turned-oppo­si­tion fig­ure Imran Khan, held signs read­ing, ​"We want our daugh­ters to be like Malala."
The Tal­iban open­ly claims respon­si­bil­i­ty for the shoot­ing. Al Jazeera reports that Tal­iban spokesper­son Ehsan ullah Ehsan said in an offi­cial statement:
The Pak­istani Tal­iban suc­cess­ful­ly tar­get­ed Malala Yousafzai in Min­go­ra. Although she was young and a girl and Tal­iban does not believe in attack­ing women but whom­so­ev­er leads any cam­paign against Islam and Shari­ah is ordered to be killed by Shari­ah. It is not mere­ly allowed to kill such a per­son but it is oblig­a­tory in Islam.
While the pub­lic hopes for her recov­ery, the Tal­iban have vowed to tar­get Yousafzai again if she survives.