Missouri Has Only One Remaining Abortion Provider. Planned Parenthood is Fighting To Change That.
After the courts overturned a restrictive abortion law in Texas, pro-choice activists are hoping to defeat similar legislation in Missouri and elsewhere.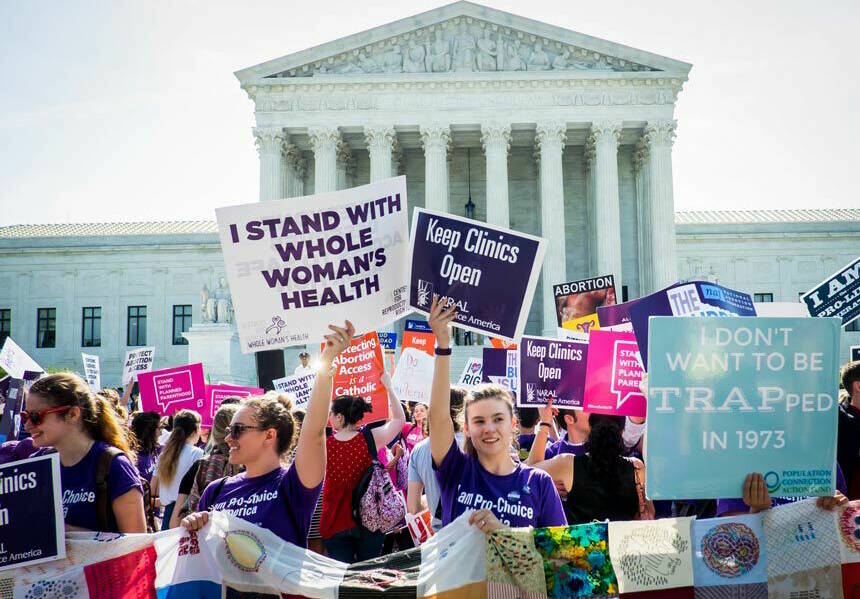 On the morn­ing of June 27, the staff of Planned Par­ent­hood Great Plains (PPGP) wait­ed anx­ious­ly, eyes glued to their phones. At 9:05 a.m., the room erupt­ed with emo­tion — some even cry­ing tears of joy. The Supreme Court had struck down Texas' House Bill 2 (HB2), an oner­ous 2013 anti-abor­tion law that had closed 21 of the state's 40 abor­tion clin­ics and threat­ened to close at least eight more, rul­ing that it placed an ​"undue bur­den" on women seek­ing abor­tions across the state. In one of the most impor­tant repro­duc­tive rights rul­ings since Roe v. Wade, the Supreme Court estab­lished a legal prece­dent for repeal­ing restric­tive abor­tion legislation.
In September, Missouri lost its second-to-last abortion provider. Over 1,000 supporters rallied outside Mizzou's Speakers Circle in protest, chanting, "Not Mizzou, not the state, women must decide their fate."
"It was the most mem­o­rable day I've had since I start­ed here," says Bonyen Lee-Gilmore, PPGP's direc­tor of com­mu­ni­ca­tions and mar­ket­ing. ​"And a lot has hap­pened since I start­ed here."
But for Lee-Gilmore and Missouri's two Planned Par­ent­hood affil­i­ates, the work is far from over. While Whole Woman's Health v. Heller­st­edt fun­da­men­tal­ly changed the nature of abor­tion in Texas, the rul­ing does not apply nation­wide. PPGP now joins affil­i­ates across at least eight states using the Court's rul­ing to chal­lenge their own ver­sions of HB2, fight­ing to ensure that the Whole Woman's Health rev­o­lu­tion does not end at the Texas border.
Planned Par­ent­hood has tak­en a three-pronged approach: In court, in the Mis­souri leg­is­la­ture and with activists gal­va­niz­ing pub­lic sup­port, they aim to prove that what con­sti­tutes an ​"undue bur­den" in Texas is an undue bur­den everywhere.
Whole Woman's Health chal­lenged two of HB2's pro­vi­sions: The first required all doc­tors per­form­ing abor­tions to obtain the author­i­ty to admit patients at a hos­pi­tal with­in 30 miles of their clin­ic. The sec­ond oblig­at­ed abor­tion clin­ics to com­ply with the build­ing stan­dards — includ­ing pre­cise cor­ri­dor widths and pro­ce­dure room sizes — of ambu­la­to­ry sur­gi­cal centers.
Pro-choice activists group HB2 with myr­i­ad oth­er Tar­get­ed Reg­u­la­tion of Abor­tion Provider (TRAP) laws passed by con­ser­v­a­tives in at least 28 states in recent years. TRAP laws, they argue, were nev­er intend­ed to pro­tect women. They are inten­tion­al­ly designed to put abor­tion clin­ics out of business.
They are often suc­cess­ful. Unwill­ing to entan­gle their insti­tu­tions with con­tro­ver­sial pol­i­tics, many hos­pi­tals deny admit­ting priv­i­leges to abor­tion providers. Strin­gent struc­tur­al stan­dards require clin­ics to bull­doze and entire­ly rebuild their offices.
Despite this, Texas Solic­i­tor Gen­er­al Scott Keller claimed that HB2 would safe­guard women's health by pro­vid­ing enhanced med­ical care.
The Court dis­agreed, rul­ing 5 – 3 in favor of lead plain­tiff Amy Hagstrom Miller. Jus­tice Ruth Bad­er Gins­burg, in a con­cur­ring opin­ion, refut­ed Keller's tes­ti­mo­ny, not­ing ​"many med­ical pro­ce­dures, includ­ing child­birth, are far more dan­ger­ous to patients, yet are not sub­ject to ambu­la­to­ry-sur­gi­cal-cen­ter or hos­pi­tal admit­ting-priv­i­leges require­ments. … When a state severe­ly lim­its access to safe and legal pro­ce­dures, women in des­per­ate cir­cum­stances may resort to unli­censed rogue prac­ti­tion­ers … at great risk to their health and safety."
Author­ing the major­i­ty opin­ion, Jus­tice Stephen Brey­er stressed that nei­ther restric­tion ​"offers med­ical ben­e­fits suf­fi­cient to jus­ti­fy the burdens."
The bur­den is pal­pa­ble in Mis­souri, a rightwing state that has long prid­ed itself on lim­it­ing abor­tion access. In 1986, Mis­souri became the first state to adopt the admit­ting priv­i­leges require­ment, which has since spread to 11 oth­er states. Mis­souri is a ​"breed­ing ground" for anti-abor­tion laws, says Lee-Gilmore. ​"They pass them here, then you start to see them spi­der out, like a spiderweb."
A report from the Insti­tute for Women's Pol­i­cy Research names Mis­souri the sev­enth-worst state in the nation for repro­duc­tive rights. ​"It's all meant to be polit­i­cal state­ments and to pun­ish women," says Mis­souri state Rep. Stacey New­man (D). ​"These bills that they file are harm­ful. They're very harmful."
In Sep­tem­ber, Mis­souri lost its sec­ond-to-last abor­tion provider. Under intense pres­sure from state Sen. Kurt Schae­fer ® and oth­er con­ser­v­a­tive law­mak­ers, the Uni­ver­si­ty of Mis­souri vot­ed to revoke Planned Par­ent­hood Dr. Colleen McNi­cholas' admit­ting priv­i­leges at its on-cam­pus hos­pi­tal, forc­ing the Colum­bia, Mo., clin­ic to stop pro­vid­ing abor­tions. Over 1,000 sup­port­ers ral­lied out­side Mizzou's Speak­ers Cir­cle in protest, chant­i­ng, ​"Not Miz­zou, not the state, women must decide their fate."
"The bur­den [has] increased on providers ever since we" stopped offer­ing abor­tions, says Lee-Gilmore. ​"When we were doing med­ica­tion abor­tion in [Colum­bia] last sum­mer … every appoint­ment on that sched­ule was filled. That just shows you the need that exists."
Rep. New­man, joined by Sens. Jami­lah Nasheed (D) and Jill Schupp (D), has already pledged to file anti-TRAP leg­is­la­tion. But giv­en the entrenched con­ser­vatism of the Mis­souri leg­is­la­ture, the win­ning bat­tle will most like­ly be judicial.
Lee-Gilmore pre­dicts that Planned Par­ent­hood will release a plan for legal action in the com­ing weeks.
"We have talked to a lot of patients who nev­er stopped to think about it, nev­er paid atten­tion to the cur­rent abor­tion restric­tions until they need­ed an abor­tion, and then they under­stood how restric­tive and how dif­fi­cult it was," she says.
Through infor­ma­tion­al meet-ups and movie screen­ings, Planned Par­ent­hood Advo­cates in Mis­souri (PPMO) — an advo­ca­cy wing of region­al Planned Par­ent­hood orga­ni­za­tions — edu­cates Mis­souri­ans about the cur­rent restric­tions and moti­vates them to call their sen­a­tors, write op-eds to local news­pa­pers and attend PPMO's ral­lies across the state. PPGP's July 9 Repro Rights Ral­ly, held in Wichi­ta, Kan., drew over 200 protesters.
PPMO has also expand­ed its social media pres­ence, join­ing oth­er Planned Par­ent­hood affil­i­ates in using the hash­tags #KnowWhat­sNor­mal and #UndoThe­Bur­den to pro­mote increased abor­tion access after Whole Woman's Health.
"The high­est court in the land made it very clear," says Lee-Gilmore. ​"These laws are med­ical­ly unnec­es­sary [and] they put an undue bur­den on peo­ple who are seek­ing abor­tion. … I am very con­fi­dent that we will find our way back to expand­ing abor­tion access in our state."
Vic­to­ria Albert
was a Sum­mer
2016
edi­to­r­i­al intern at In These Times. She is now pur­su­ing a master's degree in mag­a­zine jour­nal­ism at New York Uni­ver­si­ty. She tweets at @victoria_alb
3
.