Thank You, Strike Again
How low-wage service workers are changing the face of labor.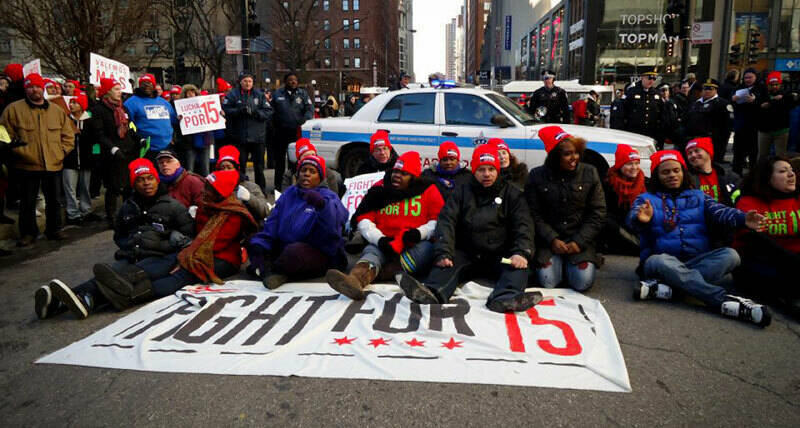 As a work­er at The Pro­tein Bar, a quick-ser­vice eatery in Chicago's glitzy North Michi­gan Avenue shop­ping dis­trict, Amie Craw­ford is very impor­tant to America's unions: Even though she doesn't belong to one, she may be a har­bin­ger of new life for the labor move­ment at a time when even friends are prepar­ing its obituary.
Unbound by decades of legal decisions that hem in unions, the low-wage workers' associations are freer to use more innovative and militant tactics, such as strikes.
Last year, Craw­ford joined the ​"Fight for 15" cam­paign, a labor and com­mu­ni­ty-sup­port­ed project that aims to improve con­di­tions for work­ers in Chicago's cen­tral busi­ness dis­tricts. The cam­paign demands a $15 min­i­mum wage and the right to form unions with­out inter­fer­ence from management.
Craw­ford recruit­ed oth­er fast food and retail work­ers to join neigh­bor­hood march­es and helped form a work­ers' asso­ci­a­tion, Work­ers Orga­niz­ing Com­mit­tee of Chica­go. On April 24, she and sev­er­al hun­dred work­ers from about 30 busi­ness­es went on strike, cheered on by com­mu­ni­ty groups like Arise Chica­go, a faith-based work­er cen­ter. The next day, mem­bers of these groups accom­pa­nied the strik­ers back to their jobs to shield them from poten­tial retal­i­a­tion. Craw­ford, empow­ered by the Chica­go strike, vol­un­teered a few days lat­er to join Fight for 15 strik­ers in Mil­wau­kee, one of sev­en cities where the cam­paign has tak­en hold, along with Chica­go, New York, St. Louis, Detroit, Seat­tle and Wash­ing­ton, D.C.
These strikes have been the defin­ing tac­tic of a new move­ment of low-wage ser­vice work­ers that has gained momen­tum in 2013. Small groups of work­ers have launched sud­den strikes against big chains such as Wal-Mart and McDonald's, as well as small employ­ers such as car wash­es, laun­dries and taxi com­pa­nies. In many cas­es, only a minor­i­ty of employ­ees were involved, some­times from mul­ti­ple work­places. The strikes have typ­i­cal­ly been sud­den and short, last­ing just long enough to broad­cast their mes­sage. A few cam­paigns have won union recog­ni­tion; more have won small vic­to­ries like a pay raise or a sched­ul­ing change. But tak­en togeth­er, the cam­paigns have sur­prised experts like Kate Bron­fen­bren­ner, direc­tor of labor edu­ca­tion research at Cor­nell Uni­ver­si­ty, who says she could not have imag­ined such an upsurge even two years ago.
Stephen Lern­er, archi­tect of the Jus­tice for Jan­i­tors cam­paign that fore­shad­owed cur­rent low-wage orga­niz­ing, says the short strike works well, offer­ing excit­ing actions that both pres­sure employ­ers and edu­cate the public.
​"What's new is that the strike is being embraced by a lot of groups as the cen­tral point of their strat­e­gy, instead of hap­pen­stance," he says.
Craw­ford, a 57-year-old for­mer inte­ri­or design­er who was pushed into the ser­vice indus­try by hard times, has seen first­hand how the strikes feed the movement's growth. ​"The [Chica­go Fight for 15] strike showed work­ers they could come out of the shad­ows and that they would be heard, and it showed busi­ness­es that we weren't going to go away," she says. ​"After the strike, work­ers sought us out, ask­ing, ​'What is this?' "
Such enthu­si­asm leads Kei­th Kelle­her, pres­i­dent of SEIU Health­care Illi­nois & Indi­ana, to call the strikes ​"huge­ly sig­nif­i­cant" because they demon­strate a desire for orga­ni­za­tion with­in a large and grow­ing sec­tor of work­ers who have plen­ty of rea­son to be dis­grun­tled. Ser­vice work­ers' wages are rock-bot­tom and have seen lit­tle improve­ment over the last decade. Arbi­trary and unpre­dictable work sched­ules offer too few hours and pre­clude work­ers from hold­ing oth­er jobs. And a grow­ing num­ber of work­ers, includ­ing those who are old­er, more expe­ri­enced and bet­ter edu­cat­ed, find that such jobs are their only long-term prospect. Accord­ing to the Nation­al Employ­ment Law Project, 58 per­cent of jobs gen­er­at­ed in the recov­ery from the 2008 finan­cial crash have been low-wage, com­pared to 21 per­cent of jobs lost.
But tra­di­tion­al unions have had only lim­it­ed suc­cess tap­ping ser­vice work­ers' mount­ing frus­tra­tions. They have run up against sev­er­al major obsta­cles: Ser­vice sec­tor work­places are typ­i­cal­ly small, turnover runs high and major chains pour in resources to crush orga­niz­ing attempts. If union-bust­ing efforts don't suc­ceed, chains like Wal-Mart often sim­ply shut­ter union­ized shops. So even if unions achieve iso­lat­ed orga­niz­ing vic­to­ries, they still need to con­quer whole mar­kets or indus­tries to make those changes stick. And as upset as many work­ers may be, they are often unfa­mil­iar with or cyn­i­cal about col­lec­tive action at work.
That's where the new move­ment comes in. Unbound by decades of legal deci­sions that hem in unions, the low-wage work­ers' asso­ci­a­tions are freer to use more inno­v­a­tive and mil­i­tant tac­tics, such as strikes, which cap­ture atten­tion and enlarge the move­ment. The law — and con­tracts — often restrict union tac­tics, lim­it­ing the tim­ing of strikes or their use in sup­port of oth­er work­ers, for exam­ple. Vio­lat­ing these labor laws can be cost­ly. When the mine work­ers union pulled out all the stops in its 1989 strike against Pittston Coal — occu­py­ing a mine, block­ing roads and engag­ing in civ­il dis­obe­di­ence — it nar­row­ly avoid­ed pay­ing $64 mil­lion in con­tempt-of-court fees and oth­er penalties.
So unions, espe­cial­ly the Unit­ed Food and Com­mer­cial Work­ers and the SEIU, increas­ing­ly help finance orga­niz­ing projects like Fight for 15 that aren't for­mal unions. Elaine Bernard, direc­tor of Har­vard Law School's Labor and Work­life Pro­gram, thinks the new move­ment has poten­tial for dra­mat­ic growth if union lead­ers refrain from impos­ing their own pre­con­ceived struc­tures. ​"Fund [the work­er activ­i­ty] and let it go," she says. ​"This is a move­ment where a lot of dif­fer­ent things should be tried."
Indeed, cam­paigns such as Fight for 15, Ware­house Work­ers for Jus­tice and Our Wal­mart appear to be giv­ing new­ly recruit­ed work­ers a sig­nif­i­cant voice. Many have an inde­pen­dent orga­niz­ing com­mit­tee to allow work­ers to take initiative.
The new cam­paigns also have a com­mu­ni­ty focus often miss­ing from more tra­di­tion­al union recruit­ment dri­ves. Many have close ties to com­mu­ni­ty groups, such as Action Now in Chica­go or New York Com­mu­ni­ties for Change, for whom the strug­gle against inequal­i­ty nat­u­ral­ly leads to fight­ing for high­er wages at work. In this way, the cam­paigns harken back to his­toric labor upsurges with a broad social base, like the Knights of Labor of the 1880s and the strike-based orga­niz­ing of the 1930s.
Unlike labor's recent strikes, which have been rare and most­ly defen­sive, the low-wage work­er strikes play ener­getic offense — build­ing the local com­mit­tees, engag­ing strik­ers in orga­niz­ing and spread­ing a broad­er cri­tique of employ­ers like Wal-Mart and of pub­lic pol­i­cy. ​"This is a shout to the Amer­i­can peo­ple about the ter­ri­ble state of labor law," says Bernard.
Lern­er believes the strikes could help cre­ate the con­di­tions for a wider surge of labor orga­niz­ing, espe­cial­ly if the cam­paigns can artic­u­late why work­ers' suc­cess should mat­ter to every­one and can esca­late their actions while pro­tect­ing strik­ers from retaliation.
But once they've built steam and sup­port, how can cam­paigns like Fight for 15 force sub­stan­tial changes in the work­place and estab­lish a sus­tain­able struc­ture to deal with employ­ers? Fight for 15 lead­ers have not spelled out their next steps, but many options are open to them. Low-wage work­ers could decide to form tra­di­tion­al unions. They could nego­ti­ate broad guide­lines for their sec­tors with major employ­ers or local mer­chants' asso­ci­a­tions. They could lob­by for bet­ter labor laws, like a high­er min­i­mum wage. Or they could main­tain the cur­rent struc­ture, a loose move­ment that uses direct actions such as strikes to win spe­cif­ic improvements.
Although it may seem hard to imag­ine at the moment, any of these path­ways could evolve into a series of broad, city­wide strug­gles rem­i­nis­cent of the gen­er­al strikes of the 1930s in San Fran­cis­co, Min­neapo­lis and oth­er cities, which led to the surge of union­iza­tion in the coun­try. And con­sid­er­ing the breadth of employ­ers they con­front, the cam­paigns could move the Unit­ed States toward more of a Euro­pean approach to set­ting min­i­mum stan­dards for par­tic­u­lar industries.
In this way, an orga­niz­ing cam­paign turns into a social move­ment, cen­tered on work­er rights but linked to many oth­er key issues of pol­i­tics and val­ues. And a surge of work­er orga­niz­ing, some in nov­el forms, becomes an his­tor­i­cal oppor­tu­ni­ty to change both pol­i­tics and the world of work.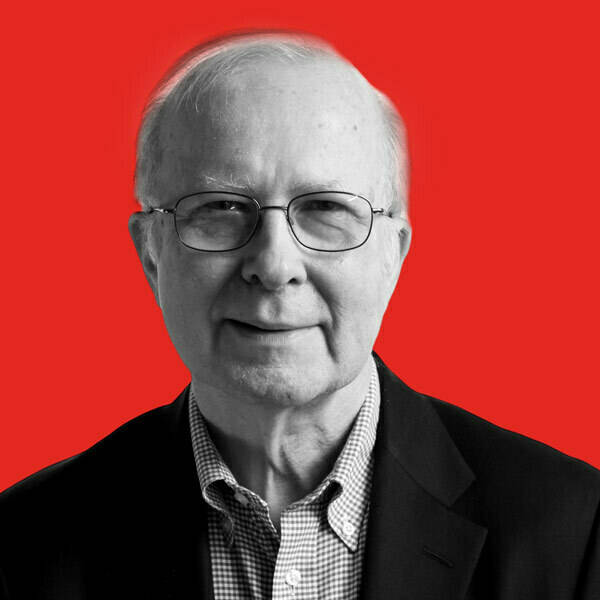 David Moberg, a senior edi­tor of In These Times, has been on the staff of the mag­a­zine since it began pub­lish­ing in 1976. Before join­ing In These Times, he com­plet­ed his work for a Ph.D. in anthro­pol­o­gy at the Uni­ver­si­ty of Chica­go and worked for Newsweek. He has received fel­low­ships from the John D. and Cather­ine T. MacArthur Foun­da­tion and the Nation Insti­tute for research on the new glob­al economy.