Amish com­mu­ni­ties rou­tine­ly prac­tice the insti­tu­tion of rum­springa (from the Ger­man herum­sprin­gen, to jump around). At 17, their chil­dren (who until then have been sub­ject­ed to strict fam­i­ly dis­ci­pline) are set free and allowed, solicit­ed even, to go out and expe­ri­ence the ways of the ​"Amer­i­can" world around them. They dri­ve cars, lis­ten to pop music, watch TV and get involved in drink­ing, drugs and wild sex. After a cou­ple of years, they are expect­ed to decide: Will they become mem­bers of the Amish com­mu­ni­ty, or leave it and turn into ordi­nary Amer­i­can cit­i­zens? Far from allow­ing the young­sters a tru­ly free choice – that is, giv­ing them a chance to decide based on the full knowl­edge and expe­ri­ence of both sides of the choice – such a solu­tion is a fake choice if there ever was one. After long years of dis­ci­pline and fan­ta­siz­ing about the illic­it plea­sures of the out­side world, when the ado­les­cent Amish are thrown into this world unpre­pared, they can­not but indulge in extreme­ly trans­gres­sive behav­ior, gorg­ing them­selves ful­ly on a life of sex, drugs and drink­ing. And since they have nev­er had the chance to devel­op any self-reg­u­la­tion in such a life, the whol­ly new and per­mis­sive sit­u­a­tion inex­orably back­lash­es, gen­er­at­ing unbear­able anx­i­ety. Thus, it is a safe bet that, after a cou­ple of years, they will return to the seclu­sion of their com­mu­ni­ty. Indeed, 90 per­cent of the chil­dren do exact­ly that.
This is a per­fect exam­ple of the dif­fi­cul­ties that accom­pa­ny the idea of a ​"free choice." While Amish ado­les­cents are for­mal­ly giv­en a free choice, the con­di­tions they find them­selves in while choos­ing make the choice ​"unfree." In order for them to have a tru­ly free choice, they would have to be prop­er­ly informed of and edu­cat­ed about all their options. How­ev­er, the only way to do this would be to extract them from the Amish com­mu­ni­ty, which would effec­tive­ly ren­der them American.
This dead­lock also illus­trates the prob­lems with the stan­dard lib­er­al atti­tude toward Mus­lim women who wear veils: They can do it if it is their free choice and not an option imposed on them by their hus­bands or fam­i­ly. How­ev­er, the moment women wear a veil as the result of their free choice (say, in order to real­ize their own spir­i­tu­al­i­ty), the mean­ing of wear­ing a veil changes com­plete­ly. For lib­er­als, it is no longer a sign of their belong­ing to the Mus­lim com­mu­ni­ty, but an expres­sion of their idio­syn­crat­ic indi­vid­u­al­i­ty. The dif­fer­ence is the same as the one between a Chi­nese farmer eat­ing Chi­nese food because his vil­lage has done so from time immemo­r­i­al and a cit­i­zen of a West­ern mega­lopo­lis decid­ing to go and have din­ner at a local Chi­nese restaurant.
A choice is thus always a ​"meta-choice," a choice that simul­ta­ne­ous­ly defines and is defined by the con­di­tions of the choice itself. It is only the woman who does not choose to wear a veil who effec­tive­ly makes a choice. This is why, in our sec­u­lar soci­eties of choice, peo­ple who main­tain a sub­stan­tial reli­gious belong­ing are in a sub­or­di­nate posi­tion. Even if they are allowed to main­tain their belief, this belief is ​"tol­er­at­ed" as an idio­syn­crat­ic per­son­al choice or opin­ion. The moment they present it pub­licly as what it is for them (a mat­ter of sub­stan­tial belong­ing), they are deemed ​"fun­da­men­tal­ist."
So what does all this have to do with the recent French (and then Dutch) vote of ​"No" to the Euro­pean Con­sti­tu­tion? Every­thing. The French vot­ers were treat­ed exact­ly like the Amish young­sters. They were not giv­en a clear sym­met­ri­cal choice. The very terms of the choice priv­i­leged the ​"Yes" vote. The elite pro­posed a choice that was effec­tive­ly no choice at all – peo­ple were called to rat­i­fy the inevitable, the nat­ur­al result of enlight­ened exper­tise. The media and polit­i­cal elite pre­sent­ed the choice as one between knowl­edge and igno­rance, between exper­tise and ide­ol­o­gy, between post-polit­i­cal admin­is­tra­tion and old polit­i­cal pas­sions of the left and the right. The No was thus dis­missed as a short-sight­ed fear­ful reac­tion to the emerg­ing new postin­dus­tri­al glob­al order, an instinct to stick to and pro­tect the com­fort­able Wel­fare State tra­di­tions – a ges­ture of refusal that lacked any pos­i­tive alter­na­tive pro­gram. It is lit­tle won­der that the only polit­i­cal par­ties whose offi­cial stance was No were those at the extremes of the polit­i­cal spec­trum: Le Pen's Front Nation­al on the right and the Com­mu­nists and Trot­sky­ists on the left. Fur­ther­more, we've been told, the No was real­ly a No to many oth­er things: Anglo-Sax­on neolib­er­al­ism, Chirac and the present French gov­ern­ment, the influx of immi­grant work­ers from Poland who low­er the wages of the French work­ers, etc. (And before dis­miss­ing this last com­plaint as racist, one should keep in mind that this influx of immi­grant work­ers is not the con­se­quence of mul­ti­cul­tur­al ​"tol­er­ance." It effec­tive­ly is part of capital's strat­e­gy to hold in check the demands of workers!)
How­ev­er, even if there is an ele­ment of truth in all this, the very fact that the No was not sus­tained by a coher­ent alter­na­tive polit­i­cal vision is the strongest pos­si­ble con­dem­na­tion of the polit­i­cal and media elite, a mon­u­ment to their inabil­i­ty to artic­u­late and trans­late the people's long­ings and dis­sat­is­fac­tions into a polit­i­cal vision. Instead, in their reac­tion to the No vot­ers, they treat­ed them as retard­ed pupils who did not get the les­son of the experts: Their self-crit­i­cism was that of the teacher who admits that he failed to prop­er­ly edu­cate his pupils.
So while the choice was not the choice between two polit­i­cal options, nei­ther was it the choice between the enlight­ened vision of a mod­ern Europe, ready to fit the new glob­al order, and old con­fused polit­i­cal pas­sions. When com­men­ta­tors described the No as a mes­sage of con­fused fear, they were wrong. The main fear was the fear that the refusal itself pro­voked in the new Euro­pean polit­i­cal elite, the fear that peo­ple will no longer eas­i­ly buy into their ​"post-polit­i­cal" vision. For all oth­ers, the No is a mes­sage and expres­sion of hope – hope that Pol­i­tics is still alive and pos­si­ble, that the debate about what the new Europe shall and should be is still open. This is why those on the left should reject the sneer­ing insin­u­a­tion by lib­er­als that, in our No, we found our­selves strange bed­fel­lows with neo-Fas­cists. What the new pop­ulist right and the left share is pre­cise­ly this: the aware­ness that Pol­i­tics prop­er is still alive.
For in fact, there was a pos­i­tive choice in the No: the choice of the choice itself, the rejec­tion of the black­mail by the new elite that offered us only the choice to either con­firm their expert knowl­edge or to dis­play our ​"irra­tional" imma­tu­ri­ty. The No vote is the pos­i­tive deci­sion to start a prop­er­ly Polit­i­cal debate about what kind of Europe we real­ly want. Late in his life, Freud asked the famous ques­tion ​"Was will das Weib?" ("What does Woman want?"), admit­ting his per­plex­i­ty when faced with the enig­ma of fem­i­nine sex­u­al­i­ty. Doesn't the imbroglio with the Euro­pean Con­sti­tu­tion bear wit­ness to the same puz­zle­ment: Which Europe do we want?
To put it blunt­ly, do we want to live in a world in which the only choice is between the Amer­i­can civ­i­liza­tion and the emerg­ing Chi­nese author­i­tar­i­an-cap­i­tal­ist one? If the answer is no, then the only alter­na­tive is Europe. The Third World can­not gen­er­ate a strong enough resis­tance to the ide­ol­o­gy of the Amer­i­can Dream. In the present con­stel­la­tion, only Europe can do so. The true oppo­si­tion today is not the one between the Unit­ed States and the Third World, but the one between the whole of the Amer­i­can glob­al Empire (and its Third World colonies) and Europe.
Theodor Adorno claimed that what we are get­ting in the con­tem­po­rary ​"admin­is­tered world" and its ​"repres­sive desub­li­ma­tion" is no longer the old log­ic of social authority's repres­sion of the Id (the individual's illic­it aggres­sive dri­ves). Rather, we have a per­verse pact between the puni­tive Superego's legal­ly sanc­tioned social author­i­ty and the Id's illic­it aggres­sive dri­ves at the expense of the Ego's ratio­nal­i­ty. Today, some­thing struc­tural­ly sim­i­lar is going on at the polit­i­cal lev­el. We have a weird pact between post­mod­ern glob­al cap­i­tal­ism and pre­mod­ern soci­eties at the expense of moder­ni­ty prop­er. The Unit­ed States is essen­tial­ly ​"at home" in Third World coun­tries, exploit­ing them (eco­nom­i­cal­ly and cul­tur­al­ly) in a true rela­tion­ship of sym­bio­sis: export­ing high tech prod­ucts and food, import­ing raw mate­ri­als and the prod­ucts of sweat­shops, flood­ing them with U.S. pop cul­ture and appro­pri­at­ing select­ed ​"authen­tic" abo­rig­i­nal cul­ture and arts. It is easy for the Amer­i­can mul­ti­cul­tur­al­ist glob­al Empire to inte­grate pre­mod­ern local tra­di­tions. The for­eign body that it can­not effec­tive­ly assim­i­late is Euro­pean modernity.
So although the French and Dutch No is not sus­tained by a coher­ent and detailed alter­na­tive vision, it at least clears the space for it. This void demands to be filled with new projects – in con­trast to the pro-Con­sti­tu­tion stance that effec­tive­ly pre­cludes think­ing, pre­sent­ing us with an admin­is­tra­tive-polit­i­cal fait accom­pli. The mes­sage of this No to all of us who care for Europe is: We will not allow anony­mous experts whose mer­chan­dise is sold to us in a bright­ly col­ored, lib­er­al-mul­ti­cul­tur­al­ist pack­age to pre­vent us from think­ing. It is time for us ​"Euro­peans" – both cit­i­zens and lovers of Europe – to become aware that we have to make a prop­er­ly Polit­i­cal deci­sion of what we want. No enlight­ened admin­is­tra­tor will do the job for us.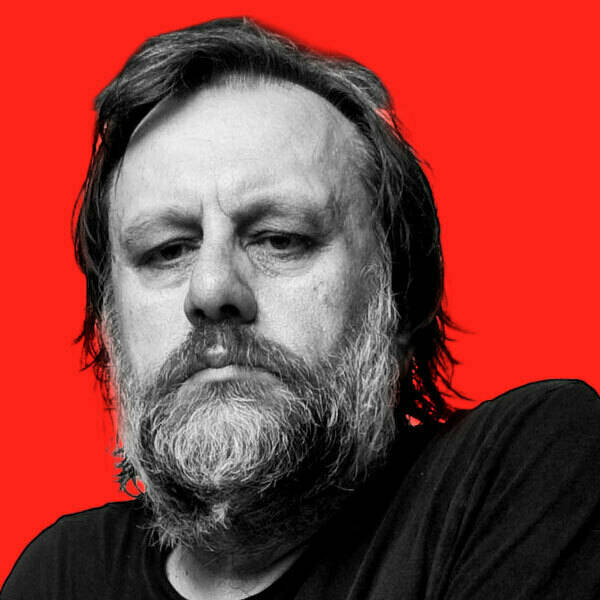 Slavoj Žižek
, a Sloven­ian philoso­pher and psy­cho­an­a­lyst, is a senior researcher at the the Insti­tute for Human­i­ties, Birk­beck Col­lege, Uni­ver­si­ty of Lon­don. He has also been a vis­it­ing pro­fes­sor at more than
10
uni­ver­si­ties around the world. Žižek is the author of many books, includ­ing Liv­ing in the End Times, First As Tragedy, Then As Farce, The Year of Dream­ing Dan­ger­ous­ly and Trou­ble in Paradise.