The Ambiguous Legacy of '68
Forty years ago, what was revolutionized -- the world or capitalism?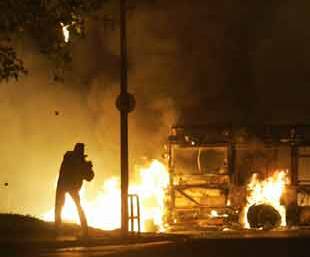 In 1968 Paris, one of the best-known graf­fi­ti mes­sages on the city's walls was ​"Struc­tures do not walk on the streets!" In oth­er words, the mas­sive stu­dent and work­ers demon­stra­tions of ​'68 could not be explained in the terms of struc­tural­ism, as deter­mined by the struc­tur­al changes in soci­ety, as in Saus­sure­an struc­tural­ism. French psy­cho­an­a­lyst Jacques Lacan's response was that this, pre­cise­ly, is what hap­pened in ​'68: struc­tures did descend onto the streets. The vis­i­ble explo­sive events on the streets were, ulti­mate­ly, the result of a struc­tur­al imbalance.
There are good rea­sons for Lacan's skep­ti­cal view. As French schol­ars Luc Boltan­s­ki and Eve Chi­a­pel­lo not­ed in 1999's The New Spir­it of Cap­i­tal­ism, from the ​'70s onward, a new form of cap­i­tal­ism emerged.
Cap­i­tal­ism aban­doned the hier­ar­chi­cal Fordist struc­ture of the pro­duc­tion process – which, named after auto mak­er Hen­ry Ford, enforced a hier­ar­chi­cal and cen­tral­ized chain of com­mand – and devel­oped a net­work-based form of orga­ni­za­tion that account­ed for employ­ee ini­tia­tive and auton­o­my in the work­place. As a result, we get net­works with a mul­ti­tude of par­tic­i­pants, orga­niz­ing work in teams or by projects, intent on cus­tomer sat­is­fac­tion and pub­lic wel­fare, or wor­ry­ing about ecology.
In this way, cap­i­tal­ism usurped the left's rhetoric of work­er self-man­age­ment, turn­ing it from an anti-cap­i­tal­ist slo­gan to a cap­i­tal­ist one. It was Social­ism that was con­ser­v­a­tive, hier­ar­chic and administrative.
The anti-cap­i­tal­ist protests of the ​'60s sup­ple­ment­ed the tra­di­tion­al cri­tique of socioe­co­nom­ic exploita­tion with a new cul­tur­al cri­tique: alien­ation of every­day life, com­mod­i­fi­ca­tion of con­sump­tion, inau­then­tic­i­ty of a mass soci­ety in which we ​"wear masks" and suf­fer sex­u­al and oth­er oppressions.
The new cap­i­tal­ism tri­umphant­ly appro­pri­at­ed this anti-hier­ar­chi­cal rhetoric of ​'68, pre­sent­ing itself as a suc­cess­ful lib­er­tar­i­an revolt against the oppres­sive social orga­ni­za­tions of cor­po­rate cap­i­tal­ism and ​"real­ly exist­ing" social­ism. This new lib­er­tar­i­an spir­it is epit­o­mized by dressed-down ​"cool" cap­i­tal­ists such as Microsoft's Bill Gates and the founders of Ben & Jerry's ice cream.
What sur­vived of the sex­u­al lib­er­a­tion of the ​'60s was the tol­er­ant hedo­nism read­i­ly incor­po­rat­ed into our hege­mon­ic ide­ol­o­gy. Today, sex­u­al enjoy­ment is not only per­mit­ted, it is ordained – indi­vid­u­als feel guilty if they are not able to enjoy it. The dri­ve to rad­i­cal forms of enjoy­ment (through sex­u­al exper­i­ments and drugs or oth­er trance-induc­ing means) arose at a pre­cise polit­i­cal moment: when ​"the spir­it of ​'68" had exhaust­ed its polit­i­cal potential.
At this crit­i­cal point in the mid-'70s, we wit­nessed a direct, bru­tal push-toward-the-Real, which assumed three main forms: first, the search for extreme forms of sex­u­al enjoy­ment; sec­ond, the turn toward the Real of an inner expe­ri­ence (Ori­en­tal mys­ti­cism); and, final­ly, the rise of left­ist polit­i­cal ter­ror­ism (Red Army Fac­tion in Ger­many, Red Brigades in Italy, etc.).
Left­ist polit­i­cal ter­ror oper­at­ed under the belief that, in an epoch in which the mass­es are total­ly immersed in cap­i­tal­ist ide­o­log­i­cal sleep, the stan­dard cri­tique of ide­ol­o­gy is no longer oper­a­tive. Only a resort to the raw Real of direct vio­lence could awak­en them.
What these three options share is the with­draw­al from con­crete socio-polit­i­cal engage­ment, and we feel the con­se­quences of this with­draw­al from engage­ment today.
Autumn 2005's sub­urb riots in France saw thou­sands of cars burn­ing and a major out­burst of pub­lic vio­lence. But what struck the eye was the absence of any pos­i­tive utopi­an vision among pro­test­ers. If May ​'68 was a revolt with a utopi­an vision, the 2005 revolt was an out­burst with no pre­tense to vision.
Here's proof of the com­mon apho­rism that we live in a post-ide­o­log­i­cal era: The pro­test­ers in the Paris sub­urbs made no par­tic­u­lar demands. There was only an insis­tence on recog­ni­tion, based on a vague, non-artic­u­lat­ed resentment.
The fact that there was no pro­gram in the burn­ing of Paris sub­urbs tells us that we inhab­it a uni­verse in which, though it cel­e­brates itself as a soci­ety of choice, the only option avail­able to the enforced demo­c­ra­t­ic con­sen­sus is the explo­sion of (self-)destructive violence.
Recall here Lacan's chal­lenge to the protest­ing stu­dents in ​'68: ​"As rev­o­lu­tion­ar­ies, you are hys­ter­ics who demand a new mas­ter. You will get one."
And we did get one – in the guise of the post-mod­ern ​"per­mis­sive" mas­ter whose dom­i­na­tion is all the stronger for being less visible.
While many undoubt­ed­ly pos­i­tive changes accom­pa­nied this pas­sage – such as new free­doms and access to posi­tions of pow­er for women – one should nonethe­less raise hard ques­tions: Was this pas­sage from one ​"spir­it of cap­i­tal­ism" to anoth­er real­ly all that hap­pened in ​'68? Was all the drunk­en enthu­si­asm of free­dom just a means to replac­ing one form of dom­i­na­tion with another?
Things are not so sim­ple. While ​'68 was glo­ri­ous­ly appro­pri­at­ed by the dom­i­nant cul­ture as an explo­sion of sex­u­al free­dom and anti-hier­ar­chic cre­ativ­i­ty, France's Nicholas Sarkozy said in his 2007 pres­i­den­tial cam­paign that his great task is to make France final­ly get over ​'68.
So, what we have is ​"their" and ​"our" May ​'68. In today's ide­o­log­i­cal mem­o­ry, ​"our" basic idea of the May demon­stra­tions – the link between stu­dents' protests and work­ers' strikes – is forgotten.
If we look at our predica­ment with the eyes of ​'68, we should remem­ber that, at its core, ​'68 was a rejec­tion of the lib­er­al-cap­i­tal­ist sys­tem, a ​"NO" to the total­i­ty of it.
It is easy to make fun of polit­i­cal econ­o­mist Fran­cis Fukuyama's notion of the ​"end of his­to­ry," of his claim that, in lib­er­al cap­i­tal­ism, we found the best pos­si­ble social sys­tem. But today, the major­i­ty is Fukuya­maist. Lib­er­al-demo­c­ra­t­ic cap­i­tal­ism is accept­ed as the final­ly found for­mu­la for the best of all pos­si­ble worlds, all that is left to do is ren­der it more just, tol­er­ant, etc.
When Mar­co Cicala, an Ital­ian jour­nal­ist, recent­ly used the word ​"cap­i­tal­ism" in an arti­cle for the Ital­ian dai­ly La Repub­bli­ca, his edi­tor asked him if the use of this term was nec­es­sary and could he not replace it with a syn­onym like ​"econ­o­my"?
If the principle task of the last century was to awaken the rural population of Asia and Africa, the task of the 21st century is to politicize the destructured masses of slum-dwellers.
What bet­ter proof of capitalism's tri­umph in the last three decades than the dis­ap­pear­ance of the very term ​"cap­i­tal­ism"? So, again, the only true ques­tion today is: Do we endorse this nat­u­ral­iza­tion of cap­i­tal­ism, or does today's glob­al cap­i­tal­ism con­tain con­tra­dic­tions strong enough to pre­vent its indef­i­nite reproduction?
There are (at least) four such antag­o­nisms: the loom­ing threat of eco­log­i­cal cat­a­stro­phe; the inap­pro­pri­ate­ness of pri­vate prop­er­ty rights for so-called ​"intel­lec­tu­al prop­er­ty"; the socio-eth­i­cal impli­ca­tions of new tech­no-sci­en­tif­ic devel­op­ments (espe­cial­ly in bio­genet­ics); and, last but not least, new forms of apartheid, in the form of new walls and slums.
The first three antag­o­nisms con­cern the domains of what polit­i­cal the­o­rists Michael Hardt and Toni Negri call ​"com­mons" – the shared sub­stance of our social being whose pri­va­ti­za­tion is a vio­lent act that should be resist­ed with vio­lent means, if nec­es­sary (vio­lence against pri­vate prop­er­ty, that is).
The com­mons of exter­nal nature are threat­ened by pol­lu­tion and exploita­tion (from oil to forests and nat­ur­al habi­tat itself); the com­mons of inter­nal nature (the bio­genet­ic inher­i­tance of human­i­ty) are threat­ened by tech­no­log­i­cal inter­fer­ence; and the com­mons of cul­ture – the social­ized forms of ​"cog­ni­tive" cap­i­tal, pri­mar­i­ly lan­guage, our means of com­mu­ni­ca­tion and edu­ca­tion, but also the shared infra­struc­ture of pub­lic trans­port, elec­tric­i­ty, post, etc. – are pri­va­tized for prof­it. (If Bill Gates were to be allowed a monop­oly, we would have reached the absurd sit­u­a­tion in which a pri­vate indi­vid­ual would have owned the soft­ware tex­ture of our basic net­work of communication.)
We are grad­u­al­ly becom­ing aware of the destruc­tive poten­tial, up to the self-anni­hi­la­tion of human­i­ty itself, that could be unleashed if the cap­i­tal­ist log­ic of enclos­ing these com­mons is allowed a free run.
Econ­o­mist Nicholas Stern right­ly char­ac­ter­ized the cli­mate cri­sis as ​"the great­est mar­ket fail­ure in human history."
There is an increas­ing aware­ness that we need glob­al envi­ron­men­tal cit­i­zen­ship, a polit­i­cal space to address cli­mate change as a mat­ter of com­mon con­cern of all humanity.
One should give weight to the terms ​"glob­al cit­i­zen­ship" and ​"com­mon con­cern." Doesn't this desire to estab­lish a glob­al polit­i­cal orga­ni­za­tion and engage­ment that will neu­tral­ize and chan­nel mar­ket forces mean that we are in need of a prop­er­ly com­mu­nist per­spec­tive? The need to pro­tect the ​"com­mons" jus­ti­fies the resus­ci­ta­tion of the notion of Com­mu­nism: It enables us to see the ongo­ing ​"enclo­sure" of our com­mons as a process of pro­le­ta­riza­tion of those who are there­by exclud­ed from their own substance.
It is, how­ev­er, only the antag­o­nism between the Includ­ed and the Exclud­ed that prop­er­ly jus­ti­fies the term Com­mu­nism. In slums around the world, we are wit­ness­ing the fast growth of a pop­u­la­tion out­side state con­trol, liv­ing in con­di­tions out­side the law, in ter­ri­ble need of min­i­mal forms of self-orga­ni­za­tion. Although mar­gin­al­ized labor­ers, redun­dant civ­il ser­vants and ex-peas­ants make up this pop­u­la­tion, they are not sim­ply a redun­dant sur­plus: They are incor­po­rat­ed into the glob­al econ­o­my, many work­ing as infor­mal wage work­ers or self-employed entre­pre­neurs, with no ade­quate health or social secu­ri­ty cov­er­age. (The main source of their rise is the inclu­sion of the Third World coun­tries in the glob­al econ­o­my, with cheap food imports from the First World coun­tries ruin­ing local agri­cul­ture.) These new slum dwellers are not an unfor­tu­nate acci­dent, but a nec­es­sary prod­uct of the inner­most log­ic of glob­al capitalism.
Who­ev­er lives in the fave­las – or shan­ty towns – of Rio de Janeiro, Brazil, or in Shang­hai, Chi­na, is not essen­tial­ly dif­fer­ent from some­one who lives in the ban­lieues – or out­skirts – of Paris or the ghet­tos of Chicago.
If the prin­ci­pal task of the 19th century's eman­ci­pa­to­ry pol­i­tics was to break the monop­oly of the bour­geois lib­er­als by politi­ciz­ing the work­ing class, and if the task of the 20th cen­tu­ry was to polit­i­cal­ly awak­en the immense rur­al pop­u­la­tion of Asia and Africa, the prin­ci­pal task of the 21st cen­tu­ry is to politi­cize – orga­nize and dis­ci­pline – the ​"destruc­tured mass­es" of slum-dwellers.
If we ignore this prob­lem of the Exclud­ed, all oth­er antag­o­nisms lose their sub­ver­sive edge.
Ecol­o­gy turns into a prob­lem of sus­tain­able devel­op­ment. Intel­lec­tu­al prop­er­ty turns into a com­plex legal chal­lenge. Bio­genet­ics becomes an eth­i­cal issue. Cor­po­ra­tions – like Whole Foods and Star­bucks – enjoy favor among lib­er­als even though they engage in anti-union activ­i­ties; they just sell prod­ucts with a pro­gres­sive spin.
You buy cof­fee made with beans bought at above fair-mar­ket value.
You dri­ve a hybrid vehicle.
You buy from com­pa­nies that pro­vide good ben­e­fits for their cus­tomers (accord­ing to corporation's standards).
In short, with­out the antag­o­nism between the Includ­ed and the Exclud­ed, we may well find our­selves in a world in which Bill Gates is the great­est human­i­tar­i­an fight­ing pover­ty and dis­eases, and NewCorp's Rupert Mur­doch the great­est envi­ron­men­tal­ist mobi­liz­ing hun­dreds of mil­lions through his media empire.
In con­trast to the clas­sic image of pro­le­tar­i­ans who have ​"noth­ing to lose but their chains," we are thus ALL in dan­ger of los­ing ALL. The risk is that we will be reduced to abstract emp­ty Carte­sian sub­jects deprived of sub­stan­tial con­tent, dis­pos­sessed of sym­bol­ic sub­stance, our genet­ic base manip­u­lat­ed, veg­e­tat­ing in an unliv­able environment.
These triple threats to our being make all of us poten­tial pro­le­tar­i­ans. And the only way to pre­vent actu­al­ly becom­ing one is to act preventively.
The true lega­cy of ​'68 is best encap­su­lat­ed in the for­mu­la Soyons real­istes, deman­dons l'impossible! (Let's be real­ists, demand the impossible.)
Today's utopia is the belief that the exist­ing glob­al sys­tem can repro­duce itself indef­i­nite­ly. The only way to be real­is­tic is to envi­sion what, with­in the coor­di­nates of this sys­tem, can­not but appear as impossible.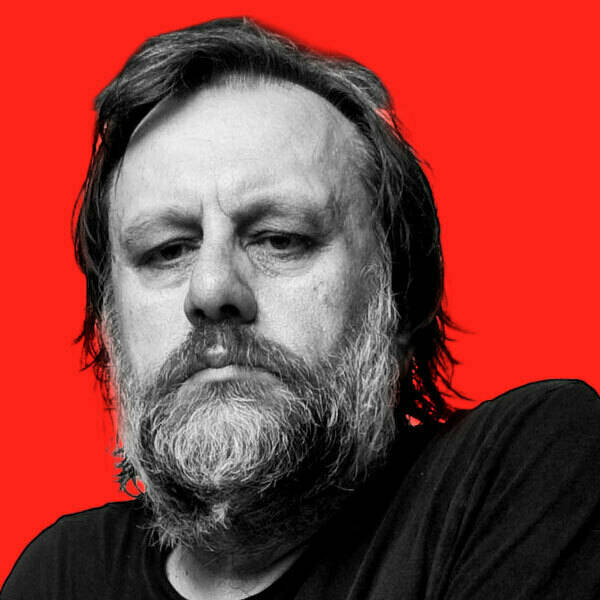 Slavoj Žižek
, a Sloven­ian philoso­pher and psy­cho­an­a­lyst, is a senior researcher at the the Insti­tute for Human­i­ties, Birk­beck Col­lege, Uni­ver­si­ty of Lon­don. He has also been a vis­it­ing pro­fes­sor at more than
10
uni­ver­si­ties around the world. Žižek is the author of many books, includ­ing Liv­ing in the End Times, First As Tragedy, Then As Farce, The Year of Dream­ing Dan­ger­ous­ly and Trou­ble in Paradise.