"The Arab world is on fire," al-Jazeera report­ed on Jan­u­ary 27, while through­out the region, West­ern allies ​"are quick­ly los­ing their influence."
A common refrain among pundits is that fear of radical Islam requires opposition to democracy on pragmatic grounds. That formulation is misleading.
The shock wave was set in motion by the dra­mat­ic upris­ing in Tunisia that drove out a West­ern-backed dic­ta­tor, with rever­ber­a­tions espe­cial­ly in Egypt, where demon­stra­tors over­whelmed a dictator's bru­tal police.
Observers com­pared the events to the top­pling of Russ­ian domains in 1989, but there are impor­tant differences.
Cru­cial­ly, no Mikhail Gor­bachev exists among the great pow­ers that sup­port the Arab dic­ta­tors. Rather, Wash­ing­ton and its allies keep to the well-estab­lished prin­ci­ple that democ­ra­cy is accept­able only inso­far as it con­forms to strate­gic and eco­nom­ic objec­tives: fine in ene­my ter­ri­to­ry (up to a point), but not in our back­yard, please, unless it is prop­er­ly tamed.
One 1989 com­par­i­son has some valid­i­ty: Roma­nia, where Wash­ing­ton main­tained its sup­port for Nico­lae Ceaus­es­cu, the most vicious of the East Euro­pean dic­ta­tors, until the alle­giance became unten­able. Then Wash­ing­ton hailed his over­throw while the past was erased.
That is a stan­dard pat­tern: Fer­di­nand Mar­cos, Jean-Claude Duva­lier, Chun Doo Hwan, Suhar­to and many oth­er use­ful gang­sters. It may be under way in the case of Hos­ni Mubarak, along with rou­tine efforts to try to ensure that a suc­ces­sor régime will not veer far from the approved path.
The cur­rent hope appears to be Mubarak loy­al­ist Gen. Omar Suleiman, just named Egypt's vice pres­i­dent. Suleiman, the long­time head of the intel­li­gence ser­vices, is despised by the rebelling pub­lic almost as much as the dic­ta­tor himself.
A com­mon refrain among pun­dits is that fear of rad­i­cal Islam requires (reluc­tant) oppo­si­tion to democ­ra­cy on prag­mat­ic grounds. While not with­out some mer­it, the for­mu­la­tion is mis­lead­ing. The gen­er­al threat has always been inde­pen­dence. In the Arab world, the Unit­ed States and its allies have reg­u­lar­ly sup­port­ed rad­i­cal Islamists, some­times to pre­vent the threat of sec­u­lar nationalism.
A famil­iar exam­ple is Sau­di Ara­bia, the ide­o­log­i­cal cen­ter of rad­i­cal Islam (and of Islam­ic ter­ror). Anoth­er in a long list is Zia ul-Haq, the most bru­tal of Pakistan's dic­ta­tors and Pres­i­dent Reagan's favorite, who car­ried out a pro­gram of rad­i­cal Islamiza­tion (with Sau­di funding).
"The tra­di­tion­al argu­ment put for­ward in and out of the Arab world is that there is noth­ing wrong, every­thing is under con­trol," says Mar­wan Muash­er, for­mer Jor­dan­ian offi­cial and now direc­tor of Mid­dle East research for the Carnegie Endow­ment. ​"With this line of think­ing, entrenched forces argue that oppo­nents and out­siders call­ing for reform are exag­ger­at­ing the con­di­tions on the ground."
There­fore the pub­lic can be dis­missed. The doc­trine traces far back and gen­er­al­izes world­wide, to U.S. home ter­ri­to­ry as well. In the event of unrest, tac­ti­cal shifts may be nec­es­sary, but always with an eye to reassert­ing control.
The vibrant democ­ra­cy move­ment in Tunisia was direct­ed against ​"a police state, with lit­tle free­dom of expres­sion or asso­ci­a­tion, and seri­ous human rights prob­lems," ruled by a dic­ta­tor whose fam­i­ly was hat­ed for their venal­i­ty. This was the assess­ment by U.S. Ambas­sador Robert Godec in a July 2009 cable released by WikiLeaks.
There­fore to some observers the Wik­iLeaks ​"doc­u­ments should cre­ate a com­fort­ing feel­ing among the Amer­i­can pub­lic that offi­cials aren't asleep at the switch" – indeed, that the cables are so sup­port­ive of U.S. poli­cies that it is almost as if Oba­ma is leak­ing them him­self (or so Jacob Heil­brunn writes in The Nation­al Inter­est.)
"Amer­i­ca should give Assange a medal," says a head­line in the Finan­cial Times. Chief for­eign-pol­i­cy ana­lyst Gideon Rach­man writes that ​"America's for­eign pol­i­cy comes across as prin­ci­pled, intel­li­gent and prag­mat­ic – the pub­lic posi­tion tak­en by the U.S. on any giv­en issue is usu­al­ly the pri­vate posi­tion as well."
In this view, Wik­iLeaks under­mines the ​"con­spir­a­cy the­o­rists" who ques­tion the noble motives that Wash­ing­ton reg­u­lar­ly proclaims.
Godec's cable sup­ports these judg­ments – at least if we look no fur­ther. If we do, as for­eign pol­i­cy ana­lyst Stephen Zunes reports in For­eign Pol­i­cy in Focus, we find that, with Godec's infor­ma­tion in hand, Wash­ing­ton pro­vid­ed $12 mil­lion in mil­i­tary aid to Tunisia. As it hap­pens, Tunisia was one of only five for­eign ben­e­fi­cia­ries: Israel (rou­tine­ly); the two Mid­dle East dic­ta­tor­ships Egypt and Jor­dan; and Colom­bia, which has long had the worst human-rights record and the most U.S. mil­i­tary aid in the hemisphere.
Heilbrunn's Exhib­it A is Arab sup­port for U.S. poli­cies tar­get­ing Iran, revealed by leaked cables. Rach­man too seizes on this exam­ple, as did the media gen­er­al­ly, hail­ing these encour­ag­ing rev­e­la­tions. The reac­tions illus­trate how pro­found is the con­tempt for democ­ra­cy in the edu­cat­ed culture.
Unmen­tioned is what the pop­u­la­tion thinks – eas­i­ly dis­cov­ered. Accord­ing to polls released by the Brook­ings Insti­tu­tion in August, some Arabs agree with Wash­ing­ton and West­ern com­men­ta­tors that Iran is a threat: 10 per­cent. In con­trast, they regard the U.S. and Israel as the major threats (77 per­cent; 88 percent).
Arab opin­ion is so hos­tile to Washington's poli­cies that a major­i­ty (57 per­cent) think region­al secu­ri­ty would be enhanced if Iran had nuclear weapons. Still, ​"there is noth­ing wrong, every­thing is under con­trol" (as Mar­wan Muash­er describes the pre­vail­ing fan­ta­sy). The dic­ta­tors sup­port us. Their sub­jects can be ignored – unless they break their chains, and then pol­i­cy must be adjusted.
Oth­er leaks also appear to lend sup­port to the enthu­si­as­tic judg­ments about Washington's nobil­i­ty. In July 2009, Hugo Llorens, U.S. ambas­sador to Hon­duras, informed Wash­ing­ton of an embassy inves­ti­ga­tion of ​"legal and con­sti­tu­tion­al issues sur­round­ing the June 28 forced removal of Pres­i­dent Manuel ​'Mel' Zelaya."
The embassy con­clud­ed that ​"there is no doubt that the mil­i­tary, Supreme Court and Nation­al Con­gress con­spired on June 28 in what con­sti­tut­ed an ille­gal and uncon­sti­tu­tion­al coup against the Exec­u­tive Branch." Very admirable, except that Pres­i­dent Oba­ma pro­ceed­ed to break with almost all of Latin Amer­i­ca and Europe by sup­port­ing the coup régime and dis­miss­ing sub­se­quent atrocities.
Per­haps the most remark­able Wik­iLeaks rev­e­la­tions have to do with Pak­istan, reviewed by for­eign pol­i­cy ana­lyst Fred Branf­man in Truthdig.
The cables reveal that the U.S. embassy is well aware that Washington's war in Afghanistan and Pak­istan not only inten­si­fies ram­pant anti-Amer­i­can­ism but also ​"risks desta­bi­liz­ing the Pak­istani state" and even rais­es a threat of the ulti­mate night­mare: that nuclear weapons might fall into the hands of Islam­ic terrorists.
Again, the rev­e­la­tions ​"should cre­ate a com­fort­ing feel­ing – that offi­cials are not asleep at the switch" (Heilbrunn's words) – while Wash­ing­ton march­es stal­wart­ly toward disaster.
© The New York Times Syndicate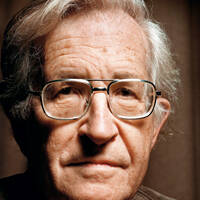 Noam Chom­sky
is Insti­tute Pro­fes­sor and Pro­fes­sor of Lin­guis­tics (Emer­i­tus) at the Mass­a­chu­setts Insti­tute of Tech­nol­o­gy, and the author of dozens of books on U.S. for­eign pol­i­cy. His most recent book is
Who Rules the World?
from Met­ro­pol­i­tan Books.