The Assault on Public Education
One of America's greatest achievements is being defunded and degraded by the dictates of the marketplace.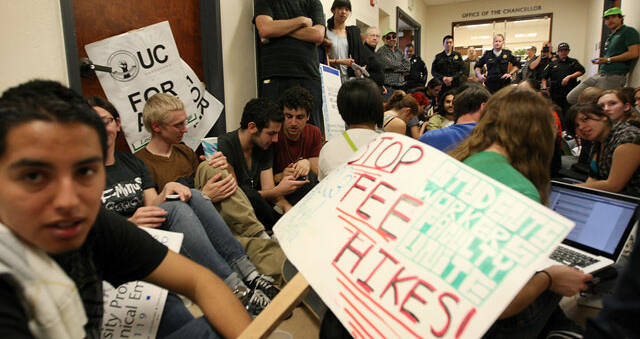 Pub­lic edu­ca­tion is under attack around the world, and in response, stu­dent protests have recent­ly been held in Britain, Cana­da, Chile, Tai­wan and elsewhere.
Mass public education is one of the great achievements of American society.
Cal­i­for­nia is also a bat­tle­ground. The Los Ange­les Times reports on anoth­er chap­ter in the cam­paign to destroy what had been the great­est pub­lic high­er edu­ca­tion sys­tem in the world: ​"Cal­i­for­nia State Uni­ver­si­ty offi­cials announced plans to freeze enroll­ment next spring at most cam­pus­es and to wait-list all appli­cants the fol­low­ing fall pend­ing the out­come of a pro­posed tax ini­tia­tive on the Novem­ber ballot."
Sim­i­lar defund­ing is under way nation­wide. ​"In most states," The New York Times reports, ​"it is now tuition pay­ments, not state appro­pri­a­tions, that cov­er most of the bud­get," so that ​"the era of afford­able four-year pub­lic uni­ver­si­ties, heav­i­ly sub­si­dized by the state, may be over."
Com­mu­ni­ty col­leges increas­ing­ly face sim­i­lar prospects – and the short­falls extend to grades K‑12.
"There has been a shift from the belief that we as a nation ben­e­fit from high­er edu­ca­tion, to a belief that it's the peo­ple receiv­ing the edu­ca­tion who pri­mar­i­ly ben­e­fit and so they should foot the bill," con­cludes Ronald G. Ehren­berg, a trustee of the State Uni­ver­si­ty sys­tem of New York and direc­tor of the Cor­nell High­er Edu­ca­tion Research Institute.
A more accu­rate descrip­tion, I think, is ​"Fail­ure by Design," the title of a recent study by the Eco­nom­ic Pol­i­cy Insti­tute, which has long been a major source of reli­able infor­ma­tion and analy­sis on the state of the economy.
The EPI study reviews the con­se­quences of the trans­for­ma­tion of the econ­o­my a gen­er­a­tion ago from domes­tic pro­duc­tion to finan­cial­iza­tion and off­shoring. By design; there have always been alternatives.
One pri­ma­ry jus­ti­fi­ca­tion for the design is what Nobel lau­re­ate Joseph Stiglitz called the ​"reli­gion" that ​"mar­kets lead to effi­cient out­comes," which was recent­ly dealt yet anoth­er crush­ing blow by the col­lapse of the hous­ing bub­ble that was ignored on doc­tri­nal grounds, trig­ger­ing the cur­rent finan­cial crisis.
Claims are also made about the alleged ben­e­fits of the rad­i­cal expan­sion of finan­cial insti­tu­tions since the 1970s. A more con­vinc­ing descrip­tion was pro­vid­ed by Mar­tin Wolf, senior eco­nom­ic cor­re­spon­dent for The Finan­cial Times: ​"An out-of-con­trol finan­cial sec­tor is eat­ing out the mod­ern mar­ket econ­o­my from inside, just as the lar­va of the spi­der wasp eats out the host in which it has been laid."
The EPI study observes that the ​"Fail­ure of Design" is class-based. For the design­ers, it has been a stun­ning suc­cess, as revealed by the aston­ish­ing con­cen­tra­tion of wealth in the top 1 per­cent, in fact the top 0.1 per­cent, while the major­i­ty has been reduced to vir­tu­al stag­na­tion or decline.
In short, when they have the oppor­tu­ni­ty, ​"the Mas­ters of Mankind" pur­sue their ​"vile max­im" of ​"all for our­selves and noth­ing for oth­er peo­ple," as Adam Smith explained long ago.
Mass pub­lic edu­ca­tion is one of the great achieve­ments of Amer­i­can soci­ety. It has had many dimen­sions. One pur­pose was to pre­pare inde­pen­dent farm­ers for life as wage labor­ers who would tol­er­ate what they regard­ed as vir­tu­al slavery.
The coer­cive ele­ment did not pass with­out notice. Ralph Wal­do Emer­son observed that polit­i­cal lead­ers call for pop­u­lar edu­ca­tion because they fear that ​"This coun­try is fill­ing up with thou­sands and mil­lions of vot­ers, and you must edu­cate them to keep them from our throats." But edu­cat­ed the right way: Lim­it their per­spec­tives and under­stand­ing, dis­cour­age free and inde­pen­dent thought, and train them for obedience.
The ​"vile max­im" and its imple­men­ta­tion have reg­u­lar­ly called forth resis­tance, which in turn evokes the same fears among the elite. Forty years ago there was deep con­cern that the pop­u­la­tion was break­ing free of apa­thy and obedience.
At the lib­er­al inter­na­tion­al­ist extreme, the Tri­lat­er­al Com­mis­sion – the non­govern­men­tal pol­i­cy group from which the Carter Admin­is­tra­tion was large­ly drawn – issued stern warn­ings in 1975 that there is too much democ­ra­cy, in part due to the fail­ures of the insti­tu­tions respon­si­ble for ​"the indoc­tri­na­tion of the young." On the right, an impor­tant 1971 mem­o­ran­dum by Lewis Pow­ell, direct­ed to the U.S. Cham­ber of Com­merce, the main busi­ness lob­by, wailed that rad­i­cals were tak­ing over every­thing – uni­ver­si­ties, media, gov­ern­ment, etc. – and called on the busi­ness com­mu­ni­ty to use its eco­nom­ic pow­er to reverse the attack on our prized way of life – which he knew well. As a lob­by­ist for the tobac­co indus­try, he was quite famil­iar with the work­ings of the nan­ny state for the rich that he called ​"the free market."
Since then, many mea­sures have been tak­en to restore dis­ci­pline. One is the cru­sade for pri­va­ti­za­tion – plac­ing con­trol in reli­able hands.
Anoth­er is sharp increas­es in tuition, up near­ly 600 per­cent since 1980. These pro­duce a high­er edu­ca­tion sys­tem with ​"far more eco­nom­ic strat­i­fi­ca­tion than is true of any oth­er coun­try," accord­ing to Jane Well­man, for­mer direc­tor of the Delta Cost Project, which mon­i­tors these issues. Tuition increas­es trap stu­dents into long-term debt and hence sub­or­di­na­tion to pri­vate power.
Jus­ti­fi­ca­tions are offered on eco­nom­ic grounds, but are sin­gu­lar­ly uncon­vinc­ing. In coun­tries rich to poor, includ­ing Mex­i­co next-door, tuition remains free or nom­i­nal. That was true as well in the Unit­ed States itself when it was a much poor­er coun­try after World War II and huge num­bers of stu­dents were able to enter col­lege under the GI bill – a fac­tor in unique­ly high eco­nom­ic growth, even putting aside the sig­nif­i­cance in improv­ing lives.
Anoth­er device is the cor­po­ra­ti­za­tion of the uni­ver­si­ties. That has led to a dra­mat­ic increase in lay­ers of admin­is­tra­tion, often pro­fes­sion­al instead of drawn from the fac­ul­ty as before; and to impo­si­tion of a busi­ness cul­ture of ​"effi­cien­cy" – an ide­o­log­i­cal notion, not just an eco­nom­ic one.
One illus­tra­tion is the deci­sion of state col­leges to elim­i­nate pro­grams in nurs­ing, engi­neer­ing and com­put­er sci­ence, because they are cost­ly – and hap­pen to be the pro­fes­sions where there is a labor short­age, as The New York Times reports. The deci­sion harms the soci­ety but con­forms to the busi­ness ide­ol­o­gy of short-term gain with­out regard for human con­se­quences, in accord with the vile maxim.
Some of the most insid­i­ous effects are on teach­ing and mon­i­tor­ing. The Enlight­en­ment ide­al of edu­ca­tion was cap­tured in the image of edu­ca­tion as lay­ing down a string that stu­dents fol­low in their own ways, devel­op­ing their cre­ativ­i­ty and inde­pen­dence of mind.
The alter­na­tive, to be reject­ed, is the image of pour­ing water into a ves­sel – and a very leaky one, as all of us know from expe­ri­ence. The lat­ter approach includes teach­ing to test and oth­er mech­a­nisms that destroy stu­dents' inter­est and seek to fit them into a mold, eas­i­ly con­trolled. All too famil­iar today.
© The New York Times News Service/​Syndicate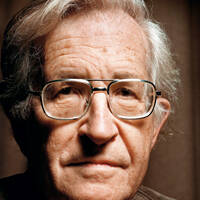 Noam Chom­sky
is Insti­tute Pro­fes­sor and Pro­fes­sor of Lin­guis­tics (Emer­i­tus) at the Mass­a­chu­setts Insti­tute of Tech­nol­o­gy, and the author of dozens of books on U.S. for­eign pol­i­cy. His most recent book is
Who Rules the World?
from Met­ro­pol­i­tan Books.