The Black Political Establishment Should Never Have Given Hillary Clinton a Blank Check
The Sanders campaign was an opportunity to put pressure on Clinton, but instead the neoliberal Black elite backed her unconditionally.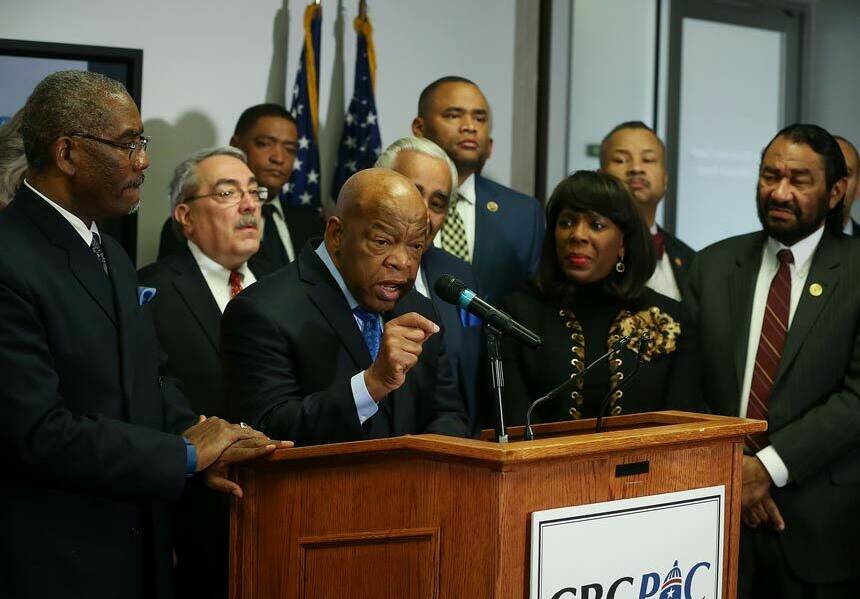 Early in his campaign for president, Bernie Sanders faced criticism — much of it valid — from Black Lives Matter activists for not being expressly attuned to the specific and distinctive political grievances of African Americans. To his credit, the Vermont senator learned quickly and began incorporating the demands of the Black Lives Matter movement in his speeches and eschewing ​"All Lives Matter," the saccharine slogan favored by those who avoid the topic of race. Sanders also produced a racial justice platform addressing issues of mass incarceration and other black grievances. Many black activists, including Erica Garner, the daughter of Eric Garner, praised the plan. Garner wrote that black lives like her father's mattered, adding, ​"That's why I'm endorsing Bernie Sanders."
This rush by black leadership to endorse Clinton was an unforced strategic blunder. Robustly challenging both Clinton and Sanders on racial justice issues—as Black Lives Matter activists did—could have sent a strong message to a party that takes black Americans' support for granted, fails to deliver real solutions and too often patronizes them.
But it wasn't just young activists who called out Sanders. Black political leaders joined the fray. During a Congressional Black Caucus Political Action Committee (CBC PAC) endorsement session for Hillary Clinton, Georgia congressman and movement veteran John Lewis questioned Sanders' civil rights bona fides, declaring, ​"I never saw him. I never met him."
Why would Lewis take this odd tack, which discounts the contributions of multitudes who participated in the struggle without having met him? Because, of course, Lewis and the CBC were not mounting a real effort to substantively engage Sanders on racial politics. They were stumping for Clinton.
This rush by black leadership to endorse Clinton was an unforced strategic blunder. Robustly challenging both Clinton and Sanders on racial justice issues — as Black Lives Matter activists did — could have sent a strong message to a party that takes black Americans' support for granted, fails to deliver real solutions and too often patronizes them.
Black leaders' uncritical support of Clinton may seem mystifying given the contemptible record of racial scapegoating that is integral to the Clintons' legacy — such as Hillary's use of the term ​"superpredators" to push her husband's 1994 crime bill, which caused black incarceration to skyrocket. (When challenged by Black Lives Matter activists at a rally this April, Bill Clinton defended both the term and the bill.)
But that support is part and parcel of a decades-long encroachment of neoliberalism and its gospel of market infallibility on black politics, and on the Democratic Party in general. Witness the party establishment's support of ​"free trade" and its diminished interest in labor rights, reining in Wall Street and protecting the environment, often with the support of the Clintons.
Not surprisingly, this year the Hillary Clinton delegation ensured the party platform will not include any language explicitly opposing the Trans-Pacific Partnership (TPP), a corporate-brokered trade deal that privileges profit maximization over national law, the environment, labor and human rights. The Democratic platform also embraced what it calls ​"public charter schools," a Trojan horse for school privatization.
Neoliberalism has also neutralized the passionate advocacy long a feature of black leadership. Few black leaders beat the drum against the Democrats' rightward drift, even though the party's abandonment of the working class disproportionately affects black communities. (The CBC did oppose NAFTA, but with Bill Clinton as president, there was not much rabblerousing around it.)
And where were black leaders as the crisis of mass incarceration unfolded? Since enactment of Bill Clinton's 1994 crime bill, the burden of dealing with its disastrous effects largely fell on underresourced but determined advocacy groups, formerly incarcerated people, affected families and, most recently, Black Lives Matter activists. Although CBC members generally opposed the bill, 28 of 38 members succumbed to pressure from Clinton and voted for it. The bill had been sweetened with social programs and a ban on 19 assault weapons, so that even Bernie Sanders voted ​"yes" after opposing it.
The black political establishment has fallen prey to the same corporate influence as the rest of the Democratic establishment. In 2010, the New York Times reported that the CBC Foundation, the nonprofit arm of the CBC, raised $53 million over a five-year period, much of it from corporate donors — Big Pharma, telecom and financial industries. Most went to finance leisure activities such as glitzy conventions, golf and casino junkets, and underwriting the foundation's headquarters.
In a shocking May 2014 report, the Huffington Post documented how key CBC members, including Wisconsin Rep. Gwen Moore, New York's Gregory Meeks, Georgia's David Scott, Missouri's Lacy Clay and Alabama's Terri Sewell, undertook to undermine Dodd-Frank's rules on financial derivatives, linked to the 2008 economic meltdown. Collectively, the five had taken half a million dollars in campaign donations from the financial sector during the previous election cycle. It is a tragic irony that these CBC members represent majority-black districts most devastated by the home-mortgage lending crisis.
Rashad Robinson, executive director of the activist group Color of Change and a critic of the CBC, terms such practices ​"civil-rights washing": Corporations use civil-rights groups as a moral cloak to avoid accountability for bad corporate practices. In recent years, the CBC Foundation has been among key black institutions (the National Urban League, the national NAACP and various local chapters and the United Negro College Fund) that received millions of dollars from Wal-Mart as part of its ​"urban strategy" aimed at fending off worker demands for a living wage and labor rights. These groups gave Wal-Mart moral cover even as its front group, Working Families for Wal-Mart, tried to rally the black community against living wage laws. In 2006, civil rights leader and former U.N. ambassador Andrew Young served as its paid spokesperson.
Some leaders — reassuringly — turn down devious corporate largesse. For example, Rev. Dr. William Barber II, president of the North Carolina State Conference of the NAACP, rejected a $1,000 check from the meat-packing behemoth Smithfield Foods and instead lent support to an organizing drive by United Food and Commercial Workers. Barber continued as a reliable moral voice, fighting a series of reactionary and anti-labor North Carolina laws through his Moral Mondays campaign.
Poor and disempowered communities, which don't always have the wherewithal to champion their own interests, deserve more leaders like Barber. Black politicians should heed the dire plea of the mother of Philando Castile, St. Paul's latest victim of police lynching: ​"I want my leaders to step up and hold these people accountable. … We're being hunted down by police!"
They have not, however, and nowhere has the lack of urgency been more pronounced than in the near-universal endorsement of Hillary Clinton by mainstream black leadership (with a few notable exceptions, such as former Ohio state Sen. Nina Turner and Minnesota Rep. and Congressional Progressive Caucus co-chair Keith Ellison). They endorsed a candidate whose positions on many issues, from free trade to war and privatization — a main calling card of neoliberalism — are inimical to the interests of their communities.
Instead, the black political establishment could have used its moral capital to influence the candidate, taking a page not only from Black Lives Matter but from the Sanders campaign itself, which used popular angst to move Clinton to adopt a ​"free college" plan that almost resembles his own and to embrace a $15-an-hour federal minimum wage. Clinton has now proposed letting those 55 years and older buy into Medicare — an important nod to Sanders' single-payer healthcare plan. But it is not clear what African-American leaders have demanded (and will get) from Clinton.
A real debate within the black community over whom to support would have signaled to Clinton and the Democratic establishment that the days of taking black folks for granted are over. It might have forced Clinton to pursue a more aggressive racial justice agenda through the general election and governance (should she win), when ​"race" is often sacrificed at the altar of political expediency — an expediency that Obama's presidency unfortunately came to symbolize. Not insignificantly, it would have aligned Black America with the global anti-elite political revolt currently underway. Dating back to anti-colonial times, African Americans have been integral to such global insurgencies.
Instead of using the Sanders challenge to make the candidates compete for black votes, the black establishment effectively awarded Clinton a no-bid contract. Sweetheart deals are as bad in politics as in commerce.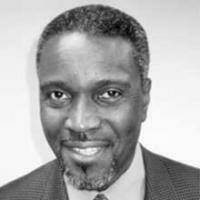 James Thindwa
is a member of
In These Times
' Board of Directors and a labor and community activist.