The Black Panther Party and the "Undying Love for the People"
The new documentary The Black Panthers, Vanguard of the Revolution is full of insights for today's racial justice activists.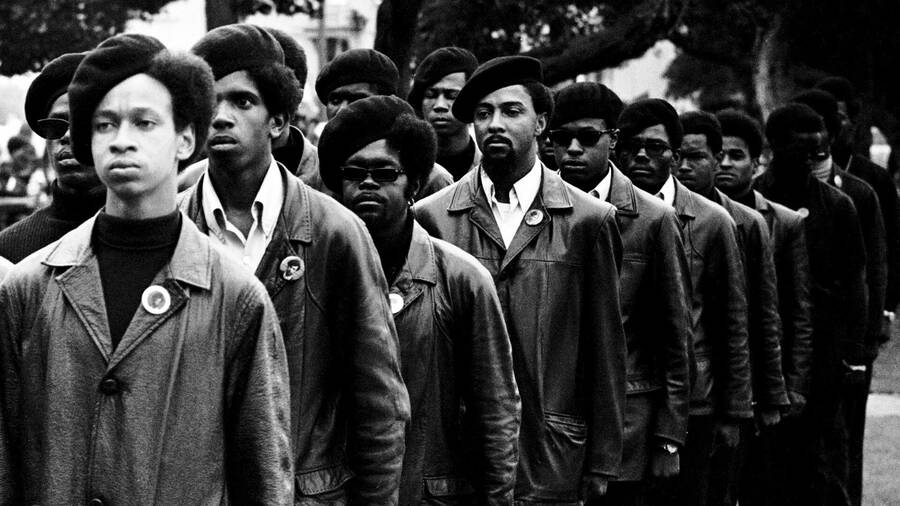 Start­ing with a pre­mière at the Sun­dance Film Fes­ti­val, Stan­ley Nel­son, Lau­rens Grant, Aljer­non Tun­sil, and Fire­light Media's made-for-PBS doc­u­men­tary on the his­to­ry of the Black Pan­ther Par­ty has been tour­ing the coun­try. The fea­ture length film — named, not with­out a touch of irony, The Black Pan­thers, Van­guard of the Rev­o­lu­tion—has attract­ed large audi­ences, much acclaim, and some crit­i­cism, most notably from for­mer Black Pan­ther leader Elaine Brown, who called it ​"a two-dimen­sion­al pal­lia­tive for white peo­ple and Negroes who are com­fort­able in America's oppres­sive sta­tus quo."
The Panthers courageously made people's history.
Nel­son, Grant and Tun­sil are African-Amer­i­can doc­u­men­tary film­mak­ers of note, hav­ing to their col­lec­tive cred­it doc­u­men­taries on Emmet Till, Free­dom Sum­mer, Jesse Owens and the Free­dom Rid­ers. In his director's state­ment, Nel­son describes his mis­sion in mak­ing the film:
Sev­en years ago, I set out to tell the sto­ry of the rise and fall of the Black Pan­ther Par­ty, a lit­tle known his­to­ry that hadn't been told in its entire­ty. In par­tic­u­lar, I want­ed to offer a unique and engag­ing oppor­tu­ni­ty to exam­ine a very com­plex moment in time that chal­lenges the cold, over­sim­pli­fied nar­ra­tive of a Pan­ther who is prone to vio­lence and con­sumed with anger. Thor­ough­ly exam­in­ing the his­to­ry of the Black Pan­ther Par­ty allowed me to sift through the frag­ment­ed per­cep­tions and find the core dri­ver of the move­ment: the Black Pan­ther Par­ty emerged out of a love for their peo­ple and a devo­tion to empow­er­ing them. This pow­er­ful dis­play of the human spir­it, root­ed in heart, is what com­pelled me to com­mu­ni­cate this sto­ry accurately.
Sev­er­al pow­er­ful doc­u­men­taries paved the way for Firelight's film. In 1969, rad­i­cal film­mak­ers Mike Gray and Howard Alk made a black-and-white 16 mil­lime­ter film called Amer­i­can Rev­o­lu­tion II, which chron­i­cled the Chica­go Black Pan­ther Party's efforts in forg­ing a Rain­bow Coali­tion among white, Puer­to Rican and African-Amer­i­can organizations.
Dur­ing their film­ing, Gray and Alk were inspired by a 21-year-old mes­sian­ic Black Pan­ther Par­ty leader, Chair­man Fred Hamp­ton, and set out mak­ing a sequel to Amer­i­can Rev­o­lu­tion II. They shot some remark­able footage of Hamp­ton and the Chica­go Pan­thers, but before they had fin­ished the film, Hamp­ton was mur­dered in his bed, the vic­tim of a con­spir­a­cy hatched as part of the FBI's then-secret COIN­TEL­PRO pro­gram and exe­cut­ed by the Chica­go police and the State's Attor­ney of Cook Coun­ty, Edward V. Hanrahan.
Sum­moned to the apart­ment to film the mur­der scene, Gray and Alk then trans­formed their film into The Mur­der of Fred Hamp­ton, which pow­er­ful­ly proved Hanrahan's claim that the Pan­thers shot it out with the police to be a bold-faced lie, and that the raid was in fact a pre-planned police mur­der. The movie pre­miered at the Cannes Film Fes­ti­val, but was not wide­ly viewed in this coun­try. It was, how­ev­er, seen in New York City by a young man named Stan­ley Nelson.
In 1987, African-Amer­i­can film pro­duc­er Hen­ry Hampton's series Eyes on the Prize aired on PBS. The six-part series doc­u­ment­ed the ear­ly civ­il rights strug­gle, and three years lat­er, PBS aired Eyes on the Prize II. This eight-part sequel chron­i­cled the evo­lu­tion of the civ­il rights strug­gle dur­ing the last half of the 1960s and through the 1970s as it moved north, became rad­i­cal­ized while also enter­ing the realm of elec­toral politics.
One episode, enti­tled ​"Pow­er" and nar­rat­ed by Julian Bond, described the rise of the Black Pan­ther Par­ty in Oak­land Cal­i­for­nia and fea­tured inter­views with for­mer nation­al BPP lead­ers Huey P. New­ton and Bob­by Seale. A few weeks lat­er, Hen­ry Hamp­ton, his direc­tor, Ter­ry Rock­e­feller, and their film com­pa­ny, Black­side, pre­sent­ed an episode called ​"A Nation of Laws?" In this episode, the film­mak­ers, armed with evi­dence unearthed by Fred Hampton's lawyers over a decade of lit­i­ga­tion, and the inves­ti­ga­tion con­duct­ed by Sen­a­tor Frank Church's Intel­li­gence Com­mit­tee, made out a com­pelling case that Fred Hamp­ton was a charis­mat­ic young leader of a dynam­ic rev­o­lu­tion­ary orga­ni­za­tion who was the vic­tim of a nation­wide FBI con­spir­a­cy to destroy the Black Pan­ther Par­ty, a con­spir­a­cy that was part and par­cel of FBI Direc­tor J. Edgar Hoover's COINTELPRO.
This episode fea­tured the only known inter­view with FBI infor­mant-provo­ca­teur William O'Neal, who drew the floor­plan that the police used in their mur­der­ous raid, and who received a $300 bonus for his inte­gral role in the con­spir­a­cy. ​"A Nation of Laws?" also made an ear­ly link between police repres­sion and the issue of mass incar­cer­a­tion through Angela Y. Davis, who pro­vid­ed a bridge from the Hamp­ton assas­si­na­tion to the sec­ond half of the episode which doc­u­ment­ed the 1971 Atti­ca prison rebel­lion and its bloody sup­pres­sion, on orders from Gov­er­nor Nel­son Rock­e­feller, by the New York State Police.
Near­ly two decades passed before anoth­er doc­u­men­tary treat­ed the BPP, Fred Hamp­ton and the FBI's pro­gram to destroy the Par­ty. This time it was BET, odd­ly enough, in its series called Amer­i­can Gang­ster. In an hour-long episode that aired in 2008, BET crowned J. Edgar Hoover as an all-pow­er­ful law enforce­ment gang­ster and traced his decades-long war against all man­ner of black orga­ni­za­tions and lead­ers. Hon­ing in on COIN­TEL­PRO and its attempt to destroy Mar­tin Luther King, the show con­demned Hoover and the FBI as vir­u­lent racists who, after King's assas­si­na­tion, joined hands with the new­ly elect­ed Richard Nixon to con­tin­ue its war on the black lib­er­a­tion move­ment, cloaked as a war on crime. The show cli­maxed by doc­u­ment­ing in detail how the mur­der of Fred Hamp­ton was COINTELRPO's racist end game in the FBI's plot to destroy the Black Pan­ther Party.
So it was with this his­tor­i­cal back­drop that Nel­son and Grant set out to recount the short but com­pli­cat­ed his­to­ry of the Black Pan­ther Par­ty, start­ing in Cal­i­for­nia in 1966 with the Party's found­ing and its burst­ing on the nation­al scene with its dra­mat­ic march into the Cal­i­for­nia state leg­is­la­ture, legal­ly hold­ing guns while Gov­er­nor Ronald Rea­gan was hold­ing a press con­fer­ence on the Capitol's steps. Using remark­able black-and-white archival footage, the cur­rent voic­es of more than twen­ty for­mer Pan­thers, a for­mer FBI agent, sev­er­al retired police offi­cers, a num­ber of Pan­ther lawyers and com­mu­ni­ty activists, and a col­lec­tion of his­to­ri­ans (rather than a nar­ra­tor), and accom­pa­nied by some soul stir­ring peri­od music , the fast-paced movie opens with the Chi-Lites belt­ing out ​"Give More Pow­er to the Peo­ple" and takes the view­er through the police slay­ing of lit­tle Bob­by Hut­ton, Huey Newton's shootout with the Oak­land police and the world-wide move­ment to ​"Free Huey."
It shines a light on the many BPP com­mu­ni­ty pro­grams, from serv­ing break­fast to thou­sands of chil­dren to pub­lish­ing a week­ly paper best known for its dis­sem­i­na­tion of the BPP's 10-Point pro­gram and the art of Emory Dou­glas, which most often dis­played his almost lim­it­less capac­i­ty to depict police as all man­ner of pigs. It also shows the vital impor­tance that young women played in the day-to-day oper­a­tions of the Par­ty — sev­er­al of the Party's female lead­ers, most notably Eri­ca Hug­gins, Kath­leen Cleaver, Elaine Brown and Phyl­lis Jack­son have impor­tant roles in nar­rat­ing the Party's history.
Van­guard of the Rev­o­lu­tion also takes a seri­ous look at the devel­op­ing divi­sion with­in the par­ty between the impris­oned New­ton and Eldridge Cleaver, who had risen to promi­nence in Newton's absence and had lat­er fled to Alge­ria and opened up an inter­na­tion­al sec­tion of the Par­ty. The film also shows how the FBI took glee in attempt­ing to foment and fur­ther exac­er­bate that con­flict and oth­er polit­i­cal dif­fer­ences that arose between the Pan­thers and oth­er orga­ni­za­tions. But the heart of the film is the recount­ing of a num­ber of events that reflect the government's unremit­ting repres­sion of the Par­ty and how the Par­ty attempt­ed to resist, yet ulti­mate­ly suc­cumbed, to this onslaught.
One such method was the arrest and pros­e­cu­tion of Pan­ther lead­er­ship. Beyond the arrest and pros­e­cu­tion of Huey New­ton, the film also deals at length with the jail­ing of the New York Pan­ther lead­er­ship, in a case that became known as the Pan­ther 21. Through the voice on Jamal Joseph, who, at the age of 16 was round­ed up as one of the 21, and one of his lawyers, the view­er is famil­iar­ized with their trumped-up and polit­i­cal­ly moti­vat­ed arrest, pros­e­cu­tion and, in one of the few joy­ous moments in the film, their acquit­tal and vic­to­ry cel­e­bra­tion. The film also doc­u­ments the tar­get­ing of Bob­by Seale as one of the alleged co-con­spir­a­tors in the noto­ri­ous Con­spir­a­cy 8 tri­al in Chica­go in 1969, and his being vicious­ly bound and gagged by Judge Julius Hoff­man when Seale attempt­ed to rep­re­sent himself.
The sec­ond form of repres­sion, which we now know was coor­di­nat­ed and orches­trat­ed nation­al­ly by the FBI, was police vio­lence — most com­mon­ly in the form of raids on Pan­ther offices and homes that lead to injury, death and the mass arrests of Pan­thers who defend­ed them­selves against police. Most infa­mous of these attacks was the police assas­si­na­tion of Fred Hamp­ton and Mark Clark on Decem­ber 4, 1969. While Van­guard of the Rev­o­lu­tion does not plow ground not cov­ered in pri­or films, it does accu­rate­ly por­tray Hamp­ton as the remark­able young leader that he was, show­ing numer­ous clips from The Mur­der of Fred Hamp­ton, begin­ning with Hampton's stir­ring speech at the Fed­er­al Cour­t­house (after Seale was gagged and jailed) in which he pro­claimed that ​"you can jail a rev­o­lu­tion­ary, but you can't jail a revolution."
The film also gives appro­pri­ate promi­nence to Hampton's assas­si­na­tion in the his­to­ry of the Black Pan­ther Par­ty. Using much of Mike Gray's footage, as well as por­tions of infor­mant O'Neal's inter­view from Eyes on the Prize II, this seg­ment also relies on the voic­es, then and now, of raid sur­vivor Akua Njeri (Deb­o­rah John­son), sev­er­al for­mer Chica­go Pan­thers, two of Hampton's lawyers and an African-Amer­i­can police offi­cer to retell the chill­ing tale. Notably absent is the voice of long­time U.S. Con­gress­man Bob­by Rush, who was the very promi­nent Min­is­ter of Defense of the Chica­go Chap­ter who mirac­u­lous­ly avoid­ed a fate sim­i­lar to Hampton's on Decem­ber 4. But Mike Gray is an impor­tant voice in the re-telling and gives a unique per­spec­tive as a film­mak­er who chron­i­cled the events in real time.
Book­end­ed with the Hamp­ton assas­si­na­tion in the film is the police raid on the Los Ange­les Black Pan­ther offices only four days lat­er. Unlike the pre-dawn raid on Hampton's apart­ment, this raid was met with armed Pan­ther resis­tance. Through the eyes of three of the men who were present — Wayne Pharr, Roland Free­man and Gil Park­er — we expe­ri­ence first­hand the gun bat­tle that took place for many hours and the Pan­thers' ulti­mate sur­ren­der. In one of the film's most pow­er­ful moments, when Pharr, who has since died, was asked how he felt as he fired back at the police, he respond­ed, ​"I felt free, I felt absolute­ly free."
As the film heads to its con­clu­sion, we see the results of the repres­sion on the Pan­thers and the divi­sions with­in the Par­ty as the Oak­land Chap­ter turns to elec­toral pol­i­tics and Bob­by Seale runs for May­or of Oak­land. What we do not see is the emer­gence of an under­ground iter­a­tion of the Pan­thers known as the Black Lib­er­a­tion Army, which ded­i­cat­ed itself to armed actions and armed strug­gle and which engaged in some high-pro­file con­fronta­tions with police that left sev­er­al police offi­cers dead and numer­ous BLA mem­bers, includ­ing Assa­ta Shakur and Sun­di­a­ta Acoli, charged with cap­i­tal crimes.
The film is not a com­plete his­to­ry. The nar­ra­tion favors Kath­leen Cleaver and her view of the his­to­ry over that of Elaine Brown; George Jackson's role in the Party's evolv­ing ide­ol­o­gy is omit­ted, as is Angela Davis, Geron­i­mo Pratt and the BLA; and Bob­by Seale has with­held his very impor­tant cur­rent voice from the film. It could also be said that it gloss­es over the very real issue of male chau­vin­ism in the Par­ty, although Elaine Brown does briefly acknowl­edge that it was a prob­lem. The doc­u­men­tary con­cludes on a down note, depict­ing Huey in his post-prison years as a vio­lent, dope-addled, under­world king­pin — one for­mer Pan­ther called him a ​"fuck­ing mani­ac" — while not­ing that Eldridge Cleaver went on to be a born-again Chris­t­ian and polit­i­cal sup­port­er of Ronald Reagan.
With Gil Scott Heron's mourn­ful ​"Win­ter in Amer­i­ca" as the back­drop, those blows are soft­ened some­what by the film's final act: the sep­a­rate read­ing of each of the points in the Panther's 10 Point Pro­gram by sev­er­al of those for­mer Pan­thers whose voic­es have become famil­iar dur­ing the movie, and by Jamal Joseph's procla­ma­tion that, for all its youth­ful mis­takes and over-exu­ber­ance, the Black Pan­ther Par­ty was moti­vat­ed, at bot­tom, by an ​"undy­ing love for the people."
As one of the lawyers who fought to trans­form the nar­ra­tive about the Black Pan­ther Par­ty and the assas­si­na­tion of Fred Hamp­ton both through court­room lit­i­ga­tion and by work­ing with var­i­ous com­mit­ted film­mak­ers over the years — includ­ing those at Black­side and Fire­light — these omis­sions and crit­i­cisms, in my view, pale in com­par­i­son to what Fire­light has suc­ceed­ed in telling, pri­mar­i­ly through the voic­es of those now-grey­ing Black Pan­thers who lived through it. In their youth, these and many more Pan­thers coura­geous­ly made people's his­to­ry. That his­to­ry is some­what imper­fect­ly, but most pow­er­ful­ly, nar­rat­ed in this film, and the lessons to those engaged in today's strug­gles against racism and for jus­tice are there for all to see. Can we ask for more from a doc­u­men­tary filmmaker?
Flint Tay­lor
is a found­ing part­ner of the People's Law Office in Chica­go. He is one of the lawyers for the fam­i­lies of slain Black Pan­ther lead­ers Fred Hamp­ton and Mark Clark, and togeth­er with his law part­ner Jef­frey Haas was tri­al coun­sel in the marathon
1976
civ­il tri­al. He has also rep­re­sent­ed many sur­vivors of Chica­go police tor­ture, was involved in the strug­gle for repa­ra­tions, and has done bat­tle with the Chica­go Police Depart­ment — and the Fra­ter­nal Order of Police — on numer­ous occa­sions over his
45
year career as a people's lawyer