The Central Issue Is Police Repression, Not Police Unions
Before rushing to expel police unions, labor needs a larger reckoning with law enforcement's role in a capitalist-colonialist state.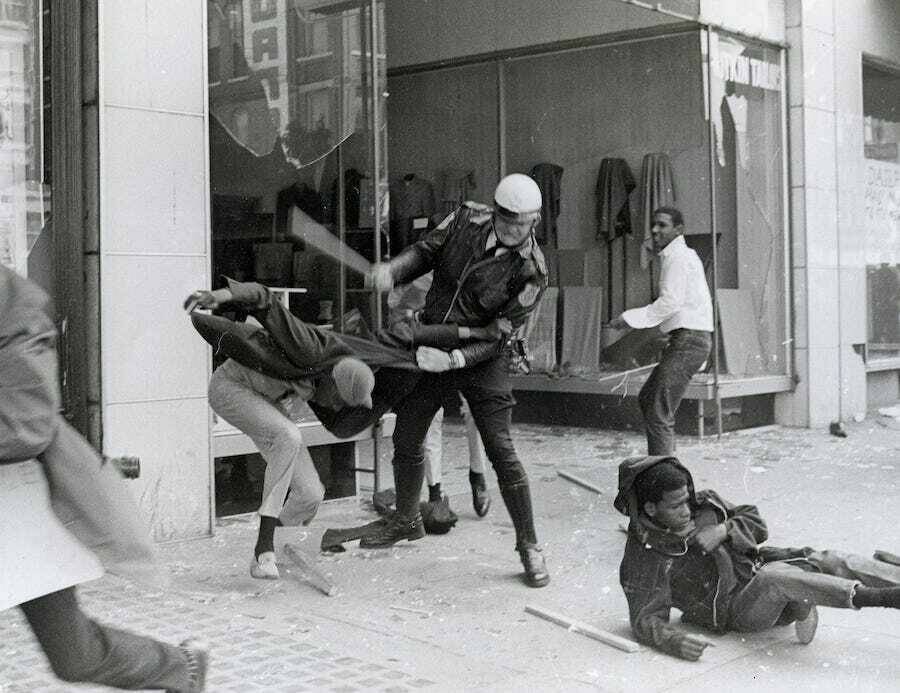 The rebel­lions over the police mur­der of George Floyd have renewed a long­time con­tro­ver­sy regard­ing police unions. Sev­er­al unions, such as the Writ­ers Guild of Amer­i­ca, East, are now call­ing for the AFL-CIO to expel the Inter­na­tion­al Union of Police Asso­ci­a­tions, argu­ing that police unions have no place in the labor federation.
Policing itself needs to be fundamentally reconsidered and restructured. Expelling unions in the absence of such a larger examination will turn the police unions into victims of "political correctness"—at least, that is the way that they will describe it.
I am going to sug­gest that the dis­cus­sion has gone down a rab­bit­hole and we need to rethink the entire way that the prob­lem has been formulated.
The focus on police unions miss­es sev­er­al impor­tant issues. One, there are many law enforce­ment unions with­in the labor move­ment: rep­re­sent­ing local and state police; ICE; Bor­der Patrol; and prison guards. The dis­cus­sion of police unions has large­ly focused on those rep­re­sent­ing city and coun­ty police. But the killing of Black men by those police forces is only one aspect of racist vio­lence by law enforce­ment. The caging of Latino/​a immi­grant chil­dren; the intim­i­da­tion of Mus­lim com­mu­ni­ties; the dis­pro­por­tion­ate vio­lence car­ried out against Native Amer­i­cans by var­i­ous insti­tu­tions, are all rep­re­sen­ta­tive of the nature of law enforce­ment in a cap­i­tal­ist soci­ety root­ed in racial set­tler colonialism.
U.S. law enforce­ment has its ori­gins in slave patrols and colo­nial mili­tias, qua­si-mil­i­tary out­fits that were, respec­tive­ly, aimed at sup­press­ing slaves and elim­i­nat­ing Native Amer­i­cans. These orga­ni­za­tions were armed and giv­en a wide berth of author­i­ty, includ­ing killing and impris­on­ing with impuni­ty. Such insti­tu­tions mor­phed into var­i­ous orga­ni­za­tions, includ­ing police depart­ments and, yes, the Nation­al Guard. Police depart­ments in the North also grew out of armed strike­break­ing forces employed by North­ern cities to con­trol the immi­grant working-class.
If one were to elim­i­nate all police or law enforce­ment unions tomor­row, the prob­lems that are being faced with law enforce­ment today would bare­ly change. Why? Because the law enforce­ment unions are not the prob­lem; the his­to­ry, cul­ture and prac­tices of the U.S. law enforce­ment sys­tem are the problem.
Yes, law enforce­ment unions fre­quent­ly add to the prob­lem with the lob­by­ing and polit­i­cal pres­sure that they place on elect­ed offi­cials. They hold col­lec­tive bar­gain­ing agree­ments over the heads of gov­ern­ments as a means of restrict­ing the dis­ci­plin­ing of police for abu­sive behav­ior. But even if the police unions and their col­lec­tive bar­gain­ing agree­ments were end­ed, there is no rea­son to believe that this sit­u­a­tion would be upend­ed. Police would just find ways oth­er ways to wield polit­i­cal pow­er, and elect­ed offi­cials would find oth­er excus­es to hide behind. When offi­cials claim that there is lit­tle that they can do about police con­tracts, that is noth­ing but sophistry: Police depart­ments can be reor­ga­nized. The gov­ern­ment may have to nego­ti­ate ​"impact," but it has the pow­er to rad­i­cal­ly restructure.
The truth is that police serve a func­tion as an arm of the repres­sive appa­ra­tus of the cap­i­tal­ist-colo­nial­ist state. Their role is not to bring peace to our com­mu­ni­ties but, first and fore­most, to uphold the inter­ests of ​"prop­er­ty" and wealth. Thus, we see the deploy­ment of police against strik­ing work­ers and to active­ly sup­press protests. As an insti­tu­tion — and I am here not address­ing each indi­vid­ual — they are engaged in uphold­ing the larg­er estab­lished order of set­tler cap­i­tal­ism, includ­ing a racial dif­fer­en­tial between the so-called white and those who have been Oth­er-ized. The police oper­ate based on the pre­sump­tion of guilt on the part of sus­pects of col­or, par­tic­u­lar­ly African Amer­i­cans, Latino/​as and Native Amer­i­cans. They also oper­ate upon a notion expressed very clear­ly by Pres­i­dent Trump in his far­ci­cal walk to the church to hold the Bible upside down: that a mas­sive dis­play of force and the sub­or­di­na­tion of poten­tial oppo­si­tion is the only way to quell turmoil.
The prob­lem of police repres­sion has been com­pound­ed for decades by the active mil­i­ta­riza­tion of the police. Fram­ing their work as ​"wars against crime" or ​"wars against drugs" leads to a mind­set that is quite dif­fer­ent than a ​"cam­paign against crime," for instance. It assumes that there is an iden­ti­fi­able ene­my that must be cap­tured and/​or destroyed. This mil­i­ta­riza­tion esca­lat­ed in the ear­ly 2000s when the fed­er­al gov­ern­ment began sup­ply­ing the police with sur­plus mil­i­tary equip­ment. Now the police not only had their repres­sive cre­den­tials rein­forced, but they were equipped for a war.
Giv­en the weight of this his­to­ry and the ongo­ing role of the police in repress­ing work­ing-class peo­ple, espe­cial­ly peo­ple of col­or, the big­ger ques­tion is: What should the role of law enforce­ment be in a tru­ly demo­c­ra­t­ic soci­ety? This issue is large­ly being missed in the rush to elim­i­nate police unions. And here pro­gres­sives need to be careful.
First, all work­ers should have a right to union­ize. There is already a move afoot by forces on the Right to reshape the larg­er dis­cus­sion and to obscure the issues of racism and repres­sion, and instead argue that the cen­tral prob­lem with police abuse flows from the exis­tence of pub­lic sec­tor unions. Rightwing think tank the Man­hat­tan Insti­tute has already begun churn­ing out op-eds on the sub­ject, such as a June 8 piece argu­ing that ​"the prob­lems posed by police unions in par­tic­u­lar are sim­i­lar to those with pub­lic-sec­tor unions in gen­er­al." Any moves to elim­i­nate police unions will cer­tain­ly be fol­lowed by calls to elim­i­nate oth­er pub­lic sec­tor unions, includ­ing fire­fight­ers, postal work­ers and teachers.
Sec­ond, the labor move­ment does not need to accept all unions. It can exclude some. This may sound para­dox­i­cal, but a labor move­ment is not sim­ply a col­lec­tion of trade unions. It is a move­ment of work­ers for jus­tice whose work is sum­ma­rized in the words of the great A. Philip Ran­dolph when he said: ​"The essence of trade union­ism is social uplift. The labor move­ment has been the haven for the dis­pos­sessed, the despised, the neglect­ed, the down­trod­den, the poor." This means that the mere exis­tence of an orga­ni­za­tion call­ing itself a trade union does not make it part of the labor move­ment. The Unit­ed States has a his­to­ry of white suprema­cist trade unions that nev­er grasped the crit­i­cal ques­tion of sol­i­dar­i­ty. It is the right of the major­i­ty of the labor move­ment to dis­tance itself from those who refuse to embrace the frame­work inher­ent in the words artic­u­lat­ed by Randolph.
Third, a part­ing of the ways between the labor move­ment and police unions should be the result of the labor move­ment tak­ing a hard look at how law enforce­ment oper­ates in the Unit­ed States and then answer­ing the ques­tion of ​"What should the role of law enforce­ment be in a tru­ly demo­c­ra­t­ic soci­ety?" Polic­ing itself needs to be fun­da­men­tal­ly recon­sid­ered and restructured.
Expelling unions in the absence of such a larg­er exam­i­na­tion will turn the police unions into vic­tims of ​"polit­i­cal cor­rect­ness" — at least, that is the way that they will describe it. But if, at the end of the day, labor rec­og­nizes that U.S. law enforce­ment agen­cies today are part of the repres­sive arm of the state, in direct con­tra­dic­tion to vir­tu­al­ly every­thing that orga­nized labor is sup­posed to believe and prac­tice, a part­ing of the ways becomes an obvi­ous necessity.
The ques­tion can­not be resolved through admin­is­tra­tive deci­sions. Many unions, such as AFSCME, SEIU, AFGE, Team­sters, and UFCW, have law enforce­ment com­po­nents in their ranks. Sug­gest­ing that these unions leave the AFL-CIO or that their law enforce­ment com­po­nents leave due to their racist behav­ior, includ­ing but not lim­it­ed to killings, ignores the real­i­ty that the U.S. trade union move­ment has been incon­sis­tent when it has come to racial jus­tice. Law enforce­ment unions are among the most con­ser­v­a­tive and racist ele­ments, but not the only ones.
Let us not move to easy answers that dodge the more dif­fi­cult questions.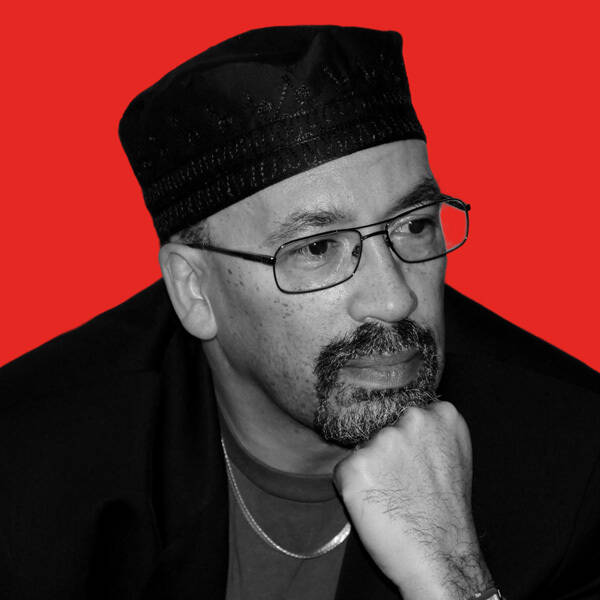 Bill Fletch­er, Jr.

is a talk show host, writer, activist, and trade union­ist. He is the exec­u­tive edi­tor of

The Glob­al African Work­er

, a co-author (with Fer­nan­do Gapasin) of

Soli­tary Divid­ed

, and the author of

​

"

They're Bank­rupt­ing Us" – Twen­ty Oth­er Myths about Unions.

You can fol­low him on Twit­ter, Face­book and at www​.bill​fletcher​jr​.com.