Washington's pathet­ic capit­u­la­tion to Israel while plead­ing for a mean­ing­less three-month freeze on set­tle­ment expan­sion – exclud­ing Arab East Jerusalem – should go down as one of the most humil­i­at­ing moments in U.S. diplo­mat­ic history.
It is hardly a secret that for 35 years the U.S. and Israel have stood virtually alone in opposition to a consensus on a political settlement that is close to universal.
In Sep­tem­ber the last set­tle­ment freeze end­ed, lead­ing the Pales­tini­ans to cease direct talks with Israel. Now the Oba­ma admin­is­tra­tion, des­per­ate to lure Israel into a new freeze and thus revive the talks, is grasp­ing at invis­i­ble straws – and lav­ish­ing gifts on a far-right Israeli government.
The gifts include $3 bil­lion for fight­er jets. The largesse also hap­pens to be anoth­er tax­pay­er grant to the U.S. arms indus­try, which gains dou­bly from pro­grams to expand the mil­i­ta­riza­tion of the Mid­dle East.
U.S. arms man­u­fac­tur­ers are sub­si­dized not only to devel­op and pro­duce advanced equip­ment for a state that is vir­tu­al­ly part of the U.S. mil­i­tary-intel­li­gence estab­lish­ment but also to pro­vide sec­ond-rate mil­i­tary equip­ment to the Gulf states – cur­rent­ly a prece­dent-break­ing $60 bil­lion arms sale to Sau­di Ara­bia, which is a trans­ac­tion that also recy­cles petrodol­lars to an ail­ing U.S. economy.
Israeli and U.S. high-tech civil­ian indus­tries are close­ly inte­grat­ed. It is small won­der that the most fer­vent sup­port for Israeli actions comes from the busi­ness press and the Repub­li­can Par­ty, the more extreme of the two busi­ness-ori­ent­ed polit­i­cal par­ties. The pre­text for the huge arms sales to Sau­di Ara­bia is defense against the ​"Iran­ian threat."
How­ev­er, the Iran­ian threat is not mil­i­tary, as the Pen­ta­gon and U.S. intel­li­gence have empha­sized. Were Iran to devel­op a nuclear weapons capac­i­ty, the pur­pose would be deter­rent – pre­sum­ably to ward off a U.S.-Israeli attack.
The real threat, in Washington's view, is that Iran is seek­ing to expand its influ­ence in neigh­bor­ing coun­tries ​"sta­bi­lized" by U.S. inva­sion and occupation.
The offi­cial line is that the Arab states are plead­ing for U.S. mil­i­tary aid to defend them­selves against Iran. True or false, the claim pro­vides inter­est­ing insight into the reign­ing con­cept of democ­ra­cy. What­ev­er the rul­ing dic­ta­tor­ships may pre­fer, Arabs in a recent Brook­ings poll rank the major threats to the region as Israel (88 per­cent), the Unit­ed States (77 per­cent) and Iran (10 percent).
It is inter­est­ing that U.S. offi­cials, as revealed in the just-released Wik­iLeaks cables, total­ly ignored Arab pub­lic opin­ion, keep­ing to the views of the reign­ing dictators.
The U.S. gifts to Israel also include diplo­mat­ic sup­port, accord­ing to cur­rent reports. Wash­ing­ton pledges to veto any U.N. Secu­ri­ty Coun­cil actions that might annoy Israel's lead­ers and to drop any call for fur­ther exten­sion of a set­tle­ment freeze.
Hence, by agree­ing to the three-month pause, Israel will no longer be dis­turbed by the pay­mas­ter as it expands its crim­i­nal actions in the occu­pied territories.
That these actions are crim­i­nal has not been in doubt since late 1967, when Israel's lead­ing legal author­i­ty, inter­na­tion­al jurist Theodor Meron, advised the gov­ern­ment that its plans to ini­ti­ate set­tle­ments in the occu­pied ter­ri­to­ries vio­lat­ed the Fourth Gene­va Con­ven­tion, a core prin­ci­ple of inter­na­tion­al human­i­tar­i­an law, estab­lished in 1949 to crim­i­nal­ize the hor­rors of the Nazi régime.
Meron's con­clu­sion was endorsed by Jus­tice Min­is­ter Ya'akov Shim­son Shapi­ra, and short­ly after by Defense Min­is­ter Moshe Dayan, writes his­to­ri­an Ger­shom Goren­berg in The Acci­den­tal Empire.
Dayan informed his fel­low min­is­ters, ​"We must con­sol­i­date our hold so that over time we will suc­ceed in ​'digest­ing' Judea and Samaria (the West Bank) and merg­ing them with ​'lit­tle' Israel," mean­while ​"dismember(ing) the ter­ri­to­r­i­al con­ti­gu­i­ty" of the West Bank, all under the usu­al pre­tense ​"that the step is nec­es­sary for mil­i­tary purposes."
Dayan had no doubts, or qualms, about what he was rec­om­mend­ing: ​"Set­tling Israelis in occu­pied ter­ri­to­ry con­tra­venes, as is known, inter­na­tion­al con­ven­tions," he observed. ​"But there is noth­ing essen­tial­ly new in that."
Dayan's cor­rect assump­tion was that the boss in Wash­ing­ton might object for­mal­ly, but with a wink, and would con­tin­ue to pro­vide the deci­sive mil­i­tary, eco­nom­ic and diplo­mat­ic sup­port for the crim­i­nal endeavors.
The crim­i­nal­i­ty has been under­scored by repeat­ed Secu­ri­ty Coun­cil res­o­lu­tions, more recent­ly by the Inter­na­tion­al Court of Jus­tice, with the basic agree­ment of U.S. Jus­tice Thomas Buer­gen­thal in a sep­a­rate dec­la­ra­tion. Israel's actions also vio­late U.N. Secu­ri­ty Coun­cil res­o­lu­tions con­cern­ing Jerusalem. But every­thing is fine as long as Wash­ing­ton winks.
Back in Wash­ing­ton, the Repub­li­can super-hawks are even more fer­vent in their sup­port for Israeli crimes. Eric Can­tor, the new major­i­ty leader in the House of Rep­re­sen­ta­tives, ​"has float­ed a nov­el solu­tion to pro­tect aid for Israel from the cur­rent for­eign aid back­lash," Glenn Kessler reports in The Wash­ing­ton Post: ​"giv­ing the Jew­ish state its own fund­ing account, thus remov­ing it from funds for the rest of the world."
The issue of set­tle­ment expan­sion is sim­ply a diver­sion. The real issue is the exis­tence of the set­tle­ments and relat­ed infra­struc­ture devel­op­ments. These have been care­ful­ly designed so that Israel has already tak­en over more than 40 per­cent of the occu­pied West Bank, includ­ing sub­urbs of Jerusalem and Tel Aviv; the arable land; and the pri­ma­ry water sources of the region, all on the Israeli side of the Sep­a­ra­tion Wall – in real­i­ty an annex­a­tion wall.
Since 1967, Israel has vast­ly expand­ed the bor­ders of Jerusalem in vio­la­tion of Secu­ri­ty Coun­cil orders and despite uni­ver­sal inter­na­tion­al objec­tion (includ­ing the U.S., at least formally).
The focus on set­tle­ment expan­sion, and Washington's grov­el­ing, are not the only far­ci­cal ele­ments of the cur­rent nego­ti­a­tions. The very struc­ture is a cha­rade. The U.S. is por­trayed as an ​"hon­est bro­ker" seek­ing to medi­ate between two recal­ci­trant adver­saries. But seri­ous nego­ti­a­tions would be con­duct­ed by some neu­tral par­ty, with the U.S. and Israel on one side, and the world on the other.
It is hard­ly a secret that for 35 years the U.S. and Israel have stood vir­tu­al­ly alone in oppo­si­tion to a con­sen­sus on a polit­i­cal set­tle­ment that is close to uni­ver­sal, includ­ing the Arab states, the Orga­ni­za­tion of the Islam­ic Con­fer­ence (includ­ing Iran), and all oth­er rel­e­vant parties.
With brief and rare depar­tures, the two rejec­tion­ist states have pre­ferred ille­gal expan­sion to secu­ri­ty. Unless Washington's stand changes, polit­i­cal set­tle­ment is effec­tive­ly barred. And expan­sion, with its rever­ber­a­tions through­out the region and the world, continues.
© The New York Times Syndicate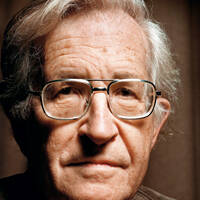 Noam Chom­sky
is Insti­tute Pro­fes­sor and Pro­fes­sor of Lin­guis­tics (Emer­i­tus) at the Mass­a­chu­setts Insti­tute of Tech­nol­o­gy, and the author of dozens of books on U.S. for­eign pol­i­cy. His most recent book is
Who Rules the World?
from Met­ro­pol­i­tan Books.