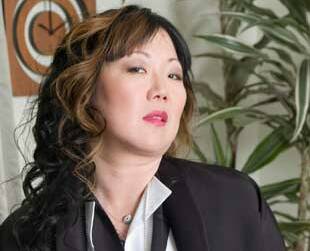 Mar­garet Cho knows how bru­tal Hol­ly­wood can be. In 2000, in her crit­i­cal­ly acclaimed one-woman com­e­dy show, ​"I'm the One That I Want," Cho, 39, chron­i­cled the strug­gles of her short-lived 1994 ABC sit­com ​"All-Amer­i­can Girl." The project near­ly destroyed her. Net­work exec­u­tives hired weight con­sul­tants to slim her down and eth­nic­i­ty coach­es who sug­gest­ed she stick chop­sticks in her hair to make her ​"more Asian." The ordeal led Cho into an eat­ing dis­or­der, depres­sion, drug addic­tion and hos­pi­tal­iza­tion that left her strug­gling to find her identity.
Four­teen years lat­er, Cho is giv­ing tele­vi­sion anoth­er chance. ​"The Cho Show," a real­i­ty pro­gram, is sched­uled to air in late August on VH1.
Her legions of fans know the Kore­an-Amer­i­can Cho for her inci­sive com­e­dy and her relent­less advo­ca­cy for civ­il lib­er­ties, as well as gay and minor­i­ty rights. With hon­ors from orga­ni­za­tions, such as the Amer­i­can Civ­il Lib­er­ties Union (ACLU), the Gay & Les­bian Alliance Against Defama­tion (GLAAD) and the Asian Amer­i­can Legal Defense Fund, Cho – who iden­ti­fies as bisex­u­al – has trav­eled the coun­try, com­bin­ing her activism and humor into hilar­i­ous, over-the-top dia­tribes on the nation's most press­ing issues.
Dur­ing the 2004 pres­i­den­tial elec­tion, Cho vis­it­ed bat­tle­ground states as part of her ​"State of Emer­gency" tour. At the same time, the Human Rights Cam­paign – a nation­al les­bian, gay, bisex­u­al and trans­gen­der (LGBT) non­prof­it group – famous­ly unin­vit­ed her from per­form­ing at a ben­e­fit held in con­junc­tion with the Demo­c­ra­t­ic Nation­al Con­ven­tion. (The mil­que­toasts at the orga­ni­za­tion appar­ent­ly found her Iraq jokes impolitic.)
Between tour­ing, shoot­ing scenes for her upcom­ing show and blog­ging for the Huff­in­g­ton Post and CNN, Cho has accu­mu­lat­ed plen­ty of new mate­r­i­al for this elec­tion year.
In These Times caught up with Cho in San Fran­cis­co, her home­town, as she was get­ting ready for her ​"Beau­ti­ful" tour.
What has humor been like under George W. Bush, and how has the polit­i­cal cli­mate changed over his two terms?
Well, it's been great for come­di­ans but pret­ty bad for the coun­try. It's a pret­ty des­per­ate sit­u­a­tion. We've ruined our rep­u­ta­tion with the rest of the world. We've gone into this need­less war with Iraq. Peo­ple have died. The econ­o­my is in ter­ri­ble shape. At the same time, we've been able to make fun of George Bush and his inabil­i­ty to be a good pres­i­dent and that, in itself, is comedic, though ulti­mate­ly tragic.
But peo­ple now are real­ly excit­ed about the future, about want­i­ng some­thing dif­fer­ent from what they've got­ten so far with the Bush admin­is­tra­tion. They're look­ing to Democ­rats to make a dif­fer­ence. Pol­i­tics have got­ten more pro­gres­sive lately.
Much of this elec­tion has focused on race and gen­der. What do you think of the way the press is fram­ing those two issues?
There's too much scruti­ny around Barack Oba­ma and whom he's asso­ci­at­ed with, like Rev. Jere­mi­ah Wright. That's ridicu­lous. I don't think any­thing that Rev. Wright said was that bad. In any case, Barack Oba­ma didn't say it, so I don't under­stand what the prob­lem is.
If you look at John McCain's spir­i­tu­al advis­er and his notions on abor­tion, those issues are so extreme and so inflam­ma­to­ry and volatile and crazy that it's weird that they haven't been brought to light. It's real­ly racist how the focus is only on Barack Obama's spir­i­tu­al leader.
Amer­i­cans don't know how to ver­bal­ize or vocal­ize ideas about race with­out com­ing off as racist or com­ing off as extreme. We haven't had a way to talk about it until Barack Oba­ma came along. His speech on race made peo­ple dis­cuss race in a dif­fer­ent way.
There hasn't been much atten­tion paid to the Asian Pacif­ic-Amer­i­can vote or the LGBT vote. Why do you think these com­mu­ni­ties are over­looked in the elec­toral process?
I know the LGBT com­mu­ni­ty is over­looked because the gay mar­riage issue was so divi­sive in 2004. And that's real­ly unfor­tu­nate because we need to be includ­ed in that discussion.
As far as the Asian-Amer­i­can vote goes, I don't know why peo­ple aren't pay­ing atten­tion to that either. We need more inclu­sion there. We need to have more of a sense of being addressed. I don't know why it hasn't happened.
In Cal­i­for­nia, the issue of same-sex mar­riage is cur­rent­ly being debat­ed in the state Supreme Court and a deci­sion is expect­ed soon.
I hope they allow it. It just makes sense. I was real­ly proud when San Fran­cis­co May­or Gavin New­som let all those gay cou­ples get mar­ried in 2004. That was inspiring.
Cal­i­for­nia is a pro­gres­sive state, even though we have a Repub­li­can gov­er­nor. It is the new fron­tier. It's where all these new ideas come from, so it's impor­tant for us to have mar­riage equality.
Oba­ma and Clin­ton say they sup­port only civ­il unions, yet both have sent press releas­es to the LGBT com­mu­ni­ty in sup­port of equal rights. What has changed for the gay and les­bian com­mu­ni­ty in the last four years?
I think things are get­ting bet­ter, but there hasn't been any kind of acknowl­edge­ment about gay mar­riage. There needs to be more activism around it, though it's a dif­fi­cult issue to get involved in because homo­pho­bia is so prevalent.
I don't nec­es­sar­i­ly agree with Obama's and Clinton's stances on gay mar­riage. There needs to be equality.
You were unin­vit­ed from the 2004 Demo­c­ra­t­ic Nation­al Con­ven­tion. Have you been invit­ed to this year's con­ven­tion in Denver?
No, but I would like to go. I feel very includ­ed in this elec­tion. I'm actu­al­ly a Barack Oba­ma cam­paign sur­ro­gate. I love this. I feel part of this whole idea of change. And I am also a Hillary Clin­ton fan. I think she's awe­some. I just feel more con­nect­ed with Barack Obama.
Your tour is called ​"Beau­ti­ful." Is ​"beau­ty" political?
Feel­ing beau­ti­ful is a very polit­i­cal idea. If we feel beau­ti­ful, we're more will­ing to be active polit­i­cal­ly, to voice our opin­ions and be heard, which is a real­ly pos­i­tive thing. The tour itself is about pol­i­tics. It's about race, gen­der, homo­pho­bia, which are my big topics.
Can you lay to rest, once and for all, rumors that you are the inspi­ra­tion for Dandy, the char­ac­ter in Den­nis Hensley's clas­sic gay com­ic nov­el, Mis­ad­ven­tures in the (213)?
That is me!
Which come­di­ans have inspired you? And who should we keep our eyes out for?
I love Joan Rivers, Wan­da Sykes and Bob­by Lee. They are the past, present and future.
You're back on TV. What can view­ers expect from ​"The Cho Show"?
It's very dif­fer­ent from any­thing I've done on tele­vi­sion. It's in the spir­it of who I am and what I do. I just spent the last week mak­ing a porn for the show – not a real porn, but a fake porn. It's pret­ty wild. I think we go a lot fur­ther than any oth­er show I've seen. It should be pret­ty extreme.
Because it is real­i­ty, I have a lot of con­trol over ​"The Cho Show." It is every­thing I do, and know how to do. I get to use my voice a lot. I'm very much about con­trol­ling it all, and being a producer.
"All Amer­i­can Girl" was the first net­work show to fea­ture an entire­ly Asian-Amer­i­can cast. Yet, here we are 14 years lat­er and we haven't seen an Asian-Amer­i­can fam­i­ly on TV since.
And now we will because my par­ents are going to be a part of the show. We also have anoth­er Asian-Amer­i­can fam­i­ly, which brings to two the num­ber of Asian-Amer­i­can fam­i­lies on Amer­i­can TV. My par­ents are actu­al­ly real­ly into it. It's a lot of fun for them. They love the atten­tion – and it brings us all together.
Is it still dif­fi­cult for actors of col­or to avoid being typecast?
I think it's hard when you have peo­ple – TV writ­ers, exec­u­tives – who don't under­stand the expe­ri­ence. You can't real­ly talk about race in a con­text like that. But, in gen­er­al, there are more Asian Amer­i­cans on TV – even if half of them are my rel­a­tives – than when I start­ed, which I love. I'm glad to be able to add to that.
What do you think of the way LGBT char­ac­ters are depicted?
There needs to be a greater pres­ence of les­bians. I don't see a lot of les­bians on tele­vi­sion, which I think is trou­bling. I would love to see more les­bians and more top­ics about the gay and trans­gen­der community.
You've bat­tled against strict iden­ti­ty cat­e­gories – body image, eth­nic­i­ty and sex­u­al­i­ty. How have you dealt with these labels?
Just by cre­at­ing my own work and enjoy­ing myself and not wor­ry­ing about the main­stream. And just by focus­ing on what I like to do. It makes me feel independent.