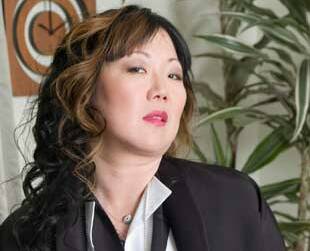 Margaret Cho knows how brutal Hollywood can be. In 2000, in her critically acclaimed one-woman comedy show, ​"I'm the One That I Want," Cho, 39, chronicled the struggles of her short-lived 1994 ABC sitcom ​"All-American Girl." The project nearly destroyed her. Network executives hired weight consultants to slim her down and ethnicity coaches who suggested she stick chopsticks in her hair to make her ​"more Asian." The ordeal led Cho into an eating disorder, depression, drug addiction and hospitalization that left her struggling to find her identity.
Fourteen years later, Cho is giving television another chance. ​"The Cho Show," a reality program, is scheduled to air in late August on VH1.
Her legions of fans know the Korean-American Cho for her incisive comedy and her relentless advocacy for civil liberties, as well as gay and minority rights. With honors from organizations, such as the American Civil Liberties Union (ACLU), the Gay & Lesbian Alliance Against Defamation (GLAAD) and the Asian American Legal Defense Fund, Cho – who identifies as bisexual – has traveled the country, combining her activism and humor into hilarious, over-the-top diatribes on the nation's most pressing issues.
During the 2004 presidential election, Cho visited battleground states as part of her ​"State of Emergency" tour. At the same time, the Human Rights Campaign – a national lesbian, gay, bisexual and transgender (LGBT) nonprofit group – famously uninvited her from performing at a benefit held in conjunction with the Democratic National Convention. (The milquetoasts at the organization apparently found her Iraq jokes impolitic.)
Between touring, shooting scenes for her upcoming show and blogging for the Huffington Post and CNN, Cho has accumulated plenty of new material for this election year.
In These Times caught up with Cho in San Francisco, her hometown, as she was getting ready for her ​"Beautiful" tour.
What has humor been like under George W. Bush, and how has the political climate changed over his two terms?
Well, it's been great for comedians but pretty bad for the country. It's a pretty desperate situation. We've ruined our reputation with the rest of the world. We've gone into this needless war with Iraq. People have died. The economy is in terrible shape. At the same time, we've been able to make fun of George Bush and his inability to be a good president and that, in itself, is comedic, though ultimately tragic.
But people now are really excited about the future, about wanting something different from what they've gotten so far with the Bush administration. They're looking to Democrats to make a difference. Politics have gotten more progressive lately.
Much of this election has focused on race and gender. What do you think of the way the press is framing those two issues?
There's too much scrutiny around Barack Obama and whom he's associated with, like Rev. Jeremiah Wright. That's ridiculous. I don't think anything that Rev. Wright said was that bad. In any case, Barack Obama didn't say it, so I don't understand what the problem is.
If you look at John McCain's spiritual adviser and his notions on abortion, those issues are so extreme and so inflammatory and volatile and crazy that it's weird that they haven't been brought to light. It's really racist how the focus is only on Barack Obama's spiritual leader.
Americans don't know how to verbalize or vocalize ideas about race without coming off as racist or coming off as extreme. We haven't had a way to talk about it until Barack Obama came along. His speech on race made people discuss race in a different way.
There hasn't been much attention paid to the Asian Pacific-American vote or the LGBT vote. Why do you think these communities are overlooked in the electoral process?
I know the LGBT community is overlooked because the gay marriage issue was so divisive in 2004. And that's really unfortunate because we need to be included in that discussion.
As far as the Asian-American vote goes, I don't know why people aren't paying attention to that either. We need more inclusion there. We need to have more of a sense of being addressed. I don't know why it hasn't happened.
In California, the issue of same-sex marriage is currently being debated in the state Supreme Court and a decision is expected soon.
I hope they allow it. It just makes sense. I was really proud when San Francisco Mayor Gavin Newsom let all those gay couples get married in 2004. That was inspiring.
California is a progressive state, even though we have a Republican governor. It is the new frontier. It's where all these new ideas come from, so it's important for us to have marriage equality.
Obama and Clinton say they support only civil unions, yet both have sent press releases to the LGBT community in support of equal rights. What has changed for the gay and lesbian community in the last four years?
I think things are getting better, but there hasn't been any kind of acknowledgement about gay marriage. There needs to be more activism around it, though it's a difficult issue to get involved in because homophobia is so prevalent.
I don't necessarily agree with Obama's and Clinton's stances on gay marriage. There needs to be equality.
You were uninvited from the 2004 Democratic National Convention. Have you been invited to this year's convention in Denver?
No, but I would like to go. I feel very included in this election. I'm actually a Barack Obama campaign surrogate. I love this. I feel part of this whole idea of change. And I am also a Hillary Clinton fan. I think she's awesome. I just feel more connected with Barack Obama.
Your tour is called ​"Beautiful." Is ​"beauty" political?
Feeling beautiful is a very political idea. If we feel beautiful, we're more willing to be active politically, to voice our opinions and be heard, which is a really positive thing. The tour itself is about politics. It's about race, gender, homophobia, which are my big topics.
Can you lay to rest, once and for all, rumors that you are the inspiration for Dandy, the character in Dennis Hensley's classic gay comic novel, Misadventures in the (213)?
That is me!
Which comedians have inspired you? And who should we keep our eyes out for?
I love Joan Rivers, Wanda Sykes and Bobby Lee. They are the past, present and future.
You're back on TV. What can viewers expect from ​"The Cho Show"?
It's very different from anything I've done on television. It's in the spirit of who I am and what I do. I just spent the last week making a porn for the show – not a real porn, but a fake porn. It's pretty wild. I think we go a lot further than any other show I've seen. It should be pretty extreme.
Because it is reality, I have a lot of control over ​"The Cho Show." It is everything I do, and know how to do. I get to use my voice a lot. I'm very much about controlling it all, and being a producer.
"All American Girl" was the first network show to feature an entirely Asian-American cast. Yet, here we are 14 years later and we haven't seen an Asian-American family on TV since.
And now we will because my parents are going to be a part of the show. We also have another Asian-American family, which brings to two the number of Asian-American families on American TV. My parents are actually really into it. It's a lot of fun for them. They love the attention – and it brings us all together.
Is it still difficult for actors of color to avoid being typecast?
I think it's hard when you have people – TV writers, executives – who don't understand the experience. You can't really talk about race in a context like that. But, in general, there are more Asian Americans on TV – even if half of them are my relatives – than when I started, which I love. I'm glad to be able to add to that.
What do you think of the way LGBT characters are depicted?
There needs to be a greater presence of lesbians. I don't see a lot of lesbians on television, which I think is troubling. I would love to see more lesbians and more topics about the gay and transgender community.
You've battled against strict identity categories – body image, ethnicity and sexuality. How have you dealt with these labels?
Just by creating my own work and enjoying myself and not worrying about the mainstream. And just by focusing on what I like to do. It makes me feel independent.