The tri­umph of purist ide­ol­o­gy over com­pas­sion and sci­ence means suf­fer­ing and death for organ­ic farm ani­mals across America.
The organic movement must incorporate compassion into organic standards and allow the rare, regulated use of antibiotics.
The week-old dairy calf, gan­g­ly and still, lay on a barn floor, her long-lashed eyes rolled back to expose the blue-white rim. The next morn­ing, when I went to help my neigh­bor with his new­borns, the calf was dead.
Depart­ment of Agri­cul­ture (USDA) reg­u­la­tions defin­ing organ­ic stan­dards man­date that if this calf had got­ten one dose of antibi­otics, even to save her life, she could nev­er give organ­ic milk – even after the two years it takes for her to become a milk­er, and even though nei­ther she nor her milk would retain any trace of antibiotics.
Farm­ers are not gen­er­al­ly cal­lous or cru­el, but nei­ther are they sen­ti­men­tal. Organ­ic stan­dards man­date that they take all mea­sures to save the life of an ani­mal, but treat­ment strate­gies can be sub­jec­tive, and loss of organ­ic sta­tus fac­tors into a farmer's deci­sion. After all, antibi­otics don't always work, and some­times ani­mals recov­er with­out them. So decent farm­ers wait while an ani­mal suf­fers, and cross­es that line past which no inter­ven­tion can reverse the slide to death.
"Yes, I have seen exam­ples of when pro­duc­ers had a lit­tle too much opti­mism," says Bri­an Bak­er, direc­tor of Alfred State College's Insti­tute for Sus­tain­abli­ty. He opposed the 100 per­cent antibi­ot­ic ban when it was pro­posed, and would like to see a rea­soned debate on the issue.
A few weeks lat­er, anoth­er calf start­ed to fail. Too weak to suck, Jor­dan let milk from the bot­tle leak into my hand as I cupped her head. The farmer weighed his options, and mut­ter­ing in frus­tra­tion and anger, reached for the antibi­otics and the phone. He inject­ed the calf and called the organ­ic stan­dards reg­u­la­tor to report that Jor­dan was no longer organ­ic. The next morn­ing the calf was back on her feet, but ruined as an organ­ic milk­er. With that one shot, an eth­i­cal farmer lost much of his invest­ment in breed­ing and main­tain­ing qual­i­ty organ­ic stock.
Clear­ly, antibi­ot­ic overuse in con­ven­tion­al agri­cul­ture is a dis­as­ter. Dai­ly low-dose antibi­otics make ani­mals grow larg­er and quick­er, and they hold off dis­ease and infec­tion so live­stock can sur­vive the crowd­ed, filthy con­di­tions at indus­tri­al farms and feed­lots. But as the 15 – 17 mil­lion pounds of sub­ther­a­peu­tic antibi­otics that America's live­stock con­sume annu­al­ly breed resis­tance in vir­u­lent pathogens, the antibi­otics humans rely on are fail­ing. In 2006, the U.S. gov­ern­ment report­ed that 1.7 mil­lion hos­pi­tal infec­tions that year caused more than 90,000 patient deaths, up from 13,300 in 1992.
In the 1990s, an embat­tled organ­ics move­ment defeat­ed agribusiness's attempt to allow all drugs, tox­ic pes­ti­cides and genet­ic engi­neer­ing to fall under the pro­posed USDA organ­ic label. Some spec­u­late that when agribusi­ness saw that its strat­e­gy to evis­cer­ate stan­dards would fail, it began advo­cat­ing reg­u­la­tions so strict that few farm­ers would adopt them, and those that did would become uncompetitive.
While some Euro­pean and Cana­di­an organ­ic reg­u­la­tions are tighter, farm­ers there can admin­is­ter ther­a­peu­tic antibi­otics as long as the ani­mal is treat­ed rarely, and is with­drawn from meat or milk pro­duc­tion for twice the time the drug remains in its system.
Some organ­ic pro­po­nents now qui­et­ly rec­og­nize that the 100 per­cent ban on antibi­otics needs to be re-exam­ined, espe­cial­ly in light of a grow­ing move to incor­po­rate ani­mal wel­fare into the discussion.
Oth­ers remain pure. Allow­ing one-time ther­a­peu­tic antibi­otics is ​"a slip­pery slope," says Ron­nie Cum­mins, nation­al direc­tor of the Organ­ic Con­sumers Asso­ci­a­tion, and would ​"under­mine con­sumer con­fi­dence in organ­ics. It's the same posi­tion [I have] as on human vac­cines. They are dan­ger­ous, and that's why I didn't vac­ci­nate my kid."
But when I took an unsci­en­tif­ic sur­vey at the Mont­pe­lier, Vt., farm­ers mar­ket, every con­sumer I asked assumed that organ­ic live­stock are, and should be, get­ting antibi­otics for life-threat­en­ing dis­eases, and that a ​"no-antibi­otics" label meant no sub­ther­a­peu­tic use. Organ­ic farm­ers I asked want the reg­u­la­tion changed, and sev­er­al loca­vore pro­duc­ers said they would not go organ­ic, pre­cise­ly because they want­ed the option of treat­ing a sick ani­mal with­out risk­ing finan­cial hardship.
It's time for the organ­ic move­ment to incor­po­rate sci­ence and com­pas­sion into organ­ic stan­dards and allow the rare, reg­u­lat­ed use of life-sav­ing antibiotics.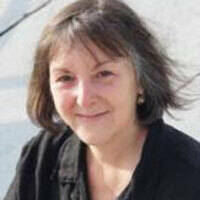 Ter­ry J. Allen
is a vet­er­an inves­tiga­tive reporter/​editor who has cov­ered local and inter­na­tion­al pol­i­tics and health and sci­ence issues. Her work has appeared in the
Guardian, Boston Globe, Times Argus, Harper's
, the Nation​.com, Salon​.com, and
New Sci­en­tist
. She has been an edi­tor at Amnesty Inter­na­tion­al,
In These Times
, and Cor​p​watch​.com. She is also a pho­tog­ra­ph­er. Her por­traits of peo­ple sit­ting in some of the
1900
cars lined up out­side a New­port, Vt., food drop can be seen on www​.flickr​.com/​p​h​o​t​o​s​/​t​e​r​r​y​a​l​l​e​n​/​a​lbums. Ter­ry can be con­tact­ed at tallen@​igc.​org or through www​.ter​ry​jallen​.com.